Summer is short but sweet!  Take advantage of our wonderful area and resources and have a fun filled adventure while the kids are out of school!  Lake Country Family Fun has put together a great list of ideas on things to do with the kids that won't have you breaking the bank.  After all great parenting isn't about spoiling the children with things, it is spoiling them with memories!
When enjoying these fun activities and events this summer with your family, share on Instagram (IG) with #lovelcff. We love to see our readers out having fun!
Find us on IG here.
---
Thank you to our 77 Things to Do this Summer Sponsor:
---
Visit Madison and check out a Mallards Game! On June 16, 2019 they are hosting a Food Allergy Friendly Baseball game.
Enroll your child in a local summer camp!
Enjoy Waukesha County's beautiful lakes, share your fun on Instagram, so we can follow your lake fun though our Lakes of Lake Country Guide!
Climb the tower at Lapham State Park.  (admission to the park is required or get a state park pass and use it all summer)
Head to Ottawa Lake at the Kettle Moraine State Park Southern Unit.
Watch a drive in movie at the HWY 18 Theater.
Learn something new at Discovery World. – The touch tank in the Reiman Aquarium is so fun!
Watch a polo match! The Milwaukee Polo Club holds matches in Hartland!
Check out the Concord Zoo. 
Attend Jackson's Jam Music Festival.
Head to Summerfest – the biggest music festival! Children's Fest Day is Thursday, July 5!
Bring your family to Hartland's Neighborhood Night Out.
Visit the Milwaukee County Zoo. See the new otter exhibit, which is open now, and the new baby giraffe.
Catch some tunes at Waterfront Wednesdays at Pewaukee Lake at Lakefront Park.
Pay tribute to your favorite band at Tribute Tuesdays!
Visit the Hartland Splash Pad. A must on 90 degree days!
Visit any of the 16 best ice cream spots in and around Waukesha County to get some custard under their neon lights.
Swim at City Beach or Bender Beach in Downtown Oconomowoc or venture to these other great beaches in Waukesha County.
Take the kids fishing at the Oconomowoc Clinic!
Cool off and take the kids ice skating at the Mullett Ice Center or Naga-Waukee Ice Arena or Eble Ice Arena.
Take your family to Milwaukee Irish Fest! Stay tuned for our ticket giveaway!
Party in the Park with Summerstage Delafield!
Visit Cushing Park in Delafield and walk the trails.
Check out Mukwonago's Maxwell Street Days.
Go to the Mukwonago Father's Day Parade.
Do you need a list of great lake side dining, burger spots or hiking spots? Grab a sitter and check out our Summer Date Guide.
Go to the State Fair and eat all the food you shouldn't and people watch.
Go to the Pewaukee Beach Party.
Visit the Waukesha County Park system and go for a hike or a swim.
Enjoy all that Festival Week in Oconomowoc has to offer.
Go to the Waterford Hot Air Balloon Festival.
Visit the Dinosaur Discovery Museum in Kenosha.
Change up the pace and head down to the Racine Zoo.
Go to Dousman Derby Days and learn the fine art of frog jumping.
Check out the Madison Children's Museum.
Watch a movie under the stars at Moonlit Movies in Oconomowoc.
Visit a farmers market.
Eat Pancakes in the Park for free in Dousman!
Go to a Brewer's Game. *Tip – take your family on Sunday for kids day!
Fly a kite at the Milwaukee Lakefront at Veterans Park.
Take your family and fur family to the HAWS Pet Fair in Menomonee Falls.
Visit the Vilas Zoo in Madison. It's FREE!!
Watch a ski show. 
Find the Best Local Parks picked by Lake Country Family Fun followers.
Enjoy a beer garden with friends, a date night, or with your family!
Visit the Milwaukee Public Museum.
Enjoy the 6th Annual Delafield Block Party on July 13th & 14th.
Join GLOstice at The Corners of Brookfield and stay to watch a live concert!
Cool of at the New Berlin Historical Society during their ice cream social.
Visit the Dousman Stage Coach Inn in Elm Grove on the first and third Sundays of the month.
Too hot outside?  Check out the Kids Dream Summer Film Series for only $3!
Find a pool to cool off!
Get your art on at the Milwaukee Art Museum.
Take a mini-vacation to Chicago with the kids and contact Lovejoy Travel Agency to book your stress-free stay.
Visit the Mitchell Park Domes to watch the koi fish.
Step back in time and visit Old World Wisconsin.
Enjoy the sights and sounds (and food of course) at the Waukesha County Fair.
Explore Bookworm Gardens in Sheboygan.
Check out an Indoor Play attraction on a rainy or steamy day.
Go to Jammin on Janesville and sign up for the summer reading program, there, too!
Watch a movie under the stars in Sussex.
Take the kids to see Pirates of the Curry Bean Jr. or Pirates of Penzance Jr. at Lake Country Playhouse.
Spend your day at Hartland Kids Day! 
Have the kids join the Summer Reading program at their local library.
Don't miss any of the Best August Festivals.
Listen to some tunes at Tosa Tonight concert series.
Celebrate the 4th of July with some fireworks. PS. Find more fun in our 4th of July Guide.
Have a ball at Sussex Lion Days.
Hop onto the East Troy Electric Railroad.
Practice swim safety at Goldfish Swim School in Brookfield or have your child's birthday party there.
Ride a ride at Little Amerricka.
Find a treasure at the Dousman Community Rummage Sale or any other rummage sales throughout the summer.
Be amazed at the Water and Air Show in Milwaukee.
Go frolfing at Harnischfeger Park, Wales Community Park, Dretzka Park or the New Berlin Disc Golf Course.
Head to Okauchee Lions Days Fest and Festival event, plus BBQ Cook off!
Don't forget to share your summer fun with Lake Country Family Fun on Instagram (IG) with #lovelcff. 
Find us on IG here.
PIN THIS POST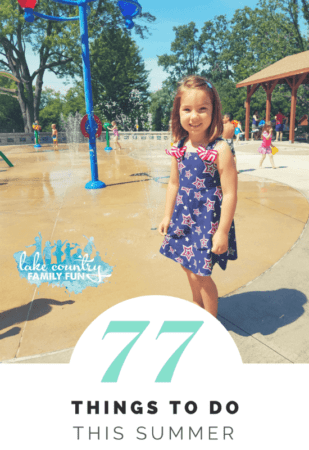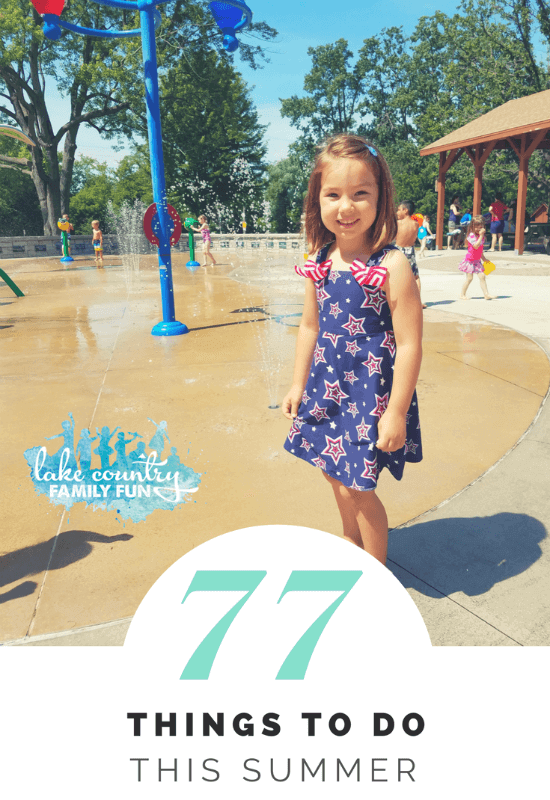 PS. If you are looking for more summer fun, be sure to check out our FREE Summer Fun Guide or our Summer page. 
Happy Summer Memory Making!