BIRTHDAY PARTY GUIDE FOR SOUTHEASTERN WISCONSIN
WAUKESHA AND MILWAUKEE COUNTY
Local businesses and venues listed in this Birthday Party guide have paid to be listed, but each one has been recommended by Lake Country Family Fun or My Milwaukee Mommy readers.
Do you find yourself or friends asking:
Where Should I have my Kids Birthday Party?
We hear this question all the time and just love putting together this helpful, one-stop resource to help parents find the perfect party venue for their children. We are pleased to be bringing back our birthday party guide with our partnership with My Milwaukee Mommy with OVER 20 local venue listings!
MILWAUKEE AND Waukesha COunty's largest birthday venue listing and #1 result on google for "Birthday party Waukesha"
As parents, we know how hard and time consuming it can be to throw the perfect party. The more children we have and the more time that goes by, we realize the value of having someone else do the work…and relieve us of all that stress! LAKE COUNTRY FAMILY FUN and MY MILWAUKEE MOMMY have received feedback from our fans of their favorite venues and reached out to some of the best local birthday party venues to create a lasting partnership with some of these local businesses! Take a look at the advertorial listing we have put together and consider having your party there!
PLEASE MAKE SURE YOU LIKE LAKE COUNTRY FAMILY FUN ON FACEBOOK FOLLOW LAKE COUNTRY FAMILY FUN ON TWITTER, INSTAGRAM AND PINTEREST TO BE IN THE KNOW FIRST OF ALL THE FAMILY FUN IN MILWAUKEE AND WAUKESHA AREA!
Don't forget to wish Lake Country Family Fun a happy 12th Birthday April of this year (2023)!
Please thank our PreMIERE Birthday party guide sponsor: BRIO STUDIOS

Brio Studios is thrilled to host the birthday party of your dreams! Get ready to celebrate your child's special day with an unforgettable extravaganza ranging from messy art to dance parties and everything in between, we are here to make your kiddo's party EPIC! 
Where to have a Birthday party for kids in waukesha and milwaukee
Description:
Calling all parents and little party animals! Brio Studios is thrilled to host the birthday party of your dreams! Get ready to celebrate your child's special day with an unforgettable extravaganza ranging from messy art to dance parties and everything in between, we are here to make your kiddo's party EPIC! With 3 different styles of parties and 3 different packages to fit a variety of interests and catered options for parents, at Brio your party planning is a breeze! Whether your child is an aspiring artist, a budding dancer, or dreams of a fairytale tea party, we have the perfect theme waiting for them. Whether you're looking for a basic celebration or an all-out extravaganza, we've got the perfect party level for you.
Description:
Birthday parties at Springs Water Park are a splash! Kids of all ages love the activities the park offers and adults appreciate the variety of packages that are designed to fit their budget. Springs Water Park makes it easy to create birthday memories that will last a lifetime.For information on packages, please visit our website by clicking the link below. 
Find Springs Water Park on FACEBOOK!
Description:
Come play with us! 
Old School is an arts and recreation space to exercise your mind, body and spirit. 
Rent the Cafeteria for many uses including parties, live music, arts and crafts, classes, movie nights, and game nights…Or, bring your ideas! This room has a giant slide, movie screen and projector, disco ball, old school arcade, and multiple cafeteria tables.
The Gym is a space for physical fitness, fun and games. Bring your own equipment or rent from our on-site options. Choose from a variety of balls, scooters, plasma cars and gym games during your time at Old School.
Description:
Party packages include two hours of unlimited access to all of our amazing attractions, including our brand new inflatables, laser tag, rock climbing, climbing structure, building room, arcade games, pinball, and so much more.  You'll also have access to a private party room where you can enjoy soft drinks, pizza, cupcakes from Milwaukee's own Classy Girl Cupcakes, Purple Door ice cream or a cake or cupcakes you bring from home. All parties are hosted by your own private party coordinator for a perfect experience from start to finish
Description:
We're here to make sure that your child's birthday is everything they've dreamed of! Our chemical reaction experiments, rocket launches, cotton candy making, and ready-to-go Goody Bags, loaded with multiple science-themed toys, are sure to make their day extra special! We can come to you or party at our NEW party space in New Berlin! Several party themes packages to fit every budget.
Description:
Fairytale Birthday Company is the perfect choice for children's' parties, special events, and more through our unique specialization in character and family entertainment. Our professional trained team of performers and seamstresses brings to life special characters such as Princesses, Superheroes, Mermaids, Pirates, and other magical characters for your special day.
Follow our adventures on Facebook or Instagram !

Description:
Looking for fun things to do with kids? We've got you covered! Various party options: Nerf Wars Players will battle it out for 90 minutes in a number of different fast-paced, exciting, organized battles for bragging rights with their friends. Bunker party room for rest, rehydration and hang out We provide blasters, safety equipment and an endless supply of ammunition, all you need to do is show up! Food/Beverage available for purchase. Kids JV Birthday Package (recommended up to 10 kids, 2 hours party with games and pizza); Kids Varsity Birthday Package (recommended up to 20 kids, 2 hours party with games and pizza) Book your party today!

Description:
We are a unique event space inside of Thirst Church in Oconomowoc, WI. We have two great spaces for birthday parties, The Clubhouse and The Lounge. The Clubhouse is a large open space with a two story play structure! It's a great space to have a fun and simple birthday party. The Lounge is a wide open space with a large sectional, TV, carpet ball and ping pong table. The Lounge is a great space for older kids, they can watch a movie or hook up their gaming system to the TV. You can also add on The Nursery if you have littles, 0-4 year olds, attending. These spaces can be rented separately or combined for your party needs! Bring your own decor, snacks and treats for a fun and easy birthday party set up. We also have a party host available to help as needed! 

Description:
Whether you want a special spa day just for (1) a la carte style, or up to 30 we are the perfect party destination! We offer fully decorated themed party rooms rentals to bring your own food & cake for $40. Every party comes with 2 live microphones for karaoke singing, games, and manikin doll heads to roll play with. We offer a dress up trunk, or spa robes for your services. Finish your party with a red carpet announcement fashion show to strut your new fashion look!
* Pedicure * Manicures * Animal Facials * Glittery up do's * Jewel Gem Make Up * Spray your hair in colors * false eye lashes * glitter tattoo's, * colored hair extensions and more!

Choose from party packages starting @ 5 girls total for $140 each additional guest varies. Call for a free tour. 262-786-2887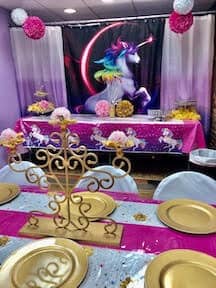 Description:
Celebrate at the Betty Brinn Children's Museum! Party reservations are offered Friday-Sunday for either 20 or 40 guests. Be sure to check out the party add-on options to complete your special day!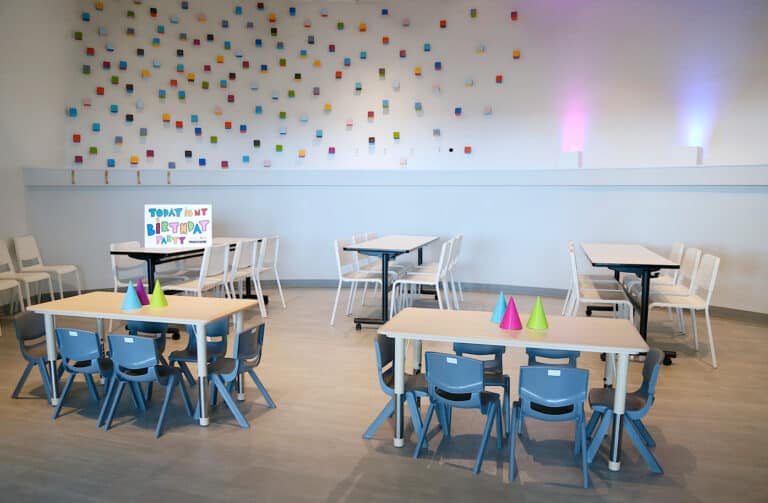 Description:
Come join us year round to run, climb, ride, slide and have a blast at our indoor playground. The Big Backyard brings the outdoors inside with huge play equipment, riding toys, balls, playhouses, infant toys, and more.
We are also the perfect place to host parties and special events. Let us make your child's party fun, easy, and one they won't stop talking about.
For details on parties, click on the website link.
Description:
Come celebrate your child's birthday at be Fitness in Delafield!  Our Party Attendants will lead activities such as dodgeball, basketball, obstacle course and tug o' war for an hour and a half of games.  Does your child have a favorite activity or game?  We can do that, too!  You can bring in your child's favorite food, drink and dessert – we will provide plates, napkins, silverware, cups and FUN!
Description:
Have an awesome party at Bug & Goose Play Cafe! There are 2 different packages – all packages include private use of the space for 2 hours plus 30 minutes for setup and cleanup, goodie bag favor for each child, access to the coffee bar as well as two party attendants.
Other party packages include various catering and cake options.
Additional party add-ons including extra 30 minutes, face-painting, customized cookies or cakes, photography, balloon garlands, and characters are available at an extra cost.
Description:
This will be your child's farm birthday party of their dreams! In the beautiful Ixonia countryside sits a little Farmette filled with the sweetest animals you'll ever meet! The children will love feeding, watering and brushing the mini horse, donkey, sheep and goats! Bunny and kitten snuggles will be loved by all! A fun flock of feathered friends will be eagerly awaiting treats! It's always a thrill to collect eggs of all different colors!
Besides the animal fun we will read a story, create a take home craft, play age appropriate games and explore the gardens and snack on fresh fruits and vegetables! 
There will be time for cake and presents as well as plenty of time on the playground, obstical course, sandbox and playhouse as well as yard games.
We look forward to celebrating your littles very special day that they will remember forever! 
Description:
Birthday parties at HAWS' Waukesha shelter are held in our private activity room and are led by a HAWS educator. During your two hours at the shelter your group will receive a tour, one on one time with HAWS adoptable animals, plus a meet and greet with our two education reptiles, Kaa & Meatloaf! Time is set aside during your party for the guest of honor to open presents, and for the group to enjoy food (either the pre-purchased pizza or food you provide) and/or cake.
Birthday parties at the HAWS Schallock Center for Animals in Delafield take place both indoors and outside, depending on weather. They are led by a HAWS Educator and include a special area for your party setup and a stuffed animal gift for the birthday child. For an additional fee, add on a birthday cake of your choice and juice. Your two hours at the Schallock Center include one on one time with the resident goats and horses. Time is set aside during your party for the guest of honor to open presents, and for the group to enjoy food (that you provide) and/or cake.
Description:
Our expert party team leads your group in a variety of high-energy, age-appropriate games with activity options including Blasters & Darts, Ninja Obstacle Course, Relays & Dodge Ball games, fun martial arts drills, and MUCH more! Parents tell us they LOVE our parties because of our clean, safe, private venue, NO worries, and NO stress. Just bring the cake/cupcakes …then have fun enjoying the moments. We'll take care of the rest!! Choose from a variety of popular Decor Themes (custom printed invitations provided as well!)….. Examples include: Super Hero, Ninja Warriors, Mermaid Princess, Ninjago, GLOW party, Toy Story, Minecraft, Rainbow Unicorn, Harry Potter, Super Mario, Spider Man…. or any color theme of your choice!
$330 Party Package:
90 min. party, Up to 24 child guests, dedicated party host, decorated party room & place settings, bottled water for guests, Custom printed invitations, Set-up & clean-up by JMA staff.
$450 Party Package:
2 hour party, all of the above PLUS Papa John's Pizza & juice boxes for up to 24 guests.. 

Description:
Host the "COOLEST" party in town with the Kona Ice truck!  We can swing by and serve up Konas and smiles to you and your guests.  Whether you flavor your own with our Flavorwave or choose one of our 30+ custom flavors, you can't go wrong with Kona Ice!
We come to you!  The birthday party package (for 20 kids) includes the following: 
– Klassic Konas
– Leis
– Kona toppings
– 30 minute visit from the Kona Ice truck
– Special gift for the birthday child
Description:
Enjoy up to 2 hours of fun, while making a work of art.  Choose from sculpting with clay, drawing, glass fusing or painting. (project is selected ahead of time). The group will be instructed on how to make the selected project and allowed ample time to complete it.   
Description:
Host your child's birthday party at one of Southeastern Wisconsin's most unique venues. Our $275.00, 90 minute package includes 15 admission tickets with complimentary parking for any guest 3 or older. We provide the birthday child with a gift and digitally signed card by one of our animals in our vast collection. Looking to make your day even more memorable? A friendly and knowledgeable Zoo staff member can host your up close and personal encounter with a combination of 3 farm animals at an additional cost. Reserve your child's unforgettable day today!
Description:
The Mullett Ice Center offers two package options to fit your needs!
Option 1: $12/guest includes admission, skate rental, use of private team room
Option 2: $16/guest includes admission, skate rental, use of private team room, choice of popcorn or chips and drink
2 parent skating passes are included with your party package. Outside Food and Drink is allowed.
Each party guest will receive a free skate pass.
Please contact us for larger parties!
Description:
Your daughter will love the pampering she receives with her friends on her special day. All parties are inclusive of invitations, paper products, party assistant and party area to serve food/cake. Try the new "Slumber" party or a themed party (princess, mermaid, or unicorn). Princesses can also visit for a fun add-on!
See our birthday fun there on INSTAGRAM!
See our sneak peak into Snips and Giggles after they first opened HERE.  
Description:
WhirlyBall is the most fun you can have going 4 miles per hour! It's the combination of basketball, lacrosse, and hockey while played in bumper cars. We have birthday party packages for WhirlyBall, bowling, and LaserTag parties. Find out what the fun is all about! 
Other Birthday Party location Ideas
Know any more? Tell us about them in the contact form and we will add to the list!
We love shopping local! Our top favorite local shops for kiddos are The Purple Giraffe, Silly Willyz, Snips and Giggles, Books and Company, and Hush Little Lanie! Click the Shop Small image to see our full guide for local shopping!
Don't forget the birthday party thank-yous
And once all the birthday planning and festivities are done…do you write thank you's to those that attended? If you are looking for tips on helping your child write thank you's for their guests, check out these 5 tips.
Want to be included in this Birthday Party Guide for Southeastern Wisconsin?
If you would like your party place featured in our roundup, feel free to reach out to the Lake Country Family Fun Team by clicking the button below.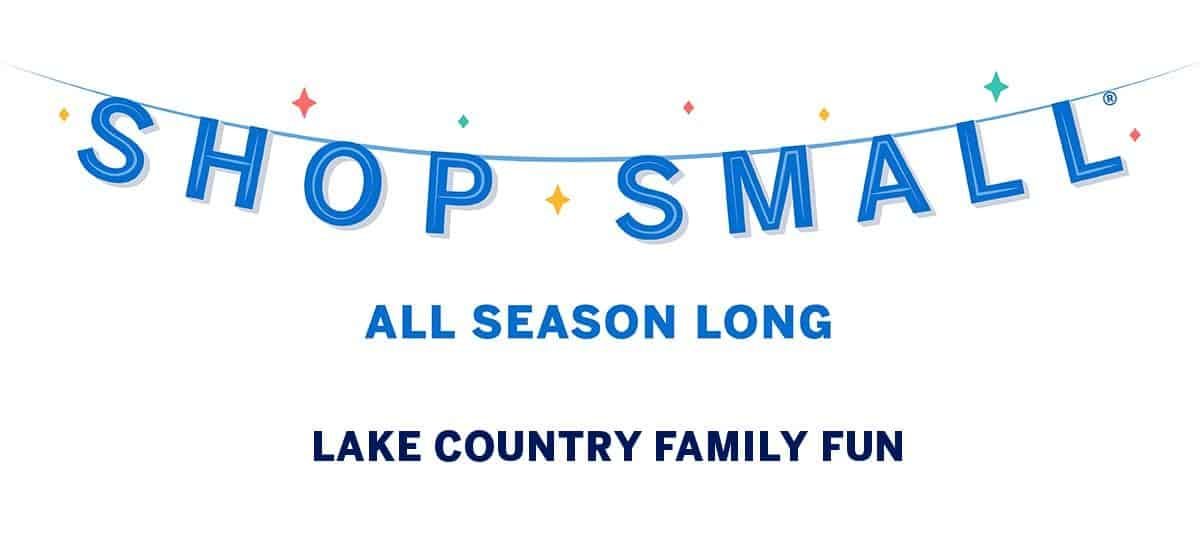 Click for our shop small guide and #shoplocal for gifts for parties you attend.