EARTH DAY IS CELEBRATING 52 YEARS THIS YEAR!
Did you know Earth Day originated in 1970 from a Senator in Wisconin? Earth Day (Friday, April 22nd) is a lovely reminder to celebrate our planet which sustains us, brings us joy, and is one of the greatest teachers for us and our children. Earth is truly a beautiful place and in Waukesha County we are certainly blessed.  By doing the activities listed below, we can help make our world a happier and healthier place to live! Here are 8 awesome ways to Celebrate Earth Day 2022!
Please thank our local Earth Day Guide Sponsor:
Divine Consign
The SHOPPING EVENT OF THE SEASON is coming to Lake Country April 27-30 at
Oakwood Church in Hartland. Who LOVES a great deal? Women and teens are invited to attend a ONE-OF-A-KIND shopping adventure featuring 30,000+ fashionable, unique, vintage, pre-loved, brand name spring/summer items up to 90% OFF retail. Check out this super organized, semi-annual pop-up boutique style THRIFTING event with something for women of all ages, sizes, styles and budgets! 
Visit us online for more shopping details & learn how YOU can shop our PRESALES:
http://www.divineconsignsale.com/shop/hartland
8 ways to celebrate earth day

1. Play Outside
State parks and County Parks are great places to get the family outside and enjoy the outdoors. For my family, there is a field that we ride our bikes to by our house.  On our bike ride there, we pass a pond and observe nature and ducks.  At the field, we play catch with the balls we've brought in the bike trailer.  So, celebrate outside and be thankful for Earth! Earth is a beautiful place and it is a gift.  We can also celebrate earth day by picking up trash or liter. Tip: Bring used grocery bags to protect your hands from touching it and another bag to put the trash in.
2. Help Minimize Textile Waste 
Did you know that $127 million of clothing winds up in landfills each year after being worn only once?
Divine Consign gives secondhand clothes a chance for a second story. It doesn't have to be new to be awesome! Shopping secondhand is one of the easiest things we can do to help save the world. Shopping secondhand at Divine Consign allows the opportunity to find the unexpected, the surprises, the hidden gems we never knew we always wanted. Kickstart your unique style with something preloved at Divine Consign. Preloved is reloved. Find out about their April event here.
3. Become a Waste Warrior 
Have Family Conversations around Recycling and Minimizing Waste.

Watch a video on Reducing, Reusing, Recycling:

Make changes to live more sustainably. 

Here are some great places to start:



4. Grow a Garden and Patron Local Farmers
5. Research and support sustainability organizations in our community
6. Plant a plant or a tree.
Fleet Farm's outdoor garden center opens soon!  You can buy seeds, plants, flowers and trees! Some plants will need to start off in your home until the weather shapes up, but think about all the good that comes from planting a tree. Trees absorb carbon dioxide and release oxygen. They are also homes and food for animals.  
7. Spend a Day cleaning up your neighborhood and community. 
Spend 125 Minutes making Waukesha better as they take care of our City for the future! Form a team and sign up to help pickup trash in a Waukesha park or Downtown as part of Earth Day. 
There are Bark River clean up days as well as clean up days organized by Waukesha County Parks for the public to attend.
8.  Attend some or all of these local Earth Day Events:
For me, experiencing nature is a reliable way to switch from a crabby mood into an inspired one and to refresh my spirit. Time spent exploring nature as a family often imprints my soul with a sense of connectedness long after we have returned to our usual daily routine.
"We don't inherit the earth from our ancestors, we borrow it from our children."
-Native American Proverb
Happy Earth Day,
Stephanie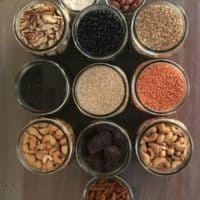 Read on about 10 practical and doable ideas for reducing waste! See what you and your family can implement this Earth Day!