This is a sponsored post.
Summer is just around the corner so Lake Country Family Fun has put together our Summer Camp Guide for the Lake Country area 2017! In this guide, you will find local camp information and links.  There are also two special sections this year – one for children with disabilities and a final section listing all of the Waukesha County area school district Summer camp links for your easy reference.
---
A big shout-out to our Summer Camp Guide Title Sponsor, American Dojo in Waukesha. Check out their awesome summer camp opportunities below.
School's out, but Ninjas are IN
at American Dojo this Summer…..
Active kids age 5-12 yrs will be thrilled to spend their days with state certified instructors while learning our Dojo Virtues, playing NINJA on our obstacle courses, practicing martial arts moves, creating through arts & crafts, completing nerf challenges, & much more!!
Summer 2017
Day camp for ages 5-12
Held at American Dojo in Waukesha
Camp hours

9:30a.m- 3:30p.m.

* 
*Early drop off (

7:30-9:30 a.m.

)
& late pick up (

3:30- 5:30 p.m.

) at no extra charge!
Ninja Fun Camp location:
American Dojo Martial Arts
2242 W Bluemound, Suite D
Waukesha, WI 53186 
Camp features:
*Ninja-themed games
*Dojo Virtues curriculum
*Obstacle course challenges
*Martial Arts instruction
*Craft activities
*Visits from local heroes
*Nerf & padded weapons
& MORE! 
Camp Dates
Camp Discounts Available:
*Register by 3/31, save $20 per week!
**Register by 4/30, save $10 per week!
***Book 3 weeks or more, save $20 per week!         
(must book by 5/15 for multi-week discount)
Visit http://www.americandojo.com/events.asp to find more info or call 262-542-2888.
---
Lake Country Summer Camp Listing 2017
SUMMER ART CAMPS – AUGUST

DATES: August 1 – 4 from 1 -4pm / August 15 – 18 from 1-4pm
RATES: $115 a child
AGES: August 1-4th is for K through 3rd grade / August 15-18 is for 4th – 8th grade
DESCRIPTION: Join for a week of fun and sun. each day we will explore and create using the theme of LIGHT. Student swill create artwork throughout the week using many different mediums.
LOCATION: 725 Main Street Watertown, WI
REGISTRATION: $50 deposit required, can be paid through event bright or at studio. Bring a friend get 10% off. Refer 2 and get 20%.
LINKS: http://www.setapartart.com / August 1st link: website / August 15th Link: website
BRICKS 4 KIDZ
DATES: Weekly half day and full day camps starting

June 12 – Sept 1

RATES: Preschool rates – $100 for a one week camps.  Rates start at $145/half day-one week camp for school age children
AGES: Ages 3 – 13
DESCRIPTION: A Bricks 4 Kidz® camp is a fresh and fun way for kids to spend their summer vacation from ages 3-14! We provide an extraordinary experience for children, where we learn, we build, we play… with LEGO® bricks. We build specially-designed, motorized Bricks 4 Kidz models, create cool mosaic LEGO art, compete with building challenges, play LEGO games, and MORE!  Kids are always having fun (and learn a lot!). Our specially designed project kits and theme-based camps, such as BRICK-MON GO!, MINING & CRAFTING, BAT LEAGUE: HEROES AND VILLIANS, BRICK CITY ENGINEERS, JR. ROBOTICS with the newly release WEDO 2.0, EV3 MINDSTORMS ADVANCED ROBOTICS and MORE!!!  Our PRESCHOOL CAMPS focus on letter recognition, patterns, colors, counting, fine & gross-motor skills, vocabulary, creativity and having lots of FUN! We provide the building blocks for the Bricks 4 Kidz approach to educational play. At Bricks 4 Kidz, our goal is to introduce S.T.E.M. (science, technology, engineering & math) concepts, in a fun, interactive environment, that fosters teamwork and encourages curiosity and creativity.  We are excited to announce we are partnering with YOUNG REMBRANDTS® this summer to offer several S.T.E.A.M. (science, technology, engineering, art & math) camps.  Students will have the opportunity to discover how they can transform 2-D art into 3-D structures, which is critical for the full development of the modern mind.  Our summer camps will provide an atmosphere and experience like no others!
LOCATION: Camp locations vary.  Locations in Delafield, Oconomowoc, Brookfield, New Berlin, Mukwonago, New Berlin, Greendale.
REGISTRATION: Camps  are open for registration.  Please visit our website for a list of dates, locations and themes.
LINK(S): www.bricks4kidz.com/build-wi
HILLSIDE SUMMER DAY CAMP
DATES: All Camp times are from

8:00 am to 4:00 pm

with before and after care available.

June 12-16

Culture Camp 1

June 19-23

Outer Space Camp

June 26-30

Time Travelers Camp

July 17-21

Into the Depths Underwater Camp

July 24-28

Super Hero Camp

July 31- August 4

Weird and Wacky Science Camp

RATES:

$75 per week

Before and after care available at $25 per week or $3 per am/pm drop in

AGES: Entering Kindergarten thru 6th Grade
DESCRIPTION: Join us for 8 Weeks of Summer Day Camps! Each week at Hillside Summer Camp has a unique theme campers will explore.  Our days are filled with Bible stories, games, crafts and adventures.  Your campers will have a day full of fun and excitement.  Join us for one or all eight weeks of camp.

 We will be exploring different cultures from Italy to Scotland. We will blast of to explore the the stars in the sky and then dive underwater to explore the depths of the oceans.  We will be turning back the pages of history to see the impact that it still has on our daily lives. Spend a week playing a variety of sports and games while working on teamwork and sportsmanship. Learn about honor and respect while having loads of fun spending the week as in the life as a superhero.  We will be very busy everyday!

LOCATION:

Hillside Community Church Summer Camp
S93 W30580 County Road NN
Mukwonago, WI 52149

REGISTRATION: Enrolling NOW!
LINK(S): 
PETITE PAS BALLET SCHOOL SUMMER CAMPS
Petite Pas Ballet has three types of Summer Offerings:
6-Week Dance Education Program in Downtown Delafield & Downtown Pewaukee
Summer Ballet Camps at Petite Pas Ballet in Delafield (4, 1-week long camps)
Summer Intensive Program
1. July 10 – August 19th
2. July 10 – August 4th
3. July 31st – August 4 from 12:00 – 3:00pm
1. $135 (sibling discounts available)
2. Cost $185 (includes dancing, healthy snack, crafts and a showcase on the final day for family)!
3. Cost $225
1. Ages 6-8
2. Ages of our campers are 3 (must be potty trained) up to 6
3. Designed for students who are 7 – 12+
1. This summer we are offering our traditional 6-Week Dance Education Program!  Our 6-Week Dance Education program is designed after our Academic Year with weekly-classes offered for students in all our divisions … from our Petite Tot Division (parent and me participation class) up to our Pre-Ballet 1 and 2 Division for our older dancers (ages 6-8).  Our theme for the Summer 6-Week Program is:  Where the Wild Things Are!

2. This is going to be our best summer yet with wondering themes, plenty of twirling, magic and imagination.  Our camps are week-long camps (Monday – Friday) from 9:00am – 11:30am.  Parents, families and siblings are invited to a tiny showcase at the end of the week so they can showcase everything they learned during a most magical week.  Ages of our campers are 3 (must be potty trained) up to 6.  Now, 6 is just a suggested age – as we have had older kids who still believe in magic and whimsy just LOVE every second of their camp experience.  It is not a cut-off – just a suggested age.   Summer camps are offered at the Downtown Delafield location only. Our theme offerings this summer are:  The Sleeping Beauty, A Midsummer Night's Dream, Beauty & The Beast and Swan Lake!
3. We are over the moon to be offering our **first ever** Summer Intensive for our older students.  For those students who have 'outgrown' our traditional Summer Camps we designed a program that will allow them to hone in on classical ballet skills, terminology and technique while still embracing the storybook aspect of our program in addition to some (more subtle) dashes of magic and whimsy!  Our Summer Intensive is designed for students who are 7 – 12+ of age and for our students who are entering (or currently enrolled) in our Ballet I Division.  Previous ballet experience is required for students who are not currently enrolled in our studio.
REGISTRATION: Starts April 1, 2017!!
LINKS: Registration website for week long camps (Delafield location only): HERE / Registration for Summer Intensive camp: HERE / Registration for 6-week dance program (Delafield & Pewaukee): HERE
Watch Promotional Video:
Finally, Petite Pas Ballet will be offering our 6-Week Dance Education Program at a satellite location in Downtown Pewaukee!  Classes, curriculum and all the magic is all Petite Pas Ballet – housed in  a space that boasts the same magic, joy and art as we do – at The Lumpy Pumpkin!  We will be only offering a small sampling of classes there on Mondays and Thursdays during the summer and hope to be able to do the same in the fall.  Stay tuned for our future plans in Pewaukee. To learn more about the classes we will be offering in Pewaukee (Summer of 2017) please click HERE .
ZION CHRISTIAN THEATER CAMP HARTLAND
DATES: July 10 – July 13th
RATES: Registration fee is $15 per child
AGES: Serving Ages 3 to 11
DESCRIPTION: Kids ages 3-11 enjoy Bible stories, crafts, games, and snacks while learning the dialogue, music, and dance moves that comprise the 7pm, July 13th performanceof the play, "Sailing with the Savior." Note: children 6 years and older rehearse till 3:30pm on July 13th (free lunch is served).
LOCATION: Zion Lutheran School 1023 E. Capitol Drive Hartland, WI
REGISTRATION: Register at www.zionhartland.org. Space is limited.
GOOD TIMES DAY CAMP WAUKESHA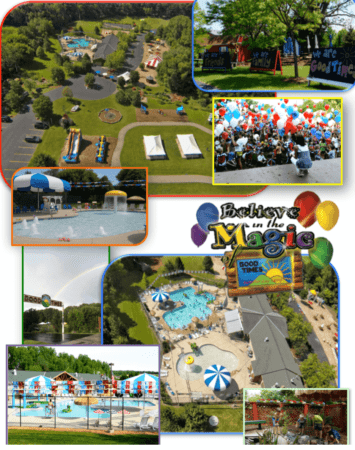 DATES: June 5th through September 1st
RATES: call 262-521-8100 or email Wisconsin@goodtimesdaycamp.com for pricing
AGES: Serving Ages 3 to 15
DESCRIPTION: Good Times…Where happiness and wonderment come to play. Give your child a summer to remember! An alternative to traditional indoor childcare. 15 acres, two heated pools, several athletic fields…just a few reasons 90% of our campers return year after year. Enjoy totally flexible scheduling that let's you decide when to come. Simply choose the number of days you would like to attend and then come whenever you want. Today doesn't work? Come tomorrow! You decide! We are so much more than just a sports camp! Onsite high school level coaches, swimming everyday, and field trips included! Where challenges are met, goals are accomplished and friendships and memories made last a lifetime! Bussing available to and from Good Times serving locations in Hartland and Brookfield. Call today to schedule a tour 262-521-8100!
LOCATION: 443 Merrill Hills Road, Waukesha, WI 53188
REGISTRATION: Enrolling NOW!
YMCA OF GREATER WAUKESHA COUNTY
DATES: Our Summer Day Camp is an 11-week program that runs June 12 – August 25, 2017. Campers can sign up for one or more weeks.
RATES: Refer to the master summer camp guide.
AGES: 4-15
DESCRIPTION: The YMCA of Greater Waukesha County has an exciting variety of Summer Day Camp programs conveniently located at ten different sites throughout our expanded service area. From traditional day camps, to sports, specialty, and outdoor adventure camps, the Y offers something for every child. Y Day Camp nurtures a child's development by providing a safe place to learn fundamental skills, build self-reliance, and develop healthy, trusting relationships. Most of all, our campers will have fun, while parents can have peace of mind knowing their children are in a safe and enriching environment with activities led by highly  trained, role-model staff.
LOCATIONS: 
REGISTRATION: Registration opens February 1, 2017.
 CAMP WHITCOMB/MASON
DATES: Day Camp runs

June 12- August 10, 2017 and the 

Resident Overnight camp runs

June 26- August 10, 2017

RATES: Day Camp $55 per day, $199 per week and the Resident Camp $480 week
AGES:  7-14
DESCRIPTION: Camp Whitcomb/Mason is located on 306 acres on the northwest end of Lake Keesus in the town of Merton.  We offer day camp, as well as week-long residential camps.  Our emphasis is on outdoor living and activities.  Weeks are designed around a theme.
LOCATION:W294 N8436 Camp Whitcomb Rd. Hartland, WI  53029
REGISTRATION:    Feb. 6, 2017
BRIGHT IDEAS LEARNING COMMUNITY SUMMER CAMP
DATES: June 12th-September 1st
RATES: See our website for pricing details
AGES:  3-14 (leadership opportunities for middle school age)
DESCRIPTION: Our unique, educational and engaging activities centered around our weekly themes will assure a summer your child will never forget! With our two locations, we offer many options when it comes to scheduling and age appropriate programming. Transportation is also provided to and from KM Summer Academy for the whole duration of Summer Academy. Parents love our engaging summer activities with an educational twist!
LOCATION:
110 E Oak Crest Dr.
Wales, WI 53183
AND
S31W29553 Sunset Dr.
Waukesha, WI 53189
REGISTRATION:   ENROLLING NOW!
MULLET ICE CENTER SUMMER SPORTS AND ACTIVITIES CAMP 
DATES: June 12th-August 25th
RATES: Weekly $125 half day and $225 full day
AGES: 4 – 12
DESCRIPTION: Summer Sports and Activities Day Camp will be open Monday-Fridays 8:00am-5:00pm. There are 3 options to chose from: Morning 8am-1pm, Afternoons 1pm-5pm, or all day camp 8am-5pm. Boys and Girls ages 4 to 12 are all welcome. This camp will run sports and activities all day long. Some activities will include: Kick ball, broom ball, softball, water games, volleyball, ice skating, nature walks, soccer, scavenger hunts, gym games, frisby gold, playground games and many more. The schedule of activities will be posted one week in advance. Inside activities will be done when we have inclement weather. Please sign up on our website or call or stop in at the Mullett Ice Center. Lunch is available if wanted for an additional cost. We request that you sign up by the 15th of the previous month so we have enough counselors available.
LOCATION: Mullett Ice Center 700 North Ave Hartland WI 53029
REGISTRATION: Now!
DIVINE REDEEMER STEPPING UP ACADEMY
DATES:  

July 5-July 28, 2017

RATES: $300
AGES:  K3, K4, K5 & 1st grade
DESCRIPTION: Divine Redeemer Lutheran School, a nationally accredited school and known for its dedication to educational excellence, has developed a program tailor-made to prepare your child for kindergarten and first grade readiness. The program is called  "Stepping Up Academy." It is a four-week, three-hour program from

8:30 AM to 11:30 AM

and is designed for children entering 3-, 4- or 5-year-old kindergarten or first grade in fall 2017. Your child must be turning 3, 4, or 5 by

September 1, 2017

. Extended wrap-around child care is available before and after the Stepping Up Academy hours between

7 AM and 6 PM

weekdays.
LOCATION:   31385 West Hill Rd., Hartland, WI 53029
REGISTRATION:  NOW! Priority registration is due by

Friday, May 26, 2017

.
WEE KNOW CAMP LOTTA-FUN
DATES: June 12 through August 30, 2017
RATES: variety of options – call  262-367-0200 for rates
AGES: 2 1/2 yrs – 11 yrs.
DESCRIPTION: Wee Know School's Camp Lotta-Fun has the perfect combination of outdoor and indoor activities for children ages 2 ½ to 11 yrs.  Our large backyard offers a sand pit, bike path, water play areas and plenty of room for group games, nature hikes and picnics!  Weekly field trips are a hit with our school-age children.  Monthly "In House" specials and weekly enrichment options are offered.  We wrap up each summer with our "Family Fun Night", a themed outdoor party for all of our Camp Lotta-Fun families! Wee Know is open from

6AM to 6PM

Monday

through

Friday

.  Families may choose our "Morning Camp" or schedule "Extended Care" if longer days are needed.
LOCATION: 3325 Hwy 83, Hartland, 53029
REGISTRATION: We are presently registering for Camp Lotta-Fun.  Classes are filled on a first-come, first-served basis.
LINK(S):  www.weeknowschool.com and www.facebook.com/
LAKE COUNTRY PLAYHOUSE Summer 2017 Musical Production Workshop: Shrek Jr. & Once Upon A Mattress
DATES: Shrek Jr. 

Monday

–

Friday

9am-12:30pm

June 26th-July 27th, 2017

. Once Upon A Mattress 

Monday

–

Friday

2pm-5pm

July 5th-August 3rd, 2017

RATES: $275
AGES: 7-18
DESCRIPTION: The Playhouse Performing Arts Academy is an actor training program offering a unique opportunity for young performers each summer where students come together in camp every day to hone their craft with workshops in acting, singing and dance, while also putting up a full production at the end. All students are called every day and conflicts will play a role in casting. QUESTIONS: education@lakecountryplayhousewi.org 
LOCATION: 221 E. Capitol Dr. Hartland, WI 53029
REGISTRATION: Auditions

April 24 & 25
FAMILY TAE KWON DO CHAMPIONS DAY CAMP
DATES:

Oconomowoc Location: 

Friday, June 16th, 

Friday, July 14th and 

Friday, August 18th

Delafield Location: 

Friday, June 23rd, Frid

ay, July 21st and

 

Friday, August 11th

TIME

:

8am-4pm

*  (early drop off available as early as

7am

for additional $10)

RATES: $40 per camp, additional $10 for early drop off (as early as 

7am

)
AGES: 4-12 years old, non- students welcome!
DESCRIPTION: Join Family Tae Kwon Do Champions in an action packed day full of fun activities including, but not limited to: tae kwon do skills and drills, arts and crafts, dodgeball, games, and much more!  All participants should bring a bag lunch, snacks, a water bottle, and sunscreen.
LOCATIONS:

125 N Fowler St. Oconomowoc 53066

2846 Heritage Dr. Delafield 53018

REGISTRATION: Registration now open, limited to 40 children per camp!
LINK(S):

 
EQUITATE SUMMER RIDING CAMP
DATES:  Our week-long camps are hosted June 12th – 16th & July 24th – 28th 

Monday

–

Friday

9am – 3pm

RATES:  For pricing and to register for 2017 Summer Riding Camp, please visit our website – hurry, limited space in each session!
AGES:  7 – 17 years of age
DESCRIPTION: Spend part of your summer vacation at Equitate Summer Riding Camp! Equitate offers a full day of fun, hands-on activities with horses, fellow campers, and our knowledgeable staff.  In addition to daily riding lessons, beginner riders will learn and practice grooming, tacking, and everyday horse care.  Intermediate/advanced riders will build upon their previous knowledge throughout camp and will be assigned a string of horses to help care for. They will also have the opportunity to shadow the trainers and other equine professionals to learn the ins and outs of barn management, show horse care, and the booming equine industry. Let's not forget this is summer which means we can enjoy our outdoor arena and fun summer activities such as painting our horses (giving them baths afterwards), an obstacle course, impromptu water balloon fights to cool down, equestrian crafts, and much more! And to top it all off, riders will participate in a show at Equitate on the last day of camp. Families and friends are encouraged to attend.
LOCATION: At our beautiful facility just minutes from downtown Oconomowoc
REGISTRATION: Open now, space is limited
SALVATION ARMY (SA) DAY CAMP
DATES:  8 week camp June 19 – August 25, 2017 (No camp week of 7/3) from 8:30am to 4:30pm
RATES:  Registration is $10 per child. Camp fee is $ 75.00 per week per child ($675.00 nine weeks) Family rate is $ 60.00 ($540.00 nine weeks) each additional child. Before/after care available $10 per week per extension or $3 per day per extension. Fees include lunch, snacks and most field trips. Pay tuition for the full summer in by June 15th and receive a 10 % discount. Slots held when payment is made.
AGES: Students Entering 2nd thru 8th Grades (Child must be 7 years old at the start of camp.)
DESCRIPTION: Children and families will find a safe, fun, productive environment where they continue to grow in mind, body and soul during the summer.  We will provide programs, activities, opportunities, resources and loving hands doing:
*Christian Education   * Nutrition Education     *Arts & Crafts    *Character Building                *Community Service     *Swimming    *Science     *Sports   * Games      *Enrichment Music     *Creative Engaging Field Trips   *Team Building    * Reading & Math Development  * Drama
LOCATION: The Salvation Army – 445 Madison Street, Waukesha, WI 53188
REGISTRATION: Submit completed forms to The Salvation Army Waukesha Youth Department with $10 registration fee per camper.
LINK(S): All Camp forms are available at The Salvation Army, 445 Madison Street, Waukesha 53188. Day Camp forms are also available via e-mail (cwinchowky@usc.salvationarmy.org) or on our website at www.waukeshasalvationarmy.org. Click here for their flyer.
SA RESIDENTIAL CAMP EXPERIENCE
DATES: June 13-16 (Sports Camp), June 19-24 (Music Camp), June 26-30 (Teen Camp), July 3-6 (Junior Camp), July 7-9 (Family Camp), July 10-13 (TSA Outdoors Camp), July 18-21 (Kids Camp)
RATES: $10 registration fee and $75 per child. Note: If your child is attending SA Day Camp and would like to attend the appropriate residential camp the cost is the same for that week and there are no additional registration fees (see SA Day Camp info above)
LOCATION: N8725 Army Lake Road East Troy, WI Transportation for residential camps provided from The Salvation Army Waukesha.
REGISTRATION:Deadline to register for residential camps: May 31, 2017 and June 1, 2017. After deadline check for availability, if that camp is full your child can be placed on a waiting list.
LINK(S): All Camp forms are available at The Salvation Army, 445 Madison Street, Waukesha 53188. Day Camp forms are also available via e-mail or on our website at www.waukeshasalvationarmy.org
THE Y AT PABST FARMS SUMMER DAY CAMP at Lake Country School
DATES: 

June 12th- August 25th

RATES:  $130.00 – $312.00
AGES: Grades entering 5K-8th grade (Volunteer opportunities for teens)
DESCRIPTION: The perfect place to fill your summer with excitement! Campers will participate in field trips and activities that promote confidence, character and self-esteem. Whether you come to camp for one week or for the entire summer, we're sure the friendships you make and the experiences you have will last a lifetime.
LOCATION: Lake Country School •  1800 Vettelson Road, Hartland WI 53029
REGISTRATION: January 1st, 2017
BROOKFIELD STEAM CAMP
DATES: J

une 12-August 25, 2017

RATES: 5 days a week: $200 for YMCA members, $235 for community participants; 3 days a week: $138 for YMCA members, $158 for community participants
AGES: 5-13
DESCRIPTION: Join us at Brookfield Elementary School this summer for STEAM Camp (Science, Technology, Engineering, Arts, and Mathematics). We will spend our days discovering, exploring, and hypothesizing while still taking time to do all things camp-related like swimming, games, field trips, and more!
LOCATION:   2530 N Brookfield Rd. Brookfield, WI 53045
REGISTRATION: 2/1/2017
LINK(S): www.gwcymca.org/elmbrookcamps
GALS INSTITUTE SUMMER WORKSHOPS AND GROUPS
DATES:Various Dates (see flyer link)
RATES: Various Rates (see flyer link)
AGES: 5-16
DESCRIPTION: Workshops and events are lead by licensed clinical staff trained to work with kids and teens. All events require a completed waiver and registration form. The summer groups and workshops include: Embrace Your Unique Self, Beauty Inside and Out, Grow Your Self Confidence, Frenemy No More, Calm, Cool and Capable Kids and Healty Relationship Self and Others.
LOCATION:   Various locations including Wales, Hartland, Oconomowoc, Delafield
REGISTRATION: Open now, registration required
LINK(S): http://us11.campaign-archive2.com/
WISTA SUMMER ORCHESTRA CAMP
DATES:  Session I (

June 25-27

) & Session II (

June 28 – 30

)
RATES: Early Bird Registration = $275, After

March 31st

= $289
AGES: Completed 4th Grade – 6th Grade
DESCRIPTION: Send your 4th – 6th Grade string students to WISTA Camp! We offer camp sessions at the beautiful Camp Whitcomb-Mason in Hartland, WI. We provide one of the best summer string camps in the state, combining high quality music instruction with traditional summer camp activities. WISTA (Wisconsin String Teachers Association) Camp offers students instruction in violin, viola, cello, and string bass in combination with traditional summer camp activities such as boating, swimming, and nature walks.
LOCATION: W294 N8436 Camp Whitcomb Road, Hartland, WI 53029
REGISTRATION: January 16th, 2017 –

June 16th, 2017

LINK(S): http://wiasta.org/wista-camps.html
ZOO SUMMER CAMPS
(Zoological Society of Milwaukee)
DATES:  

June 1 – August 14

RATES: Prices vary. Stroller Safari (infants): $10 Zoo Pass members/$20 non-members. Age 6 & up: $45 Zoo Pass members/$55 non-members.
AGES: infants, children ages 2-14, families, adults
DESCRIPTION: If you are looking for fun, safe and educational day camps, we've got them! Camps include Zoo tours, topic-related art & learning projects, science experiments, age-appropriate games and tons of fun! We are offering 35 different topics (over 500 sessions) for infants, children ages 2-14, families and adults. All Zoo Camps are guaranteed to be a wild time at the Milwaukee County Zoo!
LOCATION: Milwaukee County Zoo, 10005 W. Bluemound Rd., Milwaukee, WI 53226
REGISTRATION: February 8, 2017 for Zoo Pass Members; Non-members registration begins February 16, 2017
LINK(S): zoosociety.org/summer
STRIKE FC: MINI STRIKERS / ELITE SKILLS
DATES:  

June 26 – July 27 / July 3, 5,6,7

RATES: $85-$100
AGES: 3-6 Mini / 6-18 Elite
DESCRIPTION: Recreational Soccer Camps for ages 3-17
LOCATION: Locations vary by camp.  Please see full camp description and location at our website at www.strikefc.org.
REGISTRATION: Begins March 2
LINK(S): www.strikefc.org
---
Special Category – Camps for Children/Adults with Disabilities
ARCh CAMP POW WOW
DATES:  
| | | | |
| --- | --- | --- | --- |
| | | | |
| | | | |
| | | |   |
| | | | |
| | | | |
| | A.B.L.E. Adventure to La Crosse Trip | |   |
| | Kids' Residential (Expandable) | |   |
| | | | |
| | | | |
| | | | |
RATES: 

$450-$800

AGES: 5-21 and 22+
DESCRIPTION:  

Since 1959, ARCh Camp Pow Wow has been providing outdoor recreational opportunities for adults and children with disabilities.

 

As one of the first camps in the area for people with disabilities, ARCh Camp Pow Wow remains committed to accommodating all needs; no one

 

is turned

 

away due to disability or financial circumstance.

ARCh Camp Pow Wow offers residential and day camp options for people of all ages and

 

abilities.

 

Campers make friends and develop new skills through experiences in swimming, fishing, canoeing, gardening, fitness, life skills,

 

arts and crafts, recreation, music and nature.

LOCATION:  W220 N7884 Town Line Road, Menomonee Falls, WI
REGISTRATION: Now –

March 31
---
School District Summer

Programs 2017
School Districts of Waukesha County
Click on your district below to take you to their specific Summer School web page. Note: Some schools 2017 information has not yet been posted. Other schools registration is open already. Lake Country Family Fun is not responsible for the accuracy of information provided at the given website links.
Registration to be middle-late March …stay tuned
Registration opens March 20th, class list available March 6th
Online registration begins March 1. Classes will have caps on enrollment, so please register early. Registrations must be completed by June 10.
Online Registration will open March 6, 2017 at 6 a.m. and remain open until March 17, 2017 at 12:00 p.m.
2017 summer school information for elementary school is published and registration is March 16 – April 3.  Middle and High School summer information is not yet published. It will be updated on the website soon.
2017 summer school information not yet published. Information will be available at district website once it is. 
2017 summer school information not yet published. It was noted the registration would likely open in April. 
Registration open now.
Register through Skyward Family Access > Arena Scheduling.
Register Feb 22 – March 24th 
Sign up for the Falls Summer Academy 2017 will be available on April 23rd
Register Feb 20- March 17th
2017 summer school information is available. Registration opens April 17th.  Note: North Lake school is hosting the program. Here is a sampling of classes:
ProjectWILD
This summer prepare to journey into worlds unseen with the naked eye, worlds seen only by satellite, and worlds seen only through the lens of time.

Fairy Tale Fun
We will read, write, act out and even makeup our own versions of all the stories you know. Come join us as we use a variety of art materials to create familiar and made-up fairy tale characters, scenes, dragons and castles.

Junior Space Camp
Come and explore outer space! You will become space cadets and learn about the different planets, the stars, and the job of an astronaut while engaging in hands on activities.

Build Your Own Country
Have you ever wanted to be in charge? Well, in this class you're the boss! From writing laws and designing a flag, to composing a national anthem; you'll be able to build your own perfect country.

Fun with Flight
Join us on a journey into the mystery of flight. Here you will be able to develop a variety of experiments looking more closely into how flight is achieved. Bring your creative ideas for making different models to test out how far and high they'll fly.
2017 summer school information published and registration is March 13th – March 31st. Note: Location is Lake Danoon Middle School.  
Registration is now open for students.