The Summer Camp Guide contains several paid sponsors. 
Our Summer Camp Guide will be updated often. Please Check Back For Added Camps, Dates and Information.
2019 camps being updated…stay tuned!
The Summer Camp Guide is for informational purposes only. We will keep the guide updated regularly to assure our information is up to date and relevant. Prices and offerings are subject to change.
This list originally appeared on LAKECOUNTRYFAMILYFUN.COM and may not be reproduced, duplicated, or republished without permission. Thank you!
Want to add your summer camp to our guide?
Please email us at ERIN@LAKECOUNTRYFAMILYFUN.COM
Good News Parents!
Summer is just around the corner and Lake Country Family Fun has put together our super resourceful and handy Summer Camp Guide! In this guide, you will find local camp information and links. The information is presented in  tabs – one for sponsored camps, one for Vacation Bible Schools (VBS) and a tab listing all of the Waukesha County area school district summer school links for your easy reference. We've got you covered!
Need some further summer fun inspiration, start 

HERE

!
Summer 2019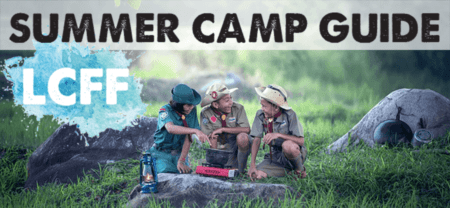 Summer 2019 is going to be awesome!  Keep your kids busy this summer with awesome camps which not only introduce social skills, but also help them grow and learn!
Please thank our Premiere Sponsor:
Good Times Day Camp in Waukesha
Please thank our Title Sponsors:
Brookfield Academy
Gals Institute
Lake Country Playhouse
Oconomowoc and Delafield's Best Summer Camp
Petite Pas
Red Arrow Camp
Salvation Army Day Camp
YMCA Pabst Farms
Thank you to ALL of our summer camps for hosting great camps for our kids!   This guide is split out by tab.  All of the summer camps are in the Summer Camp tab listed in the order of Premiere Sponsors, Title Sponsors and then alphabetical by camp name. 
Find all things SUMMER here on Lake Country Family Fun's one-stop Summer Spot Page (lakecountryfamilyfun.com/summer)!!!
2019 Summer Camps
PREMIERE SPONSOR
Good Times Day Camp is the PREMIERE sponsor of the LCFF Summer Camp Guide.
Good Times…Where happiness and wonderment come to play. Give your child a summer to remember! An alternative to traditional indoor childcare. 15 acres, two heated pools, several athletic fields…just a few reasons 90% of our campers return year after year. Enjoy totally flexible scheduling that let's you decide when to come. Simply choose the number of days you would like to attend and then come whenever you want. Today doesn't work? Come tomorrow! You decide! We are so much more than just a sports camp! Onsite high school level coaches, swimming every day, and field trips included! Where challenges are met, goals are accomplished and friendships and memories made last a lifetime! Bussing available to and from Good Times serving locations in Hartland and Brookfield. Call today to schedule a tour 262-521-8100!
TITLE SPONSOR
Brookfield Academy Summer Camp is a TITLE sponsor of the LCFF Summer Camp Guide.
Brookfield Academy's Summer Days program offers a variety of classes and activities for any students ages 4-18. Whether it's learning or keeping up with math, English, grammar, science, languages, and writing, or making tasty treats, flying drones, creating unique art, playing a favorite sport – Summer Days has something for everyone! 
Check out some of our newest classes including: Animal Explorers, Archaeology, Cake Boss II, Dance, Dinosaur Dig, English Challenge, French, Geology, Finance, Jazz Band, Keyboarding, Mandarin, Marine Biology, Math Challenge, Piano, Princess Party, Slime Camp, Space Explorers, Spanish, StemQuest, Suzuki Violin, Wizardry Camp, and more! 
Questions? Contact Julie D'Arruda at Julie.d'arruda@brookfieldacademy.org or call 262-783-3200.
TITLE SPONSOR
Gals Institute is a TITLE sponsor of the LCFF Summer Camp Guide.
Workshops and events are lead by licensed clinical staff trained to work with kids and teens. Gals institute events are focused on building resiliency and confidence. All events require a completed waiver and registration form to participate. See dates and details at galsinstitute.com events page or call 262 337 9770.
TITLE SPONSOR
Lake Country Playhouse is a TITLE sponsor of the LCFF Summer Camp Guide.
Mini Musical Camp: Supercalifragilistic | ages 5-9 | June 10-14 or 17-21 | 9-12pm | $175

Technical Theatre: concepts, safety and design | ages 9+ | June 10-14 | 2-5pm | $175

Summer Tech Workshop | ages 10+ | June 17-28 | 2-5pm | $225

Academy Masters: Summer Theatre Lab | ages 10+ | June 24-28 | 9am-12pm | $175

Summer Musical Workshop: Mary Poppins Jr. | ages 7+ AUDITION REQUIRED | July 1-31 (8:30-12:30am) or July 8-August 7 (1:30-5:30)| $275
*All camps run half day, Monday – Friday
**Additional dates may apply for performances.
TITLE SPONSOR
Oconomowoc and Delafield's Best Summer Camps are a TITLE sponsor of the LCFF Summer Camp Guide.
Imagine how much FUN your child is going to have each day in camp while making new friends and participating in all of these awesome activities!

• Martial Arts classes!
• Dance classes!
• Tumbling classes!
• Soccer!
• Basketball!
• Flag Football!
• Educational Activities!
• Lego Building Stations!
• Arts and Crafts!
• Karaoke!
• Talent Shows!
• Checkers/Chess!
• Field Trips!
• Trips to the Park!
• And More!
Time: 7:30am-6:00pm
TITLE SPONSOR
Petite Pas Ballet Storybook Ballet Camps is a TITLE sponsor of the LCFF Summer Camp Guide.
Our storybook ballet camps are filled with joy, dancing, amazing art projects and fun! Parents/guests are invited to an in-studio showcase on the final day to celebrate a beautiful camp week. 
Camps are Monday – Friday from 9 – 11:30am. 
Children will learn about the ballet theme through expressive classical ballet classes where their imaginations and personalities soar in a loving and nurturing environment. Healthy snacks are provided daily and the crafts are something that can be cherished forever. Each daily craft ties in the theme of the camp beautifully – truly engaging the child as a whole while maintaining our high-standard ballet curriculum
TITLE SPONSOR
Red Arrow Camp a TITLE sponsor of the LCFF Summer Camp Guide.
Red Arrow Camp is the camp that time forgot. Red Arrow offers a traditional, single-session summer camp experience for boys ages 7 to 16. Located on the beautiful shores of Trout Lake, Red Arrow's program of challenge and adventure provides boys an unmatched opportunity to develop confidence and learn new skills while having the summer of their lives. The Red Arrow experience is truly like no other. Built on traditions started more than 90 years ago, Red Arrow is an escape from the craziness and stress in the modern-day lives of our boys. Televisions are replaced with pine trees, log cabins, sports fields, and canoes. Video games give way to real live adventures in the wilderness of the Northwoods. The call of the loons and the crackle of a campfire replace the noise of the city and the blare of an iPod. Laptops turn into ping pong paddles and iPads into pen and paper. Here at Red Arrow, boys become unplugged from the everyday routine, and tuned into the wonder of nature, the satisfaction of hard work, and the magic of enduring friendships.
Contact Director Eric Roche directly for more information at   eric@redarrowcamp.com or call 920-728-2101.
TITLE SPONSOR
Waukesha County Salvation Army Summer Camp is a TITLE sponsor of the LCFF Summer Camp Guide.
Ours is one of Waukesha County's least expensive and most rewarding Summer Day Camp programs. Your son or daughter will have loads of fun and make new frends, while continuing to learn and grow all Summer long. Convenient– in downtown Waukesha near the hospital– close to swimming pools, parks, the library, the museum and other interesting, educational field trips, both in and out of Waukesha County. Wrap-around care available. Learn how enjoyable our Summer Day Camp experience can be — at The Waukesha County Salvation Army!
For more information contact Cheri Winchowky at 262-547-7367, ext 238 or email cheri_winchowky@usc.salvationarmy.org..

TITLE SPONSOR
YMCA Pabst Farms 2019 Summer Day Camp is a TITLE sponsor of the LCFF Summer Camp Guide.
The perfect place to fill your summer with excitement! Campers will participate in
field trips and activities that promote confidence, character and self-esteem.
Whether you come to camp for one week or for the entire summer, we're  sure the
friendships you make and the experiences you have will last a lifetime.
Academy at Civic Theatre is ready for a fun-filled summer of theatre programs. Are you? We offer Acting, Improvisation, Singing, Dancing, Scenic Design, On Camera Acting, a Junior Production, and more! Our highly engaging classes focus on developing listening, communication, and creative
problem-solving skills. Our outstanding staff works to create a safe, fun, and supportive environment for students of all ages and backgrounds to gain more confidence, take creative risks, and have a whole lot of fun doing it! Check out our website to see a full schedule of our summer offerings
Make this summer go down in history!  Set in the beauty of a Wisconsin State Forest, nestled among historic buildings, these camps will be adventure-filled, educational, and of course fun!  Summer Camps include: A Grand Adventure, Time Travel Adventure, Little House Adventure, and A Maker's Adventure.  Space is limited – register today!
TITLE SPONSOR
Camp Lotta-Fun is a TITLE sponsor of the LCFF Summer Camp Guide.
Wee Know School's Camp Lotta-Fun has the perfect combination of outdoor and indoor activities for children ages 2 ½ to 11 yrs.  Our large backyard offers a sand pit, bike path, water play areas and plenty of room for group games, nature hikes and picnics!  Weekly field trips are a hit with our school-age children.  Monthly "In House" specials and weekly enrichment options are offered.  We wrap up each summer with our "Family Fun Night", a themed outdoor party for all of our Camp Lotta-Fun families! Wee Know is open from 6AM to 6PM Monday through Friday.  Families may choose our "Morning Camp" or schedule "Extended Care" if longer days are needed.
DaySpring Summer Camp has a roster that includes cool kids with back-to-back activities for fun and learning featuring this summer's theme "The Incredible Race"! Flexible scheduling allows you to choose which days and how many days each week you would like to attend. Our FULL DAY CAMP program is available from 6:30 a.m. to 6:00 pm Monday through Friday. Our HALF DAY CAMP (4 hours or less) program is available Monday through Friday. Each week as we explore a new theme, your camper will be enjoying the great outdoors on our 36 acres of beautiful farmland. There will be plenty of time for games, crafts, STEAM projects, and indoor recreational activities in our new facilities! Christian values are a part of everything we do, and great coaches are taking out the suntan lotion, milkshakes, and rolling out the red carpet for a fun summer in the sunshine with YOU! Call today to schedule a tour 262-404-5092!
Summer Camp Schedule
June 10-14  The Race is Off—Summer Celebration
June 17-21  Wild Ride–Here We Go!
June 24-28  Crazy Carnival Clash
July 1-3  Dash Across the U.S.A!
July 8-12 The Zoo Rush
July 15-19 Mid-Summer Marathon
July 22-26  Island Escape
July 29-Aug 2  The Space Race–Out of this World
Aug 5-9 Teamwork Trekkers
Aug 12-16 Astounding Adventure
Aug 19-23 Cool Campers
Aug 26-30  Fabulous Finale
Does your child love pretending or acting? Maybe they can't wait to draw or paint. Perhaps singing and instruments make their heart soar. Or it could be their feet just can't stop dancing. Of course, every child loves to make and eat delicious food.
Drama. Art. Music. Dance. Culinary Art.
Let your child learn and explore all of these in an art camp centered on the Savior, Jesus. Each day includes Bible lessons emphasizing his saving work for your child. It concludes with a grand finale on Thursday evening when your child helps us host for you an "Evening of the Arts" that will be fun for the whole family.
Each summer Camp Lakotah becomes home to hundreds of youth looking for a life-changing experience!  Our Day Camp and Overnight Camp programs are unsurpassed in creating a safe, fun environment led by positive adult role models.
Unlike other day camps, we provide our campers with an overnight experience on a day camp schedule.  Day campers experience many of the same activities and program experiences as their fellow overnight camp friends.  During the morning hours campers choose their individual skill activities, while afternoons are spent participating in group activities.  Energetic staff, weekly themes, and new friends will make this your child's best week/s of the summer! Summer is a time for fun, friendships and new experiences.
Our traditional overnight camp program is perfect for the camper who wants to experience it all.  Each day is filled with individual and group experiences that meet your child's personal needs, while building a strong sense of community amongst the cabin.  Campers have the opportunity to choose activities that interest them, such as swimming, fishing, archery, disc golf, target sports, and more! 
While engaged in new and exciting themed activities which change weekly, campers gain self-confidence, personal growth, and discovery. Belonging to a community, new friendship and memorial experiences are just a few of the things our day and overnight campers gain while participating in rock climbing, gardening, lake activities, group games, arts & crafts and more! Located on 300 acres on Lake Keesus, we love sending our campers home with lungs full of fresh air, legs tired from regular activity, needing a bath from outdoor exploring, and a smile on their face!
Since 1959, ARCh Camp Pow Wow has been providing outdoor recreational opportunities for adults and children with disabilities. 
 
Located in Menomonee Park, ARCh Camp Pow Wow provides a rustic outdoor environment and a modern lodge building that contains a kitchen, bathrooms, nurse's office…and air conditioning to help cool off on those hot summer days! Last year more than 200 campers joined us for fun in the sun!
 
Camp offers residential and day camp options for people of all ages and abilities. Campers make friends and develop new skills through experiences in swimming, fishing, canoeing, gardening, fitness, life skills, arts and crafts, recreation, music and nature.
Heritage Christian Schools is proud to announce expanded programs for this summer! From academic course work to enrichment camps, we have more than 40 courses that are taught in a loving, Christian environment. Come join us for a great summer!

Discount of $5 per course for registrations before May 6.
Other summer camps we love
Milwaukee Zoo Camps
Bricks for Kidz
ID Tech Camps
Ninja Camp Hartland at Midwest Twister
Prairie Waldorf
Camp Velocity at Momentum
Salto Summer Camps
Lake Country Fine Arts School & Gallery
Mini Strikers and Jr. Strikers Recreational Camp
Bright Rising Summer Theatre
Equitate Horsemanship Camp Summer Series
5678 Dance! Studio
Bright Ideas Summer Camp
School District Info
SCHOOL DISTRICT SUMMER
PROGRAMS 2019
SCHOOL DISTRICTS OF WAUKESHA COUNTY
Look below to find your district 2019 Summer School dates. Lake Country Family Fun is not responsible for the accuracy of information please verify with your school district.
2019 School District of Waukesha Summer School Program will begin on Monday, June 17, 2019 and end on Friday, July 19, 2019. There will be no class on July 4th and 5th. Registration will begin mid-March. Stay tuned for further communication! 
Summer Academy 2019 will run June 17, 2019- July 26, 2019. No classes on July 4-5, 2019. Course selection will be available in late March 2019. Please contact Amanda Gill at 
gilla@kmsd.edu
 with any questions. 
Details coming soon.
Summer School dates are June 17 – July 26, 2019 (6 weeks). There will be no school on July 4 or July 5, 2019. No transportation is provided for summer school and no shuttle bus service is provided between sites. Important Note – we are not offering Summer School for students entering 4K in 2019. Online registration for Summer School 2019 will be held from April 8, at 6:00 a.m. to April 17, at 12:00 p.m.
We're hard at work planning Summer School 2019 with new and exciting offerings for Mukwonago students.  While final information is not yet available, Summer School dates are listed on the website link for summer school info.
Last year there was no summer school. Stay tuned for Summer 2019 plans.
S1 (Session One) is Monday, June 10 – Thursday, June 27 (no Friday classes)
S2 (Session Two) is Monday, July 8 – Thursday, July 25 (no Friday classes)
S3 (Session Three) is Monday, August 5 – Friday, August 16 (Monday – Friday)
The online registration takes place between 2/18 and 3/4. Class selection takes places 3/16 through 4/13. The Summer Program will have a different feel as Pewaukee embarks on construction. Dates listed on the webpage. 
Summer 2019 info coming soon.
Registration for 2019 will begin Monday, Feb. 25. Classes held June 19 – July 17.
Registration begins April 22 at 9:00 PM. Dates are listed at the website.
Summer Semester Dates:  June 17 – July 18. Advanced High School Math Course Dates:  June 17 – August 6. Registration open dates to be announced.
Summer 2019 info coming soon.
Summer 2019 info coming soon.
Summer School will begin on June 17 and will run through July 19 for all students. There will be NO CLASSES on Thursday and Friday, July 4-5.
Online registration will begin on Tuesday, March 5th at 8:00 am and close Tuesday, March 22 at 4:00 pm. A change in locations is another exciting announcement! We will now host our incoming kindergarten through second grade students at Burleigh Elementary. Grades three through eight will now be hosted at Brookfield Central High School. Our High School program will remain at Brookfield Central High School. 
Locations and Times:
KG – 2nd Grade: Burleigh Elementary (8am-11:55am)

3rd – 8th Grade: Brookfield Central High School (8:15am – 12:10pm)

8th – 12th Grade: Brookfield Central High School (7:45am – 12:55pm)
Vacation Bible Schools
Vacation Bible Schools Listings coming Spring 2019!
Want YOUR camp highlighted in our Summer Camp Guide?
Simply reach out to us via email by clicking on the link below and we will send you the Summer Camp Informational Packet!
Summer Posts & Guides
(In Process of being updated for 2019)