Ah, July – one of my favorite months. I love summer. I love the 4th of July festivities. I love the warm air. I love beach days. I love Sunday Fundays on the lake. I love dining outside. I love community festivals. I love Hartland Kids Day.
We asked on FACEBOOK what some of your favorite events of the month were, and loved reading the responses. Please continue the conversation THERE or tell us in the comments below what you love about this month.
Please thank our MUst DO JULY EVENTS Guide Sponsor: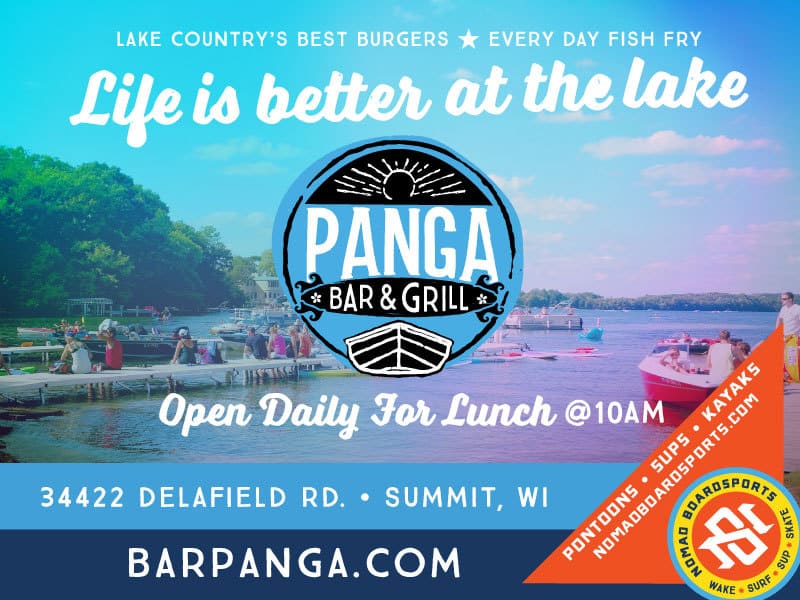 Panga Bar and Grill is Lake Country's place to go for great food, drinks and to enjoy the lake, located on Upper Nemahbin Lake. Have a sunny day and hope to see you soon!
1. Celebrate at the Hartland Hometown Celebration! Don't forget to see Lake Country Family Fun in the parade on Sunday, June 30th!! (It's not July – but it's close enough!)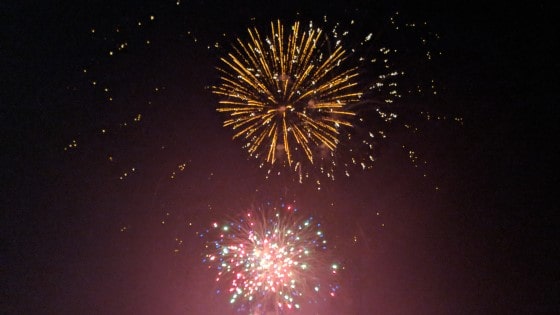 Our 4th of July Event Guide gives you all the information on parades, festivities, and fireworks! Sponsored by Old World Wisconsin
6. Take a road trip and travel back in time to 1574 at the opening weekend of the Bristol Renaissance Faire. I have fond memories of visiting the Renaissance Faire from my childhood, and can't wait for my kiddos to have the same! If you can't make it opening weekend, fear not! They are open for nine weekends.
7. TOUCH A TRUCK EVENTS! Have you been to WATERTOWN LIGHTS AND SIRENS yet? It's full of fire trucks, ambulances, police cars, and more that your kids can climb in and through and pretend to drive! Plus, get blown away by the UW MED FLIGHT HELICOPTER! Mark your calendar for July 9!
If you missed Watertown's Lights and Sirens event, do not miss Brookfield's Touch a Truck event for the truck-lover in your family on July 16. Plus, find upcoming Touch a Truck events here. 
8. Grab your friends and enjoy live music at the Delafield Block Party on July 12th and 13th.
9. Are you looking for a local art festival? At only $5 a carload, load up your family and friends and check out the Lake Country Art Festival on July 13th at Naga-waukee Park. The art festival goes from 9:00 am to 4:00 pm, so head back to the Delafield Block Party afterwards 😉
10. If you want to head to the north side of the greater Waukesha County area, check out Ashippun's Fireman Festival. This 3 day festival from July 13th-15th, features live music, a car show, and wrestling!
11. Do you want to experience the West without leaving Waukesha County? Round up your family and head out to Genesee Depot Daze on Saturday, July 20th. 
12. Do you have nostalgic memories of carnival rides and community events from your childhood? Check out Sussex Lions Daze to give your children that same feeling! Check out the fun on Friday, Saturday, and Sunday, July 12th through 14th! Don't miss the fireworks and parade 🙂
Lake Country Family Fun has partnered with the Waukesha County Fair again and can't wait to share this festival with you!
14. The Milwaukee Air and Water Show is back for 2019!! From July 27th through the  28th, check out this family friendly event. There are free spots to watch or you can purchase tickets for box seats. 
15. The Taste of Muskego is back on Wednesday, July 10. Bring your appetites to Veteran's Memorial Park. Purchase your tickets online here. No tickets available at the event.
16. Bring your family to the Hartland Street Dance on Saturday, July 20th for an evening of music, fun and food!
17. Hot air balloons are so fun to watch float through the sky, not to mention the beautiful designs. And this year, you don't have to travel outside of Waukesha County to see these beautiful creations! Mukwonago will be hosting their first event, Balloons over Mukwonago this July.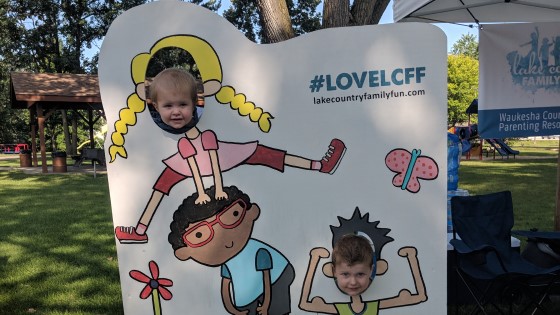 Lake Country Family Fun has been busy planning our best Hartland Kids Day yet!! Mark your calendars for Wednesday, July 31 from 9:00 am to 2:00 pm at Nixon Park in Hartland! Don't miss out on this year's fun with bounce houses, a rock wall, and more new features, like local celebrity appearances and live broadcasting from FM106!
19. Food! Are you hungry? Check out Pewaukee's annual Taste of Lake Country on July 26th and 27th. 
20. One of our Lake Country Family Fun readers wrote that Dousman Derby Days and the Wisconsin State Frog Jumping Contest was their top event this month. If you want some frog-hopping good times, check out Cory Park from July 26th through the 28th. 
21. Throughout the Whole Month of July – find Waldo in Oconomowoc with Books and Company. My kiddos loved this community wide scavenger hunt last year!
If you are still looking for more family fun in your July - look no further than our summer fun guides below!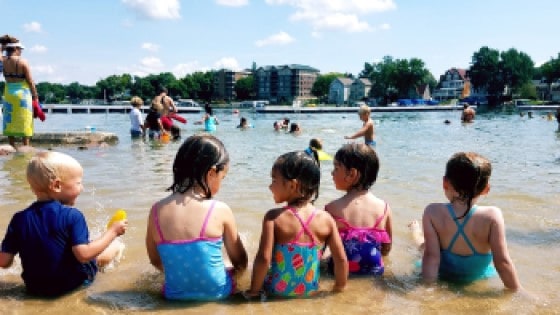 Our Ultimate Summer Bucket List of 77 things to do in and around Lake Country in conjunction with our Free Summer Fun Guide. Sponsored by Positively Pewaukee.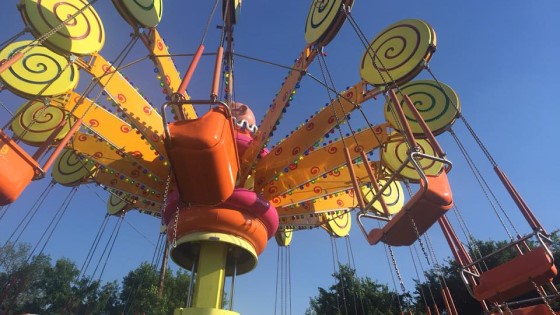 Find all the FREE fun things to do this summer with your family! Sponsored by Bridges Library Sytem - sign up for your local summer reading program!