How often do you visit Milwaukee with kids? Do you head into the city often or mostly stay in our quaint suburbs enjoying the #lakelife?  Previous to 2020, we had been venturing in to Milwaukee a bit more often and had been enjoying the short day trips, especially to the butterfly room at the Milwaukee Public Museum. If you are looking to explore the area around you, Milwaukee is not far away and is loaded with family fun. Here is Lake Country Family Fun's top picks for fun in and around Milwaukee!
The following are top spots for Milwaukee family fun:
Milwaukee County Zoo
Domes
Milwaukee Public Musuem
Discovery World
Milwaukee Art Museum
Milwaukee Brewers
Betty Brinn Children's Museum
Boerner Botanical Gardens (Hales Corners)
Fun Fact: We love our local libraries. The public libraries throughout Waukesha and Jefferson County are part of the Bridges Library System. You can rent things from one library and return at another. Except for the Library of Things. What is the Library of Things? Well, it's things…like snowshoes and giant UNO cards and a Frozen shaped baking pan or a kayak…that you can rent for FREE from the library! Each library has their own "library of things". You can learn more and search HERE.
PLUS – they offer passes to our favorites in Milwaukee, like the Domes and the Zoo, pictured above. 
CHINA LIGHTS WISCONSIN RETURNING IN
SEPTEMBER 2023
China Lights, the popular Chinese lantern festival, will be back at Milwaukee County's Boerner Botanical Gardens from September 15-October 29, 2023 (closed on Mondays). The theme for the 2023 edition of China Lights is "Nature's Glow." Tickets go on sale August 8 at ChinaLights.org.
The China Lights lantern festival, presented by Tri-City Bank, is a partnership between Milwaukee County Parks and Tianyu Arts & Culture. The 'Nature's Glow" theme will shine a light on biodiversity of the ocean and beyond to jungle animals and insects. The lantern displays made their debut at the Natural History Museum of France. Milwaukee is the first stop in the United States, to view this show.
"I'm thrilled to help announce that the China Lights Festival will once again illuminate fall nights at Boerner Botanical Gardens. The festival is one of Milwaukee County's most successful events, attracting over 100,000 visitors not only from the Milwaukee region, but the entire globe," said Milwaukee County Executive, David Crowley. "I hope everyone can find time to visit the new lantern displays this year and enjoy a vibrant cultural celebration."
China Lights features more than 40 larger-than-life themed lanterns, including:
· A giant 20 foot high Octopus that visitors can walk through
· An animated crab that "bubbles"
· A 20 foot long T-rex walk through tunnel
· A series of animated and illuminated bugs that shine lights on the biodiversity of the insect's world
Additionally, the iconic Chinese Dragon will be back, but in a completely different form.
The lanterns, which are 99.9% new this year, will be displayed around a three-quarter mile walking route through Boerner Botanical Gardens. Visitors will also enjoy the various interactive light displays and elements which are embedded throughout the lantern displays and found throughout the gardens.
China Lights continues to celebrate Asian folk-culture, with live performances from professional entertainers on the We-Energies stage each night, and a variety of food and beverage selections, including the popular beer garden in the shrub mall area.
"China Lights has become a yearly favorite for the community and tourists alike! We know people are excited to see what the new show will bring to the Boerner Botanical Gardens this year," said Guy Smith, Executive Director at the Milwaukee County Parks. "We're proud to showcase an illuminating experience with brand new lanterns along the unique backdrop of the gorgeous Gardens here in Hales Corners."
"We are thrilled to bring China Lights back to Boerner Botanical Garden for the sixth year and showcase these newly designed displays" said Huiyuan Liu, Event Manager of Tianyu Arts & Culture, Inc. "You can't miss the 18 foot tall rabbit, which will be staged at the entrance of the atrium at Boerner Botanical Gardens, celebrating the year of the Rabbit, along with other larger-than-life displays of ocean creatures and jungle insects, completing the theme of Nature's Glow. We are proud to continue the tradition of China Lights in Milwaukee and celebrate Asian culture and art with the community."
Admission
Tickets will be sold online at ChinaLights.org for a specific date and time. There are three time slots for tickets each night – 5:30 p.m., 7:00 p.m. and 8:30 p.m.. A limited number of walk-up tickets will be available at the box office at the festival entrance from 5:00 – 9:00 p.m.. There will be a $5- $10 surcharge for walk-up tickets.
Online ticket prices are the following:
General Admission (12 years+): $22 weekday, $25 weekend
Child (3-11years): $14 weekday, $16 weekend
Infant (under 3): free
Early Entry* (any age): $25 weekday, $28 weekend
Family Pack (2 general, 2 children): $62 weekday, $70 weekend
Unlimited-visit individual Season Pass: $55
Walk-up ticket prices are following:
General Admission (12years+): $35
Child (3-11yrs): $20
*Family Pack, Season Pass and Early Entry are not available at the box office.
*Early Entry tickets include the following:
1) Entry at 5:00pm to beat the crowd.
2) Guided tour and China Lights 2023 souvenir
Parking
Paid Parking Lot
Paid parking is in the paved lot nearest the China Lights entrance. Tickets for this lot may be purchased at the door ONLY at a first come first serve basis. The same parking lot will also be available on a first-come, first-served basis to people with disabilities who have state-issued disabled parking or disabled Veteran parking license plates, or the state-issued disabled parking identification card.
Other Parking Lots
First-come, first-served, complimentary parking will be available at fully lighted parking lots within Whitnall Park. Complimentary shuttle service will serve the outer lots. Designated drop-off areas for authorized taxis/uber and motorcoaches will also be located near the China Lights entrance.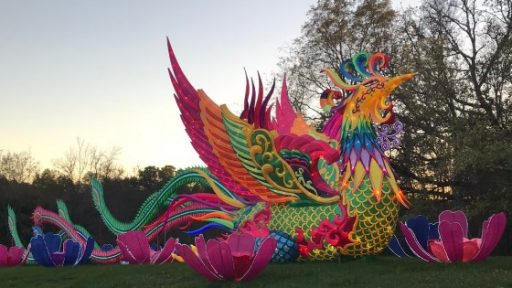 Get tickets NOW here: https://www.chinalights.org/tickets/
Join the conversation on Facebook –
we want to know if you've been to a Brewers Game this season ⤵️
Visiting Milwaukee with Kids
This is the summer of outdoors for us! We haven't ventured into Milwaukee County since quarantine lifted, but for those that are looking for ideas and live close in the eastern part of Waukesha County – there's still so much to do! 
They have beaches and plenty of area to walk along Lake Michigan in the outdoor air. 
Here are some ideas from our past adventures, with updates for 2020 and 2021:
What's your favorite place to visit with kids in Milwaukee?