MEDIA ALERT: Mitchell Park Domes Train Show Opens Saturday January 16
WHO: Milwaukee County Parks, Mitchell Park Domes
WHAT: Opening day for the annual model train show at the Mitchell Park Domes – this year's show features the theme 'All-Aboard Games'.
WHEN: Saturday, January 16, 9 a.m. – 4 p.m.
WHERE: Mitchell Park Domes, 524 S. Layton Blvd., Milwaukee, WI 53215.
WHY: The annual model train is the most popular show of the season, with over 50,000 people visiting the show in previous years. This year, advance tickets are required to help maintain safe visitor numbers – and masks are required inside the Domes. The theme brings classic game board favorites, including Scrabble, Monopoly, Clue and Candyland, to life, with the games surrounding 600 feet of track and 4,700 plants. Featured plants include miniature evergreen trees, topiary azalea trees in shades of pink, santolina plants carefully pruned to shape by our greenhouse staff and cyclamen, cineraria, violas, and petunias in an array of vibrant colors.
DETAILS: The Model Train & Garden Show will be open daily from January 16 – March 21. W-F 9 a.m. – 5p.m., Sa-Su, 9a.m.- 4p.m. The show is included with regular admission to the Domes.
Advance ticket reservations available at https://countyparksmke.com/domesreservation
What you need to know when you plan your visit to the domes:
All three Domes will open Wednesdays thru Fridays from 9:00 a.m. to 5:00 p.m. and Saturday thru Sundays from 10:00 a.m. to 6:00 p.m.
Before visiting, guests will need to reserve a timeslot at www.mitchellparkdomes.com.
Friends of the Domes members will be invited in before the public.
A maximum of 45 visitors will be admitted during each 20-minute window, although there is no time limit on how long visitors can spend at the Domes.
The reservation system will begin taking advance reservations starting September 16. No walk up admissions will be allowed at this time.
To help keep staff and visitors safe masks will be required.
Visitors will follow a one-way route through the three Domes.
The Domes Gift Shop, managed by the non-profit Friends of The Domes, will reopen with expanded space in the lobby area.
The Friends will also be offering virtual classes and events as part of the Domes Education Center.
The venue's event partner, Zilli's Catering, will also begin hosting private events inside the Domes after public admission hours.
—
And to reminisce from when we attended in January 2018 to the opening weekend of the Railroad to Wonderland, it was so warm (40 degrees) that waiting outside in line felt amazing. (It really did!) How often can you hang out outside in January with no winter jacket and feel the sun shining down on you?
But inside felt even better! We started with the Show Dome which was decked out for the winter train show. The theme was Railroad to Wonderland. My kiddos loved reading the chapters from Alice in Wonderland as we walked around the round room, decorated with all sorts of scenes from the classic tale.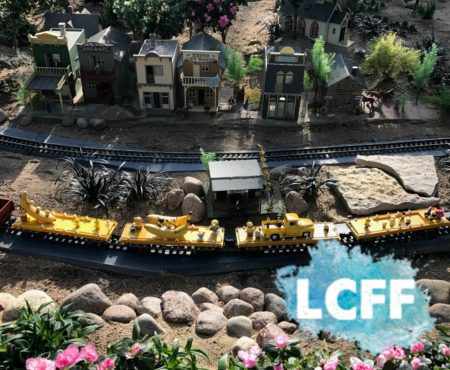 We moved on to the Desert Dome next, where of course we checked on my oldest's favorite lizard. We grabbed a scavenger hunt sheet for this Dome and began our hunt, checking off the items down the list as we found them. Another great idea is playing I Spy with your kiddos throughout the Domes.
My personal favorite dome is the Tropical Dome as I am usually always cold. The thermometer said it was only 72 degrees in the room, but with the humidity so high, it felt like I had been transported to a tropical oasis, a rain forest far away from Milwaukee, WI. Plus, the plants and trees inside here are just gorgeous! My kiddos love to stop on the bridge and watch the Koi fish swimming back and forth. Back and forth.
If you are looking for some educational, gorgeous fun with the kids, we highly suggest a visit to the Mitchell Park Domes. They have many special events going on through the year.  The hours of The Domes are Monday through Friday: 9:00 am until 5:00 pm and Saturday and Sunday 9:00 am until 4:00 pm.  For admission rates, please visit their website.
---
#KnowBeforeYouGo
We allocated about an hour to explore the Domes.
Madi took her little ones on a sunny, Friday morning in March and enjoyed the peacefulness of the Show Dome.
https://www.instagram.com/p/Bf00wVMnORs/?taken-by=lakecountryfamilyfun
Find more Fun in Milwaukee with Kids here.