The "Senses" Spring Floral Show Opens at the Domes April 16, 2022
The Mitchell Park Domes spring floral show opens to the public on April 16. The show, with the theme 'Senses' features floral displays designed to stimulate all five senses.
Colorful hydrangeas and violas provide a treat for the eyes; hyacinths and lilies add aromas to the show; windchimes will hang from the gazebo and a variety of fruiting plants, including lemon, pomegranate and grape vines can be found around the perimeter. Visitors will also be able to touch and smell fragrant herbs and in the gift shop, they will find plant-based essential oils as well as loose leaf tea from Milwaukee's Urbal Tea Co.
The Spring Show also includes 'Sticker Wednesdays' – visitors on any Wednesday during the spring Show will receive a free sticker.
The Senses spring show will run until May 29, 2022.
"The Mitchell Park Domes are the most photogenic spots in Milwaukee and there's going to be nowhere better for an Easter selfie than the Floral Dome" says Doris Maki, Mitchell Park Domes Director. "Visitor numbers this year have already rebounded back to pre-pandemic levels and we expect this new show will be a must-see attraction for spring tourists too."
What you need to know when you plan your visit to the domes:
Non-resident Admission is $8 adult, $6 juniors (6-17 years old), $6 Persons with Disability, $8Seniors (60+), and FREE for children under 5
Milwaukee County residents get discounted entry with ID ($1 less).
Admission is free for Members of the Friends of the Domes.
Must have a ticketed timeslot reservation. Purchase HERE.

Masks are required inside the venue.
2022 Domes Spring Hours:
Wednesday thru Friday: 9:00 am to 5:00 pm
Weekends: 9:00 am to 4:00 pm
*Last admission 1 hour before close
—
And to reminisce from when we attended in January 2018 to the opening weekend of the Railroad to Wonderland, it was so warm (40 degrees) that waiting outside in line felt amazing. (It really did!) How often can you hang out outside in January with no winter jacket and feel the sun shining down on you?
But inside felt even better! We started with the Show Dome which was decked out for the winter train show. The theme was Railroad to Wonderland. My kiddos loved reading the chapters from Alice in Wonderland as we walked around the round room, decorated with all sorts of scenes from the classic tale.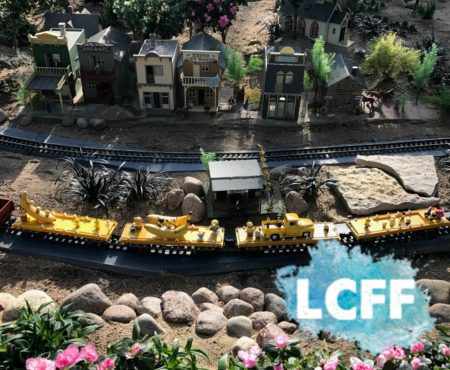 We moved on to the Desert Dome next, where of course we checked on my oldest's favorite lizard. We grabbed a scavenger hunt sheet for this Dome and began our hunt, checking off the items down the list as we found them. Another great idea is playing I Spy with your kiddos throughout the Domes.
My personal favorite dome is the Tropical Dome as I am usually always cold. The thermometer said it was only 72 degrees in the room, but with the humidity so high, it felt like I had been transported to a tropical oasis, a rain forest far away from Milwaukee, WI. Plus, the plants and trees inside here are just gorgeous! My kiddos love to stop on the bridge and watch the Koi fish swimming back and forth. Back and forth.
If you are looking for some educational, gorgeous fun with the kids, we highly suggest a visit to the Mitchell Park Domes. They have many special events going on through the year.  The hours of The Domes are Monday through Friday: 9:00 am until 5:00 pm and Saturday and Sunday 9:00 am until 4:00 pm.  For admission rates, please visit their website.
---
#KnowBeforeYouGo
We allocated about an hour to explore the Domes.
Madi took her little ones on a sunny, Friday morning in March and enjoyed the peacefulness of the Show Dome.
See some of our DOMES FUN!
Find more Fun in Milwaukee with Kids here.