Picking strawberries in the greater Waukesha County area seems to be a rite of summer.  My social media feeds fill up with friends posting pictures of their finds, and then their creations of tarts, pies and jam! 
Lake Country Family Fun has compiled a list of places near you that you can pick your own strawberries in Southeastern Wisconsin.  So go out and get a little dirty and enjoy the farms for a day. Please call ahead, check the strawberry farm and strawberry patch websites or Facebook pages to make sure they are still picking before you head out! Many strawberry farms and strawberry patches are weather and traffic dependent. The best time of day to pick strawberries is early in the morning! Get up and get out there 🙂
Our top Strawberry Picking Tips (from experience):
Call ahead. Don't make the drive only to find out they are done picking for the day.
Pick early and wear sunscreen or a hat.
Bring baby wipes along for those red fingers.
A kneeling pad or towel may be helpful.
Select only the firm, fully red strawberries as they do NOT ripen after they are picked.
You can freeze berries that you don't use right away – just wash, cut the hulls off and put them into an airtight ziplock bag.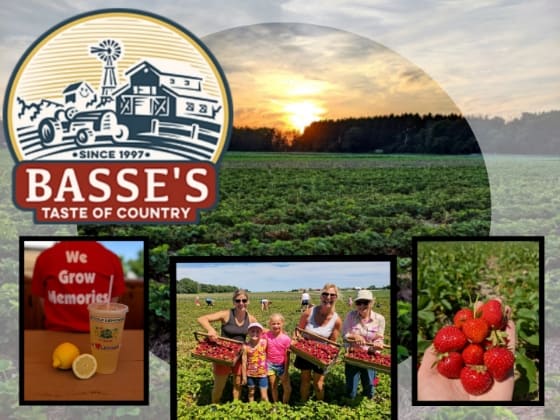 Basse's Taste of Country happily invites you and your family to join us for u-pick strawberries! Estimated to start in mid-June and ends around 4th of July. Nothing marks the real beginning of summer like big, red, luscious, and sweet strawberries! Come enjoy a wagon ride with your family to pick your own fresh strawberries this summer!
We have 155,000 strawberry plants that burst every season and in 2023 Basse's will plant 40,000 new strawberry plants for production in 2024. Stop in to pick your own delicious fresh strawberries right from the fields. Make a visit to our country store for all pre-picked strawberries and peas.
Also, don't forget our homemade strawberry donuts, pies, fresh squeezed lemonade, and our yummy strawberry sundaes while supplies last.
10 SE WISCONSIN STRAWBERRY U-PICK FARMS
Keep checking back closer to early to mid-June for more specific opening dates for each farm. This post is updated often.
Get ready for Strawberry Season at Basse's taste of Country! Opening on June 14th, 2023 for U-Pick Strawberries!
"First day "soft opening" hours will be 8am – 1pm with the last wagon ride out to the patch at 12:30pm. (limited hours due to limited supplies to start the season, we will be open daily with regular hours after opening day)"
After you get your Strawberries, dont forget to check out the Farm Store!
Main Store hours:
9a.m.-5p.m. daily until season ends

Extended Store hours on Wednesdays ONLY: 9am – 7pm

(Store will close if u-pick strawberries close due to inclement weather)
U-pick strawberry hours:
8am-5pm (weather permitting) daily until season ends 

Special extended picking hours: Wednesdays ONLY 8am – 7pm!

4:30pm last wagon ride out to strawberry fields (Wednesdays last wagon ride out to fields at 6:30pm)
See U-Pick Pricing HERE. 
Basses is now 100% cashless.  Weather conditions and berry availability may change at any time, always call ahead before coming to visit. Their strawberry hotline can be reached at (262-628-3866). 
Opening Saturday, June 10th, 2023 for Pick Your Own Strawberries
*Reminder to call ahead or check our website/Instagram/Facebook for any weather updates*
"If you are interested in pre-picked strawberries ~ please call ahead to get your order in! We are so berry excited to see you!
"
Their patch will be open everyday from 7-6pm. The store is open 9-6pm daily during strawberry season. Apple Barn Orchard and Winery features an open orchard and a farm where you can pick your own strawberries, apples, and pumpkins when they are in season. Already picked Strawberries will be available at the Apple Barn until sold out. 
June 15, 2023 Open Date
Gracie's Berries is a family run company and welcomes u-pickers of all ages, as well as customers wishing to by-pass the picking process. 
Please call the berry hotline at 608.423.9594 or message their Facebook page to place a pre-picked order for more than 5 pounds to ensure we can have your order freshly picked for you. We have ripe berries, but the first few days of the season typically offer limited quantities. Please check our Facebook page before coming to see if we have been picked out.
Our hours:
7am-1pm Monday through Saturday
8am-12pm Sunday

Opening on June 14, 2023. Check daily availability here. Harvest and weather permitting of course. Please check website before making trip to farm. People love pick'n strawberries at Mayberry Farms because they provide; high quality berries, value prices, a short drive, a unique atmosphere, and a very fun experience. 
UPDATE FOR 2023, Farm Store hours will be 9am-5pm, everyday during the Strawberry Pickin' Season.

Opening day in 2023 is June 14!
Follow their Facebook Page for opening day annoucment, coming soon!
 Only picking in the early variety, there is a limited supply and berries are on the small side this year. Bring your family to this chemical free farm to pick your strawberries! During picking season, opens at 7:30 am and closes at 6:00 pm. They are open everyday unless the patch gets picked through. Call to ensure berries are ready for picking (262) 673-6527. Go to their facebook page to stay in the loop on when they will be ready.

6. Jelli's Market
N5648 S. Farmington Rd, Helenville, WI
Opening for Picking on June 13th, 2023
Price for strawberries: $2.50/lb for u-pick and $6/quart for pre-picked.
Follow them on Facebook or check their Website for addition information on pricing and hours!
Not only do they have strawberries, but they have a variety of farm fresh food and products (like beautiful flowers in their greenhouse) on their farm. Farm store now open daily 9-5. They have picked strawberries ready to be bought, or you can hop on the Kubota for a ride out to the strawberry patch to pick your own.  They open for strawberry picking from 7 am until 7 pm.  Check their Facebook to stay in the loop.

"
ATTENTION FACEBOOK FOLLOWERS
We are having an exclusive opening date, JUST FOR YOU!
We will be opening to the public on Thursday, June 15th, BUT we are going to open for our Facebook fans TOMORROW, June 14th!"
Follow them on FACEBOOK for updates!
As a reminder we do want everyone to know that ALL of our pick your own strawberries will be located at our NEW farm at 6621 156th Ave. Bristol, WI 53104. Their new strawberry farm is located only 1 mile west of their home farm. Thompson Strawberry Farm is more than just strawberries. They have strawberries mid-June, Sunflowers in mid-July, Raspberries in September, and Pumpkins mid-September! Their strawberry picking hours will be Monday through Friday 8:00 am to 6:00 pm and Saturday through Sunday 8:00 am to 4:00 pm. Their peak of the season is usually around 10 days after they start.
Check their website for updates and pricing.
8. Creek Bed Country Farmacy
N2767 Mountford Rd. Poynette, WI 5395
2023 Strawberry Season is expected to start Saturday, 6/17/23.
They will be offering u-pick PRIOR to the season starting on Tuesday,  June 13th from 7am to 11am–this is for u-pick only. 
Regular Hours Starting June 17th
Pre-Pick: 9am to 6 pm Monday through Saturday
Strawberry Donut Sundays ($)
& Free Playground Access:
Saturdays & Sundays from 11am to 3pm at the Eat Shack Concession Stand near the Back 40 Play Yard.
"Creek Bed Farmacy invites your family to our strawberry patch to pick your own fresh strawberries!   Typically, starting mid-June, we are open to the public to start picking and enjoying our big juicy strawberries.  Enjoy a family hayride to the strawberry field where we have 140,000 strawberry plants ready for the pickin'!"
5154 State Rd 50 Delavan WI, 53115
"Wisconsin provides an excellent environment for growing strawberries.  We take advantage of our environment to produce some of the best tasting strawberries in the world."
Check their WEBSITE for daily updates on U-Pick Strawberries
Hours during season:
Monday – Saturday: 8AM until 6PM
Sundays: 9AM – 4PM​
Pre-picked berries are not available on Sundays
"The strawberries are coming along nicely. We have already picked a few quarts and can confirm that they are wonderful! Our full 2023 season should begin right on schedule, which is normally mid-June. Keep checking our daily update above for the latest information." Click HERE to follow their daily updates for the 2023 season!
We are now accepting limited pre-picked orders for strawberries, please call to place an order– 608-655-3664
Pre-picked strawberries are $6.50 per quart. 
They are a small family farm located a short drive from Madison, Wisconsin in Marshall. They offer already-picked and u-pick strawberries during strawberry season (usually mid-June – July 1) and sweet corn in late July and August. Please check their daily picking update for availability and hours today. Or, like our Facebook page – search Lutz Family Farm – to stay up-to-date on what's fresh!
NO STRAWBERRIES ANY LONGER
Barthel Fruit Farm – No strawberries starting 2022
12246 N Farmdale Rd Mequon, WI 53097
See story on that decision here. Note: Farm still open for many other services.
Jen Ehr Family Organic Farm –

 No strawberries starting 2022
6837 Elder Lane, Sun Prairie, WI, USA

Note: Farm still open for many other services including blueberries in July.

Kirschbaum's Strawberry Acres – CLOSED in 2021
N5802 Hwy. 151, Beaver Dam, WI 53916

Closed in 2021 for strawberries, but may do Christmas trees. Owner is retiring so call Stan @ 920-210-2080 for berry supplies and equipment.

 
Did we miss a Strawberry u-pick patch?
Tell us and we will add it to our guide.