Free Summer Family Fun in Waukesha County
Are you on the hunt for free fun this summer?  Summer 2020 is going to look a lot different this year as many of our favorite community events have cancelled. However, Lake Country Family Fun is an expert at finding free fun for your family, after all that is why we started this website! As long as your family is feeling well and acting responsibly, there are still lots of ways to have free fun this summer. Make sure you save and pin this guide for future reference when the dog days of summer arrive!
A few things to note about summer 2020:
The Highway 83 bridge over Highway 16 will be under construction most of the summer. DETAILS.
Please say thank you to the 2020 Free Summer Fun Guide Sponsor
Your summer plans may look different this year, but at your local public library, the Summer Library Program is here for you! Each public library in Waukesha and Jefferson County is offering a unique virtual reading program to keep your kids busy and keep them learning all summer long. From magic shows to building challenges to earning reading badges, the library has a whole summer of fun and learning planned for your family.

Due to recent circumstances, your public library is going digital this year! Your child can log their reading times, earn virtual badges, level up, and win prizes on Beanstack, a free app. Just search for your library's name at www.beanstack.com to get started or visit your library's website to get their direct link. Most performers and programming will also be held online, though some may be offered in-person later in the summer. Check with your local library to find out how to participate and visit https://bridgeslibrarysystem.org/summer-library-program/ for more information on prize sponsors, performers, and more.

The Summer Library Program launches June 15 at all libraries, so mark your calendars and make the Summer Library Program part of your summer plans!
We love the summer reading programs! Reading is a great way to fill time on a rainy day or hot, hot afternoon inside in the air conditioning. It's also great way to keep up all the reading skills learned throughout the year and earn summer fun along the way! See all the information above for how to participate virtually this year. 
https://www.instagram.com/p/BjtKZk8gJRY/?utm_source=ig_embed
Every child that you register, receives 2 FREE games of bowling all summer long!! The Kids Bowl Free is a nationwide program. Its purpose is to support communities and give children a fun way to spend their time throughout the summer. Wahoo!! This is perfect for rainy days or to escape the heat.
For summer 2020, please see the details through the link below. The program is being offered, but it it is up to individual centers to open or not open. The following are open:
Sussex Bowl
Village Bowl in Menomonee Falls
Alpine Lanes in Muskego
Register HERE.
Hartland Kids Day 2020 will be a REVERSE EVENT! Stay tuned as we release all the details and how to participated! 
The event will be at Nixon Park on Wednesday, July 29th from 9:00 am until 2:00 pm to preview local family businesses, kids activities, and entertainment throughout the day. Lake Country Family Fun will have a fun-filled day planned for you!
https://www.instagram.com/p/BIY_gqAhinW/?hl=en&taken-by=lakecountryfamilyfun
Free Summer Fun to Watch Outside
Enjoy the Active Outdoors with your Family
Go for a Walk
Visit A Splash Pad
Play at a local Park
Find Painted Rocks
Free Summer Fun Just Outside Waukesha County
**Many of these attractions are still deciding if they can open, how to open, and under what new guidelines for safety in 2020. Please be patient as the information is updated. Thank you!
The North Point Lighthouse in Milwaukee is an awesome historic landmark and kids 4 and under are FREE.
The Boerner Botanical Gardens in Hales Corners offer free admission the first Tuesday of every month during the summer to Milwaukee County R

esidents.

Visit Bookworm Gardens in Sheboygan, a book themed fairyland for kids. (Free admission, but donations are appreciated.)  Opening June 3, 2020.
Check out Cedar Creek Park in Cedarburg Friday nights during the summer for Summer Sounds, their free summer concert series.
Enjoy summer sounds with Music in the Glen, which is free and open to everyone located in Glendale (schedule here).
A little road trip, but the Madison Zoo is FREE.

Hit up a Beach – Milwaukee County beaches are FREE!!!

Top FREE Splash pads outside of Waukesha County include:

Kinderberg Park in Germantown
Hickory Park in Jackson
Bayshore Town Center's Splash Pad
Hart Park Splash Pad in Wauwatosa
Oak Creek Splash Pad
Riverside Park Splash Pad in Janesville
Milwaukee County Splash Pads and Wading Pool list

Explore MILWAUKEE WITH KIDS
Don't miss out on the Free Summer fun!
Join our e-newsletter! Please specify if you would like the Monday week guide, Friday weekend guide, or both!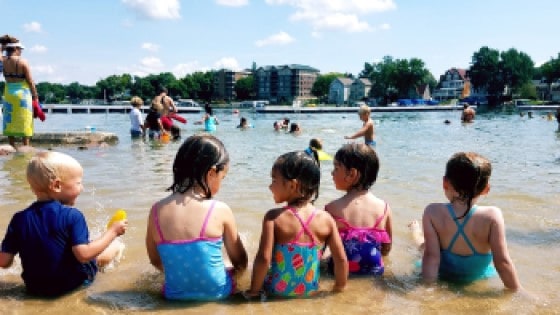 Our Ultimate Summer Bucket List of 77 things to do in and around Lake Country in conjunction with our Free Summer Fun Guide. Sponsored by Positively Pewaukee.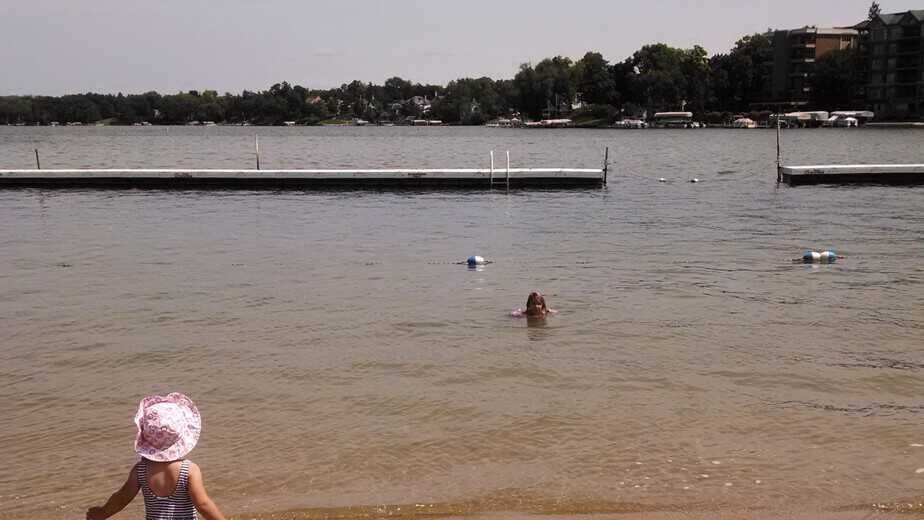 Find 12 lake country beaches that we love to sit by and swim in right her in Waukesha County! Sponsored by Team Trimble Real Estate.
Need some inspiration for keeping the kiddos on task this summer? Look here for ideas on a summer schedule.
Where do you like to play for free in the area?