Free Summer Family Fun in Waukesha County
Are you on the hunt for free fun this summer?  Lake Country Family Fun is an expert at finding free fun for your family, after all that is why we started this website!  Make sure you save and pin this guide for future reference when the dog days of summer arrive!
Please say thank you to the 2019 Free Summer Guide Sponsor
The 2019 summer theme for the libraries in Jefferson and Waukesha County, under the Bridges Library System is "Universe of Stories". Be sure to head to your local library early and often this summer to take part in all their free programming.
School's out…for the summer! But your child's learning doesn't have to take a break just because school is over. Come on over to your local public library and sign up for the A Universe of Stories Reading Program so your kids will be ready to go when the school bell rings again. At the library, they will travel through the universe learning story upon story. Your public library is dedicated to keeping your kids learning all summer long.
Reading programs start at the beginning of June and last into August.
PRO TIP: Head into the library early and often to submit your program progress and pick your rewards. Some rewards are picked over quite quickly!
We love the summer reading programs! It's a great way to keep up all the reading skills learned throughout the year and earn summer fun along the way! Find each library's summer reading program's dates, below.
Waukesha County Libraries
The program runs Saturday, June 1st for children and adults through August 10, 2019. 
Mad Science – On Tuesday June 11 at 10:30 am

Wehr Nature Center – Tuesday June 18th at 2:00pm

Little Miss Ann – Tuesday June 25 at 10:30am

Snake Discovery – Tuesday July 16 at 10:30am

Humane Society – Tuesday July 23 at 2:00pm.
Registration starts Monday, June 3rd and runs through August 10th, 2019.
Register at the library and pick up a full schedule of the activities for the summer.
Registration starts Monday, June 10th and runs through July 27th, 2019.
Delafield:
Registration starts Monday, June 10th and runs through August 2nd.
Mark your calendars for "From a Galaxy Far, Far Away" on Friday, July 12 from 1:00 – 4:00 PM. There will be some special visitors from the 501st Legion-Wisconsin Garrison. Featuring photo opportunities and themed activities.
Registration starts Saturday, June 1st and runs through July 27th, 2019. 
Registration for the reading program begins on Monday, June 10th and wraps up August 10th.  
Some activities, such as reading with therapy pets and the stuffed animal sleepover, require separate registration, so see the complete schedule for details at elmgrovelibrary.org.
Registration starts Monday, June 3rd, with the program running Monday, June 10 through Saturday, July 27th, 2019.
Party at Nixon Park on Friday, June 7 at 5 pm with food, games, and more to kick off the Summer Reading Program!
Registration starts Saturday, June 1st and runs through August 3rd.
Stop in and pick up your large printed calendar for your summer. 
Put their Star Wars event on your calendar and be sure to come in costume!! 
Saturday, June 22, 10:00 AM – 12:00 PM
The program runs from June 10th through August 3rd. Children can register from June 10 through June 15, 2019.
August 3rd: The program ends with the Backyard Bash put on by the Teen Library Council.
Don't miss their Touch a Truck event on Friday, June 21.
The program starts June 10th and runs throughjammin August 11th. *Children who go to JAMMIN' ON JANESVILLE on June 1 can register then — that's a 1 day only deal!
Registration starts Tuesday, May 28th, 2019.
The program runs Saturday, June 1st through July 31st, 2019.
They have three reading programs

Children 0 – 5 years old.
Children  5- 11 years old.
T(w)eens aged 11 to 17 years old.
Don't miss their Touch a Truck event on July 20.
Registration starts on Monday, June 3rd, 2019, but don't miss their Summer Kick- Off Event on Friday, June 7.
3 age groups:

Little Library Lovers (ages 0-3)
School Age (ages 4-12)
Teen (ages 12-18)

Lost in Space Escape Room: Fri., June 14 (teens only), and Sat., June 15 (families) 
Cosmic Crafts: Every Tuesday starting June 11, 1-3 pm
Blast-Off Movie Day: Sat., July 27, 10 am to 12 pm; Build a spaceship and watch a movie
Registration for Summer Reading Clubs for all ages starts on June 10th. The program ends on August 16, 2019.
Register online and pick up supplies at the library when it's convenient.
They offer three different Reading Clubs:

Early Literacy Reading Club encourages adults and their little ones (age birth to 3) to read, sing, play and
share early literacy experiences. Little ones earn prizes for each activity sheet, just like the big kids!
Pre-readers and readers ages 3 to 12 can participate in our Summer Reading Club and earn incentives
for reading and keeping their brains busy in the summer. Kids can also visit the "Activity Table" weekly
for a neat learning activity and a chance to earn an additional raffle ticket.
Teens entering grades 7 to 12 can read and complete activities at their own pace to earn prizes.
Additionally, Adults can also participate in special events and enter weekly drawings.
Registration starts on Friday, June 1st and runs through August 11th.
The program runs from Saturday, June 1st, through August 3rd. There will be a kick-off event on June 8th at Buchner Park.
For children ages 3 through completing sixth grade.

Monday August 5th – they will host a Rocket Reading Wrap-Up Program to celebrate all of the readers' accomplishments, including a comedy performance by Kids Play and free ice cream after the show at Cutler Park. 
Jefferson County Libraries
Dwight Foster Public Library (Fort Atkinson)
The summer reading program will run from June 10 through July 27, 2019.
View their website for more information.  
Irvin L. Young Memorial Library (Whitewater)
The summer reading program runs Monday, June 10th through Friday, July 26th
Attend their Messy Art Day, a free family art program, on Friday, June 14th 2:00 pm.
More information on their website.
Jefferson Public Library
The summer reading program runs June 3rd through August 2nd, 2019. 
Attend their Trivia Night, on June 21st, 6:00 pm. Please call the library at 920-674-7733 to register.
Find more information on their website.   
Johnson Creek Public Library
The summer reading program runs June 8- August 2, 2019.
The Summer Reading Program Kick-Off Party is on Saturday, June 8 from 9:00 to noon. Enjoy snacks and outdoor games when you sign up! Kids and teens get a FREE book when they sign up today, and adults who sign up today will get entered to win a $25 Hi-Way Harry's gift certificate!
More information on their website.  
Karl Junginger Memorial Library (Waterloo)

The summer reading program runs June 3-August 3, 2019.
More information can be found on their website. 
L.D. Fargo Public Library (Lake Mills)
The summer reading program runs from Monday June 10-Friday July 19, 2019.
Stop by the Scholastic Book Fair on July 18 from 12:00-6:00 pm at the Lake Mills City Hall, 200D Water Street.
More information on their website.  
Watertown Public Library
Online registration begins June 3rd and the Summer Library Challenge is June 10th – August 3rd, 2019! 
Join in the fun with their Family Fun Nights June 27th (Space Camp), July 23rd (Constellation Creations) and August 19th (Drive-In Movie) all at 6:30pm!
More information on their website.
Every child that you register, receives 2 FREE games of bowling all summer long!! The Kids Bowl Free is a nationwide program. Its purpose is to support communities and give children a fun way to spend their time throughout the summer. Wahoo!! This is perfect for rainy days or to escape the heat.
Register HERE.
Head to Nixon Park on Wednesday, July 31st from 9:00 am until 2:00 pm to preview local family businesses, kids activities, a rock wall, bounce houses and entertainment throughout the day. Lake Country Family Fun has a fun-filled day planned for you!
Free Summer Fun to Watch Outside
Enjoy the Active Outdoors with your Family
Go for a Lake Walk in Oconomowoc
Take a stroll with the family around Fowler Lake in Oconomowoc. It is about a 2 mile walk to get around. We always seem to stop at the bridge at the dam between Fowler Lake and Lac La Belle and watch people fish and stop for a little bit of extra fun at Fowler Park and take full advantage of the park, tennis courts and the restrooms. We park downtown and follow Wisconsin Ave west, then north onto Main St., then right onto Lisbon Rd., then right again onto Greenland Ave, then right onto Oakwood Ave., then right again on Pleasant St. and that takes you back to downtown in the municipal parking lot by the boardwalk.
There are blue rain drops painted on the sidewalk to guide you around the lake. 
Visit A Splash Pad
The Hartland Splash Pad is a great option when the weather is so hot it's unbearable.  This is a zero depth water feature, so even the littlest ones can play.  
*Our tip is to make sure your kids have water shoes on as the concrete does get slippery as the kids run around.
Other Lake Country communities with Splash Pads planning in motion: 
Sussex
Pewaukee
Eagle

Find Milwaukee County Splash Pads HERE.
Play at a local Park
What is your favorite local park? We like to travel around and visit them all! Find the BEST LOCAL PARKS in our handy guide!
https://www.instagram.com/p/Bi0JgrXgIIH/?hl=en&taken-by=lakecountryfamilyfun
Find Painted Rocks
Search for painted rocks in outdoor public places. You can also paint your own rocks and put them out for others to find.
Free Summer Fun Just Outside Waukesha County
The North Point Lighthouse in Milwaukee is an awesome historic landmark and kids 4 and under are FREE.
The Boerner Botanical Gardens in Hales Corners offer free admission the first Tuesday of every month during the summer to Milwaukee County R

esidents.

Visit Bookworm Gardens in Sheboygan, a book themed fairyland for kids. (Free admission, but donations are appreciated.)  
Check out Cedar Creek Park in Cedarburg Friday nights during the summer for Summer Sounds, their free summer concert series.
Enjoy summer sounds with Music in the Glen, which is free and open to everyone located in Glendale (schedule here).
A little road trip, the the Madison Zoo and Children's Museum are FREE
KidZ Days At the Center is free programming for children, held outdoors on KidZ Stage throughout the summer months on Tuesdays, Wednesdays, and Thursdays from 10:00 AM – 11:00 AM located at Water Street in Milwaukee. 

Hit up a Beach – Milwaukee County beaches are FREE!!!

Top FREE Splash pads outside of Waukesha County include:

Kinderberg Park in Germantown
Hickory Park in Jackson
Bayshore Town Center's Splash Pad
Hart Park Splash Pad in Wauwatosa
Oak Creek Splash Pad
Riverside Park Splash Pad in Janesville
Milwaukee County Splash Pads and Wading Pool list

Explore MILWAUKEE WITH KIDS
Don't miss out on the Free Summer fun!
Join our e-newsletter! Please specify if you would like the Monday week guide, Friday weekend guide, or both!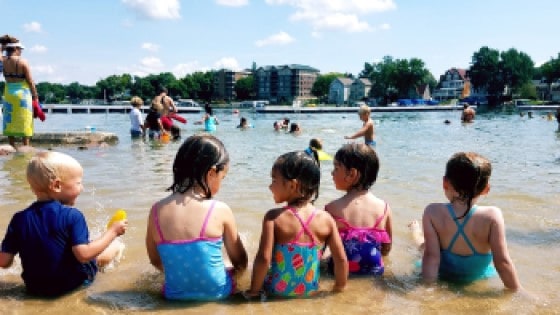 Our Ultimate Summer Bucket List of 77 things to do in and around Lake Country in conjunction with our Free Summer Fun Guide. Sponsored by Positively Pewaukee.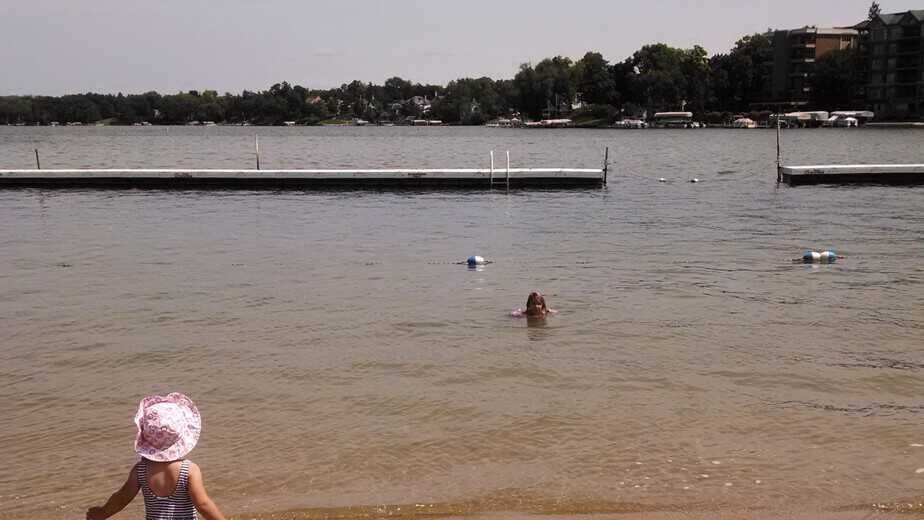 Find 12 lake country beaches that we love to sit by and swim in right her in Waukesha County! Sponsored by Team Trimble Real Estate.
Need some inspiration for keeping the kiddos on task this summer? Look here for ideas on a summer schedule.
Where do you like to play for free in the area?