Whether you have spent the winter outside exploring or cooped up indoors, the refreshing feeling that comes with Wisconsin's first signs of spring is hard to beat. The flowers start blooming, the rivers open up, and the sun finally decides to hang around for a while! There's no better place to embrace the start of spring than Lake Country, where your next outdoor adventure is always close by. Grab the kids, dogs, and waterproof gear; it's time to hit the trails!
The best part of living in Wisconsin when most people are asked is the four seasons. I do love the changing seasons, too. And bonus, you can hike through most of these trails year round!
Please thank our Hiking Guide Sponsor:
Spring in Wisconsin comes with a lot of uncertainty… you know what they say about April showers! Given the potential for muddy trails and impromptu rain, you'll want to pack for all conditions. Here are some suggestions for what to pack:
Bring rain gear! Every person on the hike should have a raincoat or poncho on-hand, as
well as a pair of rain boots. The saying goes that if you pack them, you won't need them, so you might as well be over-prepared.
Extra socks can also be a lifesaver if the aforementioned rain boots don't do their job. Merino wool or fleece will fare much better than the typical cotton variety.
Buying an annual parking pass for Wisconsin's state parks and forests is a huge money-saver if you plan to hike regularly this year. You can purchase one on your next visit to a state park or order online!
Dress in layers. The temperature can vary throughout your hike, especially when you switch from a forested to open area. Wearing layers will keep you and the kids comfortable throughout the day.
Water is important to have for any hike, even when the temperatures are brisk. Bring reusable water bottles to minimize your environmental impact. Some companies, like Klean Kanteen, even have smaller sizes for kids!
We love these tips above from the Wisconsinista, Chelsey Knuth!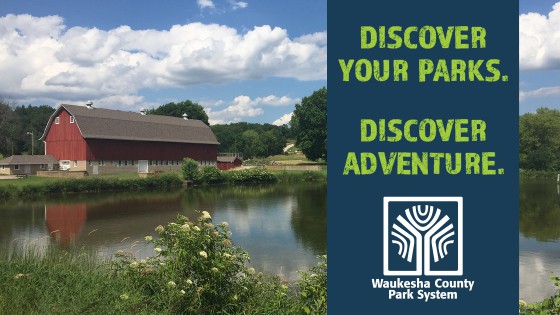 We toured all the Waukesha County Parks! Take and look and explore with your family! (Tap Here for more information!)
With so many options to choose from, Waukesha County's many beautiful trails make it hard to pick just three! To view additional parks and trails in the area, click here.
Located in the northeastern corner of Waukesha County, the Bugline Trail is a great place for an easy family hike. It is paved and spans over 15 miles between Merton and Menomonee Falls, with enough ecological variety to make you want to visit again and again. The route winds through forest and farmland, encapsulating some of Wisconsin's best natural features. For a woodsy walk, start at the eastern trailhead in Menomonee Falls; for a little stroll on the prairie, you will want to begin your hike in Merton.
Cost: This trail is free to use; note that the most convenient spot for parking may be in a county park, which costs $6 per car.

Hours: 6:00 AM – ½ hour after sunset (unless otherwise posted)
Your family will love hiking this iconic Wisconsin trail, but you can also bring the bikes along if two-wheeled exploration is more their speed! The trail begins at the Fox River Sanctuary in Waukesha and goes as far west as Cottage Grove. During your time on the trail, keep an eye out for drumlins, which are teardrop-shaped hills. They are actually piles of sediment left behind by the glaciers and many can be found along the path. Turn it into a fun game with the kids and see how many you can find!
Ride Across Wisconsin will take place on the Glacial Drumlin State Trail (from Lake Mills to Waukesha) on Saturday-Sunday, Aug. 19-20, 2023. 
Cost for cars: $8 per car per day or $25 for an annual Wisconsin state parks pass
Cost for bikes: $5 per bike per day or $25 for an annual Wisconsin state trail pass
Hours:  6 a.m. to 11 p.m. year-round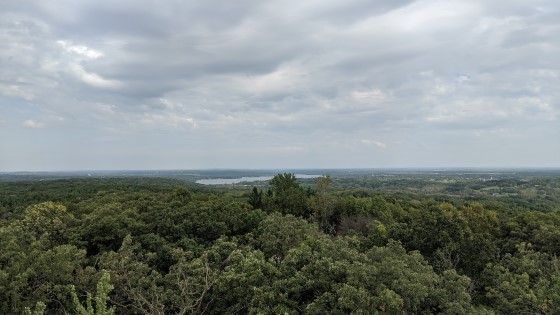 Wisconsin has a unique glacial history that comes to life in the Kettle Moraine. Waukesha County fell along the line where the Green Bay Lobe and Lake Michigan Lobe of the historic Laurentide Ice Sheet collided, leaving behind the distinct topographical features we see today. Lapham Peak itself is, in fact, a notable glacial feature called a moulin kame. From its peak (and atop the observation tower that stands above it), you can take in one of the most scenic views around. The kids will love climbing up this treehouse doppelganger and guessing how far into the distance they can see from the top!
Cost: $8 per car per day or $28 for an annual Wisconsin state parks pass
Hours: 6:00 AM – 9:00 PM, year-round
Paradise Springs is a fun little gem, found just off Hwy N, north of Hwy 59 near Eagle, WI. It's part of the Kettle Moraine State Forest – Southern Unit. This flat, asphalt-covered 1/2-mile trail accommodates people with disabilities and parents with strollers. 
What we love about Paradise Springs is that it's a hot spot for frogs and the waterfall (spring) is beautiful! There's so much history to be explored here. 
Our team member Angela writes, "we brought a blanket and a picnic lunch. Plenty of grass space for it right by parking and a shelter with some picnic tables, too. Plan about an hour. The water is amazing to look at. Her daughter says it looks like an underwater world."

 
Since it's SO close to Eagle, we recommend pairing this fun sight with a visit to Old World Wisconsin.
Cost: A Wisconsin State Park System vehicle admission sticker is required on all motor vehicles stopping in state parks, forests and recreation areas.

$8 per car per day or $28 for an annual Wisconsin state parks pass

Hours: 6:00 AM – 11:00 PM, year-round
Lion's Den Trail is a 2.1 mile heavily trafficked loop trail located near Grafton, Wisconsin that features a lake and is good for all skill levels. The trail is primarily used for hiking, walking, and running and is best used from April until October. A frequently asked question, dogs are also able to use this trail, but must be kept on leash.
I know – it's in Grafton, but the drive is WORTH IT! Put this on your day trip bucket list.
Cost: FREE!
Hours: 6:00 AM – 9:00 PM, April to October
One of the many segments of the Ice Age Trail, we love the path that starts at Centennial Park in Hartland and goes into downtown Hartland. It connects Hartbook and Centennial Park. 
Another segment of the Ice Age Trail in Hartland that we love is the Cottonwood Wayside. It is a neat little trail that your family will love to explore! Where to hike HERE
Cost: FREE!
Hours: Dawn to Dusk, year-round
We love Retzer Nature Center. There are so many beautiful trails to explore. Trails that go up the hill and allow you to look out over the landscape. And a new boardwalk trail along a creek! 
Cost: FREE!
Hours: Sunrise to 10:00 pm, year-round
Super easy park to hike. It's a 1.4 mile loop. You can choose the scenic loop or engage your core for a workout circuit by taking the relatively steep trail straight up the hill. 
Cost: FREE!
Hours: Sunrise to 10:00 pm, year-round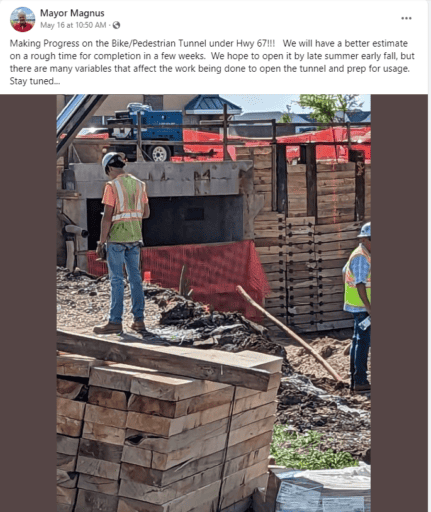 The Lake Country Trail is a 15-mile trail, located on the former Milwaukee-Watertown Interurban Railway. It was popular in the late 1800s as a direct link between Waukesha and the Oconomowoc Lake Country, and utilizes the Wisconsin Electric Power Company right-of-way. The Lake Country Trail runs through the middle of the County (North of Interstate-94) from east to west through very rolling terrain, providing scenic views of the mid-kettle moraine area, including the Landsberg Center trailhead, Pewaukee Lake, Naga-Waukee Park and War Memorial Golf Course, Lake Nagawicka, historic City of Delafield, Upper and Lower Nemahbin Lakes and Roosevelt Park in the City of Oconomowoc.
The Horicon Marsh Wildlife Area is the largest freshwater cattail marsh in the United States. Located just northwest of the Lake Country area, find short and long trails to hike with kids. There is a .25 mile boardwalk which is stroller friendly or take the other gravel/woodchip path for a longer hike around the marsh.
While there, visit the Horicon Marsh Education and Visitor Center. Find hands-on learning about native wildlife and a cute gift shop. 
Cost to hike trails: FREE!
A new bike and pedestrian trail is open! The Fox River Trail will connect Pewaukee and Brookfield. Bonus, it's stroller friendly!
Where does your family explore?
Tell us about your favorite trails in Waukesha County!
For more Wisconsin hiking adventures by Chelsey, check out, The Wisconsinista.
Click on the image below for a listing of tick-free (aka paved) trails in SE Wisconsin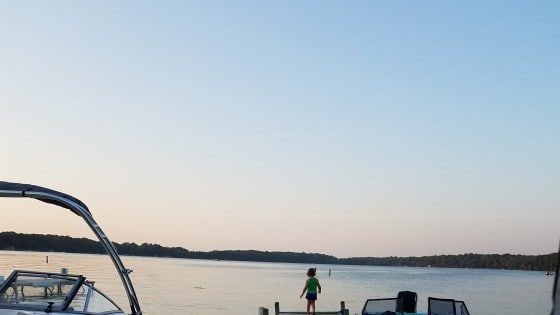 These 5 lakes are a must visit this summer!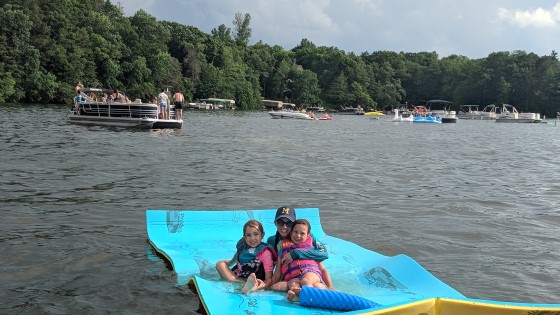 *Sponsored by Lake Effect Co. conveniently located on Pewaukee Lake!