This is a sponsored post.
Lake Country Family Fun has put together a one-stop guide that consolidates all your Holiday and Christmas events and fun into one place.  First, read about our sponsor, the Ingleside Hotel's County Christmas. Then use the guide to find great local Christmas and Holiday fun for you and your family.
Categories in this guide include:
Meet our Holiday Fun Guide Sponsor – Country Christmas
Handy Holiday and Christmas Guides:

Photos with Santa Guide sponsored by Delafield Chamber of Commerce
Christmas Parade Guide sponsored by TBD
Christmas Tree Farm Guide sponsored by Dayspring Church and School
Christmas Tree Lighting Guide sponsored by Downtown Hartland
Craft Fair Guide sponsored by Brown Street Emporium

Can't Miss Local Christmas Events
Must See Performances
Make These Holiday Trips
Holiday Articles
Light Displays that Amaze
HOLIDAY FUN GUIDE SPONSOR
A HUGE Holiday thank-you to our Holiday Fun Guide Sponsor, The Ingleside Hotel presenting the Country Christmas.
COUNTRY CHRISTMAS at the Ingleside Hotel is Wisconsin's Largest outdoor drive through light display and it begins soon for the 2019 season.  My kids always have a blast going through each year and they always seem to notice more and more details each year and squeal with delight as we make our way through! It runs from November 29- December 1, 2019 and December 6 – 31, 2019. Sunday through Thursday hours are from 5-9 pm, and Fridays and Saturdays it runs from 5- 10 pm.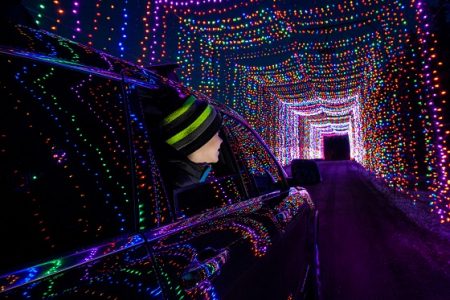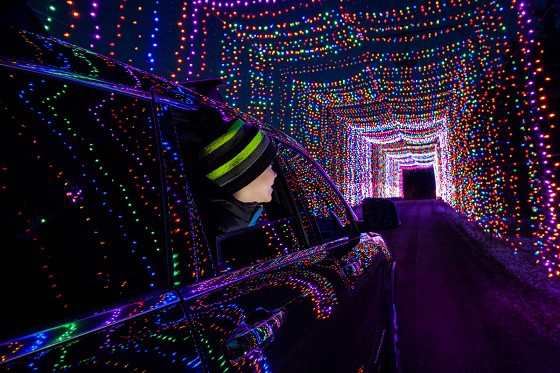 Country Christmas is celebrating its 24th year as Wisconsin's largest and most spectacular drive-through holiday lights event! Country Christmas features over a million holiday lights festively displayed along a mile-long trail that winds through the woods. You'll experience enchanting animated figures and holiday scenes – all from the comfort of your car. And when you've finished your trip through the trail, leave your vehicle behind and visit Christmas Village and The Streets of Bethlehem. Christmas Village is home to our spectacular, working model train display as well as a concession area to purchase refreshments. The Streets of Bethlehem is where you will be amazed by the near life-size Fontanini nativity display, an exact replica of the one found at the Vatican.
*NEW* for 2019, join us December 3rd, 4th or 5th for an Illuminated Walk through Country Christmas.  This three night only event will help benefit the Christmas Clearing Council of Waukesha Country. Enjoy the mile long Country Christmas trail like you never have before and receive discounted admission with the donation of a new book. Hours are 5pm – 9pm, last admission tickets sold at 8pm. Admission is $7 per person or $5 per person with a new book donation. For more information, visit https://www.thecountrychristmas.com/

HANDY HOLIDAY GUIDES

(CLICK ON THE IMAGES BELOW)
CAN'T MISS LOCAL HOLIDAY EVENTS
Looking for some holiday fun to get you and your family in the holiday spirit? Enjoy this list and get in touch with your jolly side 🙂
Note: Information posted below taken from websites with permission.
Pewaukee
 PEWAUKEE, WI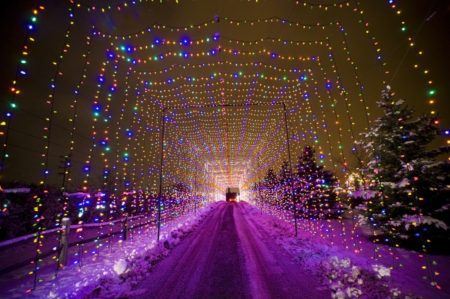 COUNTRY CHRISTMAS at the Ingleside Hotel is Wisconsin's Largest outdoor drive through light display and it begins soon for the 2018 season.  My kids always have a blast going through each year and they always seem to notice more and more details each year and squeal with delight as we make our way through! It runs from November 23rd – 25th and then November 30 through December 31st. Sunday through Thursday hours are from 5-9 pm, and Fridays and Saturdays it runs from 5- 10 pm.
Elkhart
ELKHART, WI
Reminiscent of the centuries-old Christkindlesmarkt of Nüremberg, Germany, the 21st annual Old World Christmas Market at The Osthoff Resort offers the warmth and merriment of this Old World tradition. The Osthoff Resort's Old World Christmas Market was named one of the 2012 American Bus Association's Top 100 Events in North America (CLICK HERE TO READ THE PRESS RELEASE)! For ten consecutive days, guests stroll the aisles of a grand heated tent bedecked with fragrant boughs of fresh evergreens and the tantalizing scents of roasted almonds and Nüremberg bratwurst as they browse for unique and specialty items among international and regional artisans.
The Old World Food Court offers shoppers space to relax and enjoy delectable German fare, such as, Nüremberg bratwurst, hot glühwein, sauerbraten, dumplings, wiener schnitzel, potato pancakes, red cabbage, pulled pork and apple strudel. Father Christmas, the venerable old gentleman in his berry red, fur-trimmed suit, roams the market merrily greeting children of all ages. So be sure to bring along your camera for some memorable photo opportunities.
The 2018 Old World Christmas Market is open daily from 10 AM – 5 PM, November 30 – December 9, 2018. Admission is $7 per adult, children 14 and under are complimentary with an adult ticketholder. Discounted ticket prices for groups of 20 or more are available.
For more information, please call  (877) 517-4596.
Eagle
EAGLE, WI
Celebrate the season as you travel back in time to engage your sense with performances, music, food, and hands-on activities that highlight holiday traditions brought to Wisconsin by immigrants.  Help prepare Vanocka (traditional braided bread), tour the Yuletide Village in a horse-drawn sleigh, have your picture taken with Victorian Santa Claus in his busy workshop, sip on hot cider and wassail, indulge in sweet treats, and more! Don't forget to watch out for Krampus! 
December 1-2, 8-9, 15-16 from 10am to 4pm.  / Advance reservations are not required for An Old World Christmas. Special Pricing: Adults $12; youth (5-17) $9; children 4 and under are free. WHS members receive Free Admission to An Old World Christmas.
Lake Geneva
LAKE GENEVA, WI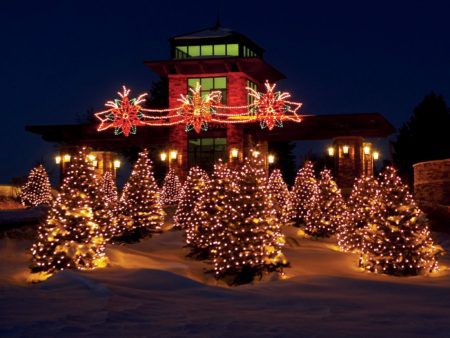 Christmas in the Country 2018 and the 25th Annual Illumination Ceremony – Join Grand Geneva on Sunday, November 18, 2018 for the kickoff of the annual six-week long Christmas in the Country Celebration. We flip the switch on more than 2 million lights throughout the property, then follow it up with our dazzling grand fireworks display to kick off the holiday season. Discover even more holiday magic this season with the additional kids activities and live entertainment throughout the Grand Ballroom, Evergreen Ballroom and the Lobby. Enjoy holiday cookies and hot apple cider too. We ask that all guests bring a new, unwrapped toy to donate to United Way of Walworth County.
Milwaukee
MILWAUKEE, WI
This annual holiday tradition transforms BMO Harris Bank's downtown lobby into a holiday spectacular. Free and open to the public at 770 N. Water Street, downtown Milwaukee. This year's BMO Harris Bank Holiday Display features more than 150 life-sized animals in Holiday Busy Town. The display is free and open to the public. For each visitor to the Display, BMO Harris Bank will donate $5 to Feeding America Eastern Wisconsin.
2018 Dates TBD
MILWAUKEE HOLIDAY LIGHTS FESTIVAL
November 15, 2018 – January 1, 2019
It's the most dazzling time of year downtown – the Milwaukee Holiday Lights Festival is returning for its 20th year! Kick off the season on Thursday, November 15 at Pere Marquette Park with a holiday variety show and the city's largest switch-flipping ceremony.
Waukesha
WAUKESHA, WI
Enjoy an elegant horse-drawn CARRIAGE RIDE through the streets of downtown Waukesha.  Tickets can be purchased from participating downtown businesses, and you can get on a carriage at any of the carriage ride stops throughout downtown.
The cost for tickets is $5.00 per person or $12 for a family of three or more. Tickets can be purchased at:
Martha Merrell's Books & Toys
Carriage Ride Schedule 2018
Friday's 6 PM – 9 PM
Saturday's 1 PM – 5 PM
ENTER TO WIN A FAMILY FOUR PACK OF CARRIAGE RIDE TICKETS HERE.
West Allis
WEST ALLIS, WI
CANDY CANE LANE is in West Allis and is fundraising for the MACC Fund (Midwest Athletes Against Childhood Cancer).  It runs November 23 through December 26th, and the hours are 6:00 -9:00 pm on the weekdays and 5:00 – 10:00 pm on Saturday & Sunday.  Please note that the hours may change due to weather, traffic, and other conditions.  Candy Cane Lane is the neighborhood bordered by 96th Street on the west, 92nd Street on the east, Montana Avenue on the north, and Oklahoma Avenue on the south.  The Official MACC Fund donation location is at the intersection of 95th and Manitoba.
Caledonia
CALEDONIA
THE CHRISTMAS CARNIVAL OF LIGHTS is open Saturday, November 24th through December 31 except Christmas Day, when the Carnival is closed so that the Isaacson family can enjoy the holiday together. Hours: Sunday-Thursday: 5:00 – 9:00 pm, Friday and Saturday: 5:00 – 10:00 pm.  Cost:  Car (up to 8 people) $20, Large passenger vans, camper, limo, mini bus $30, Large Bus, Greyhound or Large Motorhome $35.  Please note: Santa's Workshop is open every day. Santa is at the workshop and available for photos every Wednesday 6:00-8:30pm, Friday and Saturday 5:30-9:30PM on November 26th and between December 2nd and 24th. Visit SANTA'S WORKSHOP to learn more. The Wisconsin Christmas Carnival of Lights is hosted at Yogi Bear's Jellystone Camp Resort in Caledonia, Wisconsin, located just 20 minutes south of Milwaukee.
Note: Cash only. ATM available.
Monches
MONCHES
Join us the first weekend of December (Nov 30 – Dec 2) for a driving tour through the historic Monches and scenic Holy Hill area. Each stop on the tour is offering unique giftable items you won't find anywhere else, created by  local artists. Visit our 'participants' page to view all the stops along the tour. The tour runs from 9:00am until 5:00pm Friday, Saturday and Sunday*. Print out a map to plan your personal driving tour! Maps will also be available at each of the tour stops as well.
West Bend
SHALOM HOLIDAY LIGHT DRIVE THROUGH
The holiday drive-thru begins Saturday November 17th and runs through Monday December 31st. Evening hours include special colored floodlights to enhance animal viewing and make the trip magical. New this year: Dress warm and walk our short petting zoo trail where you can feed and enjoy the animals. Grain is available for $3/bag. After, enjoy complimentary hot cocoa or purchase a meal in our Grizzly Grill Restaurant. Saturday and Sundays from 11/24 to 12/23, Santa will be available in our gift shop from 12:30pm-3:30pm. Hours: Monday-Wednesday: 11am-5pm Thursday: 11am-8pm Friday: 11am-9pm Saturday: 11am-9pm Sunday: 11am-8pm. 12/26-12/31: 11am-9pm
Pricing: $5 per person before 3:30pm (2 & under are free) $7.50 per person after 3:30pm (2 & under are free) Pricing includes the holiday drive-thru, petting zoo admission, and hot cocoa. We hope to see you this holiday season! 
JOIN US FOR AN INTERACTIVE HOLIDAY LIGHTSHOW TO BENEFIT HUNGRY FAMILIES AND LOCAL
*Horse & carriage rides 5:00-9:00 p.m. every Friday and Saturday
*Roast marshmallows over the toasty warm fire pits every Friday and Saturday
*Special events provided every night starting at 6 p.m. or 6:30 p.m.
*Santa leaves at 8:00 p.m. on Sundays
Cedarburg
Celebrate the holidays with Cedar Creek on Festive Fridays! On each of the six Friday nights before Christmas you will find a specially-themed holiday event at the Cedar Creek Settlement. The winery and shops are open until 9pm with music, wine tastings, cookies and cider. The Settlement is festively adorned for the holidays and features 25 unique shops all nestled in a restored 1864 woolen mill. Each Friday will have a specially-themed holiday event. November 16 – Settlement Christmas Showcase November 23 – Home for the Holidays November 30 – A Heritage Christmas December 7 – Santa's Workshop December 14 – A Taste of Christmas December 21 – Countdown to Christmas Happy Holidays!
Burlington
In 2018, the City is delighted to host the Wisconsin State Ice Carving Competition as part of the 2018 Ice Festival on Saturday, December 15 and Sunday, December 16!
Over a dozen ice blocks will be placed throughout Wehmhoff Square Park. Each sculpture will be carved from a 300-pound block of ice that has been frozen in a special process to ensure that the blocks are crystal clear. The blocks are ten inches thick, twenty inches wide and stand forty inches tall on a wooden stand. The live sculpture carving, a favorite viewing attraction, showcases ice carvers using hand tools as they transform the massive blocks of ice into an array of giant masterpieces.
Along with watching the carving competition, visitors can spend the day in downtown Burlington taking a horse-drawn wagon ride, seeing live reindeer, visiting Santa Clause, exploring our downtown and much more! There is no cost to visitors attending this festival. This is event is only made possible with the support of our community sponsors.
Schedule of Events
Wehmhoff Square Park
355 N. Pine Street, Burlington, WI
Saturday, December 15
• Ice carving competition: 10 am – 4 pm (Judge at 4 pm)
• Horse and wagon rides: 11 am – 3 pm
• Reindeer in the park: 11 am – 2 pm
• Cookie walk downtown: 12 pm – 4 pm
• Bonfires in park & s'mores: 12 pm – 4 pm
• Carolers: 12 pm – 4 pm
• Santa in the Chalet: 2 pm – 4 pm
• Crafts for kids at the Library
• Carvings lit up at night!
Sunday, December 16
• State carving competition awards: 10:30 am
• Horse and wagon rides: 11 am – 2 pm
• Hug a Husky at Mercantile Hall: 12 pm – 1:30 pm
• Santa in the Chalet: 2 pm – 4 pm
• Bloody Marys & mimosas at Bubbas Brickyard
• Carvings lit up at night!
LIGHT DISPLAYS THAT AMAZE
Germantown
Muskego
Oconomowoc
West Bend
Watertown
HAPPY HOLIDAYS FROM LAKE COUNTRY FAMILY FUN! 
ADD SOME HOLIDAY FUN
If you have a Holiday Fun event that fits into one of the categories in our Holiday Fun Guide and would like it added to this list, please email us at erin@lakecountryfamilyfun(dot)com with your information. You can also email us via the contact form below.