3 Exciting Changes to the Wilderness in 2022!
1. Wild West Waterpark Renovations
The Wild West Waterpark will be undergoing a major renovation starting in late spring 2022 with an expected full completion by late fall 2022. Once completed, the waterpark will have two incredible new slides and a new Wild West themed multi-level play and spray structure, among many other improvements. One of the new slides will be a two-lane dueling tube ride while the other will be a two-lane dueling, head-first mat racer. Both slides will feature eye popping translucent slide effects as well as multiple "rally points" where riders will be able to see their competition as they dash down the slides. 
The resort's popular Fantastic Voyage and Black Hole slides currently in the Wild West will remain.
2. Guest Room Renovations
The resort is also planning complete room renovations to all of its 446 guest rooms at the Wilderness Hotel. Among the planned changes, the rooms will be getting new paint, carpet, flooring, countertops, furniture, artwork, and televisions. Renovations will begin in April and will be completed in late 2022.
 3. New Films at Take Flight theater
In January, Take Flight unveiled Flight of Aloha. It takes riders on a cultural exploration that prior to now has only be reserved for Hawaiian Royalty. The film showcases the historical significance of the Valley Isle while highlighting its natural beauty. It reveals untouched and remote destinations all captured in the highest definition for realism.
For summer, the resort will be unveiling World Flight, which will take people on a journey flying over and around some the world's most noteworthy locations. It will include the London Eye and Tower Bridge; the Sydney Harbor in Australia, the Parthenon and Colosseum in Rome, Reykjavik in Iceland, the Matterhorn in the Alps and Big Sur on the California coastline.
Sensory enhancements like wind, a motion seats and scents complete both of these films immersive experiences.
MISSION MARS: New DOA Room Coming Summer 2022
Do you love space and the unknown frontier? If you answered yes, you'll definitely want to check out the resort's new MISSION: MARS room escape coming to Wilderness on the Lake for summer 2022.
MISSION: MARS will take participants on a journey to Mars to recover the 2004 NASA Rover Opportunity's memory box and to repair the rover (which has gone silent since 2018). Participants will have just 30 minutes to complete the challenge before a solar storm arrives.
The new room escape will be geared toward all adventure seekers ages 5 to 99. It will be replacing the Circus room.
*The Wilderness Resort consists of over 600 wooded acres in Wisconsin Dells and is home to Wilderness Hotel & Golf Resort, which features 446 guest rooms, 40 Vacation Villas, 76 Frontier Condominiums and 35 cabins. It is also home to Wilderness on the Lake which features 108 luxurious two and three bedroom condominium units overlooking Lake Delton; and Glacier Canyon Lodge, which features 460 upscale condominium units.
Combined, these three properties offer four indoor and four outdoor waterparks that total nearly 500,000 square feet – that's over 12 football fields of extreme water fun! The resort is also home to Glacier Canyon Conference Center; Sundara Spa; Wild Rock Golf Club; The Woods 9-Hole Golf Course; three massive prize arcades; Timberland Play Park; three Clip 'N Climb Challenge Walls; The Wild Abyss indoor 3-D black light mini golf; bumper boats; indoor and outdoor go-karts and kiddy-karts; zip line tour; Northern Lights Sky Ropes Course; three Room Escapes by DOA; and outdoor Jurassic mini golf. Dining options include Field's at the Wilderness; Sarento's; Survivors; Thirsty Buffalo and several other quick service options.
In September 2020, our family had the opportunity to stay at the Wilderness Resort in the Wisconsin Dells. The stay and visit was complimentary in return for my honest review of the new attraction: Take Flight. This weekend getaway has been on our family vacation bucket list for some time! Let me tell you, this trip did not disappoint!
All of the staff we encountered were very friendly and knowledgeable of the property. We noticed many Covid-19 friendly guidelines in place. All staff wore masks, and there were plexiglass partitions between the guest service staff and us, as guests. There were also six foot distancing markers on the floor.
When we checked in, our guest services associate went over the map of the property with us, the shuttle system, areas that were open and closed and times of operation. They gave great directions to our room, as this is a large expansive property. We found our room with ease!
The Wilderness's Extra Touch
When I booked our stay, I mentioned we were celebrating our son's birthday on our trip. So, when we arrived to our room, the door was decorated with streamers and a Happy Birthday poster with our son's name on it. This made his day!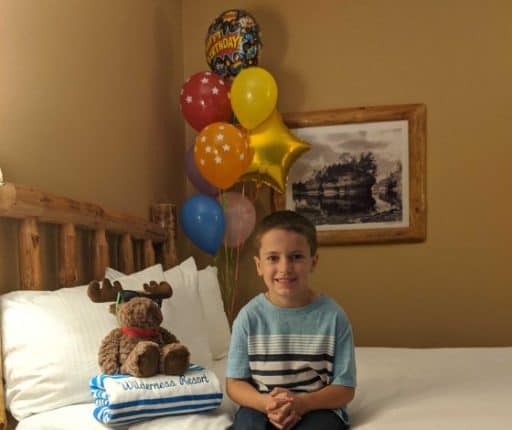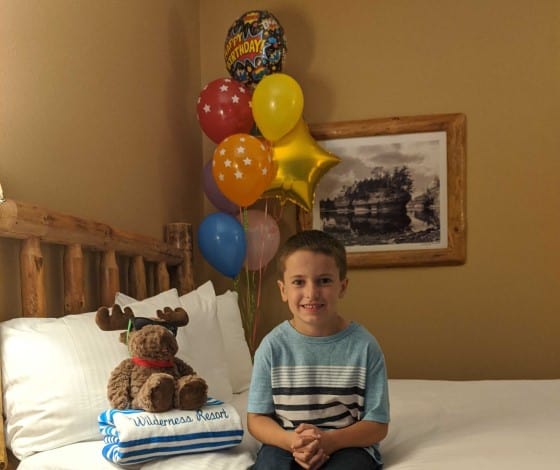 Our room was located on the third floor with a balcony overlooking the Lake Wilderness Outdoor Water Park. The room was spacious and well laid out for a family. When you entered the room there was a nice sitting area with fold out couch, TV, wet bar, mini fridge, microwave and bathroom. What I liked about the bathroom was that the sink was located off the main sitting area, outside
of the bathroom. For a family this is great! Family members can get ready at the sink while others use the shower.
This area flowed nicely into the bedroom with two queen beds, table for two, TV and balcony. The bed and bedding was one of the comfiest I have ever had at a resort. A good night sleep is always a big plus for me, as a mom!
Attraction 1: Circus Escape Room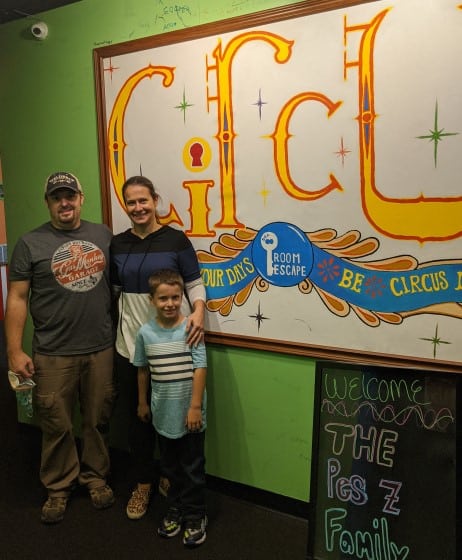 The first attraction at the Wilderness that we visited was the Circus Escape Room located at Wilderness on the Lake. The age range starts at 6 years old for the Circus Escape Room, which I believe is appropriate.
Our family had great fun helping the Ringling Brothers find their lost animals and getting them back to the circus! Our son at seven years old was able to be very active in finding and solving clues to help us escape the room. There were simple math problems and puzzles he was able to solve to help us unlock boxes and find our way to the key at the end.
If you do get stuck finding clues there is a game master available to ask for clues by walkie talkie. The walkie talkie was also a cool added perk for our son. We solved all puzzles and revealed the hidden key to escape the room with 1 second to spare!
The whole experience had a 30 minute time limit, which is great for younger kids. We were busy the whole thirty minutes, and it held our son's attention. We would definitely recommend this activity!
Attraction 2: Take Flight
The next morning we started our day with some coffee, smoothies and cinnamon rolls at The Coffee Kantee before checking out the newest Take Flight Attraction. Take Flight is a new aerial adventure ride that takes you flying high over the national parks, landmarks and Wisconsin Dells – virtually!
As you enter the Take Flight waiting area, you are fully immersed into a flight experience. The waiting area is modeled after an airport complete with a map of your flight plan and time zone clocks. If you have to wait in line there is also a kiosk to keep your little ones entertained. At this station they can create their own airplane or hot air balloon on a tablet. Once they complete their aircraft they can add their name to it. It then appears flying over a cityscape with other patron's creations circulating the scene for the next 24 hours.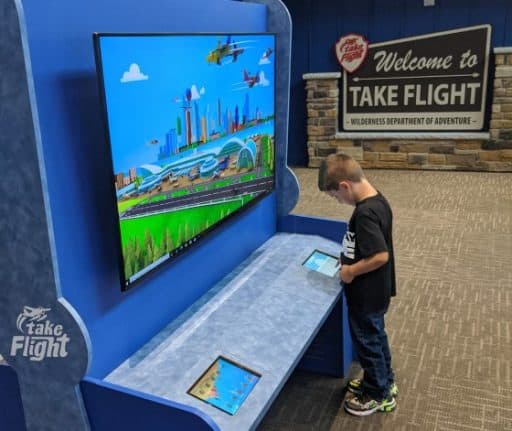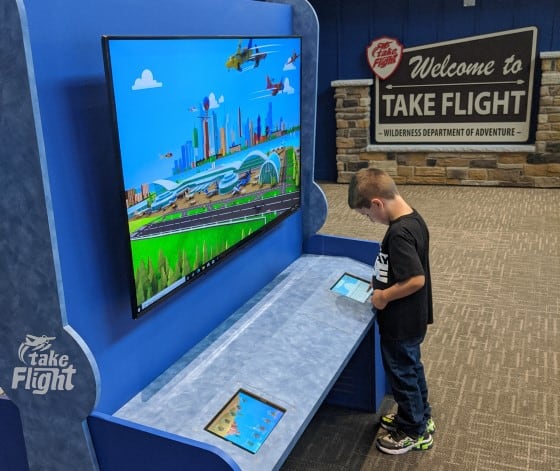 As you make your way through the line there is a picture taking point which I highly recommend. When you come out of the ride you are able to purchase your picture. You can choose from two fun scenes. The first scene is a puddle jumper plane behind your family or all the sights from your flight framing your family. This is a great addition to the cover of the story book available for purchase highlighting your flight! This book was specially written for the Take Flight Adventure and Wilderness Resort. Your kiddos will love this story to hold on to and remember their trip to the Wilderness Resort!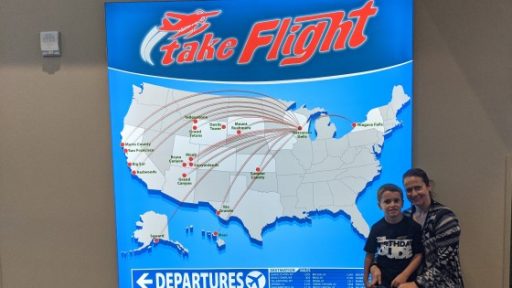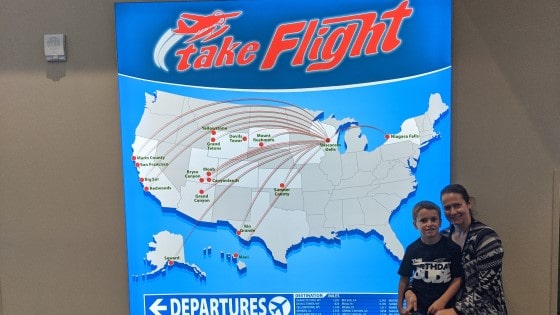 Before you board your flight you will watch a short pre-flight video introducing you to your pilot Scout. When you enter the theater you will be seated in one of the twelve different ride vehicles situated between three stories. With Covid-19 precautions in mind, they are seating one family per vehicle. All seats and touch areas are sanitized after each ride.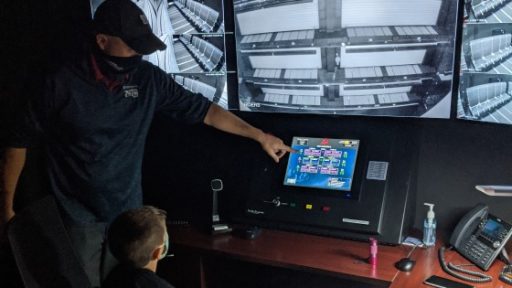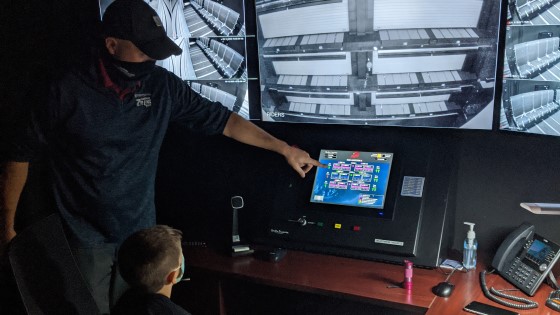 Once you take your seat you are secured in by a seatbelt in front of a metal rolling door. Once you are fastened in, your flight attendant sends you into flight mode. The lights turn off, the door rolls open, and your vehicle slowly moves forward past the open door. Your feet dangle over the edge in front of a huge 65 foot by 47 foot domed screen. The sights are spectacular as you fly over the Wisconsin River Duck tours. Your seats rise, lower, turn and tip to give you the sensation of flight! An incoming boat makes a quick stop and you feel the spray of water! As you continue over the pines they are so close, you can literally smell the pine in the air!
If you are at all worried about how your little ones or other family members may react to the ride, rest assured there is video monitoring in place. Ride attendants are able to zoom in on each cart to make sure everyone is safe and enjoying the ride. If need be, they can alter the movement of your cart.
Take Flight is truly an exhilarating adventure for all of your senses! You don't want to miss this experience!
*If you are prone to motion sickness, bring your favorite remedy along. 
---
——————————————————————————————
---
As of April 8, 2021, Wilderness Resort officials announced that their NEW Take Flight Theater, with its enormous 65-foot by 45-foot screen, is showing Ice Age: No Time For Nuts – The Ride, a mammoth new Ice Age theatrical experience.
The film is an eye-popping adventure follows the beloved pre-historic squirrel Scrat on an epic odyssey in time-travel. From the Colosseum of Ancient Rome to the disco dance floor, Scrat survives everything from Excalibur to the Titanic as he chases after his beloved acorn that's been accidentally lost in time.

This fully immersive, high energy 9-minute show was custom created by Blue Sky Studios, Fox Animation and 20

th

 Century Fox Consumer Products in partnership with SimEx-Iwerks Entertainment. Featuring exclusive brand new footage, 

Ice Age: No Time For Nuts – The Ride

 is presented in high-definition combined with in-theater special effects to further engage the audience.

According to Chris Ebben, the resort's Director of Attractions, "We are thrilled to bring this new

Ice Age

 experience to our guests! The high action storyline engages all the senses with amazing scenes that maximize our in-theater special effects. The 

Ice Age

 characters are well known and appeal to our audience – families visiting the Wilderness and the public are certain to enjoy this show."

Ice Age: No Time For Nuts – The Ride

will be rotating showings daily with the resort's 

Flying Wild

 film, which offers stunning aerial footage that is sure to leave you in awe. The cinematic ride takes participants "soaring" over famous national landmarks and America's breathtaking national parks. You'll feel the wind in your hair as you take in some of the stunning natural beauty and most iconic locations the nation has to offer.

The Take Flight Theater has 60 motion based seats* over three stories. Once participants are buckled into their seats, the doors to the theater swiftly rise and the seats surge forward, leaving guests' feet dangling as they stare at an enormous domed movie screen. Artificial scents, wind and mist add to the sensation of flying. *Please note, seating may be limited due to social distancing requirements as a result of COVID-19 precautions. Masks are also required.

Take Flight Theater is open daily at 9 am. Tickets cost $19.99 for adults and $15.99 for kids 12 and under for a single showing of either film. A special double feature ticket for both films can be purchased for just $25.99 for adults and $21.99 for kids 12 and under.

Wilderness guests will also receive a $5 discount on admission tickets. Military members and veterans can fly for $13.99 for a single showing of either film.

Participants must be 32" to ride with a chaperone, 42″ to ride alone. The maximum weight allowance is 300 lbs.
Attraction 3: Black Light Indoor Mini Golf
After spending our afternoon at multiple indoor water parks, we tried our luck in the arcade and the newly remodeled black light indoor mini golf! The course is an underwater sea theme which was pretty cool! To complete the theme there were several saltwater fish tanks and water sounds throughout the nine hole mini golf course.
Our family had unlimited wrist bands which was a plus for our mini golf loving son! We were able to play mini golf several times throughout our stay. The wristband is totally worth the money and allows unlimited use of laser tag, mini golf and the ropes course. The arcade also has plenty of fun games for many different age groups. You can purchase a gaming card with pre-loaded tokens on it. This is great to just be able to hand over to the kids and let them pick and choose the games they want to play.
When you are done venturing through the arcade you can stop at the redemption counter and pick your prizes. Thankfully you don't have to keep track of a fist full of tickets. They are electronically loaded onto your gaming card. Not only do the kids get to play games but they get to pick their prizes after!
Final Thoughts on our Wilderness Resort Experience
Overall our stay at the Wilderness Resort was fantastic! Everything is laid out and flowed so well to make our stay family friendly. The amount of different activities and restaurant options available at the Wilderness Resort is unbelievable! You literally do not have to leave the property for your entire stay.
We hope to visit again in the summer to take advantage of the great outdoor spaces! Our family highly recommends a stay at the Wilderness Resort, and we look forward to our next stay!
Be sure to tag

Lake Country Family Fun

and the Wilderness Resort and

TakeFlightWilderness

 during your stay! We want to see all the fun you and your family are enjoying!
Martha shares tips for traveling with kiddos on a road trip and on a plane.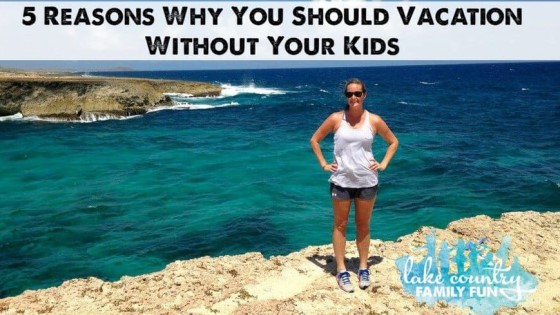 Martha shares why it's good for the parents AND the kiddos to vacation adults only.