Summertime and the living is easy. I have embraced this weather and new season fully, and love the fact that as I look to the upcoming months, we have many weekends with open schedules. We fully intend on soaking in Lake Country and all it has to offer. That being said, we have had a few recent family trips (and a few more on the calendar) that have opened my eyes to traveling with a toddler. I blogged recently, advocating vacationing sans kiddos – you can read that here, but I truly enjoy taking trips WITH our little guy too.
Based on a few recent trips we've taken, I can't help but feeling like a pro at the whole "family vacation" thing. I know I'm still new at this, and only have one babe, but wow does it take a lot of planning and strategy. Summer is a time for vacations, long weekends up north, or even just a day-trip to the beach. I'm here to impart a little bit of wisdom based on my recent experiences.
If You're Flying…
Last month we took our first trip as a family in the friendly skies… and to my surprise, it wasn't nearly as painful as I had honestly expected. We've all heard the horror stories of a baby's first flight so I was prepared for war. I had all the snacks ready, Sesame Street episodes loaded onto the iPad and even medicine for altitude-induced ear aches. Needless to say, I was delighted when Dane snuggled in for a long nap on not one, but BOTH flights. I think we lucked out to be honest, but I can't complain!
Less is More
I admit it… I tend to over pack. Maybe it's a girl thing? "But I need that 3rd pair of heels" (that I never wear on a normal weekend, by the way). So for this trip, I challenged myself to go sparse on unnecessary items in order to leave space for items like the noise machine or Dane's beloved elephant mat he sleeps with every night. We miraculously fit everything for 3 people into two bags + a diaper bag that doubled as my carry-on.
Have a Diaper Bag that Does Double Duty
I am totally use to having a carry-on stuffed full of gossip magazines, travel snacks and a book or two. I recommend using a bag that allows you to heavily organize yourself for mom and baby. My diaper bag is sturdy, has plenty of compartments and pockets that make organization easy, but I went the extra step and divided things out into plastic bags in order to quickly find exactly what I was looking for in the security line or mid-flight. We also brought our stroller, which we checked at the gate – giving us a sturdy spot to hang the stuffed diaper bag. Another option would be a diaper bag backpack that you can throw on your back and still have both hands available. Not to mention, backpacks are really fashionable right now – so win, win!
Remember the 3 ounce rule
So as my diaper bag is going into the scanner machine – I suddenly remember not only do we have a fully prepared bottle, but also Dane's water bottle stuffed into a pocket. (We were slightly scatterbrained to say the least). Of course my bag was flagged, and the airport security had to go through it to approve its contents. Lucky for us, they realized that we were flying with a little one and went easy on us – allowing us to keep our too-big liquids.
Distractions are Welcomed
We were masters of distraction. We carefully planned and packed snacks, made sure to charge the iPad up with Dane's favorite show, tucked his snugly blanket into our bag and checked and double checked to have the "good nuks" handy. When we took off for the airport that morning, I honestly felt prepared for anything – even though I was anxious until we were taxiing and Dane dozed quickly to sleep thanks to the hum of the airplane.
Delay the Nap
Last but certainly not least, and probably most important: delay the nap. If you can put off a normal naptime, even by a little bit this may be your saving grace. We accomplished keeping Dane awake with watching airplanes take off and land, followed by a banana & yogurt bribe. This tactic worked for us, luckily!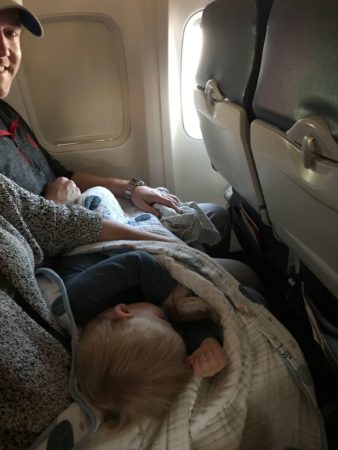 If You're Driving…
Most of this applies for taking a road trip but there are a few more that are important to think about.
Have a sun blocker
Some cars have them built in, which is amazing and should be required because sometimes the sun is intense! We do not have such a cool feature in our vehicle, so we were old fashioned and used a burp rag tucked into the window to keep the sun out of Dane's eyes. We looked a little trashy, but it was well worth the extra few minutes of naptime we got on our 3+ hour trip to Door County last weekend.
Distractions, Distractions, Distractions
I know I talked about this above but I cannot stress this enough on a road trip, especially when your active toddler is still backwards facing (aka boring as can be to him).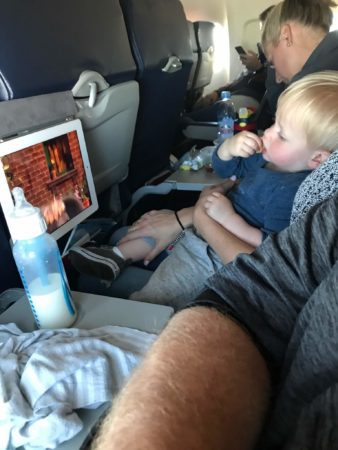 What am I missing? Is there anything that you swear by when traveling with kiddos? Either way, I hope you have some fun plans on your calendar this summer – and your travels are smooth sailing!
-Martha
Instagram: @marthaherdy
Related:
https://lakecountryfamilyfun.com/5-reasons-why-you-should-vacation-without-your-kids/