We were so inspired by the talent + presence in the Lake Country online community after hearing the community feedback during our Lake Country #FOLLOWFRIDAY series in November 2018 on INSTAGRAM! To keep that momentum going, @LAKECOUNTRYFAMILYFUN launched Lake Country Currents, a networking group for bloggers, influencers, and creatives in the greater Waukesha County area in January 2019.
Lake Country Family Fun proudly presents our event series:
Lake Country Currents
One of Lake Country Family Fun's main tenets of its MISSION STATEMENT is to build community. Through our event series, we will be hosting a number of get-togethers and meetups for Lake Country and Waukesha County area based bloggers, creatives, and influencers to meet up, share resources, and laugh.
Our first series was such a success: the Coffee Shop Series. As you know, Lake Country Family Fun has published their Local Coffee Shop Guide for the second year in a row now, and we can't say enough good things about all the local, independently owned coffee shops sprinkled throughout our area. Thank you to Mama D's, Roots Waukesha, 1863 Coffee Saloon & Cafe, Milwaukee Street Traders, and Cafe La Belle for hosting us.
Many thanks to our Summer Mixer Series locations for hosting us: Seven Seas in Hartland and Bass Bay Brewhouse in Muskego. 
And while our 2019-2020 season of Lake Country Currents, didn't end as we'd hoped (via Zoom), it was an amazingly successful year. We launched a membership program and a had a lineup of successful women leading us in various topics to learn and grow together.
Come along with us as we continually pivot. We can't wait for you to join, learn, and laugh with us! 
Fall 2020 Schedule
Saturday, August 29 – Focus on physical and mental health with an outdoor yoga session at the Club at Lac La Belle led by Sharon Ellifson.
Saturday, October 3 – Heather Schaefer aka the Bra Break-Up Expert will be leading the morning with Branding and Strategy Tips

Place: Birch and Banyan Coffee in Hartland, upstairs
Time: 8:30 am to 10:00 am
Read: We'll be discussing the September AND October book
Always bring your business cards
Beth Boyke Photography will be on hand for candids and our group shot!

Saturday, November 7 – Leepa Mittal, Traveling Photographer Extraordinaire, will be leading the morning with Photography and Social Media Tips

Place: Keller Williams in downtown Hartland, upstairs
Time: 8:30 am to 10:00 am
Read: Indistractable by Nir Eyal
Always bring your business cards
Beth Boyke will be on hand for candids.

Tuesday, December 1 – Julie Coughlin, back by popular demand:

How to Use your Community & Network to Hit your 2021 Goals

Place: Online via Zoom  – will be very interactive. 
Time: 7:00 pm to 9:00 pm
Read: Year of Yes by Shonda Rhimes
Please dress up as if you were attending in person to make it festive and fun. 
There will be multiple giveaways for attendees!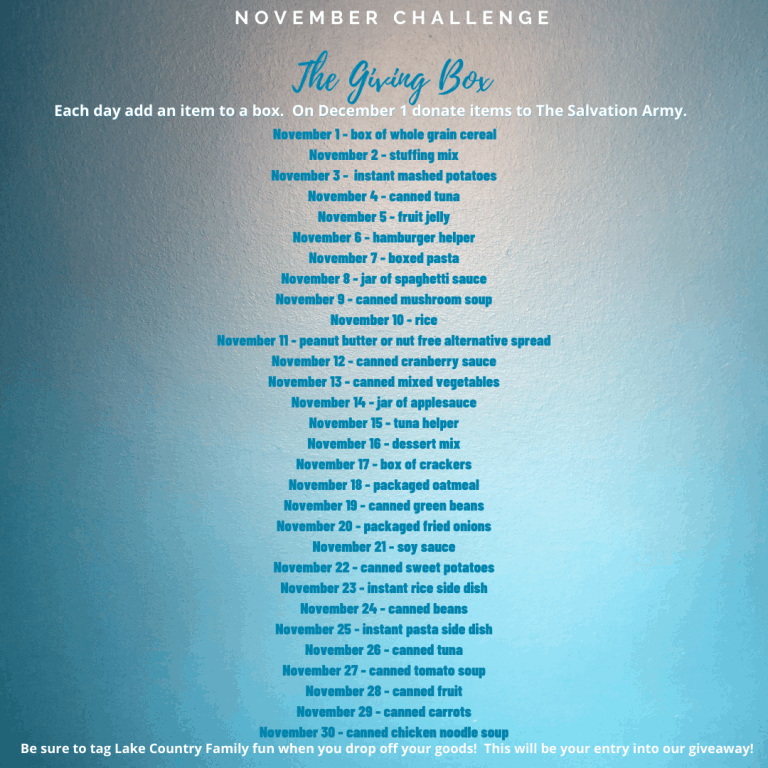 Lake Country Currents members and members of the local community at large, we invited you to join with us in our November Giving Box for our December cause of the month, the Waukesha Salvation Army. For those that participate and tag us throughout the month of November @lakecountryfamilyfun on social (Instagram), we'll have a prize to give away! The prize is a $25 gift card to Silver Spot at the Corners of Brookfield, along with two stemless wine glasses! 
To Enter:
Simply enter your name and valid email address in the form below. *We will contact the winner via the email submitted. Only one entry per person. Duplicate entries will be deleted. Giveaway runs November 1, 2020 through November 30, 2020 at 11:59 pm (CST).
Other: Entrants must be 18 years or older at the time of entering the giveaway. Entrants must be located in the U.S. The winner will be selected at random and notified via the email that was submitted. Winner must respond within 48 hours to claim their prize, or another winner will be chosen. Only one entry person. Duplicates will be deleted.
Disclosure: Many thanks to the Corners of Brookfield for donating the prize and supporting Lake Country Family Fun. See disclosure and privacy policy here.  The winner may be congratulated on Facebook (with the official prize notification going through email). For giveaways that are announced or promoted on Facebook or Instagram, please note that these promotions are in no way sponsored, endorsed or administered by, or associated with, Facebook or Instagram.
Lake Country Currents Reads
New in January 2020 – Lake Country Currents Reads!
We'll spend 15 minutes of the event discussing a specific personal development book. No need to read the book to join the discussion.
Lydia Sutton Schleicher has made a list AND she registered LCC Reads as an official book club with Books & Company in Oconomowoc! This means if you want to buy any of the books, you can get them for 15% off of the book group title.
January – Getting Things Done by David Allen
February – Big Magic by Elizabeth Gilberg
March – Grit by Angela Duckworth
April – You are a Badass by  Jen Sincero
May – 7 Habits of Highly Effective People by Stephen Covey
August – A Shame-Free Plan for Embracing and Achieving Your Goals by Rachel Hollis
September – Can't Even by Anne Helen Petersen
October – Start with Why by Simon Sinek
November – Indistractable by Nir Eyal
December  – Year of Yes by Shonda Rhimes
"If you want to go fast, go alone. If you want to go far, go with others." -African Proverb
What happens at Lake Country Currents?
Magic
The magic of women supporting women, of fellow entrepreneurs sharing in each other's fears and goals, community building, and more! Plus, you'll always find refreshments, networking abilities, laughs, and new friendships available at the event as well! Not to mention, we always have a photographer on hand to get you candids for your website, blog, or social media marketing.
Each Lake Country Current Event Ticket: $20
See you there!!
Past Lake Country Currents Events