What is there to do at Hartland Kids Day?
Hartland Kids Day has tons of fun things to do for kids and parents alike.  Here is a typical day at Hartland Kids day you may find in 2023:
Start your day at the Shuttle Stop at Lake Country Lutheran High School and ride the FREE shuttle over to the Nixon Park Drop off site (3 minute ride and strollers are allowed).
Stop at the Divine Redeemer booth right when you get off the shuttle for a $1 iced coffee. Head down the path of businesses and see animals, meet princesses, get your face painted at the Team Trimble booth and make take home crafts (to list a few ideas).
Stop at the Lake Country Family Fun booth to get your free swag bag (one per family). There are 250 bags and the LCFF booth is to the right of the mainstage. *The bags are usually gone by 11:00 am. Take in a performance or two at the mainstage which includes theatre, music, dancing and more! 
Head over to the rock wall and enjoy a free climb.  Meet some more local business, hey, maybe you'll meet a dentist or find a new hobby you love!  Bounce over to the bounce houses provided by Bounce Life Rental. 
Stop by the Hartland Family Chiropractic booth and say hi to our Premiere sponsor, who always has great stuff going on at their booth.
When you get hungry, choose from Pizza Ranch, Chick-fil-a or "Rollicious Creamery" Blue Gnome treats serving asian cuisine.  Follow it up with a dessert from All the Crumbs.  If you get hot, enjoy a treat from KONA ICE.  Go pet some of the animals from Glacier Rock farms or the the Waukesha County Parks booth. 
Play on the playground or splash at the splash pad to cool off before taking in more shows, dancing to the music and meeting new people. Hartland Kids Day is ALWAYS the last Wednesday in July, so take off of work in advance 🙂
In 2023, participants will have the opportunity to have a picture with our local celebrity, Andrea Weisman, Mrs. Lake Country America in the morning.
Later, COLT, the official bat dog for the Lake Country DockHounds will be on site from 11:00 am to 1:00 pm at the Lake Country Family Fun booth to the right of the mainstage.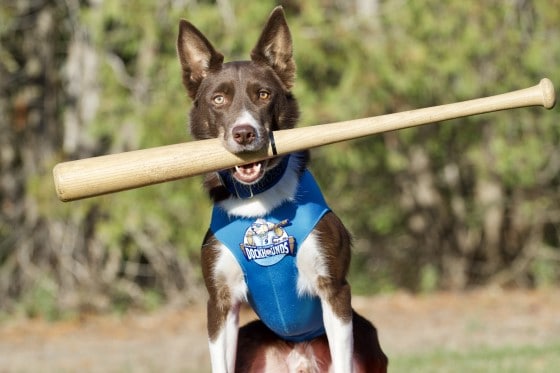 Hartland Kids Day Charity Spotlight
Lake Country Family Fun is again supporting the BackPack Coalition of Waukesha County. In 2023 they will be accepting online cash donations and the following for an in-person supply drive. If you'd like to make an online donation, please follow this link.
Here is what your donation (cash or through the supply drive) does:
Ensures a child can start the school year with the supplies needed to succeed.
Without the right school supplies, a child's capacity to learn can be greatly diminished.
Makes a child proud to have their own school supplies. Every child starts out on the same foot, with the same items needed for the grade and school they attend.
Reduces the amount of money teachers spend to fill supply gaps that families can't afford.
Frees up family budgets that are already strained, especially during these
challenging times.
Helps our youth grow to be tomorrow's young adults, ready to face the world.
Our goal is to provide new backpack and school supplies for more than 7,000 students which is a 30% increase from last year.  Food pantries in Waukesha County who are supporting the coalition report utilization of their services continue to increase and Backpack Coalition, a program of United Way of Greater Milwaukee & Waukesha County is dedicated to help support families. 
The following items are sought and MUST BE NEW for the supply drive to be brought directly to Hartland Kids Day. The booth is located right at the shuttle drop off at Nixon Park. Prior to the event, you can also drop off needed supplies with Mrs. Lake Country America, Andrea Weisman at her office: 
Summit Financial
375 Bishops Way Suite 222,
Brookfield, WI 53005
Backpacks (15-17″)

Binders (2″)

Crayons (24 Ct)

Glue Sticks

Washable Markers (8-10 Ct)

Composition Notebooks (wide/college-ruled)

Loose Leaf Paper (wide/college-ruled)

Highlighters (Various Colors)
THE ATTENDEES ASSUME ALL RISK AND LIABILITY IN CONNECTION WITH ATTENDING THE in person EVENT. Read the liability waiver here:
Note: This waiver is valid for all in person attendees and does not require signature. By attending you are assuming all risks and liabilities. If you do agree with the items in the waiver, please do not attend.
A photographer will be on site during the day taking photographs and video during this event which may be used for future marketing purposes.
Come hungry! Every year we bring more food, and every year, we sell out! While all the fun is free at Hartland Kids Day, the food does require a purchase. 
2023 FOOD Vendors:
Chick-fil-A Delafield
Waukesha Pizza Ranch
"Rollicious Creamery" Blue Gnome Treats –

Chicken teriyaki 

Gyros

Bubble tea

Lemonade 

Ice cream cones 

Sundaes

Bubble waffles with ice cream

Kona Ice

Divine Redeemer Lutheran Church & School  Hartland – selling iced coffee

All the Crumbs Cookies
Parking Information - SAME shuttle location in 2023
Parking is limited around Nixon Park. If able, please utilize the shuttle system. The shuttle will pick attendees up Lake Country Lutheran High School (401 Campus Dr, Hartland, WI). The shuttle will then drop off attendees right at the park on East Park Avenue. This will also be the pick up location when attendees are ready to go back to their parked car. 
The shuttle will arrive at 8:45 am at Lake Country Lutheran High School Parking lot and leave for Nixon Park at 9:00 am. It will then continually run the circle through 2:00 pm.
*Please note the new shuttle location for 2022 and 2023.
401 Campus Drive
Hartland, WI 53029
Lost and Found Information
We get it, we are moms, too. You're pushing the stroller through and all the sudden you realize your child has one shoe. Where's the other shoe?! The Lake Country Family Fun booth will host a lost and found for the day. If you find anything, please bring it to the Lake Country Family Fun Booth, located on the right side of the stage, while looking at it from the bleachers. If you lose anything, we hope you can be reunited with your lost objects. 
Many thanks to our many sponsors that make this day possible. Lake Country Family Fun presents this 11th annual event and the Premiere sponsor is Hartland Family Chiropractic. Our 250 swag bags are sponsored by Team Trimble Real Estate in Lake Country. The shuttle transportation is sponsored by Dousman Transport Company. The Bounce Houses are provided by Bounce Life Rentals. The mainstage sponsors are:
Moreland OB-GYN
Chiropractic Company (Oconomowoc)
University Lake School
Divine Redeemer Lutheran School Hartland
Magic Mom Travel, LLC
Aspire Dance
Lake Country Dance
Artistic Edge Dance Centre
A full list of HKD event sponsors can be found HERE.
Excited to Attend HKD 2023??
We will be updating the Facebook Page and Event with the new things for 2023! RSVP "Going" to get all the updates.
We LOVE Hartland Kids Day!