*Lake Country Family Fun was compensated for this trip to downtown Appleton in 2021 as well as for attending numerous family attractions and restaurants. All opinions are our own. 
DECEMBER 2, 2023
The Grinch is coming to visit the BFK!
Join in for breakfast, storytimes, Grinch-inspired activities, and lots of opportunities to meet the Grinch.
This event is $5 for members and $15 for non-members.
We traded in our lake views for a view of the Fox River on our summer trip to downtown Appleton. I mean, if it's water, it's calming to our souls. Our favorite parts about the area is that while it's a decent sized city (about 74,000), it still had some small town charm and SO much character. Plus, it's a short ride from Lake Country, at just about an hour and a half north. So, there were no, "are we there yet?" questions coming from the back seat. 😁
When you drive into downtown Appleton, you will be greeted by signs about music, art sculptures, and fun facts about Houdini. Did you know that Houdini (Ehrich Weiss) lived in Appleton for four years as a child, and always considered the city to be his hometown? We sure didn't, but we learned all about him on the Fox Trot Trail and at the History Museum at the Castle. In fact, in the picture above, right in front of us, is Houdini Plaza, a beautiful city space with a water fountain. 
Not only did we learn a lot of history and Appleton's culture, we also walked a lot of steps and the weather could not have been more gorgeous for our getaway. The downtown area is super easy to navigate by walking or taking the FREE trolley. The trolley runs a loop through the downtown area and over the Fox River. We really enjoyed our trolley ride, especially since we were able to ride with Amanda Chavez of Go Valley Kids and her kiddos. Go Valley Kids is the equivalent of Lake Country Family Fun for the Appleton and surrounding area. 
The trolley will be available June 3 – September 25, 2021.  
Thursdays & Fridays 5-11pm
Saturdays 8am-11pm
Now for the fun part – the five attractions and stops to make with your family in downtown Appleton!
5 Must Visit Family Attractions in Downtown Appleton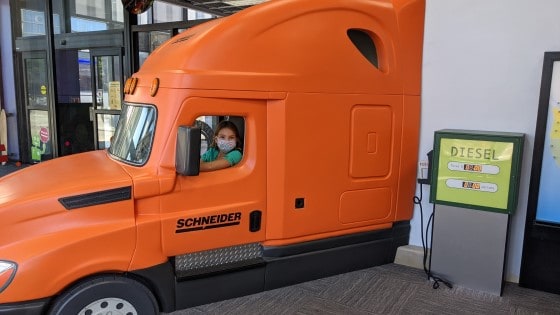 The Building for Kid's Children's Museum is located right downtown in the same building as the Appleton City Hall. It's two stories of fun for all ages of children. My children are currently 7 and 10. They loved playing imaginative play in the grocery store/pizzeria, diesel truck area, and at the Fox Communities Credit Union. They spent the most time though in the Innovation Lab and the art area, da Vinci Studio. The hands-on STEM (Science, Technology, Engineering and Math) area in the Innovation Lab changes out frequently. When we were there they spent SO much time arranging and rearranging a magnetic ball run along a wall. It was so fun to watch their brains work as they created short runs and long runs and troubleshooting when the ball didn't go the way they were intending. 
Play is a child's work.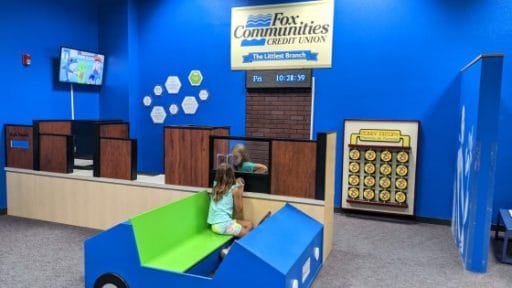 In the da Vinci Art Studio, the sky is the limit on creation. Each of my girls decided to paint pictures. The staff was friendly and helpful, assisting them as they picked out paint colors. She even helped them along in their creative process as they were deciding what to paint and what they wanted their masterpieces to be.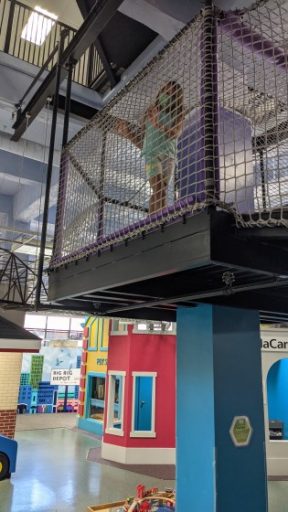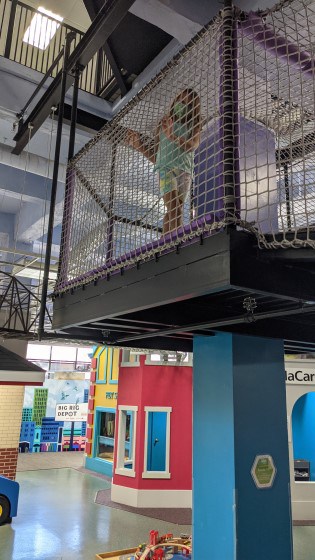 The second floor is also home to the Thrivent Water Gallery. This was a huge hit! Kids + water is a match like spaghetti and meatballs. Plus, don't miss the life size fire truck and construction junction. We spent about 3 hours at the museum, but my kids would have spent ALL day there. There was so much to do. They are already talking about going back and exploring more!
We are an active family. We love being outside. Hiking and walking really became a pastime in 2020 and has carried over since. So, when we started out our trip and downtown Appleton exploration with the Fox Trot Trail, it was the best way to get our bearings on the city and where everything is located. 
The start of the Fox Trot Trail is located right in Houdini Plaza, which is right across the street from the Building for Kids Children's Museum.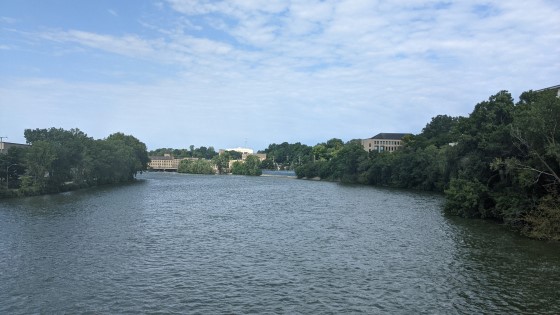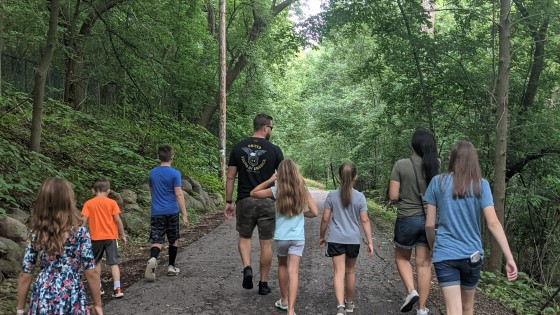 We love experiencing life with others, so we met family friends that live in the Appleton area for a walk with us along the Fox Trot Trail. They hadn't yet experienced it, so it was fun for all! All six kiddos loved following the blue fox prints as we walked along the downtown sidewalks, turning toward the river, and ending up along a wooded trail.  
There was a place where we could have chose to take the "scenic shortcut" or the full trail, and we opted for the full trail and experience. I'm so happy we did. Along the wooded trail, we saw two deer!! Two deer in downtown Appleton!! 
3 - The History Museum at the Castle
There is a castle in downtown Appleton. Who knew?! We didn't before exploring! The History Museum at the Castle is in walking distance from the Building for Kids Children's Museum. There are three floors for exploring, and we had the most fun on the main floor and the second floor. 
The main floor has the Fox Cities ABC's, which is a fun way to learn about the history of the area, while interacting. We colored some post cards and took a stroll through the gift shop as well. 
On the second floor is where we spent the most time. It is dedicated to the history of Houdini.  There are hands on displays. We unlocked ourselves out of jail and I climbed into a locked chest. Luckily, I made it out just like Houdini! If you have an interest in magic plus local history, the second floor is a must experience!
On the bottom floor aka basement, they are currently making way for a new exhibit. You'll also find a full model train set up. Tap the link above to the History Museum at the Castle for more details!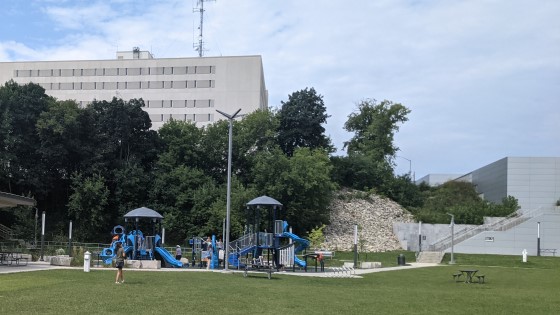 We love parks. We love playgrounds. And this one did not disappoint. Jones Park is located along the Fox Trot Trail, so we enjoyed it and played on the playground both days that we were in  downtown Appleton!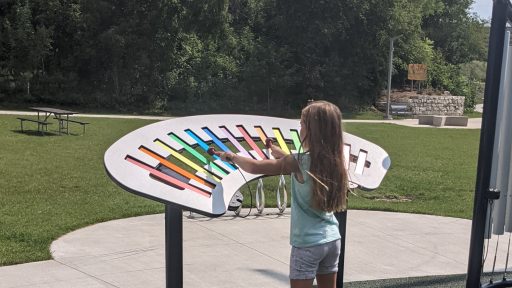 The playground is part of the bigger park, that has an amphitheater for outdoor music and more!
As discussed above, Appleton is a hub for music and art. So, when visiting, check out The Fire Art Studio, right down from the Building for Kids Children's Museum.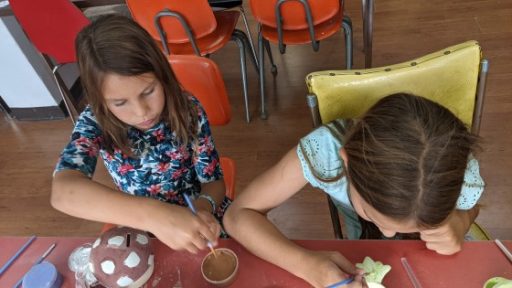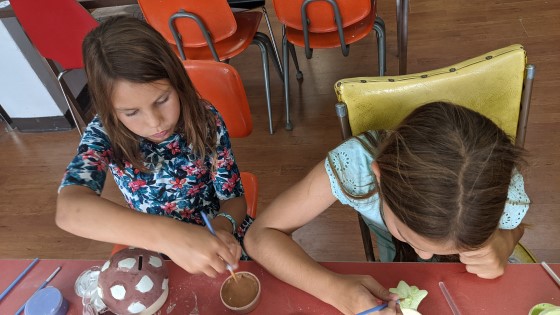 They have so many pottery options for painting and glass fusion projects. We were in a painting mood, but want to go back and try glass fusing!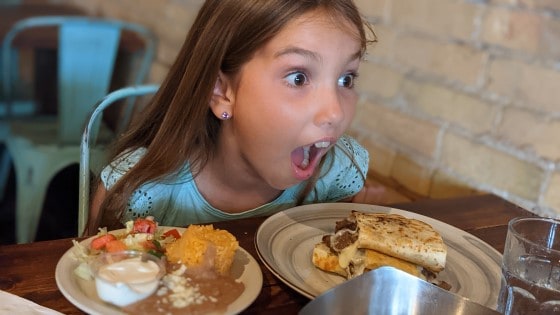 We snuck all this fun into two full days with a stay at the Courtyard by Marriot Appleton Riverfront. The hotel was about a mile away from downtown and we were able to see it from our Trolley Tour.  We loved that we could walk along the Fox River and even head to Telulah Park. Because we can't get enough playtime in!
Are you planning a trip to downtown Appleton? Which attraction piqued your interest the most? Or was it the food? It was the food, I know it! Tell us all about your questions and comments below or through our social media channels!
Are you looking to get out of town, because we highly suggest making this your destination for family fun, especially while the weather is still nice!