There is quite a bit of fun to be had in Southeastern Wisconsin in fall.  Washington County is Waukesha County's neighbor and Ozaukee County is a county that is kitty-corner to Waukesha County and there are some great fall activities and things to do there.  We don't always recommend going across county for one thing, but when you can make a trip out of it and do a few things – we certainly love that idea!  
We planned a great trip for you to visit 5 awesome spots!  What's even better is that they are close to each other and one is on your way home, so it makes for a perfect trip – just bring this post and GO GO GO!!! (well, check dates and hours of the businesses before driving out there, of course).
So, here are 5 things you should hit up and make a short day trip this fall:
1. Ride a sit-on train at the Pumpkin Run Train Night-Run events at the Milwaukee Light Engineering Society.
Located in Ozaukee County at 2620 Country Aire Dr, Cedarburg, WI.

We love the Milwaukee Light Engineering Society (MLES). They are located in Cedarburg and offer events throughout the year that are open to the public. My kids love riding this train especially at Halloween time for the night run pumpkin train rides. They are only $5 a person and the money support the MLES. It's not spooky and everyone (baby – adult) can ride. It is a way longer ride than I expected and the decoration and lights are truly spectacular.  Find out more about this event, including limited dates here.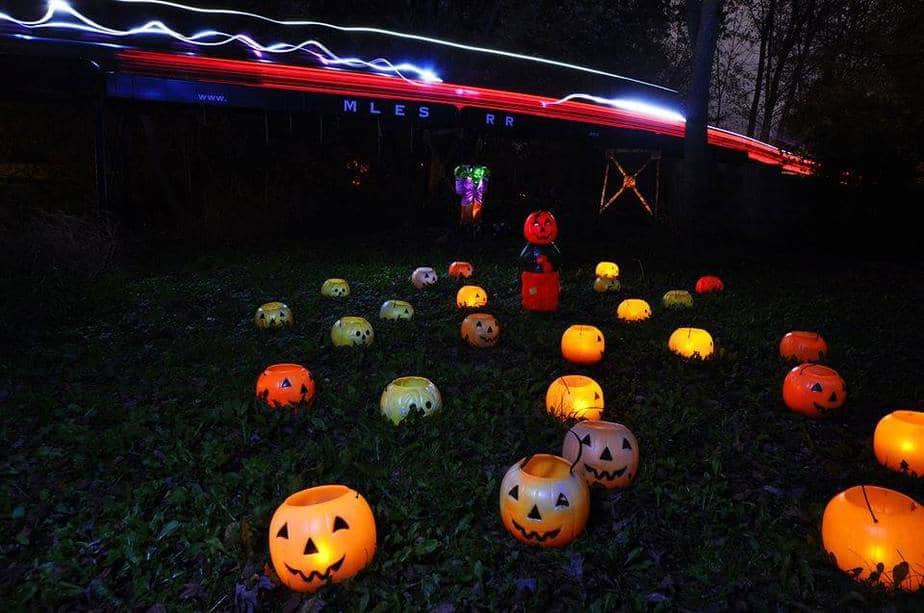 2. Grab a bite to eat in an awesome new restaurant called Old Germantown.

Located in Washington County (and located exactly 3 miles from MLES) the address is W148N12696 Pleasant View Dr., Germantown.

My family loved trying out this new restaurant, brewery and cafe this past summer. Not only that, but this is the family business of our friend, Kayla, who works at Mathnasium of Lake Country, which we also love. Old Germantown has a farm-to-table menu with a focus on wood-fire grilled pizzas and house made sausages made in the smokehouse. They built a 100 foot long covered outdoor table that could possibly stand as the longest in the county! My kids loved playing with all the fun outdoor activities (stacking things, digging and more. See the image below.) Just FYI, they are a 120-acre farm and the café is 1,000 feet from the road. You won't see the building at all from road. So follow GPS to address and know that their driveway is gravel, surrounded by cropland. (The driveway is wider than most, about three football fields long, and leads straight to the barn.) They are open Thursday – Friday for dinner and Saturday and Sunday for lunch and dinner. See their Facebook for hours.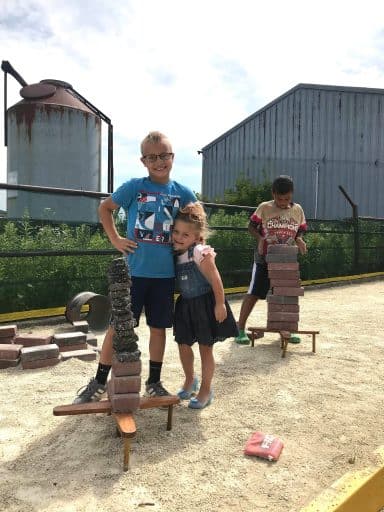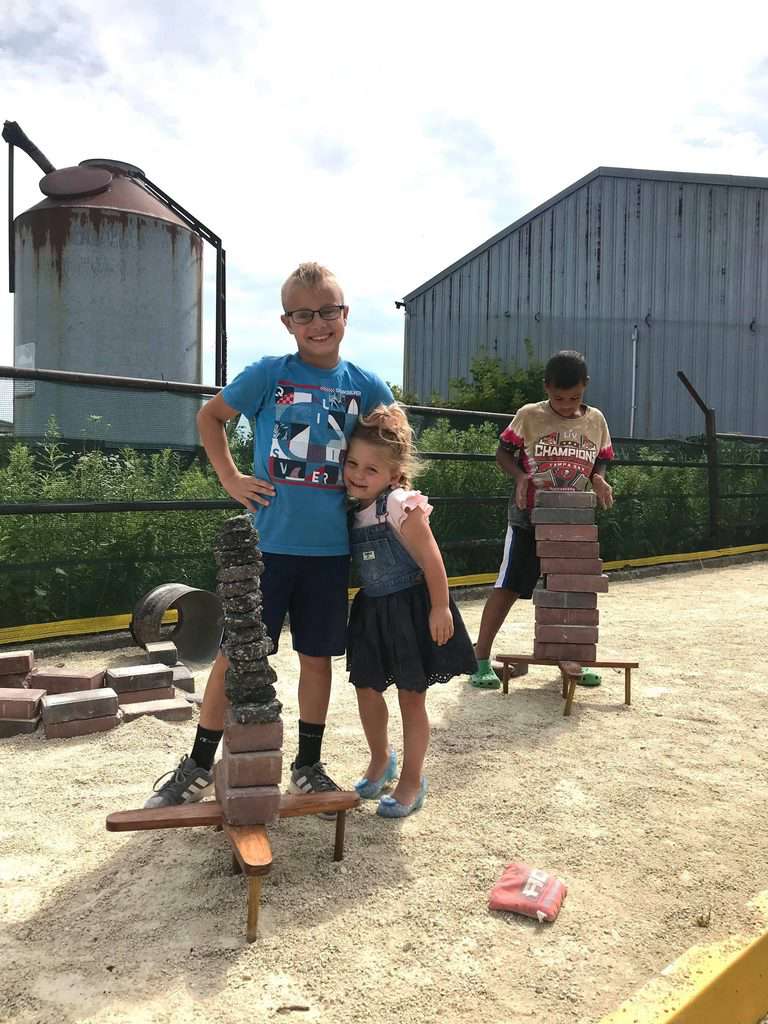 3. Pick apples at Barthel Fruit Farm or Gierach Orchards.
Barthel Fruit Farm is located at 12246 N Farmdale Rd, Mequon. Gierach Orchards is located at 9616 W Bonniwell Rd, Mequon. 
These two orchards are located 5 miles or LESS away from our #2 item, "Old Germantown" (which is located 3 miles from the #1 spot, MLES).  You see what we are doing here – making an awesome day trip for you with minimal driving and maximum fun! We've picked apples at both venues and had a blast at each. The orchard at Gierach Orchards is great for families who want to pick apples (every day of the week) and we bought a ton of farm products from their market store. They have a sunflower field in bloom currently. Barthels Fruit Farm is awesome too and has it all including a beer garden, corn maze, pumpkin patch and apple cider donuts!
4. Enjoy family-fun on these 2 admission free Pumpkin Farms - Cedarburg Creek Farm and Creekside Valley Farm
Cedarburg Creek Farm is located at 649 State Road 60, Cedarburg. Creekside Valley Farm is located at 13101 N Wauwatosa Rd, Mequon. 
CEDARBURGE CREEK FARM – With no admission fees and FREE hay wagon rides, Cedarburg Creek Farm is filled with affordable, fun things to do with your kids. They offer concessions, fall flowers, corn stalks, straw, gourds, barrel train, a Kid's Straw Bale Maze, a corn maze, bounce houses, Hay Wagon Rides & a Petting Zoo.  
CREEKSIDE VALLEY FARM – With no admission fees, families can pick and choose what they want to do.   Creekside Valley farm has a corn maze for $5, hay rides are just $2, visit the farm animals for free and Peddle Tractors and swings are available for the younger children free of charge.  New in 2021, bring your smart phone with you and scan a QR code for our weekly scavenger hunt form (download the younger one or the one for older kids!). Hungry? There will be food vendors on Saturdays and Sundays!
5. On your way home to Lake Country, stop at the "Lightmare Before Halloween" display in Germantown
This lighted up house in Germantown is simply breath-taking. It is located at N102W17515 Lone Oaks Dr Germantown.
The Lightmare before Christmas runs a holiday light show – lighting synced to music – each year for Halloween and Christmas. You can follow them for hours
here
. The songs they choose are perfect for the season and the lights match perfectly to the music. It's a must see (every year) for families.  It's worth a stop on your way home from any of the spots listed in 1-4 above.
In summary, if you head to Ozaukee and Washington County for fall fun, try out these recommended spots.
An awesome idea would be to start with yummy donuts and fun at one of the pumpkin farms, head to one of the two orchards listed to pick or buy apples, grab dinner at Old Germantown, hit up a train ride at dusk and see the light show in the dark on your way home.
We hope this day trip planner helped you. If it did, be sure to tag us on IG in your fun and share your photos to make our day! 
Use this Handy Map to Plan your Trip