Have you been to a corn maze? They are so much fun! (Just don't get lost 😉 ) Here are our top 15 favorite SE Wisconsin corn mazes to go have an adventure and make some fun memories with your family.  Some farms listed have scary corn mazes, some are family friendly, and some are spooky at night!  South East Wisconsin is a fall wonderland. Make sure you check out Lake Country Family Fun's other fall guides HERE!
Please give a big thank you to our Southeast Wisconsin Corn Maze Farm Guide sponsor:
BASSE'S TASTE OF COUNTRY 3190 County Line Q  Colgate, WI  53017
They are a family-owned and operated farm that offers family-orientated fun and educational activities all season long! To enjoy all the fun each year, please visit their ever growing and improving pumpkin farm with their fall fun packed PUMPKIN FESTIVAL! While there, check out their 2019 corn maze: Corn Story! Basse's had created one of the first corn mazes in Wisconsin, making corn mazes since 1998. The Basse's have been creating fun and challenging corn mazes for the whole family to explore! 
JIM'S PUMPKIN FARM N124 W17781 W Lovers Lane, Germantown, WI 53022
Journey through our 4-1/2 acre corn maze featuring a new and exciting design each year. There is more Fall Fun to enjoy along the many twists and turns of the maze! Cash only.  Open the last weekend in September.
MEADOWBROOK HAUNTED CORNFIELD 2970 Mile view Road, West Bend, WI 53095
The Meadowbrook Pumpkin Farm Haunted Cornfield experience is a  MUST SEE – MUST DO – ONE OF A KIND adventure. They have a daytime creepy cornfield adventure as well as a night time family and children friendly family creepy cornfield experience. 
Cedarburg Creek Farm 649 WI-60 Trunk, Cedarburg
We are family owned and operated business, where in the fall you can find a pumpkin patch, kid's straw bale, a corn maze, and much more fall fun close to home. Add in no admission fees and FREE Hay Wagon Rides, and we are THE place for affordable family fun. We hope to become a place for your family to make memories year after year.

The corn maze details are coming soon!
Appleland Farm 4177 Highway 57 Fredonia, WI
Fun for the whole family! Appleland Farm Market has many varieties of apples, both U-Pick and Pre-Picked. We have pumpkins of all sizes (mini to giant) with wagon rides to the pumpkin patch. Continue the fun with a playground for the kids featuring an old fashioned tractor, sand tire pyramid and horse swings. We offer a picnic area overlooking the orchards and beautiful countryside. Apple season opens on August 30 th . U-Pick Apples begins on September 10th. We are open daily in-season. Sun-Wed 10-5 and Thu-Sat 9-6. Follow us on Facebook.

Corn maze details coming soon!
Creekside Valley Farm 13101 N Wauwatosa Road Mequon, WI 
Feel like getting lost for a bit? Do you like Trivia?  Enter our corn maze and find opportunities for both. Our corn maze is about 5 acres of curves and dead ends, but if you know your trivia you may have a better chance of getting out quicker. As you follow the paths you will answer trivia questions to help guide your way. Be careful if you answer incorrectly you will find yourself in a dead end.  Admission for the corn maze is $5.00 per person. 4 years and under are free. We also offer a few treats on the farm  that include, Caramel Corn, Cotton Candy, Cheese Corn, Cider and Water. 
JELLI'S MARKET N5648 S. FARMINGTON ROAD, HELENVILLE, WI 53137
Their FREE fall activities offered for the little ones include the selfie scavenger hunt, lawn jenga, connect four, corn bag toss, pumpkin checkers, tic-tac-toe, corn box and everyone's favorite, Angry Birds For Real slingshot game!

For those a little bit older, they have a free corn maze!
Busy Barns Adventure Farm W7675 US Hwy 12 Fort Atkinson, WI
Their Corn Maze is a Trivia Based challenge! Admission is $12 for ages one and up and includes the corn maze (and many other items) in the price. They are open Saturdays and Sundays on September 21, 22, 28, 29, October 5, 6, 12, 13, 19, 20, 26, 27.

 
SChuster's FARM 1326 US Highway 12 and 18 Deerfield, WI
An aMAZEing adventure by day or night! The maze is divided into phases that will accommodate all age groups. The small maze is just the right challenge for the young crowd and provides the perfect controlled maze experience. The LARGE maze consists of two phases so our directionally-challenged guests may take a break or "regroup" mid-way through the maze. Right turns, wrong turns and U-turns, taking a break at each of the two scenic bridges hidden within, keep going until you find your way out! Want to try the corn maze challenge at night? It's darker out here in the country, so be sure to bring our flashlight or buy a glowstick ($1.00) at the Ticket Booth.

Open to the public September 21 – October 31, 2019. See website for pricing. 

 
TREINEN FARM W12420 State Road 60, Lodi, WI 53555
What is a Treinen Farm Corn Maze?

A living puzzle designed and cultivated by the Treinen family

15 acres–that's nearly 15 football fields of corn!

Over 6 miles of twisty turns filled with clues for solving the puzzle

A mission with chances to win prizes

A unique outdoor challenge

Really really fun!

2019: Crane Dance Corn Maze

See prices and hours here
BORZYNSKI'S FARM 11600 Washington Ave, Mt. Pleasant WI 53177
2018 Corn Maze Theme: Lost City of Atlantis

8 acre corn maze

Friday & Saturday nights in October are "Flashlight Nights"

Note: their maze is family friendly and never haunted.

Opens September 21, 2019
PIN IT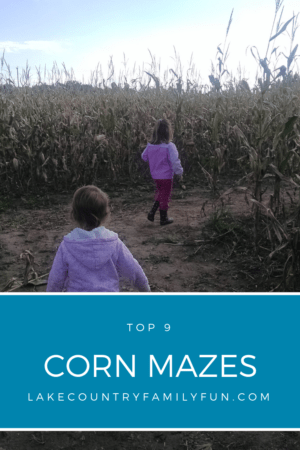 LOOKING FOR MORE FALL FUN? 
CHECK OUT OUR FALL FUN PAGE WITH GUIDES TO HAUNTED HOUSES, PUMPKIN FARMS, FALL FESTIVALS AND MORE!

Do you have a corn maze to add?
If you have a corn maze to add to our Southeast Wisconsin Corn Maze Guide, please email us at erin@lakecountryfamilyfun(dot)com with your corn maze information. You can also email us via the contact form.