At Lake Country Family Fun we get a lot of requests to make certain guides.  One request we've gotten more frequently is a guide for a list of venues to hold events. We heard you!  So…. we've compiled a Waukesha County Venue Guide for our awesome followers.  Are you interested in an event space for a:
Wedding
Shower
Family Reunion
Work Meeting
Ladies Night Out Event
Co-working Space
Team Building Event
More
There are many local places to host an event in Lake Country and Waukesha County!
Below is a list of venues. If you see a venue missing, contact us via the contact form. If you are a venue in this list and want to upgrate your listing with an image and/or more information, contact us today.
Please thank our GUide sponsor:
Pictured is an outdoor wedding setup at the Club's Carriage House Venue space
The Club at Lac La Belle in Oconomowoc

1896 Room

The newly renovated 1896 Room inside The Club at Lac La Belle offers spectacular views of the 18th green and capacity to seat 215 guests.

Carriage House

Seats up to 295 guests inside
Bridal Suite with two balconies
Large patio

You can also rent space in the Rivalry Pub or the Patio(s).
Inquire about hosting an event at the Club at Lac La Belle today. (LINK)

The Gathering Barn at Busy Barns Adventure Farm (Fort Atkinson)

Wedding Dates available in 2020!
Great venue for a wedding, family gathering, picnic and more!

Guests will love the relaxing country charm and have the opportunity to cuddle the baby animals and experience the Acres of Adventures that Busy Barns Adventure Farm offers.
Loft on the Lake

LOFT ON THE LAKE is Pewaukee's newest event venue and gathering place for our beautiful surrounding communities. They are located inside Chiropractic & Wellness on Pewaukee Lake on the second level. THE LOFT is like none other. They truly have the breathtaking lake views that can not be missed. THE LOFT is the perfect location for any occasion! 
Perfect for bridal showers, baby showers, birthday parties etc. We have capacity for up to 50 guests.
Urban Air Milwaukee West

 Fun filled & Easy to plan group outings

Church groups
Team Building
Lock-ins
More

Table reserved for two hours, ulitmate access to park attractions, includes pizza and a beverage, group minimums required, valid M-Thursday, restrictions apply.
STEAM Field Trips!
Team Building High Ropes Course Package!
Urban Patio is 6,000 square feet of rentable event space for shower, meeting, reunion, etc!

Bug & Goose Play Cafe in Elm Grove

13448 Watertown Plank Road, Elm Grove, WI 53122
We host parties! In addition to kid's birthday parties, we can host gender reveals, baby showers, kindergarten graduations, anything you can think of!

The Milwaukee County Zoo

Peck Welcome Center
Capacity: 50 to 500
Catering Requirements: Approved Vendor List Only
Liquor Status: In House Concessionaire
Price: $800 to $ 2,000 plus per person
Event Occasions: Receptions, After hour parties, meetings, fundraisers and picnics
Description: The Peck Welcome Center offers a large space that can be used for most any type of event. Located inside the Zoo it is just one of many rental facilities we offer.
Booking Contact: Renee Klatt, Sales Manager 414 – 256 – 5432

Oconomowoc Community Center




220 W Wisconsin Ave, Oconomowoc
Many different rental spaces and configurations available
See rental information here 

Deer Haven Banquets

19300 W Cleveland Ave, New Berlin
 The maximum capacity at Deer Haven Banquets is 250.
Brookfield Conference Center (Opened July 6, 2020)

 325 South Moreland Rd in Brookfield
Connects to the HIlton Garden Inn
Connect Ballroom (18,000 sq. ft.)
Collaborate Ballroom (6,000 sq. ft.)
Celebration Atrium (8,000 sq. ft.)
Outdoor Celebration Plaza (9,000 sq. ft.)
FETE of Wales

500 E Summit Ave, Wales, WI 53183
This event center can accommodate events with up to 350 guests for a seated dinner and up to 250 for a ceremony.
Okauchee Lions Park Pavilion

N49W34400 E Wisconsin Ave, Okauchee, WI 53069
Featuring an indoor option, as well as outdoor with garage doors that can be kept open or closed.

Mama D's Genesee Depot Location

S42 W31238 WI-83, Genesee Depot, WI 53127
Host a birthday party or bridal shower.
Rent out the Genesee Depot shop for up to 30 people.
Old School in Nashotah

W329 N4476 Lakeland Drive, Nashotah, WI 53058
Cupola Barn

N88 W35490, Mapleton Rd, Oconomowoc
Up to 200 guests
The Bowery

N2201 Co Rd P, Rubicon, WI
Up to 300 guests
Bass Bay Brewhouse / Aud Mar Banquets on the Bay

S79W15851 Aud Mar Dr, Muskego
Since 1958, Aud Mar Banquets (more affectionately known around here as "The Aud Mar") has been a family-owned & oriented business aimed at serving our guests with friendly and focused hospitality. From small family gatherings to large corporate events, intimate rustic ceremonies to black tie formal weddings
Lilac Acres

S47W23045 Lawnsdale Rd, Waukesha
Up to 150 guests
Sideliners

W309 S4837 Commercial Dr, North Prairie, WI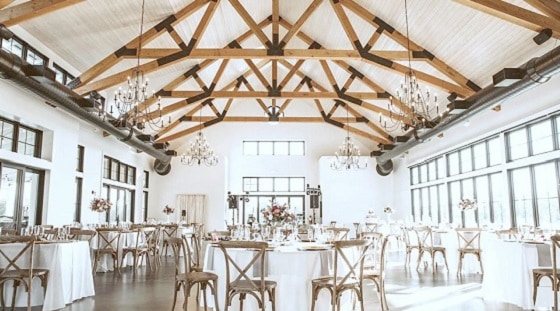 Want to be listed in this guide?  Contact us via the contact form in the FOOTER and we'll add your venue?
Want to upgrade your listing to add an image/website links? Contact us!
View Our Birthday Party GUide
Looking for a great venue spot for a Birthday Party?