Hot Cocoa Bombs are all the rage right now!  Why wouldn't they be?!  Who doesn't love a warm cup of hot cocoa in the colder months.  Cocoa bombs add to the fun of a cocoa treat!  It's like a science experiment in a cup!
Making our own Cocoa Bombs is on our bucket list for sure this holiday season and throughout the winter!  I love to bake and my son enjoys getting in on the action.  We watch a lot of baking shows together.  So he is always ready to get in the kitchen and test out his own skills. 
If you have little bakers and chefs in your house, try making your own hot cocoa bombs!  We've made the prep work a little easier for you.  We have compiled a list of ingredients and supplies that can be delivered right to your home to simplify your life.  Talk about convenience!  We have also shared a recipe for a classic cocoa bomb experience.  Enjoy!  
Don't forget to share your fun and memories with us on Social Media!
*This post contains affiliate links. As an Amazon Associate, LCFF, LLC earns from qualifying purchases. Thank you for supporting our small business. More details HERE.
Hot Chocolate Bombs to Make at Home
*Adapted from Creative Green Living*
First gather up ingredients.
This recipe makes 6 complete cocoa bombs.
Dipping Chocolate
Mini Marshmallows.
These mini marshmallows are all natural, non GMO, vegan, gluten free and kosher! They do not contain gelatin.
Organic cocoa powder, non GMO. 

You will also need 1 cup of your choice of milk (dairy or nondairy) to pour over your finished cocoa bomb.
Secondly, gather up your cooking supplies. 
2 ½ inch diameter round silicone sphere molds
*Don't use sphere ice molds. They are too deep and won't result in solidly molded chocolate. We know. We lived it 🤪
Metal cookie sheet

Stainless steel pan or a warm plate

Small silicone spatula

1.5 tablespoon cookie scoop
Optional: disposable gloves

Thirdly, we are now ready to make some hot chocolate bombs!
Melt your chocolate wafers according to package instructions.  You want the chocolate just warm enough to melt and lose its disk shape. But don't burn the chocolate.

Fill your 1.5 tablespoon cookie scoop to about 1.25 tablespoon with your melted chocolate. Drop one scoop worth into each of your round silicone molds.

Use your spatula to spread the chocolate around, covering the inside of each mold.

Try to focus on keeping a good layer of chocolate at the top ridge for two reasons: 

You will want a strong seam to help ensure the cups are strong, especially when removing from the mold, but also when connecting the two sides together in the final step.

The melted chocolate will drip down to the bottom of the cup as it hardens.

Double coat the molds and use chocolate to seal for a fool proof bomb.

Once you have spread chocolate in all 12 of the molds, place filled molds on a metal tray.  Place the tray in the freezer for 15 minutes.  The metal tray will keep the molds level in the freezer and help them to stay cooler longer when they are removed later.

Remelt the leftover chocolate.  Add another, thinner layer of chocolate to each mold. Focus on the areas that appear thinner and around the upper ridge area.  The chocolate will harden faster this time from being in the freezer. You will need to work quickly.  Place the tray in the freezer for another 5- 15 minutes.

Remove one silicone tray from the freezer at a time.  Remove one chocolate cup from the mold at a time. Place each chocolate cup upside down on the freezing cold tray.  Repeat with the second tray. Place the tray with all 12 cups back in the freezer.

Heat a small stainless steel pan on the stove over medium heat.  Warm the pan until you can feel it starting to get warm without touching it. Remove the pan from the heat. Remove the tray from the freezer.  Working with one cup at a time, place the cup in the hot pan face down.  You want the top rim to start to melt, giving the rim a smooth finished edge.  This should be done for just 6 of the cups.  Place the cups back on the freezer tray open side up.

Fill the 6 cups you melted in the previous step with ½ TBS to 1 TBS of cocoa powder.  Add about 1.5 TBS of mini marshmallows to the same 6 cups.

Repeat the melting process in step 7 for the 6 empty remaining cups.  Work one cup at a time.  Warm the empty cup in the pan like above and then set it on top of one of the filled cups to form a sphere. Work quickly so the heat from your hands doesn't melt the chocolate.  Repeat until you have 6 finished bombs.

Dust tops of finished hot cocoa bombs with cocoa powder.
Store in an airtight container in a cool place so they don't melt.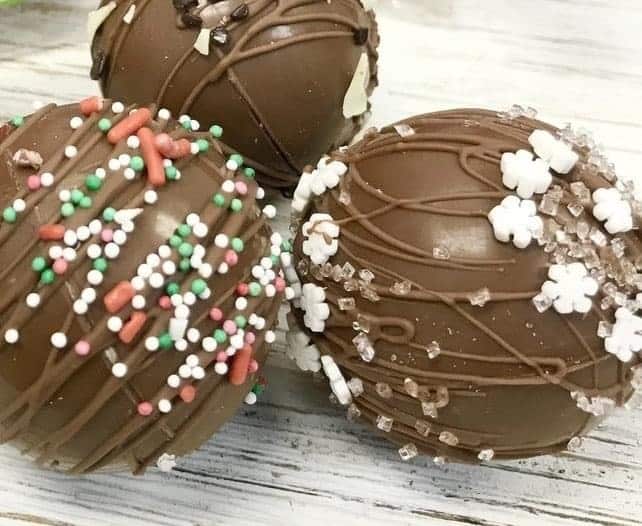 Now for the magic!
How to make Cocoa with your Hot Cocoa Bombs
Heat 1 cup of  your choice of milk to 140 degrees.

Place a hot cocoa bomb in the bottom of a 12 oz or larger mug.

Carefully pour the hot milk over the bomb. Do not overfill the mug.

Stir to help the chocolate shell melt and mix everything together.

Let the cocoa cool for a few minutes before enjoying!