The Holiday Light Displays Guide is sponsored by Winter Wonders.
Driving around looking at Holiday lights is a memory that I remember from my childhood and now continue as a parent. For us, we always pack the car with these essentials – Christmas PJs on, Christmas music on, Hot Chocolate in hand and popcorn!  No matter how you love to celebrate Christmas and view Holiday lights, there are tons of options near us in Waukesha County. This guide splits them out from paid light displays and free displays. Please note that some of the free ones are free in order to raise donations for a charitable cause. 
---
Happy Light Lookin'!
ARE WE MISSING SOME AWESOME LIGHT DISPLAYS IN YOUR NEIGHBORHOOD?

 
USE THE FORM TO ENTER AN AWESOME DISPLAY YOU WANT OTHERS TO KNOW ABOUT!  
Please thank our Holiday Light Display Guide Sponsor:
Exclusive deal for Lake Country Family Fun followers - use code "lake" for $5 off a ticket when purchased online!l
LIGHT DISPLAY GIVEAWAYS
WIN A TICKET to WINTER WONDERS!
Giveaway Nov 8 – Nov 25. Entry form will be right HERE. We are giving away two (2) carload passes to the Winter Wonders event. To enter, fill out the form below and comment on the Facebook post from 7am on November 8th on our Facebook Page with your favorite Christmas song. 
The giveaway in 2021 has ended.
WIN A TICKET TO Country Christmas!
Giveaway will be Nov 18 – Dec 2. Entry form will be on this page here.
The giveaway in 2021 has ended.

WIN OUR HOLIDAY GIVEAWAY PACKAGE!
Giveaway will run Nov 5 – 29. ENTER NOW on this page here.
The giveaway in 2021 has ended.

Paid Tickets Event Holiday Light DISPLAYS
Ticketed/Paid Holiday Light Displays
Pewaukee - Country Christmas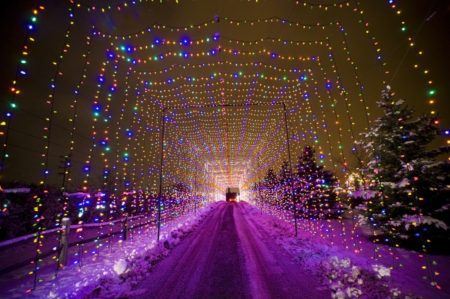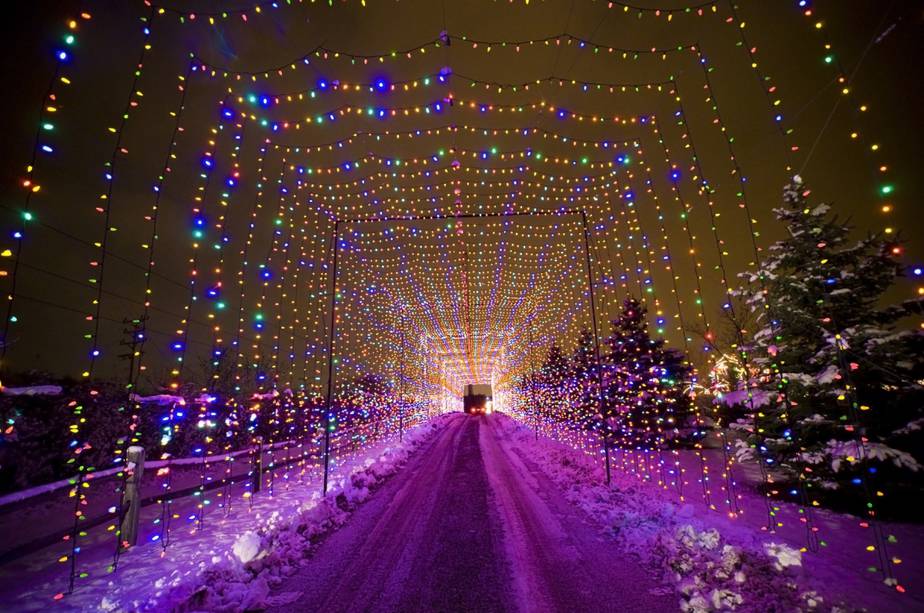 COUNTRY CHRISTMAS at the Ingleside Hotel is Wisconsin's Largest outdoor drive through light display and it begins November 26, 2021. My kids always have a blast going through each year and they always seem to notice more and more details each year and squeal with delight as we make our way through!
Country Christmas is open November 26th, 2021 – December 1, 2021 & December 3, 2021 – January 1, 2022. Sunday through Thursday hours are from 5-9 pm, and Fridays and Saturdays it runs from 5- 10 pm.
Admission (cash or credit) to Country Christmas 2021 can be found here.
Learn more about Illuminated Walks and Wagon Rides.
Hales Corners - Winter Wonders
Milwaukee - Noel Indoor Light Park at State Fair
Milwaukee - Milwaukee Zoo Wild Lights
Caledonia - Christmas Carnival of Lights
West Bend - 2 Options
Grafton - Kids2Kids
Am Fam Field - Magic of Lights
Kenosha - Jerry Smith Holiday Lights
Racine - Wonderland of Lights
Cedarburg - Illuminate Ozaukee
FREE Holiday LIGHT DISPLAYS
Note: These locations are currently being confirmed for 2021 and will take some time. If it is on the list, it was confirmed for 2020. When it is confirmed for 2021 it will state, "Confirmed for 2021" in red.

MAP OF THE LIGHT DISPLAYS
Yellow – ticketed/paid events
Orange – free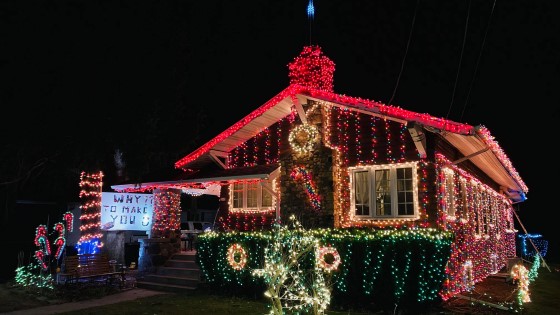 Description: This husband and wife time, the Carpenters, have been hard at work and would love you to drive by and smile to see their amazing light display in Oconomowoc. They will have the lights on daily from 5:00 pm to 8:30 pm. 
CONFIRMED for 2021.

W7018 Provimi Road, Watertown, WI 53098
Description: Every year, the Ziemer family lights up their house and forest with lights. Harvey and Jean Ziemer, owners, will have their Christmas lights set up now through New Year's Day to drive-through. FREE!!!
CONFIRMED for 2021
Entire AUtumn Ridge Subdivision
Find the subdivision off Hwy F in Ixonia to the West.
Description: Every year, the Autumn Ridge Subdivision in Ixonia has a friendly outdoor holiday decorating competition. We featured one of the homes last year (2019), with homeowner approval, but they have moved out of the subdivision along with their amazing light display. Nevertheless, the subdivision will have amazing lights on display again this 2021 season! 
CONFIRMED for 2021
LIGHT DISPLAY ON SUNFLOWER CT
Find the light display in Sunflower Ct in Summit.
Description: Park your car and watch the Christmas lights as you listen to the music over the radio at a residential home on Sunflower Court in Summit Meadows subdivision on the corner of Hwy 18 and Dousman Road. Tune to channel 89.5 FM.  The display runs from 5:00 pm – 10:00 pm. Lights are up (12/3/2020), and it is National Lampoon's Christmas Vacation theme. 
THIS LIGHT DISPLAY IS UP EVERY OTHER YEAR. SEE THEM IN 2022.
House on Center in Watertown
It's on Center Street right past the school!!
Description: Just wanted to let everyone know about an awesome house in Watertown!! I could sit here for hours and watch this! It's a fun thing to do with your kids from your vehicle. How awesome for these people to do this!! Merry Christmas!! Tune in to 88.1 when you get there! 
CONFIRMED FOR 2020
On the corner of Hwy 67 and Hwy O across from the BP gas station in Ashippun. 
Description: From an LCFF Fan, "1 house in my sundvision is awesome. Last year he had Santa out there waving to people. His stuff is already up!!"
CONFIRMED FOR 2020
Description: Decorations are many large lighted candy canes, nutcracker soldiers, camo Santa, large lighted peace on earth sign, family of deer, etc.
CONFIRMED FOR 2020
BIENNIAL GLEISNER HOLIDAY LIGHTS DISPLAY
1364 Crystal Lake Drive, Oconomowoc
Description: The biennial Gleisner Christmas Music & Light Show is this year and starts every other year.   When you arrive, turn your lights off and turn UP your radio on 93.5!!!
Here some details behind the light show:
Broadcasting our own station (93.5) via FM transmitter
With the exception of a few items, most of the light arrangements were homemade
+1.5 miles of extension cords
200+ feet of cat5 cable
Over 50,000 lights
25 strobe lights 
400+ light channels, including an 18' tall ribbon tree with 250 channels alone
Downtown Milwaukee Holiday Lights
Description: Thousands of lights decorate the Milwaukee Downtown Holiday lights events. Drive or walk around the downtown to view the lighted areas:
– Pere Marquette Park
– Downtown Streets
– Community Spirit Park at Cathedral Square Park
– Zeidler Union Square
-More
CONFIRMED FOR 2021.

Germantown & MENOMONEE FALLS
lightmare before Christmas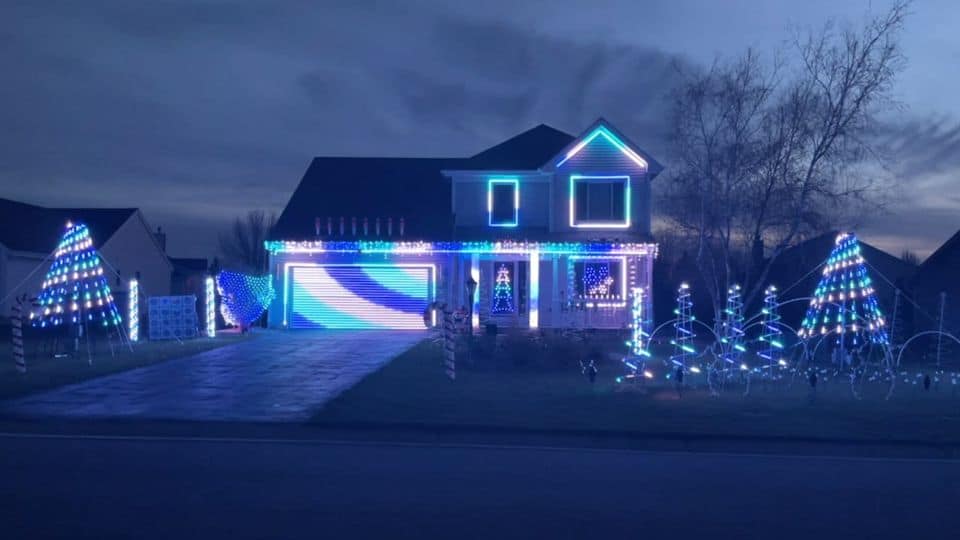 N102W17515 Lone Oaks Dr Germantown, WI
Description: Amazing Light display to music (they do a Halloween display too)!
2021 Starting date TBD. Sunday to Thursday: 5pm to 9pm and 
 Friday & Saturday: 5pm to 10pm. 
Tune your car radio to 101.5. As a courtesy to our other guests, please turn your headlights off, but keep your parking lights on so others can see you. Please don't block driveways and keep an eye out for pedestrians.
House on Pilgrim & Jefferson in Germantown
Right off of Pilgrim Road in Germantown on Jefferson Street.
Description: Absolutely stunning display of lights on a house and they have been doing it for years!
CONFIRMED FOR 2021.
ENTIRE TAYLOR WOODS SUBDIVISION
In Taylor Woods Subdivision by Wanaki Golf Course by Townline and Lisbon Roads near Menomonee Falls
Description: Fan Feedback: "I was enjoying the homes in Taylors Woods subdivision."
CONFIRMED FOR 2020
The Corners of Brookfield Shopping Center photo from 2020.
Description: Candy Corners Lane light display from 11/27-12/31!
Visit The Corners and experience the first year of Candy Corners Lane! Walk through dazzling pathways, enjoy over 4,000 feet of lights, a gingerbread house, candy cane archway, magical selfie stations and more.
CONFIRMED FOR 2021.
Christmas Carnival of Lights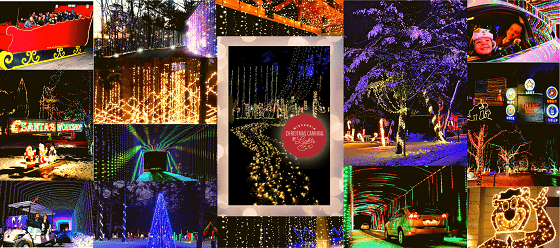 Jellystone Park in Caledonia, WI – 8425 HWY 38 Caledonia, WI
Description: Festive gifts, hot cocoa, & delicious food in Santa's Workshop. Get a photo with Santa! The most dazzling holiday drive-thru light show! View from your car or Santa's Sleigh! Book a Limo Golf Cart. Visit Santa. Book a Sleigh Ride. Visit Our Onsite Cafe.
CONFIRMED FOR 2021.
Candy Cane Lane is the neighborhood bordered by 96th Street on the west, 92nd Street on the east, Montana Avenue on the north, and Oklahoma Avenue on the south.  
The Official MACC Fund donation location is at the intersection of 95th and Manitoba. 
Center 
The Official MACC Fund donation location is at the intersection of 95th and Manitoba. 
– Mon-Wed: 6-9pm
– Thurs 12/23: 6-10pm (last day to see Santa)
– Christmas Eve: 5–10pm
– Christmas Day: 5-10pm
– Sun 12/26: 5-10pm (last day for 2021)
Description: It is in West Allis and is fundraising for the MACC Fund (Midwest Athletes Against Childhood Cancer).  It runs November 26, 2021 through December 26th, 2021, and the hours are 6:00 -9:00 pm on the weekdays and 5:00 – 10:00 pm on Saturday & Sunday.  Please note that the hours may change due to weather, traffic, and other conditions.  Donations highly recommended. The goal in 2021 is to raise $100,000 for the MACC Fund!
Please be aware that the ONLY collection point in Candy Cane Lane is on the corner of 95th St. & Manitoba.

CONFIRMED FOR 2021.
Description: Christmas Light display in Muskego, WI with over 35,000 LED lights synchronized to music broadcasted on 87.9 FM. The lights run nightly (pending weather) starting at 5pm. The lights usually stay on until 9pm Sunday thru Thursday and until 10pm on Friday and Saturday nights. Special VIP showings available 🙂
CONFIRMED FOR 2021.
Lights at Riverglen Church
Sunset Dr and Brookhill Rd in Waukesha 
Description: Event kicks off on December 4th, 2021. Free light show playing Sundays, Mondays, Wednesdays, and Saturdays from 6-8 every half hour. Timed to music that you can hear from your car radio! Over 17,000 lights in the display/building! We just want to spread some joy this season!!!
CONFIRMED FOR 2021.
Bristlecone Pines in Hartland
Bristlecone Pines in Hartland
Description: Bristlecone Pine subdivision in Hartland was recommended to us in our Lake Country Family Fun Community Facebook Group
CONFIRMED FOR 2021.
Mary Hill Circle in Hartland
Mary Hill Circle in Hartland
Description: This was recommended to us via submission form.
CONFIRMED FOR 2021.
Description:
East Troy Lights will return Dec. 4-31. Walk through the lights or see the show from your car by tuning into 90.9 FM. Lights will continue with timed shows on the hour at 5 p.m., 6 p.m., 7 p.m., 8 p.m. and 9 p.m.
East Troy Lights is an interactive holiday light show.
Description: An Interactive Holiday Lightshow To Benefit Hungry Families And Local Nov 26, 2021- Dec 24, 2021 at Regner Park. Suggested $10 cash donation and food donations!!!
The event will feature more than one million lights 
Donations from last year's event included a $50,000 donation to four food pantries 
Attendees have the option to drive or walk through the display. 
See pictures from our visit in 2020 on the Lake Country Family Fun Facebook Page. 
CONFIRMED FOR 2021.
In the Lauderdale Lakes Estates 
on the Northeast corner of Hwy 67 & County Rd A at N6916 Northwood Dr in Elkhorn WI.
Description:  Walworth County Lights is located in Elkhorn Wisconsin in the Lauderdale Lakes Estates. More info here. Will return in November 2021.
CONFIRMED FOR 2021.
7150 18th street Kenosha, WI 53144
Description: The
Country Store is open daily 10am – 8pm and the
FREE Holidays Lights are open daily 4:30pm – 8pm daily November 19, 2021 – December 19, 2021.
CONFIRMED FOR 2021.


Are we missing holiday lights?
If know of a lights display that should be added to this list, please email us at erin@lakecountryfamilyfun(dot)com with the info.
Other: Entrants must be 18 years or older at the time of entering the giveaway. Entrants must be located in the U.S. The winner will be selected at random and notified via the email that was submitted. Winner must respond within 48 hours to claim their prize, or another winner will be chosen. Only one entry person. Duplicates will be deleted.
Disclosure: Many thanks to the sponsors for offering the giveaway prize. 
See disclosure and privacy policy here.  The winner may be congratulated on Facebook or Instagram (with the official prize notification going through email). For giveaways that are announced or promoted on Facebook or Instagram, please note that these promotions are in no way sponsored, endorsed or administered by, or associated with, Facebook or Instagram.
LCFF, LLC is an affiliate of Groupon. By clicking on the Groupon link above and making a purchase you are supporting the work of this site to continue bringing you local family fun. Read more in our disclosure.