Baseball season is here!! Opening day for the Milwaukee Brewers was Monday, April 3, 2023 against the New York Mets. We were excited to watch some spring training games and hope the warm weather follows. Our whole family gets excited for tailgating, warm air, Bernie sightings, and the sausage races. And this year, we were excited for all the new family features at Am Fam Field, plus the opening of the J. Leinenkugel's Barrel Yard in left field.  It's time to take the family to a Brewers Game!
In fact, Lake Country Family Fun is so excited about our partnership with the Brewers, that we gave away tickets PLUS the ultimate Barrel Yard experience to the upcoming San Fran (May 22-24) OR Houston game series (May 25-28). 
This Giveaway has now ended. Thank you to our local winner, Elizabeth D.!
She won:

6 Tickets to Brewers Game

Barrel Yard Outside Patio Table

$100 Food & Beverage Credit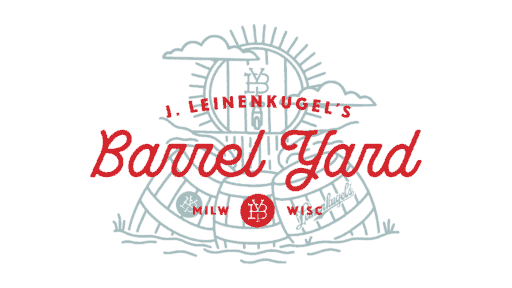 In March 2023, I was invited to preview the new Barrel Yard at American Family Field. SO many thanks to the Brewers organization for the sneak peek of the new J. Leinikugels @barrelyardmke which opened to the public on Monday, April 3, 2023. Tap the heading to see our Instagram reel for their mouthwatering new menu options!
My fave menu options:
🥓 Nueske's Hanging Bacon
🍗 Supper Club Crispy Chicken Dinner
🥗 Northwoods Salad
3 New Brews:
🍺Cherry Gose
🍺Red Lager (remastered)
🍺IPA
This is an amazing new addition to American Family Field. It's family friendly, really a restaurant with a brewery and not the other way around. The food was delicious. 😋 Executive Chef Loren Rue crafted this menu exquisitely. The space is amazing with a Northwoods theme paying homage to the Up North lifestyle of @leinenkugels , thanks to artwork by @bigshotrobot .
I cannot wait to come back with my kids to experience it all live.
Brewers: What's New? 414 Menu and Sunday Fun-Day Bundle
Prior to 2020, we used to take the kids to Brewers games on Sunday afternoons fairly often. The games were at 1:10 pm, which was perfect, because it doesn't interfere with bedtime like a Saturday night or weeknight game. And we were done with naps. (It's exhilarating to not have to plan social events around nap time! Parents of little ones – your day will come!) We would arrive a couple hours early to tailgate beforehand. We tried to always park in the preferred section. It's less expensive to park in the general parking lots, but that can be quite a hike for little legs.
The 414 Menu is a list of items for only $4! Find junior hotdogs, junior nachos, Cracker Jack and soda all at this discounted price. 
And we're excited to see in 2023, the Brewers are bringing back a Sunday Fun-Day Bundle!
For only $59, you'll receive all you need to have a blast at the ballpark. Enjoy four Terrace Level Outfield seats to the game, four hot dogs, four sodas and a parking pass for your Crew. Upgrade your seat location to Loge Bleachers for just $10 more per person.
The only thing you'll need to do is decide who's coming with — so start planning your picture-perfect Sunday below.
Please note: A minimum of 4 and maximum of 12 tickets may be purchased per game, per person for this offer. One free general parking pass per order — additional parking may be purchased at brewers.com/parking. All game tickets and parking passes will be delivered via the MLB Ballpark app. On game day, stop by any concession stand featuring the 414 menu, and simply scan your game ticket to receive a hot dog and 16 oz. soda.
More Brewers Kid Fun
2023 Themed Days at American Family Field
4/28 – Wisconsin Night
5/13 – Star Wars Night
5/25 – First Responders Appreciation Night
5/26 – Aloha Friday
6/16 – Golf Night
6/17 – Indiana Jones™ Night
7/8 – Sesame Street Day
8/3 – Harry Potter™ Night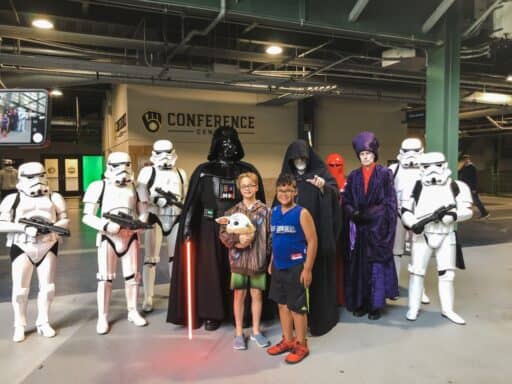 Kids Crew, presented by U.S. Bank
All Brewers fans ages 14 and under are eligible to join the Kids Crew. For more information, please visit brewers.com/KidsCrew or call (414) 902-4000.
Aurora Health Care Kids Zone
The Aurora Health Care® Kids Zone is a special kids' interactive playground, located on the Terrace Level behind home plate. It remains open through the 8th inning. The Kids Zone is designed for children under 42 inches of height. Other applicable rules are displayed in the Kids Zone.
U.S. Cellular® Power Playground
Located on the Field Level near the right-field corner, the U.S. Cellular® Power Playground includes a batting cage, pitching cage, replica Bernie Brewer slide and clubhouse, a Race to First Base, as well as many photo opportunities. The U.S. Cellular® Power Playground is open from the time the American Family Field gates open until the end of the game.
Kids & Senior Citizens Discount Days
Kids 14 and under & seniors 60+ save 50% on tickets for weekday afternoon home games at American Family Field. Excludes All-Inclusive Areas, Platinum Seats, and Uecker Seats. Not valid on July 6.  For more information, visit brewers.com/KidsAndSeniors.
A lot of giveaways happen throughout the season. Check them out here by date.
Lastly, if it is your child's first game, they can get a certificate commemorating the day!
Extra Tips
I remember going when Miller Park was just built back when I was in grade school. We took a field trip to Milwaukee and followed up with an afternoon Brewer game. What a fun day! Going to baseball games was a big part of my childhood, even traveling to Wrigley Field a couple times, but nothing beats tailgating in Milwaukee.
Speaking of Tailgating, please note that only ticketed persons can tailgate. You will need to be by your vehicle. Tailgating will end 30 minutes after the game starts. We love bringing bags/cornhole, a grill, our stocked cooler, and a radio/speaker. Find the full list of rules here: https://www.mlb.com/brewers/ballpark/tailgating
A Brewers game has been a day well spent in our family. We have taken our kids to more games than I can count, and they always want to go back. They get so excited on the ride in from Lake Country and squeal when they can see the roof. We like to guess whether the roof will be open or closed for the game, depending on the weather. And when we arrive, the atmosphere and energy is intoxicating. There is nothing like tailgating on a sunny afternoon, grilling out behind your vehicle, and hoping for a W! If you haven't taken your kids yet, hopefully as things improve, you will be given the opportunity to enjoy these activities again.
---
You can carry in! Sealed bottles of water, juice or soda (32 oz. or smaller), and personal size food items (e.g., a sandwich, small bags of pretzels, piece of fruit) are all permitted inside of the ballpark.
Bag Policy: Single-compartment bags with dimensions of 9″ x 5″ x 2″ or smaller, clear single-compartment bags of 12″ x 12″ x 6″ or smaller, one-gallon clear seal top bags, diaper bags, and medical/family needs bags are permitted inside the ballpark.
Please note that they also do not allow flashlights. Which is not a big deal for us, but a number of people in front of us in line had their flashlights confiscated. #nowyouknow
We love to sit on the first level if possible. It's close to the kid activities and has great views of the game. However, in April 2019, we bought tickets on the club level and the kiddos thought that was pretty amazing, too! We had row 1 tickets so no one was in front of us, offering great views. We've sat in the bleachers before, but not with kids. With kids, having an actual seat helps to contain them a bit to their own seat or standing in front of their seat. And when they start to get wiggly, we get up and explore.
If you are nursing, the American Family Field Nursing Suite is located on the Field Level inside First Aid (next to Guest Relations). Mothers may also nurse their children in the Mamava Suite, presented by Aurora Health Care, located on the Terrace Level near Guest Relations.
Find their schedule here.
Also, if you show up early – you can get autographs from Brewers players by third base. Check out this local Oconomowoc girl who hopped the rails with two other kids to dance with Jeremy Jeffress before the game. How awesome! We usually tailgate almost up to the start of the game, so have yet to experience this in real life.
After the game, all kids ages 14 and under can come down to the field and run the bases at American Family Field, presented by Aurora Health Care. The postgame Kids Run the Bases line begins along the first-base line on the Field Level. Tip – the line gets very long. Don't wait until the end of the game to get in line.
Plus, always be safe! Our friends at Children's Hospital of WI have some safety tips to share before you head out to your next game.
Go Brewers!