Need something beautiful to look forward to? There are many places to look for sunflowers. What I love about the sunflowers is their beautiful heads, sticking up into the sky, standing so tall. A magnificent plant, don't you think so, too?! Find where you can find sunflower farms locally in and around Waukesha County and Lake Country!
Before you hop in the car, be sure be prepared. Be prepared to respect the farm that you are going to. These beautiful plants should be enjoyed by all. Please follow all farm rules as to where you can walk or stand and what you can touch. Please also give back if there is an option for a donation. Lastly, if you are going to the farm to pick the sunflowers (if allowed), please be sure to bring your own scissors or container with water if noted by the farm. Find 11 tips for visiting sunflower farms by my friend Jennifer of Jersey Family Fun.  
Please thank our sunflower guide sponsor:
Lannon Sunflower Farm - W204 N8525 Lannon Rd, Lannon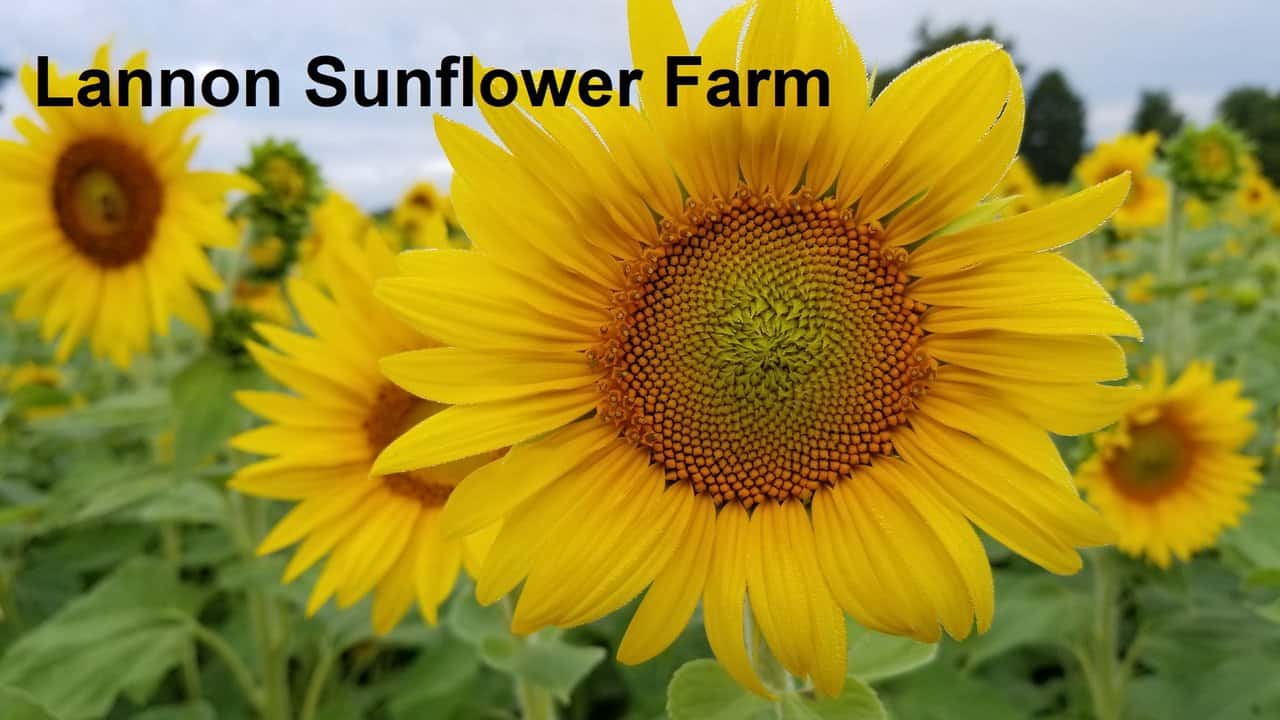 U-Pick Sunflowers – Admission $20 / vehicle
 (includes 12 U-Pick Sunflowers per vehicle admission)
Sunflower Hours 9 am. to 7 pm. Open daily for Sunflower picking thru Labor Day. Hours are 9 am. to 7 pm. 
Leashed dogs welcome.  Wildflower gardens, kids corn maze, fall raspberries and pumpkins. 
Check our facebook page
for field conditions and updates.
Sunflower Farms in and Around Waukesha County
*Please call ahead, check the sunflower farm websites or Facebook pages to make sure they are open for visitors and to abide by their rules so no sunflowers are ruined or trampled. 
2023 SUNFLOWER SEASON starts Friday July 21, 2023!
Hours are 9 am. to 7 pm. daily. $20 (cash) per vehicle admission and with each paid admission you get to pick 12 U-Pick Sunflowers (while supplies last). Well mannered dogs on a leash are welcome. We accept only cash or check at the farm so plan accordingly.
Busy Barns
W7675 US Hwy 12, Fort Atkinson, WI 
2023 Blooming dates are TBD. Watch their Facebook page or website for updates!
Fall Festival and Sunflower Days anticipated to be September-October 2023
2023 SEASON IS TBD
The experience includes a bag of apples, a sunflower maze, zinnia walk through, photo opportunities, and an optional grain train ride! There will be a beer garden within the sunflower patch.
2023 Summer Sunflower Festival is Sunday, July 30th– 11am-4pm
Come on out for a day of FUN with friends and family for our opening weekend SUMMER SUNFLOWER FESTIVAL
 While you are here you will be able to experience our sunflower fields from the inside, as we have paths cut out for you to walk through, take pictures in, and soak in the natural beauty our flowers provide. We also have other flower varieties that you will be able to enjoy, pick, and take pictures in!"
"
2023 Facebook event
HERE
with more information.
Schuster's Farm
1326 US Highway 12 and 18, Deerfield, WI 53531
Come to Brews, Blooms & Babies, where their sunflowers and zinnia fields are in full bloom just for you in 2023!
"Join us for laid back summer fun on the farm! Please note that the flowers are weather dependent. The dates may change depending on crop conditions. Our sunflower and zinnia fields will be in full bloom for bouquet picking and photo ops. The butterflies will flutter past you as you enjoy the gorgeous views. Plus, visit with baby goats and play in the backyard. There will be delicious food and refreshing drinks including local craft beer, wine slushies, & specialty drink flights available for purchase. Food is served from 11am-8pm on Fridays and Saturdays and 11am-5:30pm on Sundays."
Admission includes access to both the zinnia and sunflower field filled with photo ops, the backyard area with dozens of activities for all ages, baby goat visits, and wagon rides.
See Events HERE with pricing information and much more!
Gierach Orchards
9616 W. Bonniewell Road, Mequon, WI 53097
The sunflower field and cut flower patch will open Saturday, September 3rd., 2023!
Admission to the sunflower patch and cut flower field is $5 per person. (Children 4 and under are free!) With admisson, each person can pick 3 stems. Additional picking options available.
Watch their Facebook page or Website for updates!
Please bring your own shearers or scissors. It's recommended to wear bug repellant while visiting the farm.
Jelli's Market
N5648 S. Farmington Road, Helenville, WI 53137
2023 Sunflower Field is NOW OPEN!
"We are hopeful to have the field open for two weeks so plan your visit accordingly. We have lots of photo areas set up and a couple of fun paths to walk through.
Admission into the field this year is $7/person ages 3 and up. Included in the admission price is one sunflower head to take home with you. We have a designated cutting area in the field with tools to cut the one you want."
The Bowery Barn
N2201 County Road P, Rubicon, WI 53078
SUNFLOWER ELOPEMENTS ARE BACK!
AUGUST 21st & 22nd- 2 Hour rental
Find out more HERE
 2023 Appleland Sunflower Festival will be held on September 2nd & 3rd, 2023! 
This year, they will have a variety of additional activities to enjoy! See event details HERE
The Sunflower Field admission will be $5 per person or $15 per family. Admission also includes one complementary Sunflower per person!
2023 Sunflower Season will NOT be open this year. More information on their Facebook 
Shimon Sunflower Farm
2575 County Road Cc, Slinger, Wisconsin 53086
2023 season to open late July 25, 2023. They will be open 7 days a week from 10am-7pm. You may follow their Facebook page for updated information!  
Admission is $20 per car, which includes entrance to the farm and one dozen u-pick sunflowers. They recommend bringing your own scissors and a vase.
Waldvogel's Farm
N7416 County Road I Juneau, WI 53039
September is Sunflower time at Waldvogel's Farm! They will have thousands of sunflowers blooming. Bring your camera and create many instagram'able moments! They will be open from September 16th, 2023 for sunflower pictures. If you just want to see the main sunflower patch, there is no charge for admission. However, if you want to do their 80+ activities at their farm, tap the link above for pricing. 
Flower bee flowers – The flowers at the U-Pick flower farm (FLOWER BEE) look like they will be prime for picking! They will open late July 22, 2023. They will be open Saturday and Sundays 9:00 am to 4:00 pm and Wednesday's 5:30pm-7:30pm. More Information HERE
Sunflowers – Sunflowers at the orchard will be ready September 2023. Find their apple picking info here. 
11627 W. Highland Rd. Mequon, WI
"The U-Pick Field is opening July 26th, 2023! Find hours HERE Extended hours will take place when the sunflower path opens in mid August. We recommend coming from the east as the intersection of Wasaukee Rd. and Highland Rd. is closed. We can't wait to see everyone!"
Admission to the sunflower path is $5 per person children under 3 are free. 3 sunflowers per person included with paid admission.
Please bring a scissors or snippers and a CLEAN vase or bucket to take your flowers home in.  We will have snippers to borrow and containers for purchase  should you forget.  We will have water onsite for your use.
Please no pets allowed.  If you have a service animal please call in advance.
Gwenyn Hill Farm
N130W294, Bryn Dr, Waukesha, WI 53188
Gwenyn Hill is a sustainable, integrated, organic farm. They care for the livestock, crops, orchard, and market garden, as well as for the soil, woods, water, and wildlife. Conservation and farming go hand-in-hand. This Wisconsin farm is an interconnected, ecological web. They did not plant sunflowers in 2021, check back in 2022! TBD 2023.
Not in bloom for 2022- stay tuned as the flowers are planted in different fields due to crop rotation. They hope to be back in Stonebank in the future years!
2023 TBD
—
If you feel like hopping in the car for a short road trip, find sunflower farms near Appleton, WI or  6 sunflower fields near Chicago to brighten your day! A longer car ride, might find you in Michigan. They have sunflower fields to visit as well!