Red Arrow Park is in the heart of downtown Milwaukee at 920 N. Water St. Milwaukee, WI.  During the regular season did you know you can SKATE FOR FREE (when  you bring your own skates) during regular operating hours!!
Did you also know that the outdoor rink is open from December through February (or March if the weather allows).  Don't worry there is a warming house as well that has restroom facilities, houses the skate rentals, lockers, snacks and drinks, and oh yes, a STARBUCKS coffee shop!
Skate rentals are available in the warming house for $7 per pair for ages 17 and under or $9 per pair for adults. 
Per the press release, "Thanks to WaterStone Bank, the Polar Pal toddler-sized skating supports will be available again this year for a $1 rental fee and $5 refundable deposit or photo ID. ADA Ice sleds for people with limited mobility will be available for free use when requested 24 hours in advance."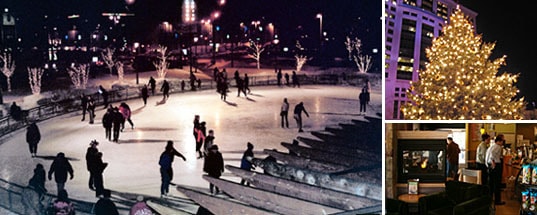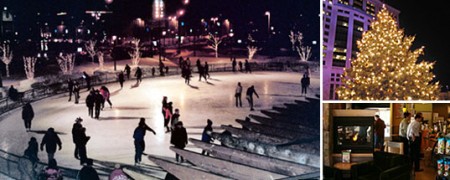 Slice of Ice Opening Friday, December 13, 2019
Slice of Ice will open from 11 a.m. to 11 p.m. on Fridays and Saturdays, and from 11 a.m.–9 p.m. Sunday through Monday with extended hours over the holidays.
The complete season schedule and school field trip information are available HERE or by calling 414-289-8791.