Red Arrow Park is in the heart of downtown Milwaukee at 920 N. Water St. Milwaukee, WI.  During the regular season did you know you can SKATE FOR FREE (when  you bring your own skates) during regular operating hours!!!
Did you also know that the outdoor rink is open from December through February (or March if the weather allows).  Don't worry there is a warming house as well that has restroom facilities, houses the skate rentals, lockers, snacks and drinks, and oh yes, a STARBUCKS coffee shop!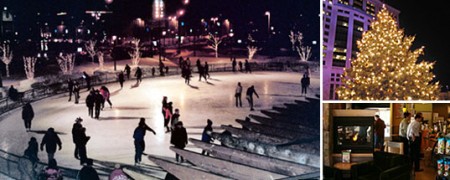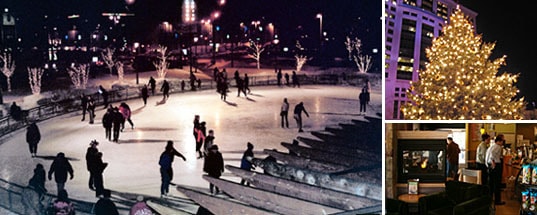 Skate Rental 2015–2016
Rentals are available during open hours, EXCEPT Feb. 1 thru the end of the season,
when rental hours will be shortened on Mon-Thurs to 11 a.m.-2 p.m. (Fri and weekend rental hours will remain available during rink hours)
Skate sizes range from toddler size 8, to women's size 11 and men's size 14
Age 18 & Up: $8/pair (includes tax)
Age 17 & Under: $7/pair (includes tax)
2015-16 HOURS
Weather Permitting
1/3–1/31
M-Th 11 a.m.-8 p.m.
F-Sa 11 a.m.-11 p.m.
Su 11 a.m.-6 p.m.
2/1 thru Season Close
M-Th 11 a.m.*-8 p.m.
*Skate Rentals begin at 2 p.m., M-Th
F-Sa 11 a.m.-11 p.m.
Su 11 a.m.-6 p.m.
Skate Rentals: available during open hours Fri-Sun
So gather up the kids, bundle up and go get some fun exercise in Red Arrow Park this winter!