When my husband and I shared our plans to cloth diaper before the birth of our son, we had to break through the old fashioned ideas people had about what it meant to cloth diaper. Cloth diapers have changed significantly over time in a way that makes it totally feasible for families. Hopefully I can give some insight into what it means to be a cloth diapering family in today's world.
Getting Started
I stumbled upon these cloth diapering videos by Mama Natural while preparing for the birth of my first child. This started the overwhelming journey of online research about cloth diapering. Patterns or solid colors? Which brand should I get? Wait, a single diaper is how expensive? Despite being overwhelmed at first, I decided that cloth diapering was the best choice for our family.
To get started, we would need at least 21 diapers which were approximately $18/piece (We chose Bumgenius 4.0/5.0 but there are less expensive options available). We're talking almost $400 up front cost for the diapers. In addition to the diapers, we had to purchase a drying rack, wet bags, diaper pail, and wipes. This was a significant up front cost but in comparison to purchasing disposable diapers over time, we have actually saved money. At Target, a case of Pampers Swaddlers costs $55 for 204 diapers. If a child averages 6 diapers/day over his or her first two years (although many children are in diapers longer than this), it costs approximately $1200/year. Since we used the same diapers for our second child, the savings will exponentially continue over time. Plus, we didn't end up actually paying full price for most of our diapers. We got some as gifts, used coupons, and received a percentage off for the ones that were on our baby registry.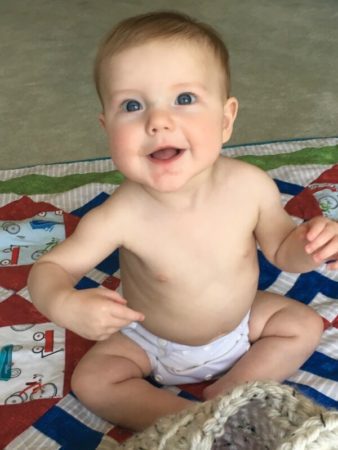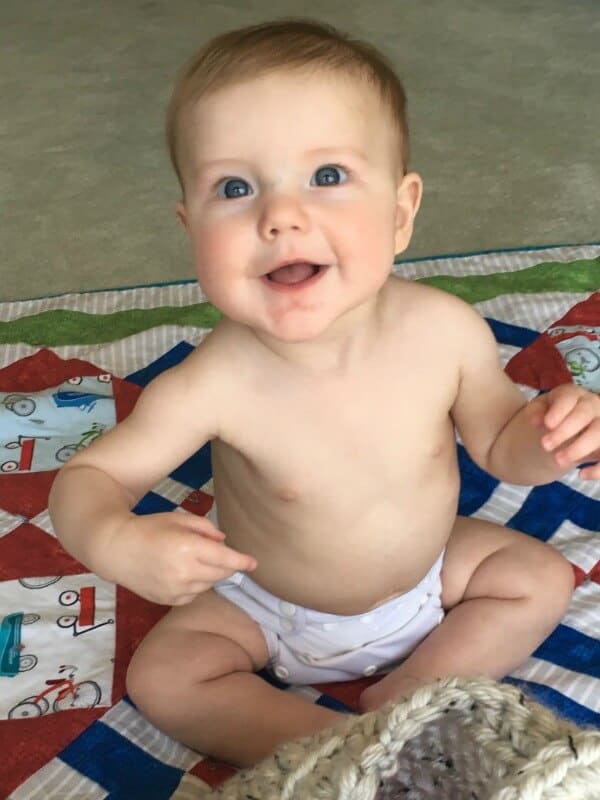 The Dirty Details
We started with 25 diapers. When I was pregnant the second time, we added six more. This was enough for both of our kids as long as we washed them every other day. Our process is the same as the one in this video. Yes, spraying out the #2's is not a pretty job, but it only takes about 10 minutes every 2-3 days. The washing machine does the rest of the work.
Daycare
Up until the birth of my daughter 5 months ago, my two year old son went to daycare full time while my husband and I worked. Accepting cloth diapers was a requirement while researching daycares. Luckily, we were able to find a perfect match nearby. There were adjustment periods with new staff or when he would move up a room with the diapers, but it just took some additional education and communication during those times.
Why We Love It
Using cloth diapers is the single biggest factor in reducing our family's household waste. Assuming our kids average 6 diapers/day, we have saved approximately 5,000 disposable diapers sitting in a landfill for the next 500 years…

(seriously, 500 years).

Taking into consideration the initial costs and an increase in our water bill, we have still saved upwards of $1,500 to date.

There are no chemicals or plastic against my baby's skin constantly.

We love the feel of cloth diapers.

They're cute! We stick to solid colors but there are so many fun patterns available, too.

The diapers have held up well over time. They each have been washed almost 200 times over the last two years.
Meh…
Occasionally, there are times when I just don't want to wash the diapers. Either I push through the laziness and just do it or my husband takes over.

Using cloth diapers means additional instructions for caretakers who are unfamiliar. We chose to use snap closures on our diapers but there are hook and loop closures available. I've heard these are easier for caretakers to use since they are more similar to disposable diapers.

There is extra planning involved for travel. If we are gone two days, we need to get diapers in the washer as soon as we get home. If we were going on a longer trip, we would purchase disposables.
So, What Do You Think?
Cloth diapers are eco-friendly and fun, but also practical and economical. There's some occasional yuck but that's parenthood, right? This may not work for everyone. The up front costs are high and frequent access to a washing machine is necessary. For those who have the means and are curious, just mull it over a bit. Connecting, sharing, and answering questions about cloth diapering is one of my favorites so don't hesitate to reach out!
*Please note that the author nor Lake Country Family Fun was compensated for mentioning these brands and this is not a sponsored post. Madi truly uses the above mentioned products and loves them.