Last year, I felt compelled to live more sustainably, but didn't know where to start. My free time is limited having two young kids. So, I did some research and stumbled upon the Zero Waste Movement. I started to consider how our family could reduce our daily household waste. Specifically, how could we decrease our use of plastic and single-use items? Luckily, there were some easy and affordable switches. Here are my favorite zero waste switches of 2017:
Swapped out plastic toothbrushes for bamboo. This is such an easy way to make a plastic free switch! When you are ready for a new brush, just toss the bristles and compost the brush. 
Used cloth diapers:

This wasn't really a "new" switch for us, but continues to be my favorite eco-friendly thing we do as a family. Plus, the diapers are cute and soft! If you are curious about cloth diapering, check out how we rock it

here

.

Said goodbye to paper towels: Once we used the paper towels we had, we just didn't buy any more. Instead, we use washcloths which we keep next to the sink. It surprises me how much we didn't skip a beat with this! The washcloths are soft on our baby's skin and durable for the messes those cute babies create. 
Upgrade our hand soap.  

We had been using single use plastic hand soaps in our kitchen and bathrooms. Our zero waste switch was to buy 

these

cute soap dispensers and fill with hand soap that we purchased in our own container from bulk. Even if the hand soap isn't purchased in your own container, it would still reduce waste to purchase it in large quantities and fill glass dispensers compared to the single use plastic dispensers.

Stopped using single use plastic produce bags.

Instead, we put our produce directly into our cloth grocery bags. Things get wet sometimes and grocery store employees may look at you a little funny but the produce is fine. Plus, those produce bags are so flimsy! We also try to opt for produce with little of its own packaging.

Upgraded our food compost game.

I recently gifted myself a tabletop composter which lessens the need for multiple trips out in the cold. Find out more about composting in our area

here

. 
Said no thank you to single use plastic water bottles.

I got into the habit of carrying my own water with me which eliminated the need for these. Bringing your own water also gives you a good excuse to turn down plastic water bottles when they are offered.

Started using our own containers for bulk grocery shopping.

I wrote a piece about how we do this

here

(we now shop at

Fresh Thyme

in Brookfield).

Used cloth napkins:

Since we had been using paper towel for napkins anyway, we dug out the cloth napkins we were gifted for our wedding and now use them on a daily basis.

Reduced use of single use coffee cups. This one is tricky for me. It definitely takes extra effort and planning to avoid single use coffee cups. Typically if I am getting coffee out, I am with the kids and would prefer a drive-thru. I try to keep a clean travel mug in my car so I can easily get it filled for coffee to-go. On the occasion that I am able to enjoy some coffee inside a coffee shop, I ask for a mug rather than a to-go cup. This not only eliminates waste but makes the coffee taste even better. Mmm!
When I started making these changes, I had moments of second guessing if it was worth the effort and if I was making any actual impact. Then, I started seeing unnecessary waste everywhere and felt compelled to continue and improve. Ultimately, these are easy switches to make. Just think what a substantial impact it would be if a hundred, a thousand, or even more people made these changes! One step, one switch, one thought at a time.
Peace,
Madi
PIN IT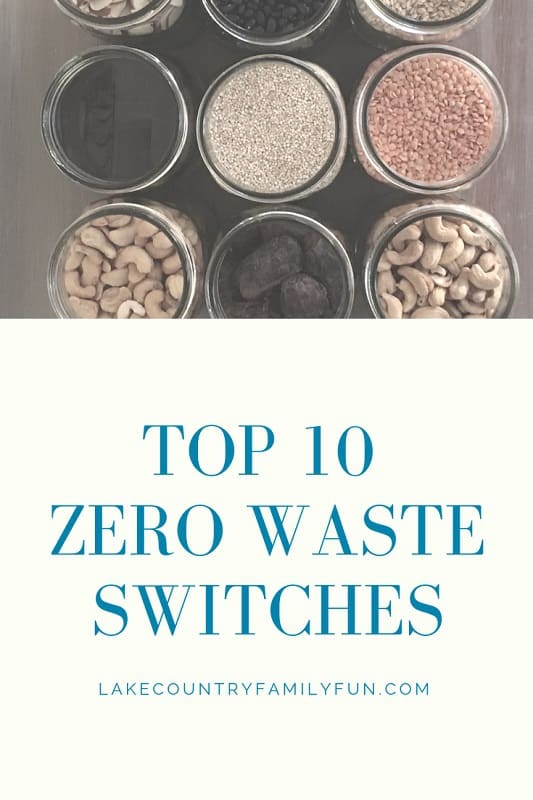 Related
https://lakecountryfamilyfun.com/lake-country-family-fun-top-posts-2017/
https://lakecountryfamilyfun.com/true-confessions-lcff-resolutions-for-2018/