Birthday parties are about the KIDS!  It's their special day, and it only comes once a year!  There are so many options of types of birthday parties, the classic Chuck E. Cheese party is ALL my boys wanted this year.  Read on to hear about our party and how much the kids (and their parents) loved it!
Lake Country Family Fun was provided a birthday party in exchange for an honest review.  Stephanie, team member, represented Lake Country Family Fun and celebrated her sons' 7th and 5th birthdays in one party (since their birthdays are a day apart in May)! 
As I mentioned, my boys wanted nothing more than to ring in their 7th and 5th years of life than with a classic Chuck E. Cheese birthday party.  My oldest had been to a Chuck E. Cheese once and the younger had never been.  They were so excited about all the fun they would have. On the drive to the party, my youngest said, "This is my 3 year old dream coming true!!!"  Yeah, they were THAT excited!
When I was in first grade (I won't say what year that was…let's just say early 90s) I had a birthday party at Chuck E. Cheese in Milwaukee. It wasn't just a party, it was pure magic.  I remember it vividly to this day. Where we sat, the show we saw, the friends' faces. I remember the fun. I was so excited the boys wanted a party, and I had big dreams of them remembering their Chuck E. Cheese party forever like I do!
EMAIL UPDATES / ONLINE INVITES
As a parent, working with Chuck E. Cheese was SUPER easy!  I called to book the party, but you can also book online.  The online system is super easy to use.  Then, once the party was confirmed, I started getting email updates.  First, an email confirming the party. Next, an email with the link for me to create and send Punchbowl invites – which I did and it worked amazingly.  I received several more emails throughout the process leading up to the party. The week before the party, I got a call from the local Chuck E. Cheese manager about my party. Chelsea confirmed all of the details with me and reassured me that they were set and all I had to do was SHOW UP! I couldn't believe how little I had to do and I loved that as I am busy.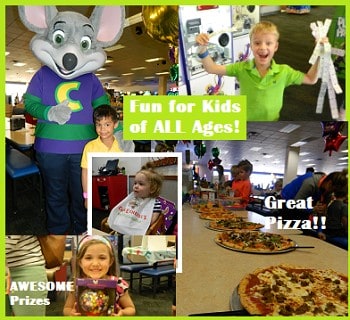 The type of party we booked was the MEGA SUPER STAR VIP Party.  This party is where you takeover Chuck E. Cheese's for a minimum of an hour and 10+ children either Saturday at 8am or Sunday at 9am. It was awesome!  I loved knowing all of the kids in the facility were with our group!  Let me break down the party types for you:
All Parties include:
Birthday Star

 gets a Wrist Band for games
Up to 1,000 bonus tickets
 Assorted Helium Balloons
 Ticket Blaster Experience for the 

Birthday Star
 STAR Package includes ($14.99 per child):
2 slices of a 1-topping pizza and a drink with free refills per child
3 Helium Balloons per party 
30 Play Points per child
Coiled Wristband per child
Exclusive Play Band, 250 Bonus Tickets, Birthday Show Recognition and Ticket Blaster experience for the Birthday Star
 SUPER STAR Package includes ($19.99 per child):
Everything in the Star Package and the following upgrades:

45 Play Points per child
6 Helium Balloons per party
Collectible cup with FREE refills for the life of the cup per child
500 Bonus Ticket for the 

Birthday Star
MEGA SUPER STAR Package includes ($24.99 per child):
Everything in the Star and Super Star Packages PLUS the following upgrades:

9 Helium Balloons per party
Each child will receive All You Can Play Games and rides, for the duration of your party. The two hour play time will begin with the first tap of a game or ride.
1000 Bonus Tickets for the 

Birthday Star

Each child will receive a Chuck E. Goody Bag, filled with toys and candy, a star Collectible Cup, a cup of Dippin' Dots, and a Coiled Wristband.
The VIP MEGA SUPER STAR package includes everything in the packages above, plus a TAKEOVER of Chuck E. Cheese before it is open to the public, which is what we did!
Do you have more than one
Birthday Star?
 Don't fret, you can add another to your party for $4.99.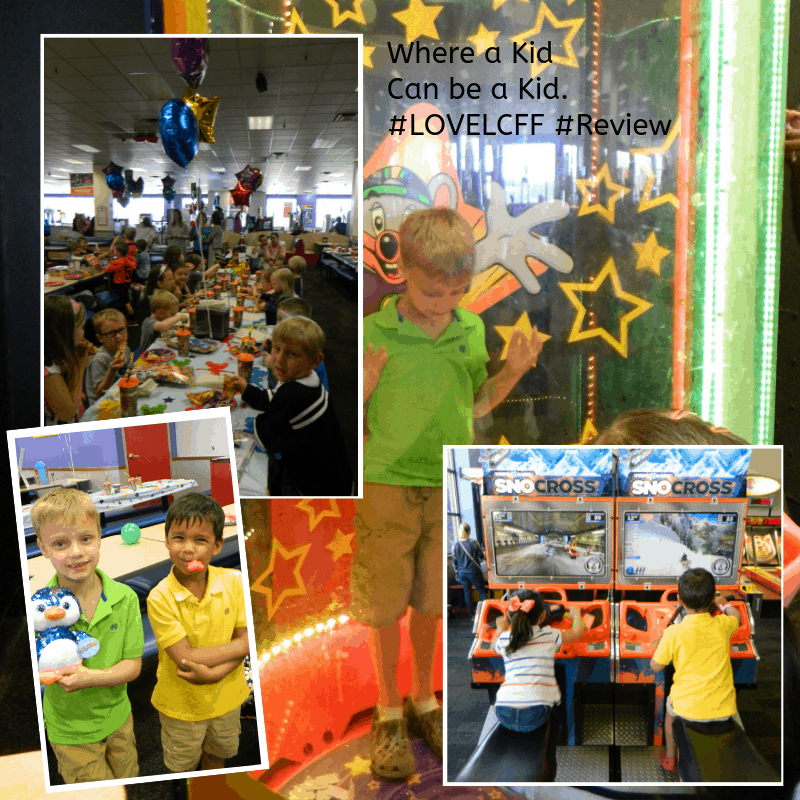 We arrived 15 minutes prior to the party start. The team was waiting for us with smiling face.  The Birthday party tables were already all set up (see image below of the table set up).  There were balloons, paper plate, napkins, reusable lifetime cups, decorations and more!  The goodie bags came with the party (SCORE for me!) and they were laid out.  
I received two wristbands for my boys (the Birthday Stars) to wear for the party. All they had to do was swipe their wristband for unlimited play!  I received the other children's swipe cards that were attached to coil wristbands and they worked perfectly. As the children arrived, security had a process of placing invisible stamps on parents and children's hands so that at pick up time the match could be corroborated before they left.  
SECURITY
I chose the VIP party because I was worried about watching all the kids, but let me tell you, the security there is ABOVE and BEYOND.  There is only one entrance and exit and it has gates and a permanent guard. To leave, either the hands have to match OR the parent picking up a child has to show a photo of them with the child from a different day AND the child has to be able to identify the person.  I witnessed this process with several of our party guests and was VERY impressed!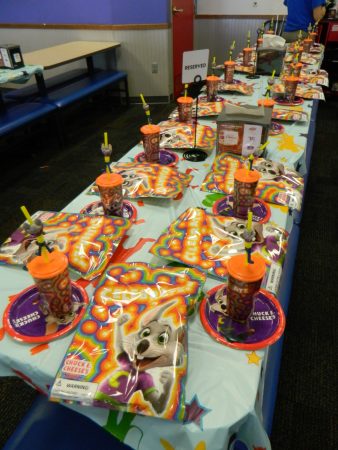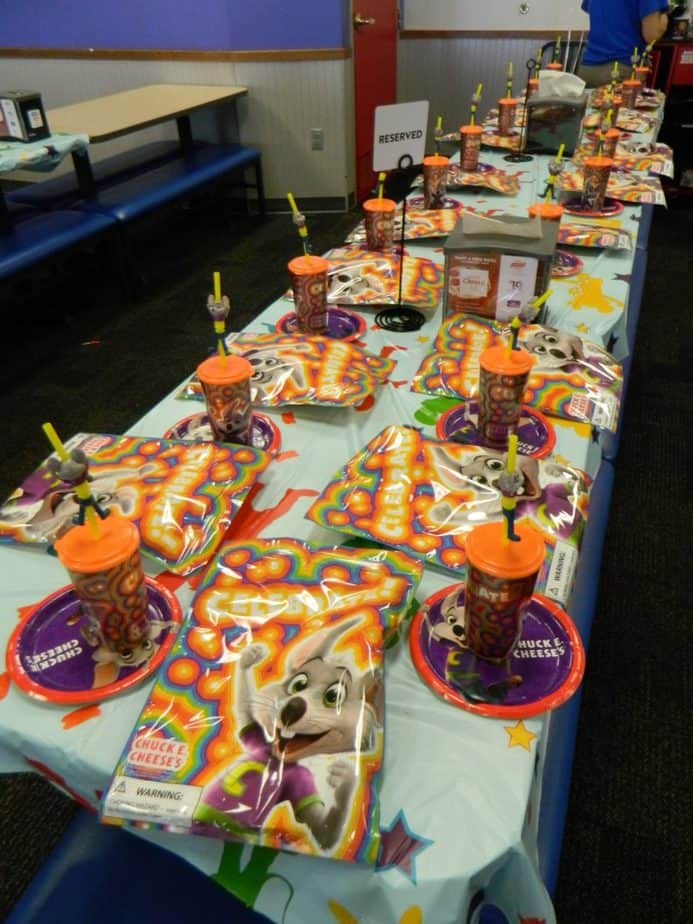 After we arrived and I handed out the children's game cards, they were off to play!  The first hour the kids just played and played and played some more!  They were running from game to game and squealing with joy as the tickets poured out! There were tons of games and little rides and photo booths where you could take and print photos.  Since the kids had unlimited play, it was simply amazing.  I caught my son running to the restroom as he exclaimed to himself (out loud), "This is the BEST party EVER!" That's the kind of excitement and joy I want the kids to have from their party.  I sure remember my Chuck E. Cheese party and I know they will remember theirs!
Table Time
Our dedicated party leader, Jazane, called us to the table to get settled. The kids quenched their thirst and the pizza started rolling in.  Each kid received 2 pieces of pizza!  I brought in cupcakes, but the kids also got to each choose a dip and dots flavor as well!  After eating, there was a 5 minute Video countdown to the "Show".  Once we got to the end of video, Jazane led us to chant, "Chuck E. Cheese" and he came out to offer hugs to the Birthday stars. He then led us in a Birthday song, which was interactive and fun. He also led us in singing the Traditional Birthday song. Then he stayed for more hugs and photo opportunities.  The smiles on my boys faces were magical. 
After table time, the kids were able to go play again.  I should mention, a lot of the parents stayed during the party. With the ages of the kids, it was a good thing since they helped with ticket holding, organization and feeding tickets into the counter!  Anyway, some of the parents had as much fun as the kids with the games!  I felt like they were feeling the magic of being a kid all over again! I had my 7 year old swipe me a few games of ski ball and he's like, "Mom, c'mon!" but obliged to my inner child. 
The kids had a blast!  They were so tired out they both fell asleep in the car on the way home (and they don't nap anymore usually!).  All the parents had so much fun with their kids and some texted me later that day that that was one of the best birthday parties they've taken their kid to!  I agree!  It was EVERYTHING I was hoping it would be for my kids (and more!). The staff was super nice, the party was ALL done for me, the kids played to their hearts desire and we all walked away with great memories to cherish for a lifetime. 
I'm glad that my childhood favorite birthday party came true with my kids.  I hope they do it for their kids one day (a long time from now, that is!)
To Book at Party at CHuck E. Cheese
Start online by clicking the button below.