This sponsored post is a spotlight article on Julie Collins Photography. Julie Collins Photography is located in Oconomowoc, WI serving all of Lake Country and Waukesha County.  
Are you a busy mom who wants their family portrait displayed as a piece of beautiful artwork, but desires someone else to arrange outfits, design the piece to fit Home decor and take care of everything from start to finish?

Are you expecting a Baby and hoping to find the perfect photographer who will cover the milestones and be with you through every step without having to leave your home?

Is your "baby" about to graduate and you want senior pictures that will last a lifetime?
If you answered, "YES" to any of the above questions and you are looking for a full- service experience with beautifully crafted artwork to enjoy for a lifetime, then you need to read on to learn more about our Spotlight feature: JULIE COLLINS PHOTOGRAPHY
Julie Collins lives in Oconomowoc, WI with her husband and four children.  She grew up adoring her mother's photography skills. Her mother talked things like, "shutter speed" and "F Stops" and Julie assumed that all moms talked to their kids about these things. Her mother handed down Julie cameras and she began taking landscape photographs in her mother's footsteps. In college she enjoyed taking photos of friends and travel adventures. When Julie became a mom, her love for photography naturally shifted to portraits of her children. When others saw her work they asked her to take photos of their kiddos – and so Julie Collins Photography began.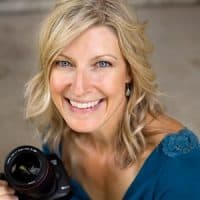 Julie is very accomplished in her field of work. She is award-winning (including multiple Shoot + Share awards and the Milwaukee Journal Sentiennel). She is published in Parents France, Beauty Revived, Milky Way Magazine and more. She is educated in her field attending conferences and workshops regularly and is a member of the Professional Photographers of America. She also has mentored with one of the top newborn photographers in the world. This past year, Julie has obtained her Certified Professional Photographer designation from Professional Photographers of America (there are fewer than 3% of all registered photographers and only 20 in Wisconsin that have earned this).
5 Things that set Julie Collins PHotography Apart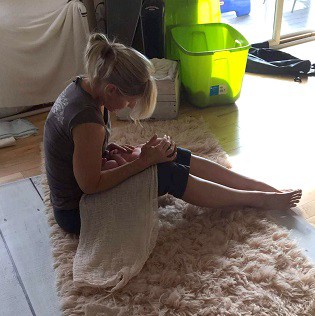 Personalization– You will not meet Julie for the first time on the day of your photo shoot. She starts with an in-home consultation weeks beforehand and that element is very key to her success. She wants to get to know her clients, understand what's important to them and create imagery that deeply moves them now and even more so 20 years from now.
Full Service – Julie invests her time in you and your family from start to finish!  She takes your family through the whole process and although you meet with her three times (consult, session and reveal) you actually have less work to do, because of the time JULIE invests in YOU! She'll even help you hang the artwork on your walls properly!
Wardrobe Advice – Julie will literally raid your wardrobe if you want her to help put together outfits.  She also responds to texts regarding outfit questions you have and offers amazing advice!  She knows what color pallets will coordinate well with your home decor. She suggests locations keeping in mind your outfit choices. Included with your Welcome Packet comes an 8-page style guide! This helps you put together outfits to look your best at your session.
Home Design Advice – Julie uses design software that displays wall art options on YOUR walls from photos (of the walls) she took at the consultation appointment. This helps you to easily make decisions regarding sizing and other design options at the "Reveal" appointment. Visualizing what it will look like on your wall before purchasing makes it so easy to make the best choice.
Luxury Products – You can expect the best quality from Julie.  Your images go through Julie's editing process and are top notch. She uses the best printing and framing labs in the industry. The products she offers are top of the line, heirloom- quality printed artwork that will stand the test of time.  The products her studio offers are so luxurious they are called artwork, and not just frames.
Your experience with Julie is not a one-time photography session. She works with her clients from beginning to end to make sure that the goals are met and clients left with forever pieces they love.  The process is summarized below:
Julie comes to your home and provides a Welcome Packet and examples of artwork and discusses your goals. 
Julie has a location gallery to help guide families to the perfect location venue. At the session, the magic happens. 
Within two weeks of the session, Julie will come to your home for the reveal. She'll start with a slideshow of your images set to music and go from there.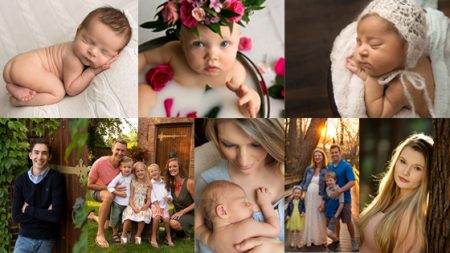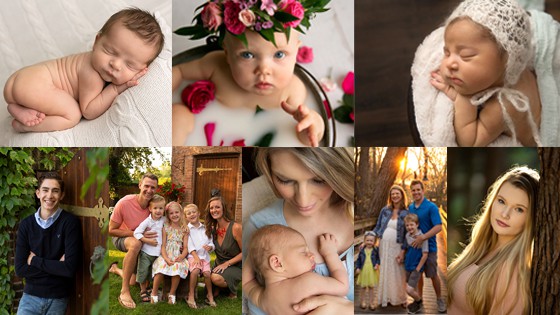 Julie photographs people of all ages and stages – even your pets!  She mainly photographs newborns, families and seniors.
Newborns – Julie is truly the baby whisperer!  She takes amazing photos of newborns and she will be patient for the right shot when the baby is asleep. For the newborn session, Julie offers a variety of props, including clothing options for clients to choose from or the client can provide their own. After the newborn session, the parents are able to buy into the Milestone  Program capturing their baby's first year.
Families – – Julie loves capturing families in portraits.  She loves walking into a home and seeing the walls decorated with family memories captured in photographs. With regards to waiting until the "perfect" time to get your family photos done she says, "Family is perfect the way they are right now."  What better investment than to have your home decorated in artwork of your family that can be passed down to the next generation?
Seniors – Julie loves photographing seniors. She loves learning about their unique gifts and talents and their future plans.  
Schedule an in home consultation with Julie
You can contact Julie today!  She can send you a Welcome Packet or you can set up a free in home consultation. "Telling your families story" is truly Julie's passion for work and life!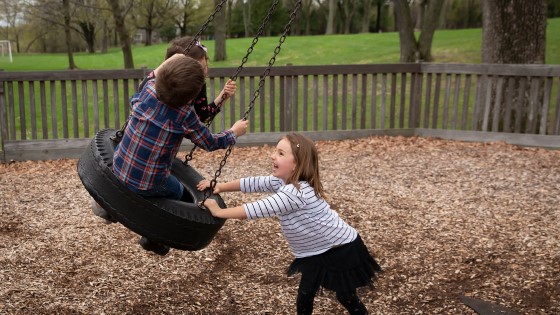 Thank you to Julie Collins for helping us update this guide to help families in Waukesha County find the best places for family photos. Reach out to Julie today to schedule your family portraits!