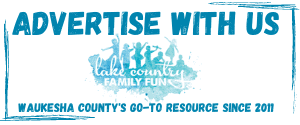 Why Advertise with Lake Country Family Fun?
Lake Country Family Fun has a great following, great interaction with our visitors, and offers a great opportunity for making your business known among the families in the Waukesha, County and Metro-Milwaukee area.  When considering advertising with a company, ask do they know your demographic?
I can tell you that Lake Country Family Fun KNOWS your demographic if it is families and children in the Lake Country and Waukesha County area.
Not only do we offer advertising through traditional social media and website promotion, we are also the founders of Hartland Kids Day, a wildly successful event that just completed its 6th year, which was the best yet!  It is the largest kid and family-centric event in Hartland with thousands in attendance this past July.  In our first year, LCFF had over 1,500 families and have grown exponentially since.
We know how to make an impact where ever we go!
Our Mission Statement
Lake Country Family Fun strives to be your trusted, one-stop resource for local family fun in Southeastern WI.
We exist to:
Connect families to their local communities
Simplify finding fun activities for families and visitors
Provide parenting tips and resources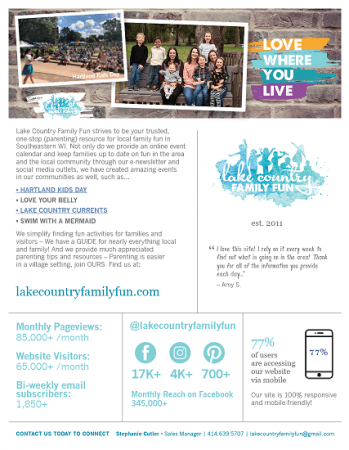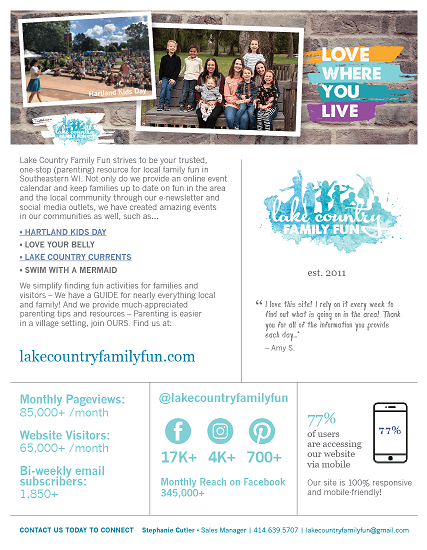 For our FULL Media Kit and Ad rates please contact us!
We offer many different advertising options in our Media Kit, inquire today!
If you have purchased a Facebook Post, please enter the information below: