2021 Update: The fair is ON! Mark your calendars for August 5 through August 15, 2021!
"In January, the Wisconsin State Fair Park Board approved a goal to have a fair this August and we are pleased to confirm we are well on our way to meeting that goal," said Wisconsin State Fair Park Chairman of the Board John Yingling.

Increased sanitization protocols are already in place throughout the 200-acre Fair Park as Wisconsin State Fair Park is a GBAC Star accredited facility. The Wisconsin State Fair is over three months away, therefore final health and safety protocols will be determined as we approach the Fair dates. Fairgoers can stay informed on important updates by visiting the Fair's website.

"We are happy to confirm there are WonderFair days ahead and are excited to safely gather to celebrate everything we are so proud of in Wisconsin," said Kathleen O'Leary Wisconsin State Fair Park CEO. "We look forward to making many exciting announcements in the weeks to come!"
You can read their full statement here.
For 77 other ideas for Summer Fun click here.
2019 Info Below
Hard to believe that it is already time for this summertime staple.  There is plenty to do with the whole family it tow.  We have lots of great State Fair Information below including
Admission Deal Days
Free Family Fun
Rides
General Information
A visit to the Wisconsin State Fair is an annual summer tradition for families and friends alike. Exploring the fabric of Wisconsin agriculture through the numerous animal barns, indulging in novel fair food and enjoying the thrilling rides and exciting games in SpinCity are all part of the memorable experiences enjoyed during each visit to the State Fair. The 2019 Wisconsin State Fair, presented by U.S. Cellular, will open Thursday, August 1 and run through Sunday, August 11 at Wisconsin State Fair Park in West Allis.
Everyone Can Save
Even if you don't win, you can still strike a great deal. Check out these amazing savings options below. But hurry!
Enjoy the FAIR!
https://www.instagram.com/p/BmTqT8qArcb/?taken-by=lakecountryfamilyfun
---
---
FREE FAMILY-FRIENDLY ENTERTAINMENT
Looking for fun, family-friendly entertainment during your visit to the Fair? Check out one of the FREE entertainment stages, which feature comedians, jugglers and more!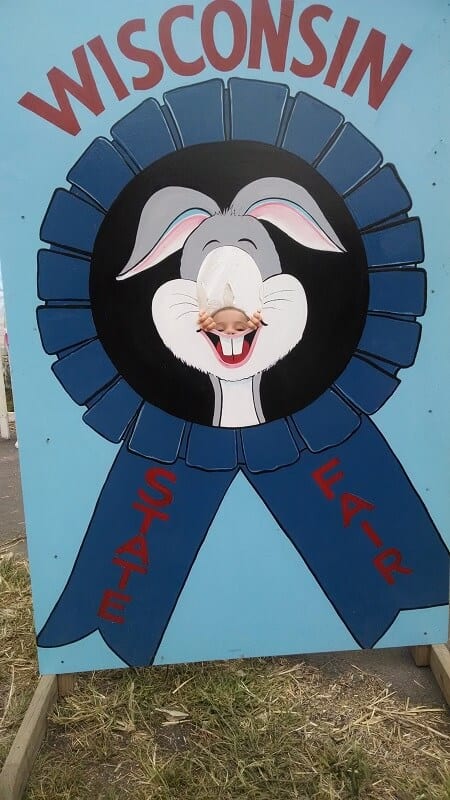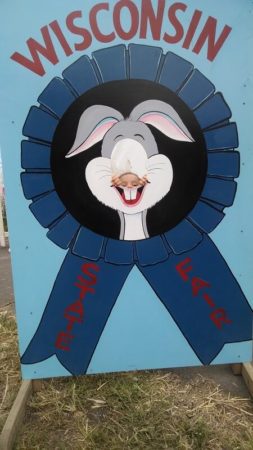 – Activity Stage
– Daily Parade – 2:00 pm
– Associated Bank Amphitheater
– Grand Champion Hall Stage
– We Energies Energy Park Stage
– Wilderness Resort Family Variety Stage
– Wisconsin Products Pavilion Stage – air conditioned!
– Racing Animals Arena
– Strolling Street Entertainment
– Free Live Music 
KOHL'S ACTIVITY ZONE
The Wisconsin State Fair and the Wisconsin State Fair Park Foundation have partnered with Kohl's for nine consecutive years! The partnership includes the annual Kohl's Family Value Day on Monday, August 5, which provides discounted admission to fairgoers, as well as the return of the interactive Kohl's Activity Zone and "Fair Day" at Children's Hospital of Wisconsin.
During Kohl's Family Value Day, ALL fairgoers will be eligible for discounted Fair admission from 8 am until 6 pm. One of the best promotions during the State Fair, adults will receive admission for only $6 (an $8 savings), and youth 11 and under will receive FREE admission (an $8 savings).
The Kohl's Activity Zone opens at 9 am and closes at 5 pm daily. It's located on South Grandstand Avenue and includes the following attractions:
Read more about the Kohls Activity Zone
here
.
Some other FREE entertainment you won't want to miss includes:
Compeer Financial Discovery Barn – Families will discover Wisconsin's diverse and thriving agriculture industry through a variety of engaging activities, live demonstrations and more from 9 am-9 pm daily. Stop by and see baby farm animals, too! Located in Ag Village, east of the Farm and Family Building on Sue Wetley Court.
Farm & Family Building –  Connect with fun in the Farm & Family Building. Race a potato Porsche or carrot Camaro in the Veggie 500 and meet Alice in Dairyland. Learn about farm animals with our new life-size board game. Play Plinko, spin a big wheel or toss some bean bags to learn more about Wisconsin products and safe food for people and animals. Get tips on protecting yourself against common consumer scams. Get a special stamp on your scavenger hunt card at each game station and when you've filled your card, color a button to take home. The Wisconsin Department of Agriculture, Trade and Consumer Protection connects with you every day.
House of MOO – Families will enjoy these educational and interactive exhibits located in the heart of Ag Village. Fairgoers of all ages will learn about Wisconsin's vibrant dairy industry. The House of Moo is located in the Cattle Barn west of Central Avenue in Ag Village. Milking demonstrations occur daily at 11 am, 1, 3 and 5 pm in the milking parlor area on the southeast corner of the Livestock/Horse Barn on Central Avenue.
---
RIDE INFORMATION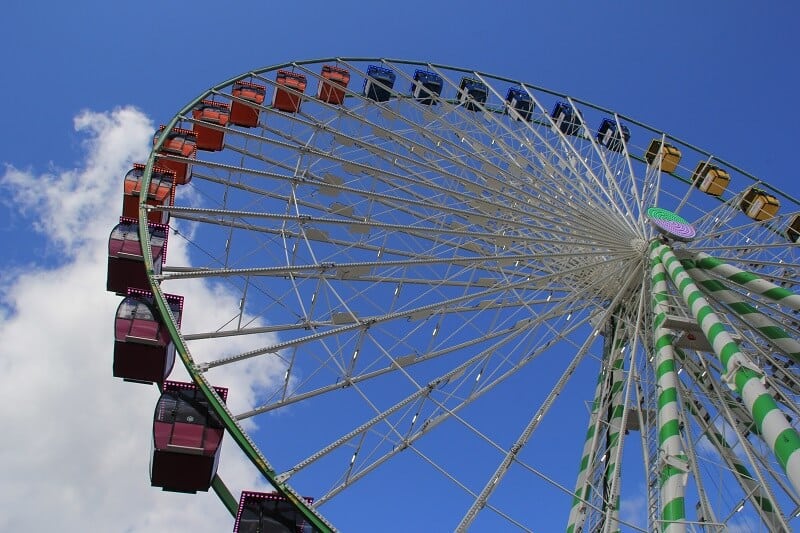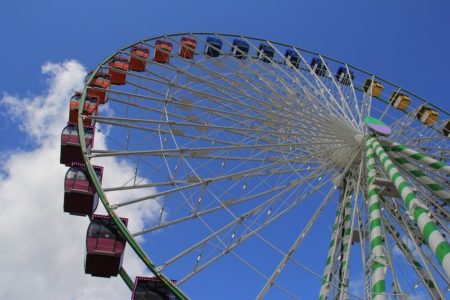 GIANT SLIDE – This Fair tradition is celebrating its 51st anniversary in 2019! Hop on a burlap sack and take a magic carpet ride. Trips down the 200 ft. slide are only $2.50 each.
SKYGLIDER – Don't miss this bird's-eye view of all the fun down below! Tickets are available at each end of the SkyGlider near the Exposition Center and on North Grandstand Avenue.
WONDERFAIR WHEEL – North America's largest traveling Ferris wheel will return to Wisconsin at the 2018 Wisconsin State Fair. Located on the west side of State Fair Park, where the West Side Marketplace previously stood, the WonderFair Wheel presented by Meijer features 36 fully enclosed, brightly colored gondolas. Each gondola has a capacity of six people, and one gondola offers accessible seating. The ride time from start to finish is approx. 10 minutes, and an average of 1,100 fairgoers can ride each hour. The 400,000 lb. ride, standing 15 stories high and featuring 528,000 vibrant LED lights, offers a breathtaking view of the city, with visibility of 10 miles or more from the top of the wheel. Wisconsin State Fair is one of only three fairs at which the ride will be featured in 2017.
SPINCITY AMUSEMENT RIDE & GAME AREA – Don't miss SpinCity – the Fair's exciting Amusement Ride and Game Area! SpinCity features a super assortment of more than 50 amazing rides and attractions. Thirty fun games also await all adults and children alike, complete with plenty of great chances to win fabulous prizes! The area will also offer well-shaded seating areas and plenty of delicious concessions.
Find the full ride list (including height requirements) here.
---
WISCONSIN STATE FAIR HOURS:
8 am – 11 pm Sunday – Thursday
8 am – 12 am Friday & Saturday
8 am – 10 pm Final Sunday
FAIR PARK ADDRESS:
640 S. 84th Street, West Allis, WI
General Fair Information can be found here.
We hope that you enjoy the Wisconsin State Fair in 2019!