This post is sponsored by Crustology pizza crusts. All opinions are our own. 
I always love sharing products that simplify a process and still allow a fun creative experience for our family! We love making our own pizzas for family pizza night. Unfortunately, the process can be a day long process if you make your own crust. Our family hasn't found a store bought crust that satisfies our style of pizza, because our family prefers a crispy crust with a good structure to support our favorite toppings! Yum!
Locally Made Crustology Pizza Crusts
Alas, we have finally found the perfect premade pizza crust and pizza seasoning to simplify our family pizza night, Crustology Pizza Crust and Pizza Seasoning made right here in Waukesha County by a brother and sister duo! Ahh, this find excites me so much! Our family usually saved pizza night for a weekend just because of the process of making our own crust. Not anymore!
With Crustology Pizza Crusts we had our family pizza night, midweek. It was quick, easy, and tasty! I was delighted to find that Crustology Pizza Crust and their entire processing facility is peanut and tree nut free! It gives our family peace of mind knowing that our peanut allergy son can enjoy these products safely. The best part is I just ordered our Crustology Pizza crusts and pizza seasonings from their online store, Crustology.com and they were shipped right to our front door. So easy!
Then, when I was grocery shopping I picked up our toppings. Our son is at the age where he likes to be involved in cooking. He was excited to make his own pizza all by himself! We simply added our favorite toppings to our Crustology Pizza Crust and sprinkled the Crustology Pizza Seasoning on top and popped it in the oven. The bake time is only 8-12 minutes to get that perfect crisp, cracker like crust! The entire process of making our own pizzas, including bake time was under 20 minutes! #Winning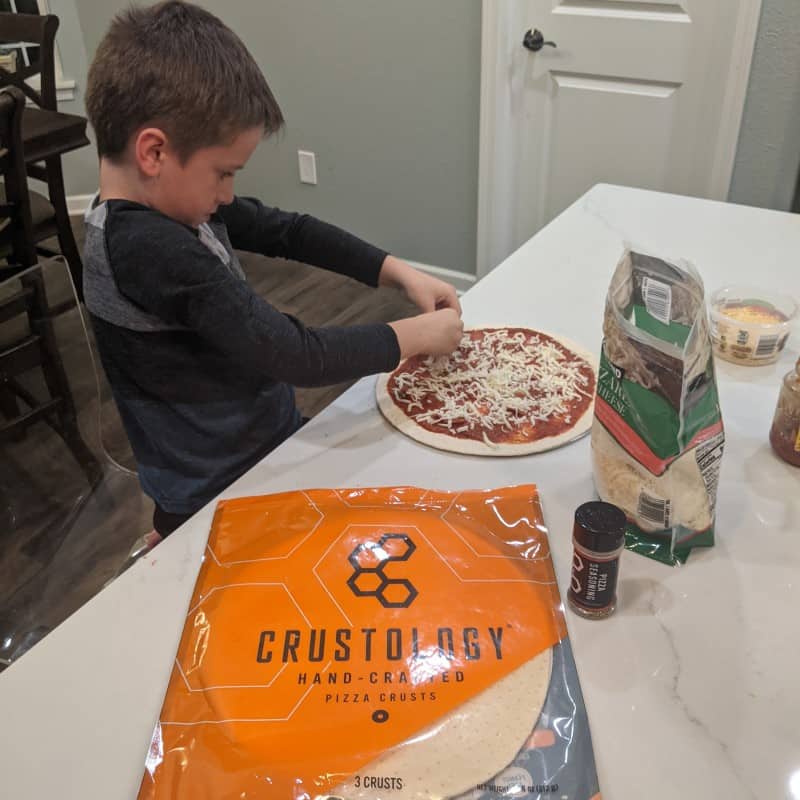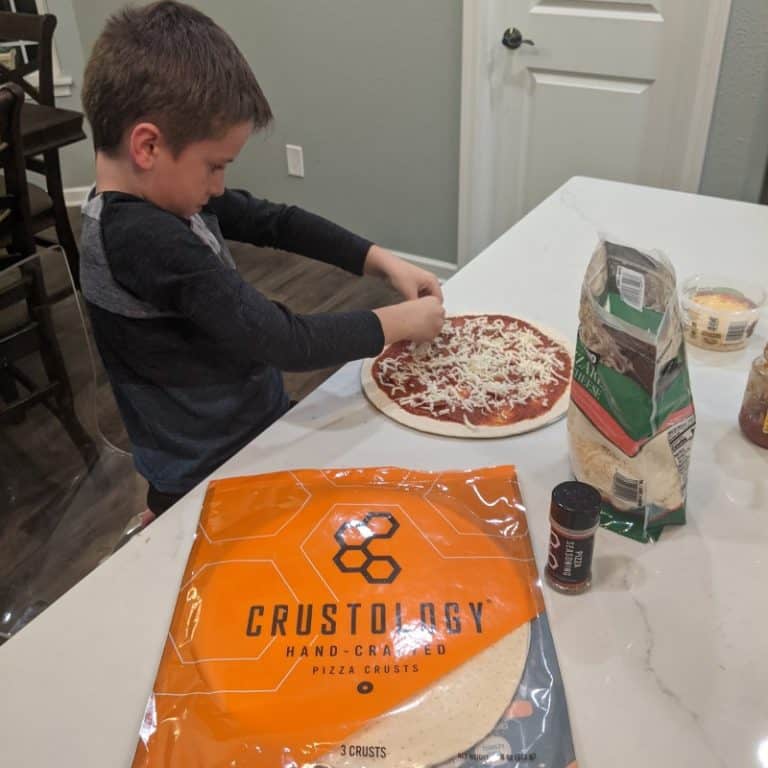 My foodie husband 100% approved of the taste and texture of the Crustology Pizza Crust! We all really loved the pizza seasoning as well. It is the perfect blend of spices to make your families homemade pizzas taste like it came from a pizzeria. The Crustology Pizza Seasoning really kicked up our homemade
pizza experience! I typically use several different spices from the spice cabinet when we make our own pizzas. I have never been able to attain the flavor we did from using Crustoloy's Pizza Seasoning. Having the pizza seasoning blend on hand was a time and space saver. This will forever be our families go to pizza seasoning!
Crustology: What you Need to Know
Crustology offers three pack pizza crusts in three different flavors for just $12. Choose from The OG, The MicroBrew or The Herb Infused crust flavors. You can store the pizza crust in the refrigerator up to 5 days or longer in the freezer. The crusts come in a convenient resealable bag. If you are looking for some pizza topping inspiration, check Crustology's social media and website for some inventive pizza recipes.
We at Lake Country Family Fun love supporting our small local businesses especially when it is as good at Crustology Pizza Crusts and Seasoning. We would like to wish siblings Anne and Chris good luck with their new online pizza crust and seasoning venture. Our family is willing to bet it will be a huge success!
Make sure to share photos of your family pizza night with Crustology Pizza Crusts to Lake Country Family Fun's social media @lakecountryfamilyfun. We love to see the fun you create with your families. And don't miss out on our
Crustology Pizza Giveaway!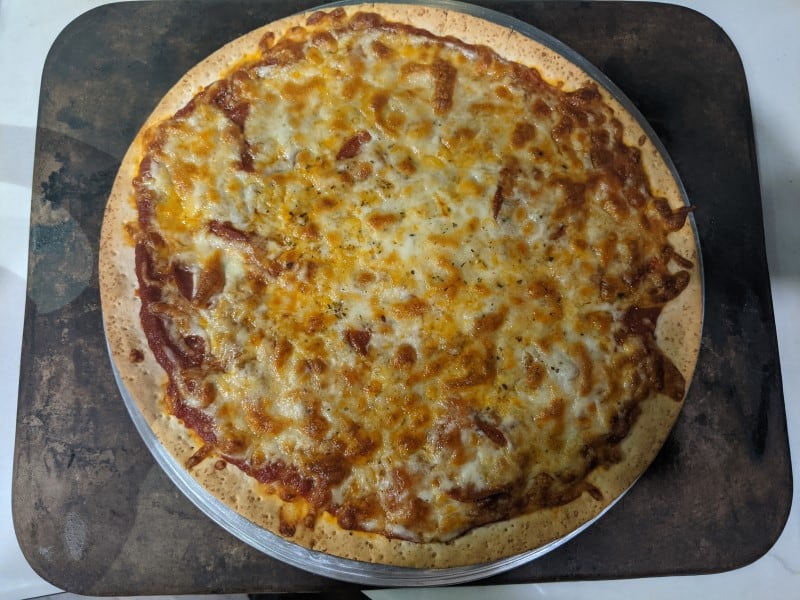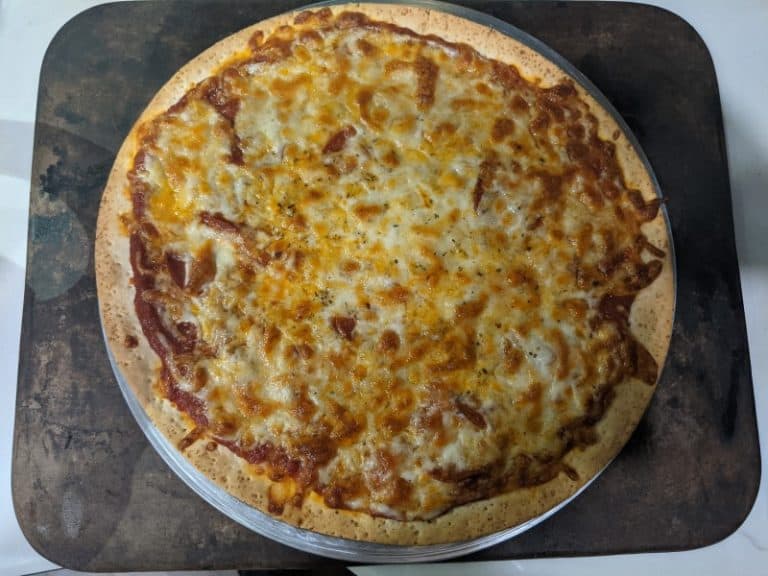 Are you ready to try Crustology pizza crusts with your family?
One lucky Lake Country Family Fun reader will win: 
Prize – Crustology Pizza Party Pack
A 3-pack of The Og, the "original" Crustology crust, a traditional thin cracker crust made extra delicious by being created with a long fermentation process.
A 3-pack of The Micro Brew, which takes the classic cracker crust and adds a Wisconsin brewed dark beer and fermented beer grains to give it a roasted flavor.
A 3-pack of The Herb Infused, where the cracker crust is infused with a plethora of seasoning.
A 12 inch pizza baking screen for baking the perfect pizza
A container of pizza seasoning.
The contest runs Friday, December 11th through Monday, December 21st at 11:59PM CST. Winner announced on December 22nd.  One entry per person. Duplicates will be deleted.  To be entered to win, comment on the Facebook post from 12/11/20 at 7:00am CST and enter the form below.  
Thank you for everyone for entering! Congratulations to Jennifer S. for winning!
And if you just can't wait to try these pizza crusts, snag them today with this code:
LCFF15 to save 15% off your first purchase by 1/15/2021.
GIVEAWAY DISCLOSURE:

Other: Entrants must be 18 years or older at the time of entering the giveaway. Entrants must be located in the U.S. The winner will be selected at random and notified via the email that was submitted. Winner must respond within 48 hours to claim their prize, or another winner will be chosen. Only one entry person. Duplicates will be deleted.
Disclosure: Many thanks to Crustology for providing the giveaway package. See DISCLOSURE AND PRIVACY POLICY here. The winner may be congratulated on Facebook (with the official prize notification going through email). For giveaways that are announced or promoted on Facebook, please note that these promotions are in no way sponsored, endorsed or administered by, or associated with, Facebook.