We know that our Lake Country kiddos love TRAINS. That's why we've put together the ultimate Train Guide for Train-loving Kids.
This guide is categorized by:
TRAIN GUIDE SPONSOR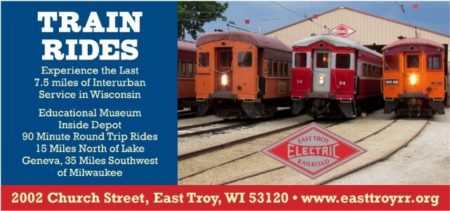 We had a great debut of restored Chicago Transit Authority Car 4439 during our Chicago Day event in August, our Beer Tasting Train was a lot of fun in September, and our Trick-or-Treat Trains have been a hit with families with small children in October. Those Trick-or-Treat trains sold out faster than anything we've ever done, including Christmas Trains..
Thanks for a wonderful year — maybe I'll see you at Santa's Workshop."
September 2023:
We have been having a great year at the East Troy Electric Railroad! The weather has mostly been terrific. We did have a bad storm that blew down 11 trees across our tracks on July 28th, causing us to cancel two days of trains. But our amazing volunteers had the line cleared and ready to operate again in just a few days!
Remember that Harvest Fest is coming up, from September 9th to October 22nd. Buy your tickets now to be sure you have seats on the train you want! Trains will run on the hour, from 9am to 3pm from the East Troy Depot, and from 10am to 2pm from the Elegant Farmer. This schedule is for both Saturdays and Sundays during Harvest Fest. You can choose to board at the Elegant Farmer or at the East Troy Depot and tickets are good all day on every train. Folks with tickets for a particular train will have boarding priority. If you board first at the Elegant Farmer, be sure to pick up your tickets when you arrive at the East Troy Depot.
Tickets for the Trick-or-Treat Trains will be available starting September 7th and tickets for the Christmas Trains will be available starting October 2nd at noon (for members) and October 10th at noon (for the general public).
There are only a couple of Dinner Trains and two Sunday Brunch Trains with tickets still available. So if you still want to experience one of our amazing dining events, there is still time. But not much time.
Seasonal/Special Train Events
FALL

Christmas Time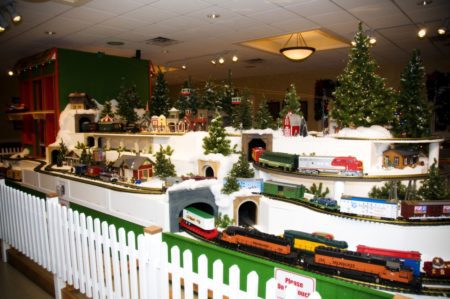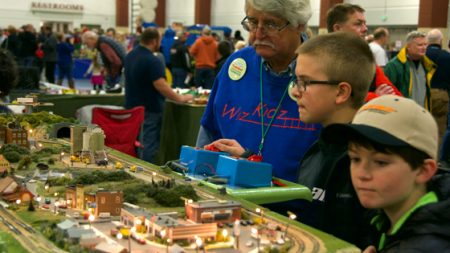 Kids Run Trains at the Layouts at  Trainfest®
WINTER/SPRING
SUMMER MONTHS
GO FOR A [TRAIN] RIDE - TRAIN TRIP IDEAS
Here is a list of some places you can ride a train and approximately how far they are away from Lake Country. Please call for open status before attending!
KNOW OF ANY OTHER PLACES TO RIDE A TRAIN IN WISCONSIN? TELL US IN THE COMMENTS AND WE WILL ADD TO THE GUIDE FOR ALL TO ENJOY!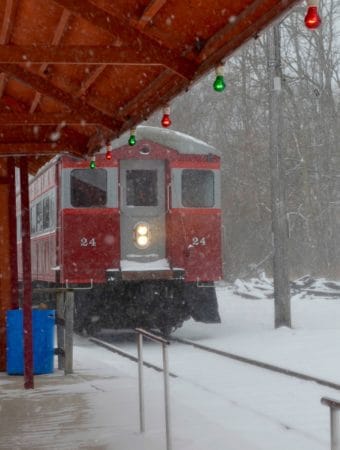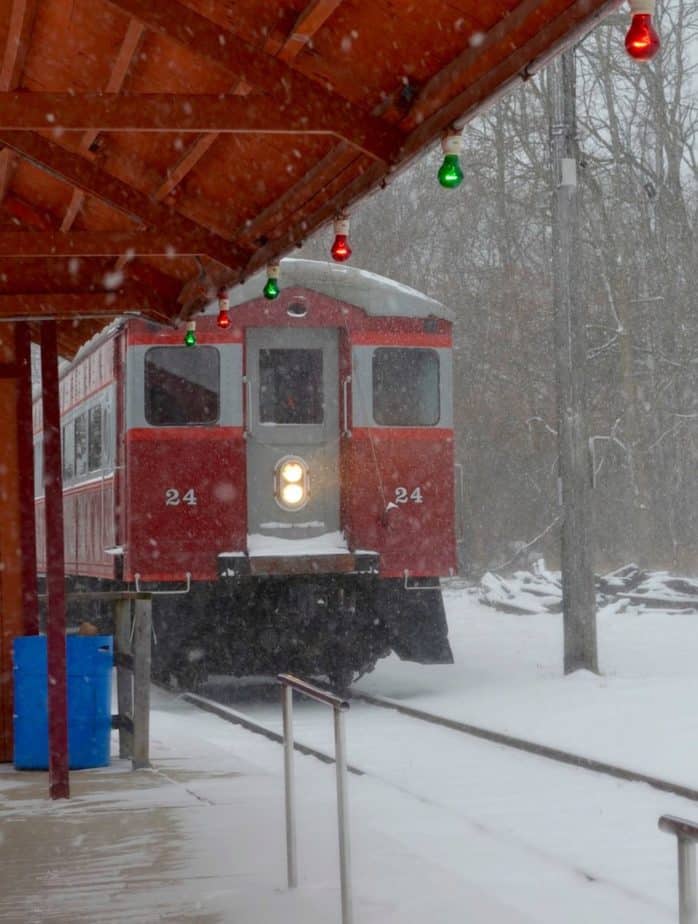 East Troy Railroad Museum
Choo Choo Charlie's in Kenosha – Kid-centric train restaurant constantly has train-themed movies playing, has four different trains running
PC Junction in Bailey's Harbor – This is the ultimate train-themed restaurant. Every detail here has been thought of, from outside decor and play areas to the interior where your food is delivered via model train.
Buffalo Phil's in Wisconsin Dells – Your food is delivered on a TRAIN!
La Estacion Mexican Restaurant in Waukesha – It literally has seating in an old box car and is by the tracks
Maxim's at The Oconomowoc Depot – Boxcar dining right by a real railroad. Model railroad runs in the restaurant.
Titletown Brewery & Restaurants in Green Bay – When trains go by, they ring the bell!
The Crossing Restaurant in Pewaukee – located near a train track
SteamYard Coffee Shop in Hartland -Mildy train themed and not too far from train tracks!
Whelans Ice Cream & Coffee in Oconomowoc – There is a wooden train in the patio garden
DO YOU KNOW OF ANY SPECIAL TRAIN-THEMED DINING? TELL US IN THE COMMENTS AND WE WILL ADD TO THE GUIDE FOR ALL TO ENJOY!
Parks/farms/places with trains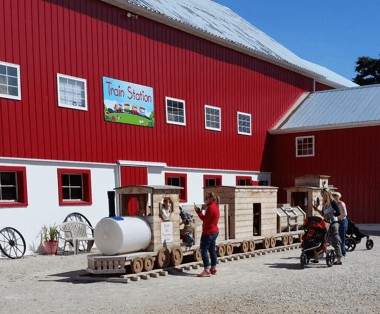 Green Meadows
Imagination Station – There is a play train in the little kid area
Madeline Park in Sussex – Train-themed park (new!) in Sussex. N6523284 Elm Drive , Sussex. Madeline Park is a 7 acre open space park located on the northeast edge of the Stonefield subdivision on Waukesha Avenue, south of the Union Pacific Railroad line. My kids call this the "Train park".
Cushing Park – There is a wooden train with steering wheel
Green Meadows – They have a brand new wooden train and train room! The train room has ride on trains, over 5 train tables, train toys of all kinds and more!
Shady Lane Green House Menomonee Falls – The KFH Legacy Model Train resides in a separate greenhouse (the House of Blooms) and measures 4,800 square feet. train runs every Saturday and Sunday 10:00am till 3:00. It is always best to call before coming.
Wales "Train" Park -Right off of the Glacier Drumlin trail in Wales is a wooden play train. Grab a coffee at MAMA D'S and enjoy it while your kiddos play on the train. The train was just updated by Wales Family Dental!
Oconomowoc Historical Society – The museum in Oconomowoc has a model train display also. On the night of trick or treat, the museum is open with free admission and lots of treats! Trains are running that night as well.
KNOW OF OTHER FUN PLACES WITH TRAINS? COMMENT BELOW AND WE WILL ADD TO THE LIST!
Lionel Railroad Club of Milwaukee

Parkland Plaza
2721 South Calhoun Road New Berlin, WI 53151
(entrance in back of building)
"One of the Oldest Railroad Clubs in Wisconsin"
Open to the public Fridays, 1 to 10 pm (Free)
(and Saturday & Sunday hours October > April 1 – 5 pm)
Don't miss the trains
Milwaukee Light Engineering Society

2620 Country Aire Dr Cedarburg, Wisconsin
We are a live steam club that has almost a mile of 7.5″ track on 6.5 acres.
The Milwaukee Light Engineering Society was founded in 1969. M.L.E.S. is open to all individuals interested in mechanical devices and all phases of their construction.
KNOW OF OTHER LOCAL RAILROAD CLUBS? COMMENT BELOW AND WE WILL ADD TO THE LIST!
WANT YOUR LOCAL RAILROAD SHOP ADDED TO THE LIST? COMMENT BELOW AND WE WILL ADD IT!
Nixon Park – Trains go through the area and you can see/hear them from the park
Bridge in Butler, WI overlooking the train depot
Dickten Park in Nashotah. Trains can be seen going by on the tracks, which are across the street (a safe distance) from the park.  Also, there's a fire station next door.
Frame Park Waukesha –  you are bound to see/hear a train here if you play
Kiwanis Village Park in Pewaukee– three trains went by in ten minutes when we were there the other day (you can also catch trains from Pewaukee Beach)
WHERE ELSE DO YOU AND YOUR FAMILIES VIEW REAL, LIVE TRAINS? COMMENT BELOW AND WE WILL ADD TO THE LIST! 
Don't forget to share your train fun with Lake Country Family Fun on Instagram (IG) with #lovelcff. 
Find us on IG HERE.
PIN THIS POST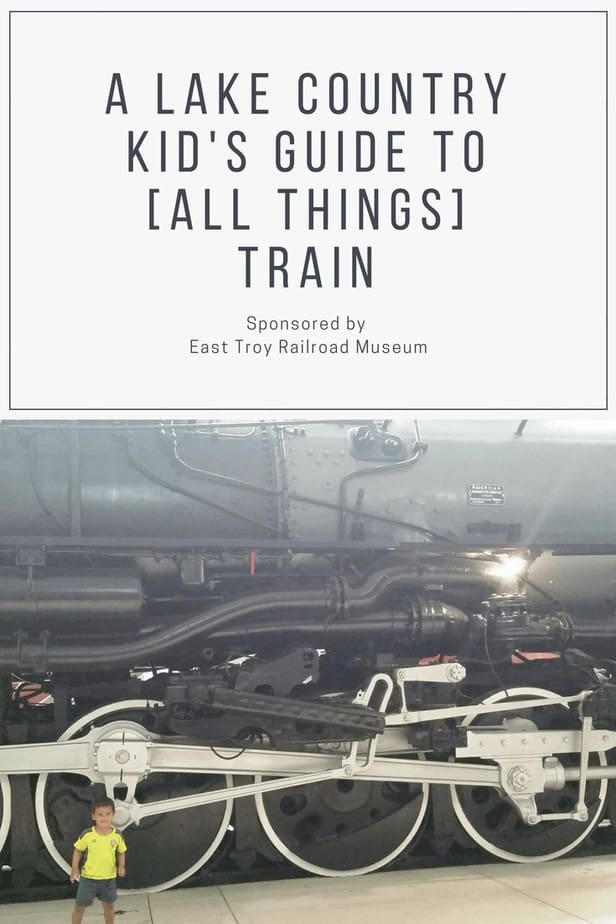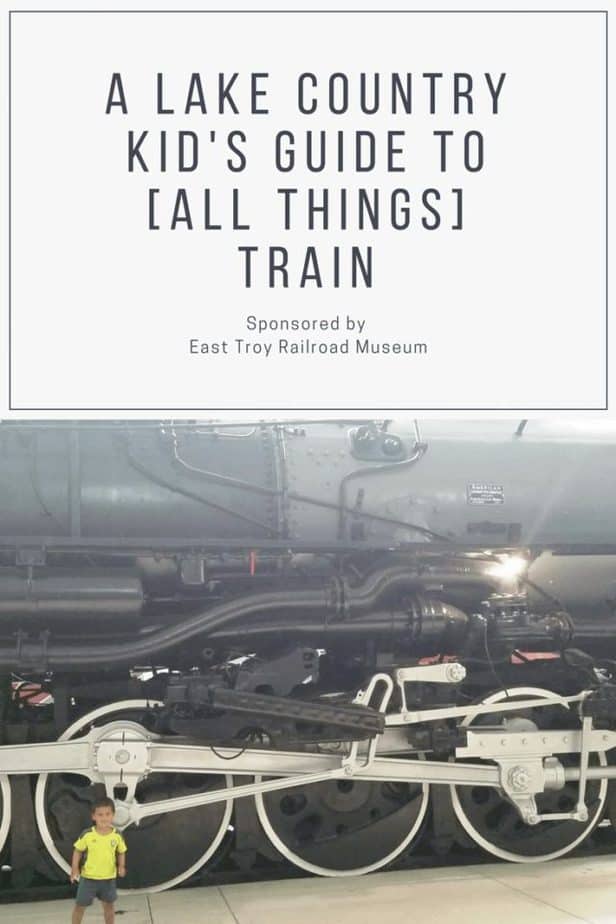 TELL US YOUR FAVORITE TRAIN ACTIVITIES!
Do you have a train ride, a train dining spot, a train trip, a train viewing area or park with a train that is not on this list? I bet you do! Well…share the train tips with your fellow Lake Country Families. Email them to us at Erin@lakecountryfamilyfun(dot)com or use the contact form button. We will add them to the list.