Image above is LCFF owner, Erin, utilizing curbside pick-up at the Delafield Brewhaus. For the record, it was amazing and the kids loved it.
Waukesha County Restaurants NEW NEW NEW! 
Geronimo Hospitality Group is pleased to announce Red Circle Inn, Wisconsin's Oldest Restaurant, is now open after undergoing a series of renovations. The 174-year-old restaurant boasts updated décor, improved banquet and private event spaces and a new, delectable menu.  
Geronimo is proud to announce Chef Joe Heppe will be leading the Red Circle Inn kitchen as executive chef. Chef Heppe will oversee all kitchen preparations and operations for both Red Circle Inn and I.d., the modern American kitchen located inside the Delafield Hotel, also owned and operated by Geronimo Hospitality Group.  
The new menu features reimagined items the restaurant has long been known for, including hand-cut steaks, fresh seafood and delicious, homemade desserts along with an extensive wine list and after dinner cocktails.  
"Red Circle Inn is a special place with a rich history. We can't wait to welcome guests back to experience the new era of this Lake Country classic," said chief operating officer of Geronimo Hospitality Group, Jeff Whiteman. "Honoring history is one of our ultimate objectives and I think this new chapter of Red Circle Inn embodies that while also providing guests with Geronimo's spin on hospitality."  
Updated décor and furnishings can be found throughout the restaurant and event spaces. Historic photos line the walls allowing guests to take a step back in time and through Red Circle's storied past. While improvements have been made, the original fireplace has been restored in the dining room and guests can belly up to the original Pabst bar that was built in 1889. 
 "We've worked hard to breathe new life into this restaurant, and we can't wait to bring back the regulars of Red Circle Inn and invite new guests to experience our decadent menu, wine lists and Lake Country hospitality," said general manager of Red Circle Inn Rocky Kitzman.  
Red Circle Inn is open:
Monday through Thursday 4:30 p.m. – 9p.m.
Friday and Saturday 4:30 p.m. – 10 p.m.
Bar is open from 4 p.m. to close.
Many restaurants are continuing curbside and carryout for those that still prefer to order that way and for the convenience of it!
Find out what restaurants options are available in Waukesha County in this guide. If you are a Waukesha County restaurant and want your details in this guide, contact us via the form in the footer.
Lake Country Family Fun has other related helpful Guides and articles that may interest you:
WAYS TO USE THIS GUIDE: 
SEARCH BY CITY/TOWN (TOP SECTION)
SEARCH BY LCFF "FOODIE GUIDE" (MIDDLE SECTION)
SEARCH BY TYPE OF FOOD (BOTTOM SECTION)
300 + Waukesha County Restaurants
Restaurants in
Waukesha County
CLICK THE NAME OF RESTAURANT TO LINK TO THEIR FACEBOOK PAGE FOR INFORMATION
We ask that you link back to this page and credit to LakeCountryFamilyFun.com. It took quite a bit of time to compile this extensive list. Thank you! 
Click the hyperlinked Restaurant name to determine dining status.
Restaurant updates by LCFF GUIDE
We've parsed through our famous LCFF guides to find what Restaurants we cover. You'll find them listed out below by Guide as far as the status we know about so far.  Note: Not all restaurants in our foodie-type LCFF guides are bulleted  below.  We cover the following guides:
Restaurants by Food Category
Based on social feedback, here are restaurants that are highly recommended in certain categories:
A fun BINGO card from 2020: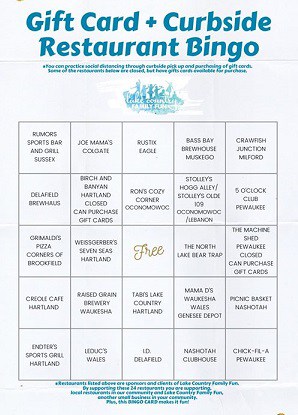 Graphic below is from 2020, but many of the 8 ways are still relevant today as restaurants reopen and may be short staffed as well.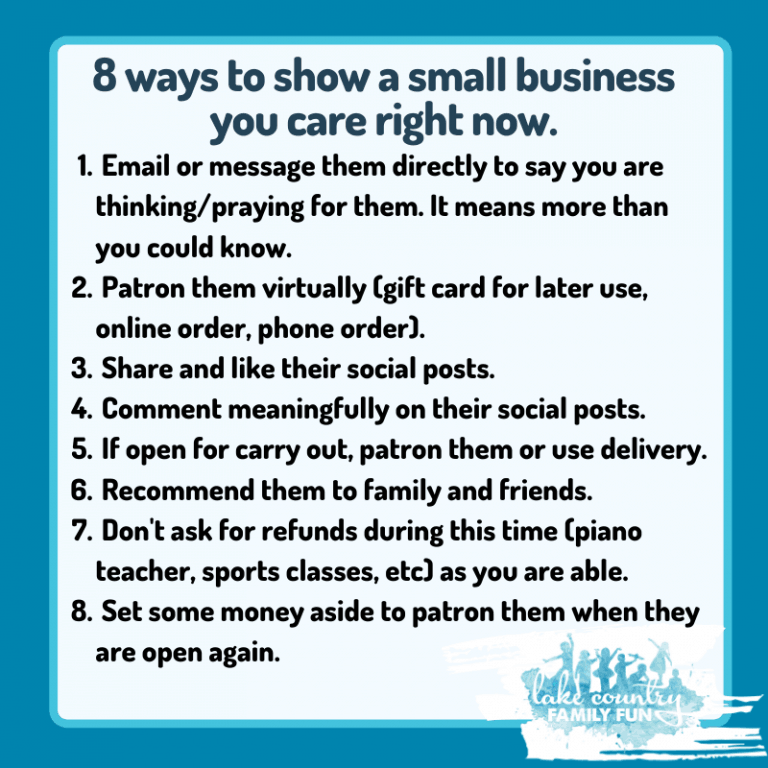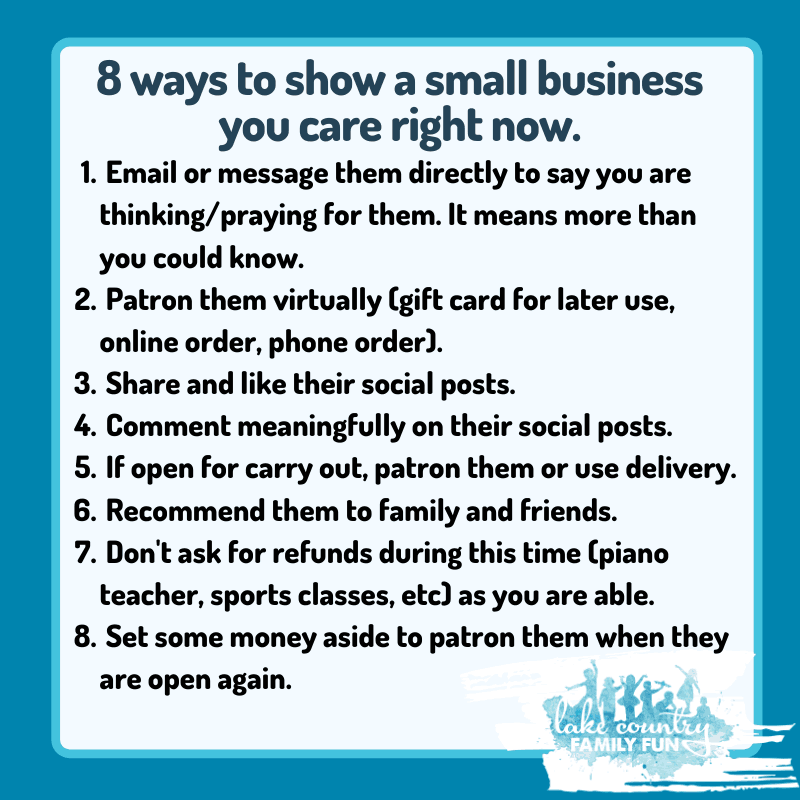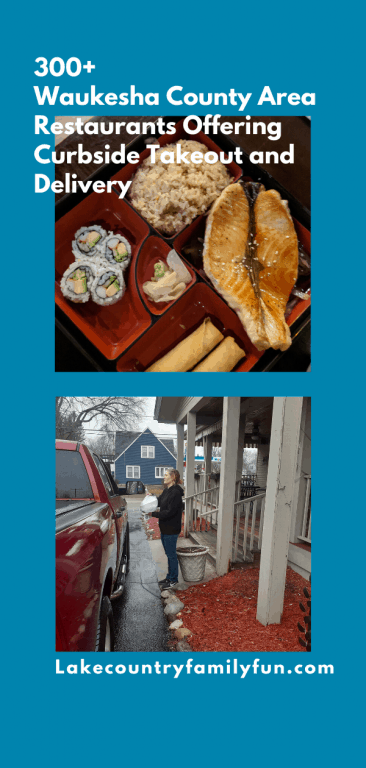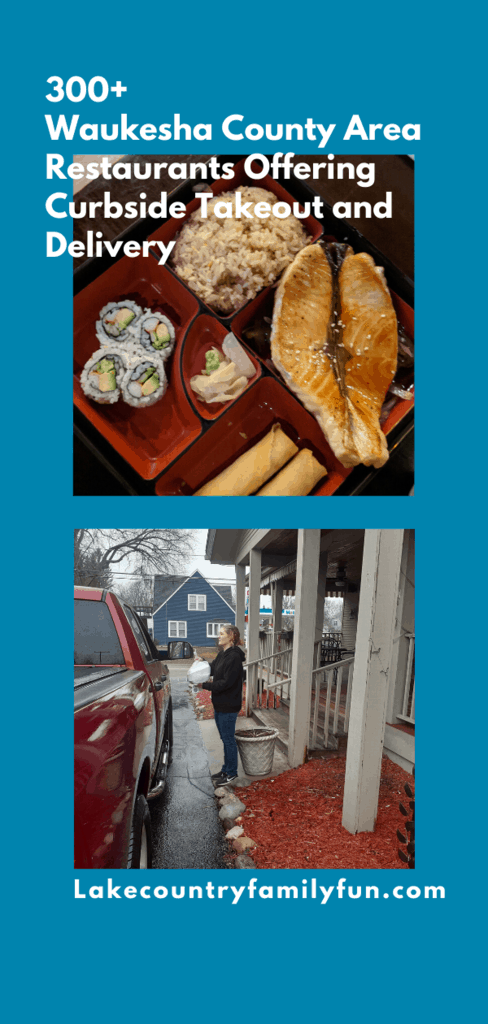 Would you like your business featured in this listing?
Contact us today with your details: