There's a new running shoe store in town! I was invited to check out the new Goodmiles Running Company store in Brookfield. It is located next to two other shoe stores in the same family, Vionic and Stan's Fit For Your Feet (who you might have met at Hartland Kids Day).
Not a runner? I don't consider myself a runner either, but I do lead an active life and the shoes and accessories available at Goodmiles Running Company are for all activity levels, from lake walking around Fowler Lake to entering the Lake Country Triathalon and all levels in between.
Goodmiles Running Company is specifically located in Brookfield at The Plaza 17155 W. Bluemound Road. They are super excited to be celebrating their official grand openings with a series of events from March 17-26, 2023.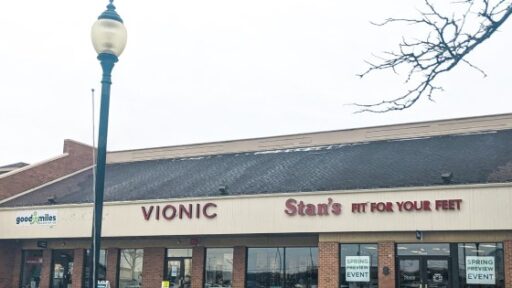 Goodmiles Running Co. Grand Opening Events
The staff at Goodmiles Running Company has a variety of special events planned that should be great for everyone and all levels of activity. 
Check out these Grand Opening Events:
Altra Demo Run on March 18 at 8am and event following on March 18 from 10am to 2 pm
A Brooks Shoes Event on March 18 from 10 am-3 pm
Athletic Trainer Garrett McLaughlin Workshops on 'Injury Prevention and Tips To Improve Your Running' on March 19 at 10 am and on March 23 at 6pm
Dr. Carrie Truebenbach Synchrony PT talking about '5 Ways to Develop or Continue a Health Running Program' on March 23 at 6 pm
A Topo Event on March 24 from 11am-3 pm
New Balance events on March 24 from 11 am-4 pm and on March 23 from 10 am-3 pm
An On Demo Run on March 25 at 9 am where you can try on the On Brand and run 2 miles in them to see if you like them. (Yes, try them on and wear them outside in the actual world to see if they are a good fit!)
In addition to those amazing events, there's more!
From March 17-26, customers will also be treated to a variety of in store specials, gifts with purchases and the opportunity to register for a variety of great giveaways including:

Two tickets to the May 16 Fiserv Forum Lizzo concert

Free shoes

A Burn Boot Camp gift package and more!
WOW! Yes, you read that correctly, they are giving away two tickets to the Lizzo concert coming up in Milwaukee in May!
3 Reasons to Visit Goodmiles Running Co.
1. Expert advice:
When I walked into the store, I was greeted by the staff members, Stacy and John. It was evident from the moment I walked in that John had extensive knowledge on not only the shoes sold in the store, but also the accessories and when they are beneficial and who they are beneficial to.
John also took the time to properly assess my individual needs based off questioning of my daily life, activity level, activities I do, and my walking pattern.
Because he took the time to properly assess my individual needs, he could give expert advice on the products available to find me the right shoes, apparel, and accessories for your needs. And he and the other staff at Goodmiles Running Co. can do the same for you!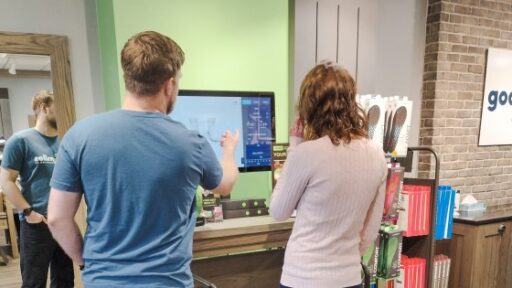 2. Proper fitting:
As I stated above, it was evident to me that the staff had an extensive knowledge of fitting and finding the best shoes for the individual person. Because the staff has an extensive knowledge, they could then properly fit my foot (and yours) to the best shoe.
The process is:

Assessing gait/walking pattern

Do my legs turn in or out when I walk? Am I somewhere in the middle? Do I walk straight? Which part of my foot hits the ground first when I step? These are questions, I'd never really thought about in all my years of walking. Yet, John could immediately tell me that my legs turn a bit inward when I walk.

Questioning about the activities I partake in and my activity level
Utilizing the foot scanner.

I stood on the foot scanner, while the information was processed and read out on a screen in front of me.
John went through the analysis with me, explaining what it all meant.
The scan measures your foot size, your arch level, your pressure placement, and more!

Based on my walking pattern and the foot analysis, he then discussed the best shoes and foot support for me to live my best active life. 
I tried on four different pairs of shoes until we found the correct fit. We also tried a shoe insert (Currex), but ultimately decided that it was not necessary for my feet and arch support. 
A proper fitting hopefully leads to injury prevention. When our feet are properly supported, we are less likely to injure ourselves when walking or running or doing chores at home.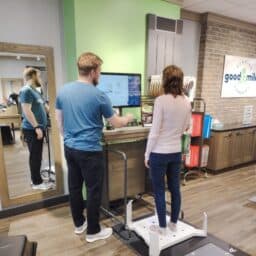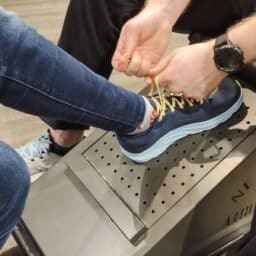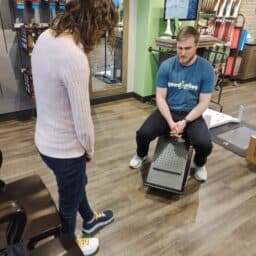 3. Wide selection: 
Goodmiles Running Company offers its customers the best lines of running and walking shoes including: Altra, Brooks, Hoka, New Balance, On Running, Oofos, Saucony, Birkenstock, Kavu and Topos and more.
They also carry running/walking clothing and supplies such as Gu hydration tabs; Honey Stinger gel, chews and bars; Smartwool and Feetures socks; Currex and Superfeet insoles and more.
I personally tried on and tested out Altra, Topos, Saucony, and New Balance Fit Form 880 based off of my proper assessment and fitting. All three options were comfortable and supported my feet as I walked around the store. It was so helpful to try on each pair at a time, but also each shoe, pairing a left Altra with a right Topo or left New Balance with a right Topo to really sense and feel the difference for what works best for my feet. 
Whatever your personal activity level and foot support need, Goodmiles Running Co. has it or will find it. The staff was truly beyond knowledgeable and helpful as I navigated the wide selection.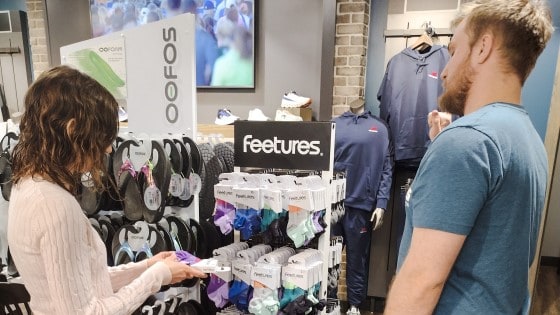 Learn more about Goodmiles Running Company:
Goodmiles Running Company is part of the Stan's Fit For Your Feet collection of stores. Opened by Stan and Emerence Sajdak in 1950, Jim, their son, is currently serving as President. Jim's four adult children are also part of the family business: Andy is the Director of Operations; David is the Director of Merchandising; Megan is the Director of Marketing; and Ben is Director of Community Outreach. The original Stan's store has grown into three Stan's locations, two Goodmiles Running Company locations, the Vionic Store Milwaukee, and Waxberg's Walk Shoppe in Niles, Illinois.
In 2013, the National Shoe Retailers Association named Stan's Fit For Your Feet and former store, New Balance Milwaukee the National Footwear Retailer of the Year. The company was also named one of Southeastern Wisconsin's Top Ten Businesses of the Year in 2014 and Best Shoe Store by Shepherd Express in 2014, 2017, 2018, 2019. Since 2008, Stan's and New Balance Milwaukee have been named Milwaukee's Best Shoe Store on Milwaukee CityVoter and their Brookfield store was named 2017 Business of the Year by the Brookfield Chamber of Commerce.
Also, I personally met Andy during my visit to Goodmiles Running Store. From one small business owner to another, I can tell that the people behind the brand, truly care. They truly care about the products and services they offer and about their clients. Happy feet, happy life! 
Follow along for all their events and products: