Best on the Lake Dining in Lake Country
Foolery's on Okauchee Lake
Bayside on Okauchee on Okauchee Lake
Golden Mast on Okauchee Lake
Hollywood's on Okauchee Lake (cannot get to via boat)
Splash Martini Bar on Lac La Belle
Lago Su Bella on Lac La Belle
Artisan 179 on Pewaukee Lake
Seesters on Pewaukee Lake
Seaboard Bar & Grill on Pewaukee Lake (formerly Ristorante Lago)
Doc's Dry Dock on Pewaukee Lake
5 O-Clock Club on Pewaukee Lake
Curly's on Pewaukee Lake
Michael's House of Prime on Pewaukee Lake
Gina's Sports Dock on Pewaukee Lake
Edgewater on Pewaukee Lake
Chocolate Factory on Pewaukee Lake
Kim's Lakeside on Pewaukee Lake
Lucky Chucky's Beach Bar and Grill on Silver Lake (formerly Burke's Lakeside)
Bass Bay Brewhouse on Bass Bay Lake
AJ's Bar and Grill on Muskego Lake
Golden Lake Pub on Golden Lake
Panga Bar & Grill on Upper Nemahbin Lake
Seven Seas on Nagawicka Lake
Fishbones on Nagawicka Lake
Copper Dock on Friess Lake
Lakerz on Fowler Lake – rooftop seating
Lakefront Dining with a Beach
These restaurants offer lakeside and lakefront dining in a casual atmosphere and are family friendly as they have a beach for the kids to play in while waiting for the food to arrive.
Foolery's on Okauchee Lake
Gina's Sports Dock on Pewaukee Lake
Best Patio Dining in Lake Country and Waukesha County
Revere's in Delafield
Belfre in Delafield
I.d. in Delafield
Mazatlán in Delafield
Delafield Brewhaus
Artisan 179 
Zesti in Hartland
Joe Mamas in Colgate
Thunder Bay Grille in Pewaukee
Nettie's Irish Pub in Pewaukee
People's Park in Waukesha
Senior Tomas in Hartland
Beer Snobs in Hartland
Butler Inn in Pewaukee
Andreas Red Rooster in Waukesha
Spitfire in Okauchee
Kim's in Stonebank
Bel Air Cantina at Corners of Brookfield
Café Hollander at Corners of Brookfield
Parkside 23 in Brookfield
Carlee's Bar & Grill in Pewaukee
Vino Cappuccino in Brookfield
Are we missing your favorite lakefront dining spot or patio location?
Tell us and we'll add it to our list!!!!
Check out tons of date ideas in Lake Country or Waukesha County grouped by cateogory.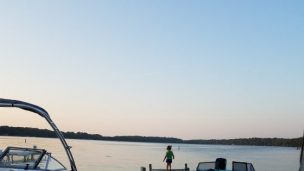 Get to know the Lakes of Lake Country and Waukesha County with this great guide.