Is your child's birthday in March, April, or May? Do they want a 2020 redo? I feel you! Practicing social distancing and staying safer at home definitely makes celebrating birthdays a tinge more difficult. Okay, maybe A LOT more difficult, but not impossible. Check out these fun ideas below! 
Our team asked local moms how they are celebrating their kids' birthdays this month and into April and how they are making it special. Of course, Lake Country has the most creative parents! See the image above sent in by Oconomowoc mom Nicole K. 🎉Read below to find 10+ creative ways to celebrate your child's birthday in this season of social distancing. Then join the conversation on Facebook!
10+ Safer at Home Ways to Celebrate Your Child's Birthday
1. Have a Yes Day! (within reason)
When your child asks a question on their birthday, simply answer yes, (within reason). If your child asks for an in-person play date with their best friend, that will have to be a "No, not right now." answer. However, they can try out these questions and similar: 
"Mom, can I have ice cream for breakfast?" "Yes!, yes you can!"
"Dad, will you play Lego with me?" "Yes, yes, I will!"
2. Turn your Living Room into a Theater
If your child is a movie buff, and you can't go to the movies right now to watch the latest or their favorite movie, stream it!
There are so many amazing streaming sources to watch movies for free or for a small fee, on demand. We recently posted about Universal releasing movies that are "still in theater" to streaming services On Demand.  
Once the movie is chosen, turn your living room into a theater:

Close your curtains and blinds to make the room as dark as a theater.
Pop some popcorn and put in fun individual bowls for everyone's treat.
Maybe even break out some movie theater style candy to go with the pop corn.
Enjoy!
3. Have a Car Parade!
Local moms in Oconomowoc are doing car parades for their school friends!

See the image above and just below send in by local Oconomowoc moms! How special for these children!

First make fun birthday decorations and messages at home. Then attach them to your car.  
Call or message your child's friends' parents, schedule a time, and make a parade! They even had a police escort for one of the parades! 
Bonus if you sing Happy Birthday!!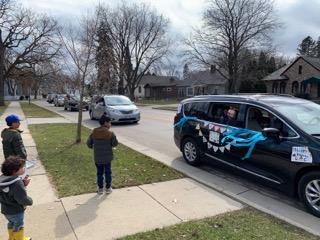 4. Send Video Messages
Thank heavens for all the video apps available! 
You can ask your child's family members to send in video messages via text, Facebook, and more! 
There are so many ways to send video messages these days. Which one of the following have you tried?

Messenger Kids
YouTube
Create a Friend/Family Zoom meeting
TikTok
Instgram Direct
Google Duo
Skype
Facetime
5. Dance Party!
Both of my children are in dance lessons, but aside from that, they love to dance – any kind!
Set up a dance studio or kiddie night club in your basement or living room!
Blackout those curtains and blinds, set up a some lights. Christmas lights will do!
Make a playlist for your child on spotify or similar streaming service and DANCE, DANCE, DANCE!
Bonus if they come up with new moves or you have a dance off!
6. Chalk Art
We so enjoyed the #chalkyourwalk movement – so use it to display birthday messages!
Drive over to a friend's house and #chalkTHEIRwalk!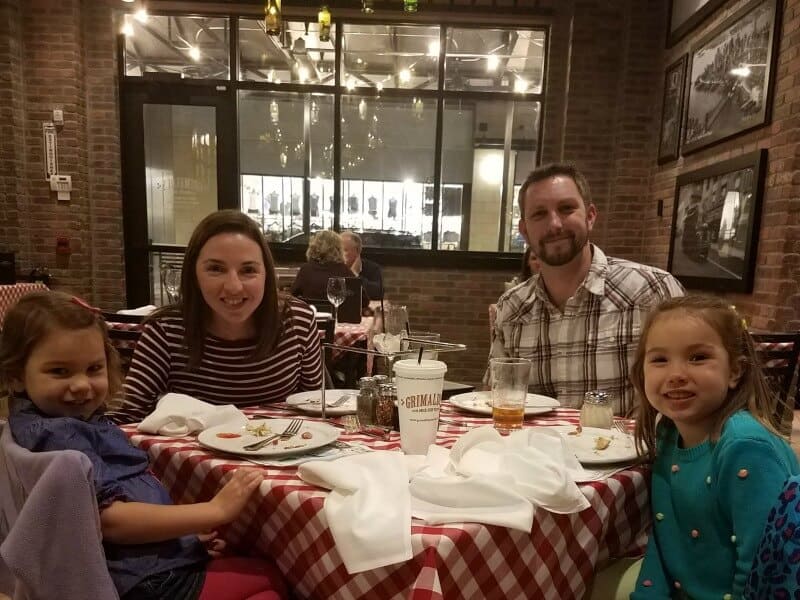 Practice social distancing while supporting local restaurants.
7. Order Take Out/Curbside Dining from their favorite local restaurant!
Many restaurants in the greater Waukesha County area are still open! 
Check out this updated, organized, comprehensive, consolidated list here.
8. Decorate, Decorate, Decorate!
The night before your child's birthday, after they have gone to sleep, decorate!
Decorate their bedroom door with streamers/crepe paper/balloons and whatever brings joy to your child.
Decorate the living room and kitchen, too, with Happy Birthday signs, messages, and balloons. 
9. Make everything their favorite for the day.
Along with a yes day, but prior to their birthday plan out doing their favorite everything:

Favorite meals
Favorite movie
Favorite take out
Favorite color decorations
Favorite songs playing
Favorite activity inside
Favorite activity outside
10. Create a new tradition!
We are living in unprecedented times. Pending the safer at home status, our version of "normal life" may look different when the social distancing and other orders are lifted. 
Use this as a time to prioritize your child and family's top priorities.

Maybe you prioritize family time, your health game playing, athleticism, learning new skills… 
Use those priorities to make this birthday special –

have a cook off with healthy foods
display your athleticism with a fun challenge between family members
have a March Madness of board games to play

The sky is the limit! 
11. BONUS LOCAL IDEAS!
Contact the Western Lakes Fire Department for a birthday surprise! ⤵️
Contact Snips and Giggles for a princess or super hero birthday. 
Have a giant birthday sign placed in your front yard from a local mom in Oconomowoc. She's booking out into July!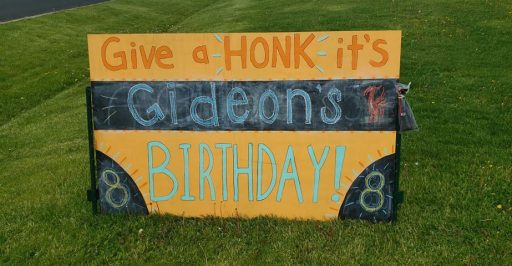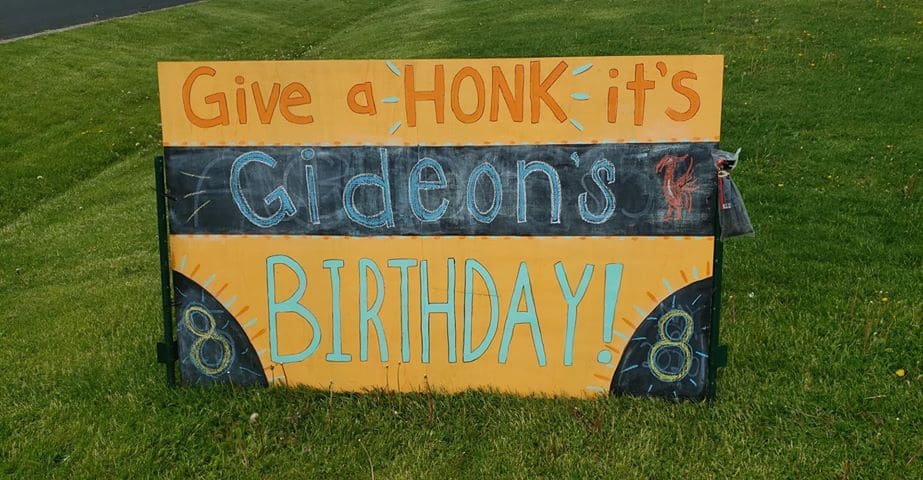 12. BONUS LOCAL IDEA!
Contact Snips and Giggles for a princess birthday surprise!⤵️
Have any of these ideas sparked interest in you? Have you done one or more of the birthday ideas? Being safe at home and practicing social distancing can be cabin fever inducing, but there are still lots of ways to make your child's birthday special this March and April! 
Be sure to tag Lake Country Family Fun on Facebook and Instagram (on public accounts or stories) so we can see your fun and wish your child a happy birthday, too!