March 2020 has been a series of life changes, almost on the daily, by the minute. It's been unreal to navigate it all. Parents and students were thrust into panic when school was cancelled first with an extended break and then with an indefinite break. Businesses were made to close or adapt when social distancing was first mentioned and then even more so when the "Safer at Home" order happened. 
BUT…
It's also been amazing. Have you slowed down? Have you counted your blessings? Have you re-prioritized your life? Have you seen the 500 Facebook groups (I joke) pop up supporting families and businesses in Waukesha County? 
I'm an observer by nature. A people watcher. I'm not watching people in person as I've been at home with my kids for over week, but I've seen some amazing examples of community over the past couple weeks and it's been so heartwarming. 
Lake Country Family Fun is all about community, and the community outpouring has been truly outstanding. We've compiled 10 creative ideas that we have either started, witnessed, and/or participated in to create and build community right here in Lake Country and Waukesha County.
What positive acts of service and community have you observed? Tell us about it in the comments or via our social media accounts. We love hearing, sharing, and living the good!
10 Creative Idea for Creating Community in a Crisis
1. Community members and businesses have been leaving monetary donations at area restaurants and other businesses for donations or for other people to have a free meal. 
Another Eagle Business left a donation at 1863 Coffee Eagle Saloon and Cafe, allowing 1863 to pass a discount on to their customers. See the original Facebook post here.
Dr. Mike Merkt of The Specific Chiropractic Centers – Lake Country (Hartland)and Jake Schoemann of the Schoemann Team – Bank of England Mortgage have been leaving tabs at area restaurants/food businesses to pay for incoming customers' bills. 
2. Spreading cheer, sunshine, happiness, and kindness through sidewalk chalk art or window art or drive by dance parties. 
Look at all these inspiring images and messages made with sidewalk chalk art.
Putting a red heart in your window signifies support for health care works. Look at these beautiful designs!
Join the teddy bear hunt! Place a teddy bear in your front window and go on a teddy bear hunt in your neighborhood!
Local mom and dad duo, Julie Coughlin and Dan Paulsrud, are so creative in bringing joy – they created a #drivewaydanceparty around Waukesha. They maintained social distancing, yet brought in person joy to friends and strangers!
Celebrating a birthday in March or April? Try one of these 10 ideas, including a drive by car parade!
3. Local parents are sharing their talents on YouTube to our local children.  We've all seen the high profile drawing sessions from authors like Mo Willems and his lunch doodles, which are great – we've done quite a few (and my youngest dressed up as Piggie on character day during spirit week back when school was in session). However, Lake Country Family Fun is all about supporting local. Check out these two local parents that shared their talents with us in the Lake Country Family Fun Community Group.
Local Mom of Being Stace features art and drawing. My kids have already done all her drawing sessions! We didn't consider ourselves artists before, but our confidence is growing and we have this local mom (and Mo Willems) to thank! Can't wait for her to upload more vidoes!
Local dad and music teacher Scott Greger features music classes on YouTube. Meet his cat Oliver, too! 
Marlene Millevolte is teaching how to make clay on YouTube. She's a hoot!
The last 3 are the most important ❤️
https://www.instagram.com/p/B-Fr6mbHkPE/
4. Facebook Support Groups! It's a bit overwhelming how many Facebook Groups popped up in the past week or so, but the spirit of them is so inspiring! There are groups for
social distancing activities for kids
supporting local restaurants
supporting local small businesses
supporting our communities
Don't forget that the Lake Country Family Fun Community Facebook Group allows for ALL those topics to be discussed. So, drop your great ideas, your feelings of the moment, your need for support in there, and more, and we've got your back!
Because of the numerous groups out there, I've picked and chosen which groups I've joined and received notifications from, but these are two of my favorites: COVID-19 Care for Lake Country and Lake Country Curbside Restaurants. You'll find Lake Country Family Fun's Care Guide pinned to the top in the announcements and so many people helping people. ❤️
5. A renewed love for enjoying nature. Lake Country Family Fun created this neighborhood scavenger hunt, and when we shared it on Facebook it really took off with over 100 shares! But the true creativity was this local teen girl, who not only completed the scavenger hunt, but took pictures and made this amazing collage. I spy an aspiring graphic designer! And this amazing video (watch it in the comments of this FB post from Kelly Wheat)! 
Also, outside of your neighborhood, the WI DNR has waived state park and trail fees starting today (March 24, 2020)! Yay! Details HERE.
6. The way local churches have pivoted to virtual meeting, putting their faith into service for our communities and the most vulnerable. Most local churches are now offering online services, their pastors are doing daily devotionals and prayers online to provide encouragement and comfort. They are also continuing their food pantries (if applicable), adapted as drive-thru, to continue to feed those in need. ❤️
7.  Clean. Clean. Clean. We have been practicing amazing hygiene, including proper hand washing like it's our job since March 11. Not only keeping our bodies and home environments clean, but more and more people are taking to keeping their neighborhoods clean. People are going on their social distancing walks and posting pictures to social media, of all the garbage they have picked up. Thank you! Now, properly dispose of the garbage, and wash your hands properly if you were not wearing gloves ❤️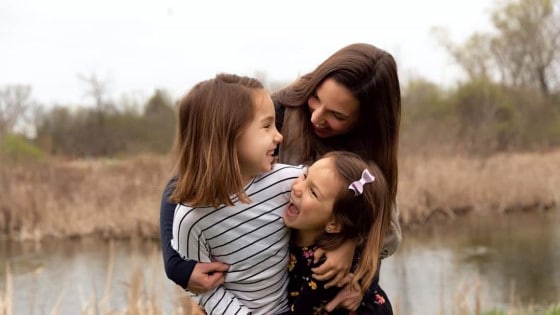 Find and add local resources to help our community members through this time.
8. An outpouring of people expressing their gratitude to grocery workers and healthcare workers and others providing essential services that cannot be safer at home, but are out there on the front lines. Gratitude and thankful memes are have been popping up all over and going viral like this one.
9. Kindness coolers and kindness pantries have popped up in area communities. A Lake Country Family Fun reader shared one in Madison with us, and our own Megan saw a kindness pantry in Eagle. Have you seen a kindness cooler or pantry in your community? 
10. A renewed interest in physical health at home. The high risk group for coronavirus according to the CDC are elderly and those with an underlying chronic illness. This makes now a great time to focus on improving or maintaining your physical health. *Always consult your medical professional prior to starting anything new. 
There is a 10for10 pushup challenge on social media. Earlier this week, Alley Faith of KissFM (103.7) tagged Lake Country Family Fun to do 10 pushups. It felt great!
There is a balance challenge going on social media. It's a great challenge for those that love barre and yoga type workouts. 
And a fan favorite of Stephanie from Lake Country Family Fun, the see10do10 burpee challenge! 
Local gyms and studios are offering online/virtual workouts.