Lake Country Family Fun Has the Things to do in January in Lake Country!
With the holidays over, we are the midst of a long winter until spring gets here. (Let's hope it's not 5 months long 😉) When this time of year rolls around, I like to embrace the hygge effect, and slow down, spend the weekend in at home cuddled up in front of the fire. But the one thing I'd recommend to any WI newcomer or a winter-hater, is to get a winter hobby. Take it from a me, a summer-lover, who strongly dislikes being cold, the winter will go SO much faster if you are enjoy it. That's why we have 16 fun things to do this January. So, aside from embracing hygge and picking up a winter hobby, skim our list below full of fun things to do this chilly first month of the new year. Keep an eye on our Facebook page for the Ice Castles opening announcement – it's coming soon. Read below for 16+ family-friendly things to do in January 2023.
Please thank our January Guide Sponsor:
Parents and guardians of children ages 18 months – 4th grade are invited to University Lake School's Lower School Open House on Thursday, January 26 from 4-6 p.m. This event is for parents and students interested in learning more about our Laker Playgroup, Little Lakers, Preprimary (JK3, JK4, SK) and Lower School (Grades 1-4) programs. Meet our amazing Lower School teachers, visit our engaging classrooms, and explore our beautiful 180-acre campus. University Lake School is an independent school located in the heart of Lake Country serving children from 18-months through 12th grade.
University Lake School is an independent college preparatory school serving Preprimary through 12th grade in Hartland, Wis. ULS delivers an incomparable education through the pursuit of academic excellence and the development of the whole student in a unique learning environment that fosters intellectual curiosity, original thinking, personal integrity and character through service. 
Winter has definitely formed a tight grip on Southeastern Wisconsin, but we will not let that stop us from having fun even if it is freezing! Try these tips so you can enjoy the most of the winter outdoor fun with your families.
Invest in some winter wear and gear. Mom, Dad, we're talking to you. I'm betting your kids have some snowpants and winter boots, but you need them, too! We find most of our winter gear at Sherpers, Fleet Farm, or online. Find our Amazon picks in our storefront for our favorite winter brands. 
Have a place to dry off the winter gear when you return inside and warm up with some hot chocolate.  
Know before you go if you need any specialized gear. Many places have rentals available if you are going ice skating or snowshoeing, but doublecheck before you leave the house. And consider investing in your own ice skates or snowshoes.
Check out these fun winter events and things to do in and around Waukesha County and Lake Country to fight the winter blues, and if you are looking for more, see our popular LCFF events calendar for a full listing of events for the month.
1. Get in a better fitness routine. This is the most common resolution out there. If it's one of yours, make a plan. Will you work out at home? In the morning or evening? Will you join a gym or fitness class. At Lake Country Family Fun, our team uses Burn Boot Camp, Sweat Shop Hot Yoga and Peloton at home to keep our health and fitness routines on track. You can view all of the Waukesha County Fitness options in this awesome fitness guide here.
2. Take a hike or cross country ski! Head to literally any Waukesha County Park or trail system to get out and take a brisk winter hike or cross country ski. We love Nashotah Park and just bought our 2023 pass! You can celebrate the first day of 2023  with a First Day Hike. More details on local hikes and other first day hike options here.
3. Enjoy a FREE Zoo Day at the Milwaukee County Zoo on January 7th this year, check out the Milwaukee County Zoo for free! ($15 Parking fees still apply) Don't be scared to check it out in the winter. Bundle up and explore new and favorite animals with your family!
4.Take the Kids Sledding, find 22 public sledding hills in Waukesha County with this handy winter sledding guide, complete with a map. If it's going to snow, we might as well have fun with it, right?! 
5. See stars. Check out a planetarium show at the Retzer Nature Center in Waukesha. It's a great way to encourage learning on the weekend, while staying warm from the cold. My kiddos enjoy the show so much and always ask to go back and see another one!
6. Take a class. Lake Country Family Fun is a big fan of Lake Country Playhouse in Hartland. If you are too, be sure to check out their WINTER CLASSES, which kick off on January 17. There classes are filling up, so sign up now if you are interested in the performing arts.  For a list of other lessons and classes in the area, see our guide broken out by category (swimming, martial arts, dance etc…).
7. Go Ice Skating. Head out of Lake Country and skate outside at Red Arrow Park in Milwaukee. Or stay within Waukesha County and find 15 outdoor ice rinks to skate on in our Winter Fun Guide.
8. Go to the Movies. We love going to the theatres in the winter time.  We love $5 Tuesdays at the Marcus or $6 Mondays at SilverSpot. Playing on the big screen this winter is Puss in Boots: The Last Wish and more! You can also still rent out  an entire theatre for your group at Marcus or Silverspot.
9. Head to the 5th annual DELAFREEZE on January 14, 2023! If it has to be January, you best enjoy it, and Downtown Delafield is the place to be! We had so much fun at at the first annual DELAFREEZE, watching ice sculptures come to life and giving our hand at curling! This year the event will be even bigger. There are Selfie Stands along with interactive carvings in Clocktower Square. Find out more about the event here.
10. Stride in the snow on shoes. Have you gone snowshoe-ing? We have! In fact, we created a snowshoeing guide to the area so you can start this wintry fun hobby with your family! Many places offer rentals. Retzer has a ton of sizes.
11. Go Fishing. Check out the Free Fishing Weekend from the DNR. Fish locally or take a road trip. A winter road trip sounds like good family fun 🙂 We did last year a few times in January and February. There will be a fishing clinic at the Waukesha Janboree this year. Details here.
12. Don't miss the Waukesha Janboree. It has everything from Fireworks to Toboggan runs and everything in between. This is a fun winter community event for the whole family! Most of the events occur at Lowell Park, but you can find fun throughout Waukesha!
13. Have your family check out Winter Play Day at Nixon Park in downtown Hartland. Organized activities include: a Penguin Egg Hunt at 2:15 pm in the tennis court area. At your leisure activities include: snowball toss, snow obstacle course, ice bowling, freeze bubbles, Ice Age Trail scavenger hunt, snow limbo, complimentary hot chocolate station and ice skating (bring your own skates).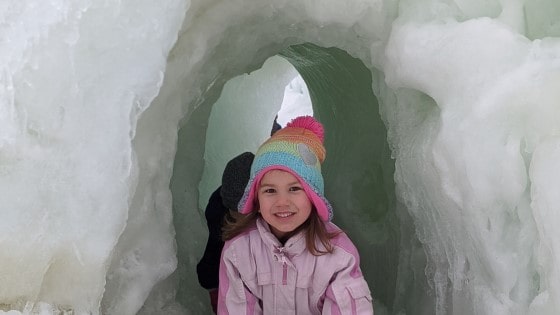 14. Attend New Berlin's amazing WinterFest on January 7th with the family. Its the 4th annual and there is fun for everyone. Find all the details here. Some things require pre-registration.
15. Enjoy a Winter Farmers Market. Just because it's freezing out, doesn't mean we can't have fresh food. Find local vendors and artisans and pick up some yummy soup and winter veggies to fill your bellies with goodness. Check out markets at these locations: 
Stone Bank Saturday Winter Market
Milwaukee – New location in 2022-2023 at The Table
Waukesha at Chef Pam's Kitchen
16. Take the whole family to ChiliFest in Oconomowoc. Oconomowoc throws the best community events. If you haven't checked one out yet, don't miss Chilifest, which is held on the last Saturday of January.
BONUS: Visit Ice Castles Lake Geneva. This is a must experience event. We went in February 2020 and cannot wait to go back in February 2023, as it was a winter wonderland come to life. Get tickets here and use code FAMILYFUN23 for 15% off when booking.
DID YOU KNOW ABOUT JANUARY:
Have you found more things to do in January? Let us know below!
Enjoy this winter wonderland with your family!