Lake Country Family Fun Has the Things to do!
With the holidays over, we are the midst of a long winter until spring gets here. (Let's hope it's not 5 months long 😉) When this time of year rolls around, I like to embrace the hygge effect, and slow down, spend the weekend in at home cuddled up in front of the fire. But the one thing I'd recommend to any WI newcomer or a winter-hater, is to get a winter hobby. Take it from a me, a summer-over, who strongly dislikes being cold, the winter will go SO much faster if you are enjoy it. That's why we have 16 fun things to do this January. So, aside from embracing hygge and picking up a winter hobby, skim our list below full of fun things to do this chilly first month of the new year. 
Please thank our January Guide Sponsor:
Get YOUR fitness started right in the New Year with Orangetheory Fitness. They have multiple locations, class times, awesome coaches, and the results are simply amazing!
Plus, YOU CAN WIN!  Win a free month Membership for YOU and a FRIEND!!!!  DETAILS + ENTER TO WIN HERE.
Locations in Delafield, Brookfield, Third Ward, Shorewood, Menomonee Falls, Wauwatosa, Appleton or Sun Prairie.
Learn more and join Orangetheory Fitness today.  
Winter has definitely formed a tight grip on Southeastern Wisconsin, but we will not let that stop us from having fun even if it is freezing! Try these tips so you can enjoy the most of the winter outdoor fun with your families.
Invest in some winter wear and gear. Mom, Dad, we're talking to you. I'm betting your kids have some snowpants and winter boots, but you need them, too! We find most of our winter gear at Sherpers, Fleet Farm, or online. Find our Amazon picks in our storefront for our favorite winter brands. 
Have a place to dry off the winter gear when you return inside and warm up with some hot chocolate.  
Know before you go if you need any specialized gear. Many places have rentals available if you are going skating or snowshoeing, but doublecheck before you leave the house.
Check out these fun winter events and things to do in and around Waukesha County and Lake Country to fight the winter blues, and if you are looking for more, see our popular LCFF events calendar for a full listing of events for the month.
1. Get in a better fitness routine. Sign up to win a month ONE FREE MONTH for you and your BFSW (best friend sweat buddy) but you have to tag them in your response to qualify…you can tag more than one person. Enter here. View all of the Waukesha County Fitness locations here.
2. Take a hike or cross country ski! Head to literally any Waukesha County Park or trail system to get out and take a brisk winter hike or cross country ski. This year the First Day Hike on January 1 is a self-guided hike, but you can hike outside any day of the month. 
3. FREE Zoo Day is on January 2nd this year, check out the Milwaukee County Zoo for free! ($15 Parking fees still apply) Don't be scared to check it out in the winter. Bundle up and explore new and favorite animals with your family!
4. Take the Kids Sledding, find 22 local public sledding hills with this handy winter sledding guide, complete with a map. If it's going to snow, we might as well have fun with it, right?! 
5. Check out a planetarium show at the Retzer Nature Center in Waukesha. It's a great way to encourage learning on the weekend, while staying warm from the cold. My kiddos enjoy the show so much and always ask to go back and see another one!
6. Lake Country Family Fun is a big fan of Lake Country Playhouse in Hartland. If you are too, be sure to check out their WINTER CLASSES, which kick off on January 11. There classes are filling up, so sign up now if you are interested in the performing arts. 
7. Head out of Lake Country and skate outside at Red Arrow Park in Milwaukee. 
8. Usually in January, we look forward to Marcus Theaters and Movie Tavern bringing our favorite classic Disney movies back to the big screen. This year, however, instead try renting out a movie theater to yourself! You can then pick your movie!
9. Head to the annual DELAFREEZE on January 9! If it has to be January, you best enjoy it, and Downtown Delafield is the place to be! We had so much fun at at the first annual DELAFREEZE, watching ice sculptures come to life and giving our hand at curling!
10. Have you gone snowshoe-ing? We have! In fact, we created a snowshoeing guide to the area so you can start this wintry fun hobby with your family!
11. Check out the Free Fishing Weekend from the DNR. Fish locally in Dousman or take a road trip. A winter road trip sounds like good family fun 🙂
12. The Waukesha Janboree has everything from Fireworks to Toboggan runs and everything in between. This is a fun winter community event for the whole family! Most of the events occur at Lowell Park, but you can find fun throughout Waukesha! Plus, it's an extra long event again this year to celebrate the 36th anniversary: January 15 – January 24!
13. Go to the Sledding Party in Sussex. This is a fan favorite event – just add snow!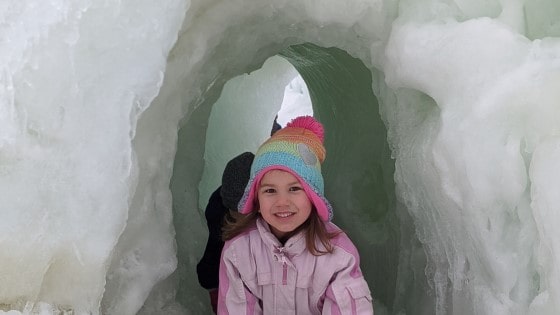 14. Snow lovers, let's hope that our January is full of snow! And we don't need a specific event to enjoy it. If it snows, the WI DNR and Lake Country Family Fun want to see you outside enjoying our beautiful natural resources. Take some pictures and them on Instagram with the #outwigo and #lovelcff hashtags!
15. Enjoy a Winter Farmers Market. Just because it's freezing out, doesn't mean we can't have fresh food. Find local vendors and artisans and pick up some yummy soup and winter veggies to fill your bellies with goodness. Check out: 
16. Take the whole family to ChiliFest in Oconomowoc. Oconomowoc throws the best community events. If you haven't checked one out yet, don't miss Chilifest, which is held on the last Saturday of January.
BONUS: Visit Ice Castles Lake Geneva. This is a must experience event. We went last winter, and it was a winter wonderland come to life. 
Enjoy this winter wonderland with your family!