It's snowed!! When I was a child, I loved snow and sledding and making snow angels…ah, fun memories 🙂 And I'm so glad my kiddos enjoy the snow just as much.  Now is the time to take advantage of the Wisconsin winter and take a slide down a local sledding hill here in Waukesha County.  All of the following Waukesha County sledding hills are public parks or on public land. Lake Country Family Fun will never post sledding hills that are on private property. (Although, our favorite hill is our backyard 😉 ) So, bundle up and have a great time! If you are looking for sledding hills in the Waukesha County or Lake Country area, look no further, this one is for you!
Sledding Hills
Waukesha County Parks System – 
Menomonee Park – W220 N7884 Townline Road Menomonee Falls, WI 53051
Minooka Park – 1927 E. Sunset Drive Waukesha, WI 53186
Mukwonago Park – County Hwy LO Mukwonago, WI 53149
Nashotah Park – W330 N5113 County Hwy C Nashotah, WI 53058
These four parks have sledding hills and the snow conditions for each are updated Tuesday and Fridays by 5:00 p.m. Please see the quick link under: Snow Conditions
Park Hours – Sunrise to 10 p.m. year round
There is a fee to enter the park- check this link for current rates.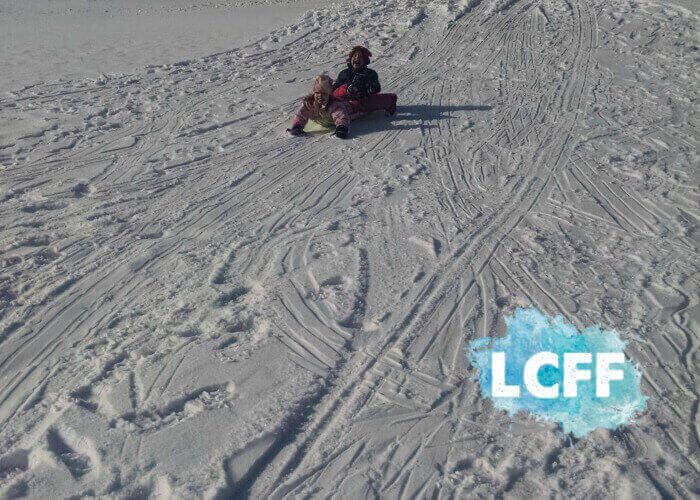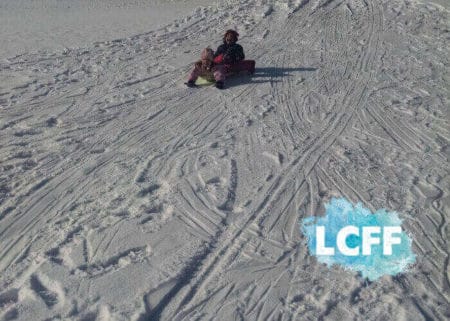 Other Parks in Waukesha County –

Town of Mukwonago-
Lauren Park– W315S8555 County Road EE Mukwonago, WI 53149
Oconomowoc–
Nature Hill- 850 Lake Drive, Oconomowoc, WI 53066
Bigger hill for older kids/elementary ages and up.
Fowler Park- 438 N Oakwood Ave, Oconomowoc, WI 53066
This is a great smaller hill for families with little children. The parking lot is close to the hill.
No public restroom is available at Fowler Park during the winter months. 
Summit-
Genesee Lake Road Park- 37505 Genesee Lake Rd. Summit, WI 53066
New Berlin-
Valley View Park- 5051 S. Sunny Slope Rd. New Berlin, WI 53151
Sledding and tobogganing are permitted on the open, lighted sledding hill located at Valley View Park.
Calhoun Park– 5400 S. Calhoun Rd. New Berlin, WI 53151
Sledding and tobogganing is permitted below the starting barrier on the northwest sled slope of Calhoun Park. Sledding and saucers are only permitted on the southwest small-fry slope.
Gatewood Park– 14201 W. Kostner Ln. New Berlin, WI 53151
A small-fry hill is available for sledding at Gatewood Park.
Elm Grove-
Village Park- 13600 Juneau Blvd Elm Grove, WI 53122
Brookfield-
Mitchell Park- 19900 River Rd, Brookfield, WI 53045 (Entrances off of Capitol Drive and River Road between Barker Road and Brookfield Road)
Wirth Park- 2585 Pilgrim Road, Brookfield, Wisconsin 53005
Wirth Park South- 16198 W North Ave, Brookfield, WI 53005
Muskego-
Park Arthur– S63W17833 College Avenue, Muskego, Wisconsin 53150
Sussex-
Sussex Village Park- W244n6100 Weaver Dr, Sussex, WI 53089
Delafield-
Town of Delafield Sports Commons– Intersection of Maple Ave/Silvernail Rd Delafield, WI (visible from I-94) has a skatepark as well.
Wales
Wales Community Park – 420 E Brandybrook Rd, Wales, WI 53183
The park board authorized the installation of a port a toilet to Wales Community Park by the soccer pavilion for patrons using the sledding hill. Once it snows more, there will be a Porta-John placed in the park.
Pewaukee-
Liberty Park – 440 Concord Road Pewaukee, Wisconsin 53072
Waukesha-
Lowell Park– 2201 Michigan Ave, Waukesha, WI 53188
This is a sledding hill and a toboggan run! If you enjoy thrills, chills and speed, you will not want to miss the 350 foot lighted toboggan runs at Lowell Park. The Toboggan run is not yet open for the 2019-2020 winter season. More info here.
General Public Hours of Operation
Saturdays 1:00 pm to 4:00 pm
Sundays 1:00 pm to 4:00 pm
Toboggan Run Fees*
Bringing your own Toboggan
Daily Chute Pass: $10/day
Valid Driver's License or $60 deposit required
Cash only and tax is included in all fees
* A Participant Waiver must be signed by all toboggan run users. All users under the age of 18 years must have waiver signed by parent or guardian, prior to toboggan run usage. Waiver is available at Lowell Park Shelter during toboggan run hours of operation.  All riders must be 48″ or taller. Children under 11 years of age must be accompanied by an adult. For up-to-date conditions, please call WPRF Information Line at 262-522-9356.
Fan Favorite Park in Washington County
Germantown-
Kinderberg Park – N104 W14942 Donges Bay Road, Germantown, WI 53022
Kinderberg (Children's Hill) Park is a 23-acre neighborhood park.  

***Disclaimer – This information can change and the parks may no longer have sledding, check their websites to see if the hills are open. We will not post sledding hills that are on private property, sledding can be dangerous, and it is at your own risk. ***
For more January fun, click here!
For more February fun, click here!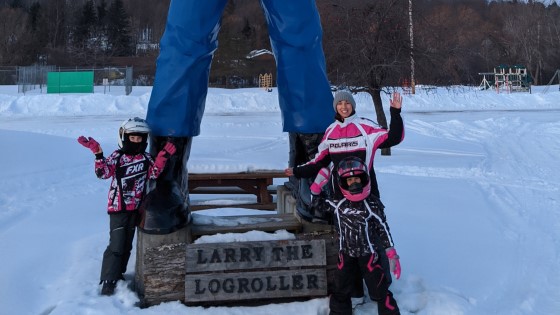 Find sledding, skiing, ice skating, snowboarding and more! *Sponsored by Birch and Banyan in downtown Hartland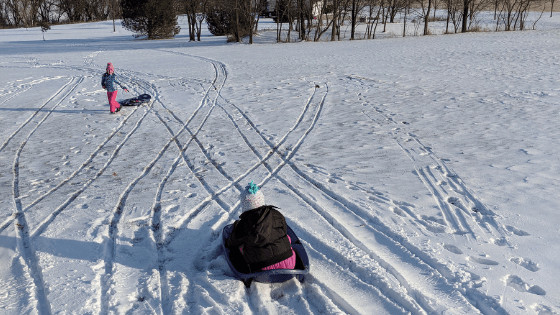 Sponsored by X Golf in Brookfield - Give it a swing today!
Sponsored by Pigtails and Crewcuts: Haircuts for kids in Brookfield.