I have lived in Wisconsin my whole life. As a child February was all about Valentines and sledding. What do you think of when you think of February? Valentine's Day and candy hearts and chocolate? Snow and cold? Getting out of dodge and hopping on an airplane? At Lake Country Family Fun, we love living in Wisconsin, and we believe in family fun year-round!
Now as an adult and parent, when I think of February, I think of all of those things cold weather: snow, sledding, ice skating, skiing, and Valentines Day, too. Which can be so much fun; it's all about your mindset.
In Wisconsin, there is lots of family friendly fun to be found, because winter is 8 months long. 🤪 Ha! It sure feels like it some days. Luckily, Lake Country Family Fun has looked for you, sifted through the information, and organized 20 fun things to do with your family in February!!
Check out these fun events below that take place in and around town this month to fight the winter blues.  For even more fun don't forget to check out Lake Country Family Fun's huge event calendar and indoor play guide!
Please thank our February Guide Sponsor:
Same-day or Next-day Pediatric Appointments for Your Child When it comes to your kids, next week doesn't always work for illnesses and injuries. Or the sports physical you forgot to schedule. Now you can enjoy the convenience of scheduling a same-day or next-day appointment with a ProHealth Medical Group pediatrician online. View the first available appointment or narrow your search by location, provider or day to find the appointment that works for you.
Schedule online or call 262-302-2327.
20 Family Fun Things to Do In February!
1 – Take a day trip (or virtual trip) to Milwaukee and save $$ with these FREE events this February! 
*Note that there is a mask mandate in the City of Milwaukee until March 1, 2022. The mandate requires anybody over the age of 3 to wear a mask while indoors regardless of their vaccination status. 
Top 4 library event picks:
Lake Country Family Fun is about getting out and being active in the community through connection. Let's face it, most people HIBERNATE IN WINTER, but that can lead to feelings of isolation. If you are looking for mom friends to meet up with or little ones for your children to play with, check out our MOMS GROUP AND PLAY GUIDE, featuring over 30 different groups. Our guide is divided up between community groups, church affiliated groups, and library play groups. There is a group for everyone. And if you are feeling isolated, do not hesitate to reach out to us at Lake Country Family Fun!
4 – Check out a Winter Farmers Market.
5 – Share a virtual Valentine's Day message featuring your favorite wildlife ambassador from the Wildlife In Need Center.
Book the Virtual Valentine for $25.
Choose the ambassador of your choice.
Email education@helpingwildlife.org to receive your Virtual Valentine's form and payment information.
100% of the proceeds will HELP WILDLIFE.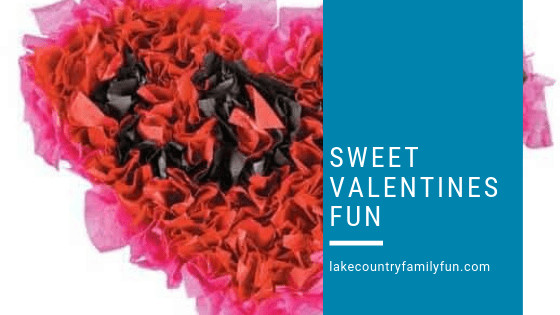 Win an awesome Valentine themed Prize Package this year for you and your sweetie! Prizes include:
- Sweet Box from Sweet P's Pantry
-Floral Arrangement from The Flower Garden
-Premier Room Stay at the Ingleside Hotel with waterpark passes
-A Valentine Cookie Box from Bloom Sweet Creations - Mini photo session of choosing from Beth Boyke Photography

7 – See a movie for CHEAP!!
Catch a

Tuesday $5 movie

at select Marcus Theatres and/or the Movie Tavern Brookfield!

Kids Dream Film Series every weekend in February

Smallfoot – February 4-6
Spirit Untamed – February 11-13
Paw Patrol – February 18-20
The Boss Baby – Family Business – February 25-27
8 – Share a yummy treat with your sweetie. 
Share a Latte with the one you love a latte! Enjoy 2 for 1 Raspberry Cardamom Mocha Lattes Valentine's Weekend at Goddess and the Baker at the Corners of Brookfield
9 – Enjoy a parents night out!
Lake Country Family Fun released our 8 Romantic Winter Date Ideas Guide just in time for February and Valentine's Day! Find 8 ideas, plus Valentine's Day specific events, some are awesome and out-of-the box!
Need a sitter? Check here.
10 – Tour (and fall in love with) a preschool
11 – Attend a Winter Themed Candlelight Hike in the Park. 
February 10: Fox River Park in Waukesha
February 17: Retzer Nature Center in Waukesha
February 24: Fox Brook Park in Brookfield.
Registration info here.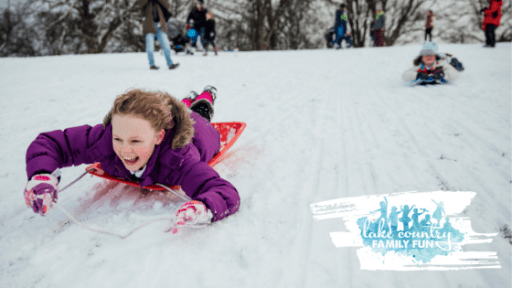 Check out Lake Country Family Fun's Wintertime Fun Guide to have some sledding, ice skating, skiing, and tubing fun! *Sponsored by Waukesha County Parks.
13 – Have a Winter Family Fun Day – Toboggan Style!
Try out the toboggan at Lowell Park in Waukesha. 
The Toboggan Run will be open on select days/times (Saturdays in 2022). 
Closing date is TBD in 2022.
14 – Take your family to a Winter festival!
15 – Be one with nature.
16 – Take a road Trip.
Do your kiddos have off of school this month? Mine do in the middle of the month. Take a long weekend and tour WI. Pick a direction with our WI Road Trip Guide.
Read up on some of our travel tips: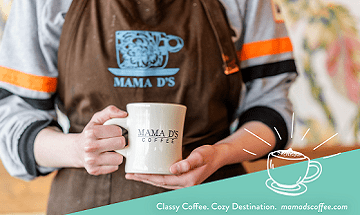 Find all the wonderful independently owned coffee shops in the greater Waukesha County area. This guide is sponsored by Mama D's Coffee with locations in Wales and downtown Waukesha.
18 –  Get a Valentine Strawberry or Cocoa Cream Puff from State Fair!
Preorder by February 7th for a deal. Details here. 
19 – Find 2 places you can take a Sleigh Ride!
Take a sleigh ride at Apple Holler in Sturtevant.

Call 262-884-7100 to make your reservation or order your horse-drawn sleigh ride gift certificates today.
Reservations Required.
$135 (plus tax) for the first 4 people
$30 (plus tax) for each additional person
Take a sleigh ride at Hoofs Beat Express in Oconomowoc

Come for the 40 minute ride and stay for the hot chocolate and cookies while enjoying the small carriage collection in our warmed barn.
Sleigh rides on our 115 acre farm.
Our largest sleigh carries 12 passengers with a minimum booking of 6 riders.
Call (262) 853-9801
20 – Try out a new to your family indoor play place.
Lake Country Family Fun's indoor play guide, features SO MANY local fun places to play inside. Try a new venue out this month! 
Many thanks to Lake Breeze Realty for sponsoring this guide in 2021 and 2022!
We hope we inspired you to have some
February Fun with your family!
What are you most looking forward
to this February?
Bonus February Idea: Give back to others in our community!
Drop off your new or gently used shoes, sneakers and boots for men, women, and kids as well as new socks at Stan's Fit For Your Feet annual "Share-A-Pair" drive from Tuesday, February 1 through Monday, February 28. 
Items can be dropped off Monday through Friday from 10 a.m. to 7 p.m., Saturdays from 10 a.m. to 6:00 p.m. and Sundays from 11 a.m. to 5 p.m. at any of the "Share-A-Pair" collection bins:
Stan's in Brookfield
The Plaza at
17155 W. Bluemound Road
Stan's in Glendale across from BayShore
505 W. Silver Spring Drive
Stan's in Greenfield in the Layton Plaza
7405 W. Layton Avenue
New Balance Milwaukee store
17155 W. Bluemound Road, Suite A in Brookfield
New Balance Milwaukee store
7411 W. Layton Ave in Greeenfield
The Vionic Store in Brookfield
The Plaza
17155 W. Bluemound Road.
This year the donated shoes, sneakers, boots and socks for men, women, and kids will be distributed locally to the Milwaukee Rescue Mission/Joy House, Repairers of the Breach homeless day shelter in Milwaukee, and Father Gene's HELP Center in West Allis. The remainder of the shoes will be given to Soles4Souls, a global not-for-profit organization that distributes shoes to impoverished people in over 125 countries around the world.
According to Megan Sajdak, marketing director for Stan's Fit For Your Feet, "Customers will also be able to round up their in-store and online purchases to benefit these three deserving local Milwaukee charities participating in Share A Pair Shoe Drive.  It's just one more way we thought we would continue to help those less fortunate in our community," said Megan Sajdak, director of marketing for  Stan's Fit For Your Feet. 
Anyone donating gently used or new shoes, sneakers or boots or new socks to the "Share-A-Pair" drive will also receive $10 off their next regular price men's and women's shoe purchase valid through the end of February at any Stan's Fit For Your Feet or New Balance Milwaukee location. 
Sajdak adds that "The community can also get to know our charity organizations better by tuning into our Facebook Live events on February 9, 17 and 23 at 7 pm, and watching video profiles about them on our website Stansfootwear.com. Now more than ever it is so important for us to spread kindness."
Since its inception 16 years ago, Stan's Fit For Your Feet's annual "Share-A-Pair" shoe drive has collected more than 310,000 new and gently-used pairs of shoes from Greater Milwaukee residents. For more information on the "Share-A-Pair" shoe drive, visit www.stansfootwear.com or call 262-432-4030. 
About:
Stan's Fit For Your Feet and New Balance Milwaukee are locally-owned and operated. They have been in business since 1950 and specialize in bringing style and comfort to Milwaukee from around the world. Stan's Fit For Your Feet's three stores are home to Wisconsin's largest collection of regular and hard-to-find shoe sizes. In 2013, the National Shoe Retailers Association named Stan's Fit For Your Feet and New Balance Milwaukee the National Footwear Retailer of the Year. The company was also named one of Southeastern Wisconsin's Top Ten Businesses of the Year in 2014 and Best Shoe Store by Shepherd Express in 2014, 2017, 2018, 2019. Since 2008, Stan's and New Balance Milwaukee have been named Milwaukee's Best Shoe Store on Milwaukee CityVoter and their Brookfield store was named 2017 Business of the Year by the Brookfield Chamber of Commerce.