I have lived in Wisconsin my whole life. As a child February was all about Valentines and sledding. What do you think of when you think of February? Valentine's Day and candy hearts? Snow and cold? Getting out of dodge and hopping on an airplane? At Lake Country Family Fun, we love living in Wisconsin, and we believe in family fun year-round!
Now as an adult and parent, when I think of February, I think of all of those things cold weather: snow, sledding, ice skating, and Valentines Day, too. Which can be so much fun; it's all about your mindset.
In Wisconsin, there is lots of family friendly fun to be found, because winter is 8 months long. 🤪 Ha! It sure feels like it some days. Luckily, Lake Country Family Fun has looked for you, sifted through the information, and organized 20 fun things to do with your family in February!!
Check out these fun events below that take place in and around town this month to fight the winter blues.  For even more fun don't forget to check out Lake Country Family Fun's huge event calendar and indoor play guide!
20 Family Fun Things to Do In February!
1 – Take a day trip (or virtual trip) to Milwaukee and save $$$ with these FREE events this February!
Top 4 library event picks:

Puzzle Exchange Feb 1- 28 at the Oconomowoc Public Library
Take it Home – Harry Potter Book Night with the Pauline Haass Public Library
Teens can pick up a February Craft (cardmaking kits) at the Waukesha Public Library (while supplies last)
Valentine's Crafts at the Delafield Library
Lake Country Family Fun is about getting out and being active in the community through connection. Let's face it, most people HIBERNATE IN WINTER, but that can lead to feelings of isolation. If you are looking for mom friends to meet up with or little ones for your children to play with, check out our MOMS GROUP AND PLAY GUIDE sponsored by CROSSPOINT COMMUNITY CHURCH IN OCONOMOWOC, featuring over 30 different groups. Our guide is divided up between community groups, church affiliated groups, and library play groups. There is a group for everyone. And if you are feeling isolated, do not hesitate to reach out to us at Lake Country Family Fun!
4 – Check out a Winter Farmers Market.
5 – Attend the Virtual Wildlife Meet and Greet at the Wildlife in Need Center
Join the Wildlife in Need Center for their February wildlife meet & greet event from 10-4.  
The Wildlife In Need Center (WINC) is hosting a Virtual "Whooo Loves


Wildlife?!" a Valentine's Day themed Meet & Greet.
Win an awesome Valentine themed Prize Package this year for you and your sweetie! Prizes include items from:
- Sweet P's Pantry
- Ingleside Hotel
- Beth Boyke Photography
- Relationship Counseling "For Love of You" with Allison Orlovsky
-The Hive Taproom
-The Flower Garden
-The Corners of Brookfield

7 – See a movie for CHEAP!!
Catch a

Tuesday $5 movie

at select Marcus Theatres and/or the Movie Tavern Brookfield!
8 – Have a date night out (or in) Friday, February 5th. 
Get details on the MobCraft Beer + Birch & Banyan Scone Pairing and Pop-up Bottle Shop & Taproom event. 
9 – Enjoy a parents night out!
10 – Tour (and fall in love with) a preschool

11 – Attend a Winter Themed Candlelight Hike in Pewaukee. 
Take a luminary hike this February 20-21 in Pewaukee at Dayspring.
Registration info here.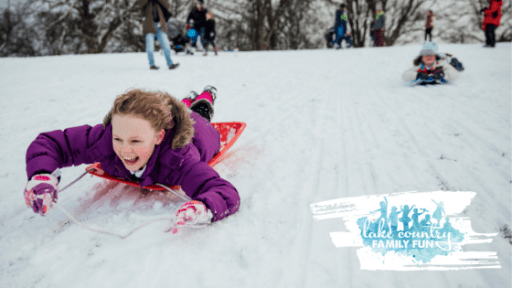 Check out Lake Country Family Fun's Wintertime Fun Guide to have some sledding, ice skating, and tubing fun! *Sponsored by Waukesha County Parks.
13 – Have a Winter Family Fun Day – Toboggan Style!
Try out the toboggan at Lowell Park in Waukesha. 
The Toboggan Run will be open on select days/times starting December 28, 2020.  Closing date is February 27, 2021. Registration is required!  More info here.
14 – Take your family to a Winter festival!
15 – Be one with nature.
16 – Take a road Trip.
Do your kiddos have off of school this month? Take a long weekend and tour WI. Pick a direction with our WI Road Trip Guide.
Read up on some of our travel tips: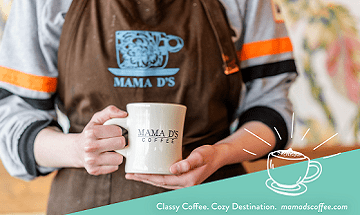 Find all the wonderful independently owned coffee shops in the greater Waukesha County area. This guide is sponsored by Mama D's Coffee with locations in Wales, downtown Waukesha, and Genesee Depot.
18 – Get a Valentine Strawberry or Cocoal Cream Puff from State Fair!
Preorder by February 7th for a deal. Details here.
19 – Find 2 places you can take a Sleigh Ride!
Take a sleigh ride at Apple Holler in Sturtevant.

Call 262-884-7100 to make your reservation or order your horse-drawn sleigh ride gift certificates today.
Reservations Required.
$100 (plus tax) for the first 4 people
$20 (plus tax) for each additional person
Take a sleigh ride at Hoofs Beat Express in Oconomowoc

Come for the 40 minute ride and stay for the hot chocolate and cookies while enjoying the small carriage collection in our warmed barn.
Sleigh rides on our 115 acre farm.
Our largest sleigh carries 12 passengers with a minimum booking of 6 riders.
Call (262) 853-9801
20 – Try out a new to your family indoor play place.
Lake Country Family Fun's indoor play guide, features SO MANY local fun places to play inside. Try a new venue out this month!
Many thanks to Lake Breeze Realty for sponsoring this guide in 2021!
Indoor Fun at the Mullet Ice Center (see flyer below):
We hope we inspired you to have some
February Fun with your family!
What are you most looking forward
to this February?