Our family loves visiting the Wisconsin Dells any time of year!  There are so many attractions you're sure to find something to please even the toughest critic in your family.  In cooler temps we enjoy hitting some of the indoor water parks in the area.  We love that MooseJaw pizza has allergy-friendly options. We have compiled a list of 10 Wisconsin Dells Hotels and Resorts for you to check out this Spring Break! 
Please thank our Guide Sponsor, The Wilderness Hotel in Wisconsin Dells. The Wilderness Resort offers endless opportunities for fun for kids of all ages.  
As you plan for travel with your family in Wisconsin, check out our awesome resources:
10 Places to Stay with Your Family in The Wisconsin Dells
Listed in no particular order.
Wilderness Resort offers endless opportunities for fun for kids of all ages. To read about the resort's Safer at Play COVId-19 Safety Precautions please visit WildenessResort.com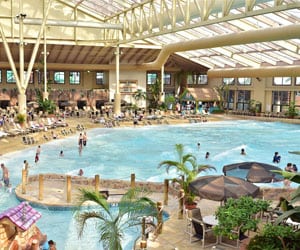 Wilderness Hotel and Golf Resort 
444 Double Queen with sofa sleeper or King Size with sofa sleeper hotel rooms
Wilderness on the Lake (condo resort overlooking Lake Delton)
108, 2 and 3 bedroom fully furnished condo units
Glacier Canyon Lodge (condo resort adjacent to main resort)
460 fully furnished condo units available in double queen, 1, 2, or 3 bedroom configurations
Vacation Villas- 40, 2 fully furnished bedroom units
Cabins – 35 fully furnished 3, 4 and 5 bedroom units
Frontier Condos-  76 fully furnished 3 or 4 bedroom units
2. Great Wolf Lodge
Find a groupon here
Huge waterparks – indoor and outdoor
Neat feature: the wrist bands are used as a card to charge stuff with, unlock outside doors, and you use it to get in your room.
3. Chula Vista
Spend your SpringBreak with them and Save up to 30% on your hotel suite! Stay Two Nights and Save 20% or Stay Three Nights and Save 30% when you stay this March or April! Waterpark

passes are included for all registered guests.
4. Kalahari
Per a comment in our facebook group, "We took our kids to the Kalahari at age 1 and nearly 4. They couldn't do a lot of the big slides, but it was nice that the water park was all in one area. They had a blast!"
Kalahari Resort & Conventions are full service vacation destinations including meeting & convention facilities that combine America's largest indoor Waterparks with the magic of Africa.
Tom Foolery's Adventure Park offers tons of fun
5. Mt. Olympus
Room Rates 50% Off when you pay now! (no blackout dates)
Water & Theme Park is Free with your Stay!
Tubing, Skiing & Snowboarding Included Free with your Stay!
Demeter's Mini Putt Putt Included with Stay!
You'll receive a Bonus Day at our Parks upon Check out!
Free Parking
6. Natura Treescape Resort
Large range of lodging options: riverfront boutique rooms, family suites, getaway homes, treehouses, rustic cabins, tiny homes, well-appointed hotel rooms and RV camping.
Wisconsin Dells' first Natural Lagoon located at American Resort & Treehouses. This one-of-a-kind water feature will be the first Natural Waterpark consisting of 250,000 gallons of naturally filtered water. The lagoon will be natural as a lake and crystal clear like a pool, but without harsh chemicals, using the self-cleansing principles of a wetland bog, plants instead of chemicals. A true natural retreat with water as nature intended.
7. Polynesian Water Park Resort
"Great price and perfect for younger kids"
Find a groupon here.
8. Wintergreen Conference Center
Exhilarating water slides are fun for teens yet safe for toddlers which is why families return year after year.
9. Grand Marquis Waterpark Hotel and Suites
indoor pool, indoor water park, and 3 hot tubs
10. Atlantis Waterpark Hotel
This hotel is a personal favorite for the Cutler family who love saving money but still letting there 3 kids (under 8 years old) have a great time!
Their waterparks are geared to kids under 11 and feature toddler slides and lap pools. They feature tube slides, water basketball, spray fountains in the indoor pool areas. Steamy poolside whirlpool and HUGE ticket redemption game room. They offer FREE Wi-Fi to all our guests. They have NEW bunk bed suites, perfect for the kiddos! Almost all rooms have balconies. Last, but not least, all rooms include a mini-fridge and microwave.
Photo from the Great Wolf Lodge
Where do you love to stay in the dells?
Join the conversation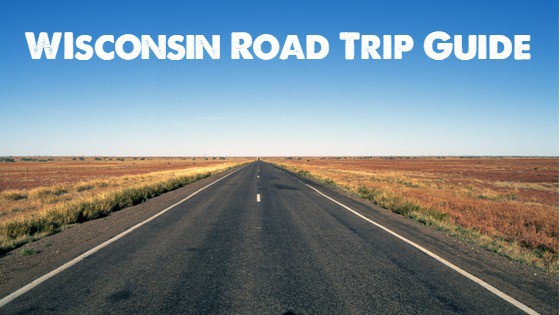 Sponsored by Kwik Trip, be a tourist in your own state. There is so much to see and do here!
Martha shares tips for traveling with kiddos on a road trip and on a plane.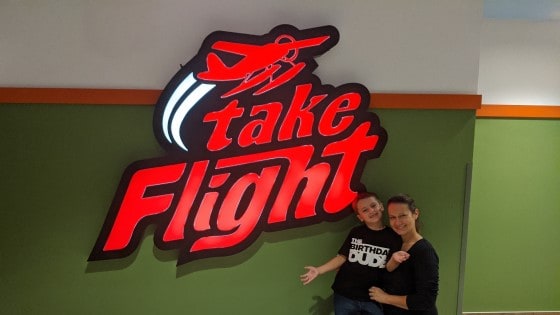 We tried and LOVED the amazing Take Flight expereience at the Wilderness.