3 THINGS TO KNOW REGARDING ICE CASTLES IN WISCONSIN
– ICE CASTLES OPENS on SATURDAY, JANUARY 22nd, 2022
– TICKETS GO ON SALE on WEDNESDAY (1/19) at NOON.
Note: If you bought priority booking vouchers, be sure to check your email.

-SAVE 15% OFF WHEN USING LCFF EXCLUSIVE CODE BELOW
– Ice Castles will open February 24-February 27, 2022 giving you one last chance to experience the magic of winter before it melts for the season.
WHEN TICKETS ARE AVAILABLE USE CODE 
FAMILYFUN2022
to get 15% off. 
Ice Castles is coming back to Lake Geneva in January 2022! Hooray!

What is Ice Castles?
Ice Castles is an awe-inspiring, must-see winter phenomenon that brings fairy tales to life. The frozen attraction is located in six cities across North America. The experience is built entirely by hand using hundreds of thousands of icicles hand-placed by professional ice artists. The castles include breathtaking LED-lit sculptures, frozen thrones, ice-carved tunnels, slides, and fountains.
Ice Castles was founded by Brent Christensen, a Utah father of six who was looking for ways for his family to enjoy the outdoors together, even in winter. He created an ice cave in the front yard of their home, which ultimately brought out more than just his own children. Ice Castles is now an internationally renowned experience with six locations in cities across the United States and Canada and growing.
---
Ice Castles in Wisconsin – Lake Geneva
Lake Country Family Fun is so excited to see the Ice Castles returning to Lake Geneva! They will be at the same location as last year: GENEVA NATIONAL RESORT AND CLUB. Get excited! Ice Castles is a great fun family time.
When you visit the Ice Castles in 2022, we'd love to see your family's photos! So tag us on Instagram @lakecountryfamilyfun and use the hasthag #icecastles and #LoveLCFF.
---
When Ice Castles OPEN for the Season
Ice Castles coming back in January 2022!
For communication right to your email, sign up for Lake Country Family Fun's newsletter and subscribe to Ice Castles information by going here. Again, it is very important to remember that Ice Castles is a totally weather-dependent attraction and may close based on conditions various days.
When you buy TICKETS, use code
FAMILYFUN2022
to get 15% off tickets online!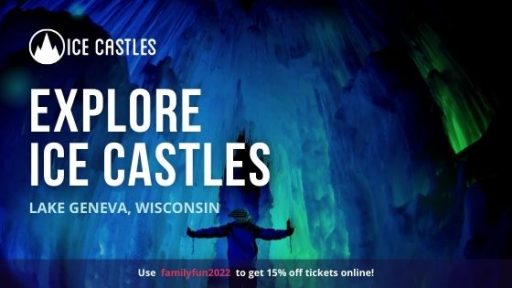 ---
Getting There
Ice Castles are located 1221 Geneva National Avenue South in Lake Geneva. From Pewaukee, it took me about 50 minutes to get there. Parking is free at the Geneva National Resort and Club. There are plenty of Ice Castles staff to assist you entering the property, parking, and getting to the actual Ice Castles. You won't miss the signs leading up to the event.
---
Tips for Your Visit
Bring boots! NO joke! I saw a lady in heels. I almost jokingly asked if she'd worn them as ice picks – ha! Warm, winter boots all around. It's cold, icy and wet.
Make a day, night or weekend of it! Stay at THE Ridge with your family or the Inns with a group. Details and deal info here.
Don't bring a stroller, instead opt for a sled. Strollers will not work. Bring your own sled. Ice Castles does not provide sleds for guests.
Bring your camera. These make for some great photo ops. Post your photos to #icecastles (but leave your tripods at home).
Buy tickets online to save money and then have them sent right to your phone so you don't have to remember or waste paper.
Bring cash or credit if you are hungry or thirsty. You can purchase a snack or drink right in and outside of the Ice Castles.
Check their FACEBOOK page before going. In case of warmer weather, they told me they may possibly need to shut down due to slush, but will be up and running when the temperature goes back down. Therefore, they suggest checking their Facebook page for updates related to weather.
2021 Ice Castles Giveaway
LCFF GIVEAWAY DEC 22 – Jan 3
Lake Country Family Fun is excited to give away 2, family 4-packs of tickets to the Ice Castles in Lake Geneva in 2022. See the giveaway disclosures and fine print at the end of this post on the bottom of the page. Two (2) winners will be contacted on Jan 4th.
The giveaway has ended on Jan 3, 2022.
Be sure to LIKE the Ice Castles Facebook page.

This Giveaway will run December 22nd, 2021 – January 3rd, 2022.
---
---
You can read more about The Ridge hotel here, including details how to book for your stay-cation when you visit the Ice Castles in Lake Geneva.
Like them on Facebook and Instagram.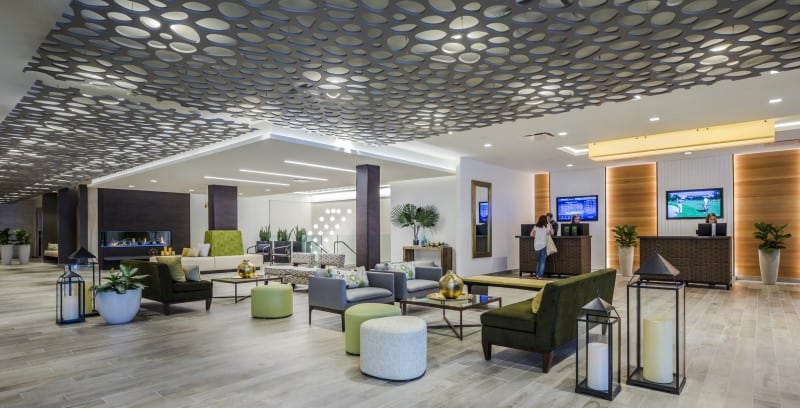 Use #icecastles and #lovelcff when you visit so we can see your photos!
---
Sneak Peak
Lake Country Family Fun attended the Ice Castles in the final construction stages on January 18th, 2018. We met with Paul. Check out the interview and sneak peak.
Comment and join the conversation on this Facebook Live here.
See our trip review for when we attended Ice Castles in Wisconsin Dells a few years ago here. There are many tips for attending in this post.
---
Make it a Stay-Cation
Lake Country Family Fun visited two Lake Geneva hotels – THE Ridge and the Inns in past years. You can read our reviews here. If you want to make a stay-cation out of your visit, we highly recommend these hotels. The Inns is especially good for groups. THE Ridge is simply amazing and offers TONS to do (igloo experience, ice skating, Crafted Americana Restaurant and more). If you are just coming to town for the Ice Castles, the Ridge has an awesome coffee shop (Bean + Vine Coffee and Wine Bar) where you can grab a hot treat. Ice skating at the Ridge is also FREE if you bring your own skates (and you don't have to be staying there to skate) or a small fee to rent for non-hotel guests (for hotel guests, skate rental is complimentary).
Five Fascinating Facts
Ice Castles weigh more than 25 million pounds!
Ten thousand icicles are hand-placed every day.
More than 1 million visitors since 2011.
Ice Castles is made entirely of ice.
Each Ice Castle takes more than 4,000 man hours to build.
---
Ice Castles Ticket Prices
2022 prices
Monday-Thursday
Online- General Admission (12+): $21 Child (4-11): $16
Friday-Sunday
Online- General Admission (12+): $27 Child (4-11): $22
*Holiday Pricing is the same as weekend pricing (January 17, February 22)
** 0-3 Year olds are free – not required to have a ticket
Tickets MAY be available on-site if Ice Castles is not sold out. On-site prices are subject to higher rates. For guaranteed entry and the lowest price, buy tickets online in advance.
**Ticket sales are final. Ticket dates and times may be changed as long as changes are made at least 24 hours in advance. Please take this into considerations if there is inclement weather imminent or if you have a sudden change of circumstances.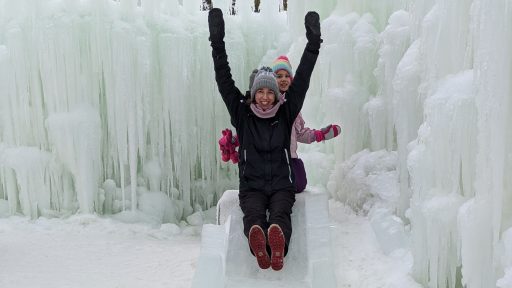 ---
Ice Castles Contact Information
Ice Castles – Lake Geneva
1221 Geneva National Avenue South, Lake Geneva
Contact Form
Facebook
Website
---
Other: Entrants must be 18 years or older at the time of entering the giveaway. Entrants must be located in the U.S. The winner will be selected at random and notified via the email that was submitted. Winner must respond within 48 hours to claim their prize, or another winner will be chosen. Only one entry person. Duplicates will be deleted.
Ice Castle Tickets: Ticket codes will be provided to the winning individuals. Code will be used to book online. Subject to availability.
Disclosure: Many thanks to Ice Castles for providing the giveaway items. See DISCLOSURE AND PRIVACY POLICY here. The winner may be congratulated on Facebook or Instagram (with the official prize notification going through email). For giveaways that are announced or promoted on Facebook or Instagram, please note that these promotions are in no way sponsored, endorsed or administered by, or associated with, Facebook or Instagram.