What is Ice Castles?
Ice Castles is an awe-inspiring, must-see winter phenomenon that brings fairy tales to life. The frozen attraction is located in six cities across North America. The experience is built entirely by hand using hundreds of thousands of icicles hand-placed by professional ice artists. The castles include breathtaking LED-lit sculptures, frozen thrones, ice-carved tunnels, slides, and fountains.
Ice Castles was founded by Brent Christensen, a Utah father of six who was looking for ways for his family to enjoy the outdoors together, even in winter. He created an ice cave in the front yard of their home, which ultimately brought out more than just his own children. Ice Castles is now an internationally renowned experience with six locations in cities across the United States and Canada and growing.
---
Ice Castles in Wisconsin – Lake Geneva
Lake Country Family Fun has confirmed with the Ice Castles Marketing Director that Ice Castles is coming to Wisconsin in 2018/2019 and specifically LAKE GENEVA!!! Get excited!  Ice Castles is a great fun family time. The Ice Castles have begun construction and hope for a late December/Early January opening.
We will continue to update information in this post as it becomes available, but here is what we know so far and what we have in store for you. So check back here for your updated Ice Castles Lake Geneva information!
---
When Ice Castles OPEN for the Season
We will announce when Ice Castles will be open and when tickets go on sale. The tickets should go on sale in early December.  For communication right to your email, sign up for Lake Country Family Fun's newsletter and subscribe to Ice Castles information by going here and click the purple box on right that says, "Stayed Updated!" It is very important to remember that Ice Castles is a totally weather-dependent attraction.
---
Getting There
Ice Castles are located at 812 Wrigley Street in Lake Geneva on the shores of Lake Geneva!  Ice Castles will hopefully be open late December early January but it all depends on the weather.  More details coming. Metered parking is available along the beachfront. Metered parking and parking lots are free from November 15 – February. Additional free parking is located several blocks in on smaller side streets.
---
Giveaway Time
Lake Country Family Fun is excited to give away 2, family 4-packs of tickets to the Ice Castles in Lake Geneva.  Additionally, one of those families will ALSO receive a COMPLIMENTARY one-night stay at The Ridge Hotel, $100 dining credit to Crafted Americana, and transportation to/from the Ice Castles – the Grand Prize!  WOW!  Many thanks to Ice Castles and The Ridge Hotel for the giveaway items.
To Enter: 
Enter your name and valid email address in the form below. *We will contact the winner via the email submitted.
Be sure to comment on THIS FACEBOOK POST with 3 people you think would LOVE to experience the Ice Castles Lake Geneva.
Be sure to LIKE the Ice Castles WI Facebook page and The Ridge Facebook page.
Only one entry per person. Duplicate entries will be deleted. Giveaway runs December 3, 2018 and ends December 16th at 11:59 pm (CST).
Lake Country Family Fun will pick the first winner on December 10 and the grand prize winner on December 17th. 
You can read more about The Ridge hotel here, including details how to book for your stay-cation when you visit the Ice Castles in Lake Geneva.
Like them on Facebook and Instagram.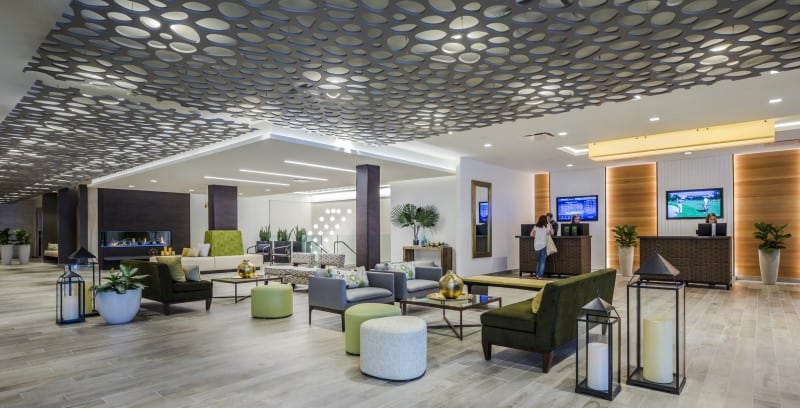 Use #icecastles and #lovelcff when you visit so we can see your photos!
---
Sneak Peak
Lake Country Family Fun will attend and report back to you on what you can expect for your trip to Ice Castles in Lake Geneva.
See our trip review for when we attended Ice Castles in Wisconsin Dells two year ago here. There are many tips for attending in this post.
---
Five Fascinating Facts
Ice Castles weigh more than 25 million pounds!
Ten thousand icicles are hand-placed every day.
More than 1 million visitors since 2011.
Ice Castles is made entirely of ice.
Each Ice Castle takes more than 4,000 man hours to build.
---
Ice Castles Ticket Prices
<Early Bird Tickets are available!>
Monday-Thursday
Online- General Admission (12+): $15.95 Child (4-11): $10.95
Walkup (Standby)- General Admission (12+): $20 Child (4-11): $15
Friday-Sunday
Online- General Admission (12+): $18.95 Child (4-11): $14.95
Walkup (Standby)- General Admission (12+): $25 Child (4-11): $20
*Holiday pricing is the same as weekend pricing (Dec. 26-28, Jan. 1, Jan. 21, and Feb. 18)
** 0-3 Year olds are free – not required to have a ticket
***Prepaid ticket holders receive priority entrance before Standby. Standby Tickets are NOT guaranteed – you risk not being able to enter if you do not have a pre-paid ticket.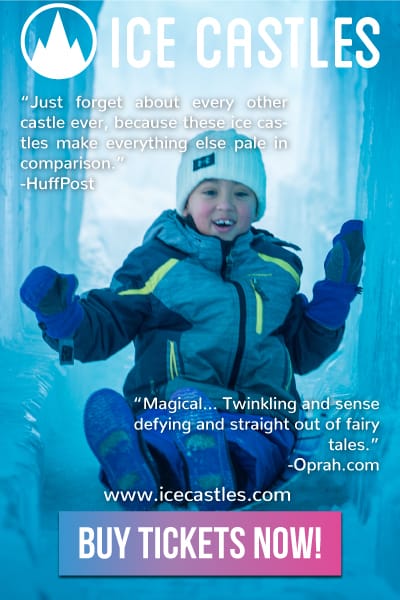 ---
Ice Castles Contact Information
Ice Castles – Lake Geneva
812 Wrigley Street, Lake Geneva
Contact Form
Facebook
Website
---
Other: Entrants must be 18 years or older at the time of entering the giveaway. Entrants must be located in the U.S. The winner will be selected at random and notified via the email that was submitted. Winner must respond within 48 hours to claim their prize, or another winner will be chosen. Only one entry person. Duplicates will be deleted.
Ice Castle Tickets: Ticket codes will be provided to the winning individuals. Code will be used to book online. Subject to availability. 
The Ridge Hotel: The prize package includes 1, one-night stay to be booked by 12/31/2018 for no a date no later than 2/1/2019.  The hotel stay is subject to availability.  The maximum number of persons in a room may not exceed four. Dinner at the Crafted Americana is included in the form of a $100 gift card. Shuttle transportation from the hotel to/from the Ice Castles will be available at the hotel for all guests.  
Disclosure: Many thanks to Ice Castles and The Ridge Hotel for providing the giveaway items. See DISCLOSURE AND PRIVACY POLICY here.  The winner may be congratulated on Facebook (with the official prize notification going through email). For giveaways that are announced or promoted on Facebook, please note that these promotions are in no way sponsored, endorsed or administered by, or associated with, Facebook.