Disclaimer: Lake Country Family Fun received admission to the Ice Castles in exchange for their honest review of the experience. This is an honest portrayal of the experience in their own words.  
Many thanks to the Ice Castles Team for partnering with Lake Country Family Fun to provide passes to our Lake Country Family Fun readers.
Our Visit
I strongly recommend going to visit the Ice Castles. They are an amazing work of ART to experience in person! With them being so close to us (this is the first time they are in Wisconsin), how can you not?!  Let me tell you about our visit….
Our family had a great visit to the Ice Castles opening weekend in the Wisconsin Dells! We decided to make a night of it. We stayed at an indoor water park Saturday night, had lunch at one of our favorite local restaurants, and then headed to the Ice Castles around 1:00pm on Sunday.  Here were my initial thoughts: the parking lot was crowded, and the castles looked small from the road.  Oh boy. But wow, was I taken by surprise!
We reserved our tickets online and had them sent to my smartphone. So, we walked up to the pre-order line and had ZERO wait! Then, we signed the liability form on their i-Pad, and we went right in again with no line.  There were a lot of people there, but it was SO big that once you got inside, there was plenty of room and then some!  I was surprised by how much there was to see.  We didn't even get to all the areas.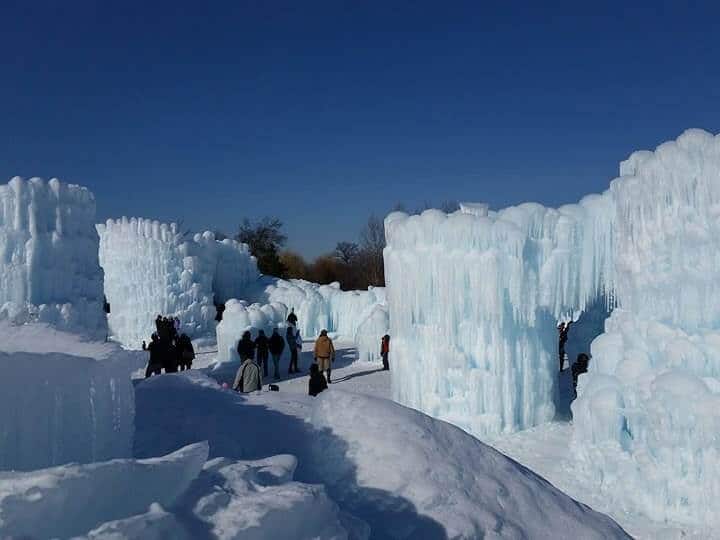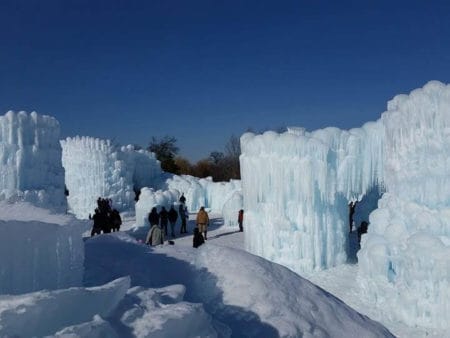 Our boys liked being pulled in the sled. It was special for them.  There were bumps in the snow (from all the people walking around), so it wasn't a super smooth ride, but it totally worked! They really liked walking around too. There was open space, various caves with different ways to go, a maze, and even an ice tunnel you could crawl through (I did NOT do this – too claustrophobic for me).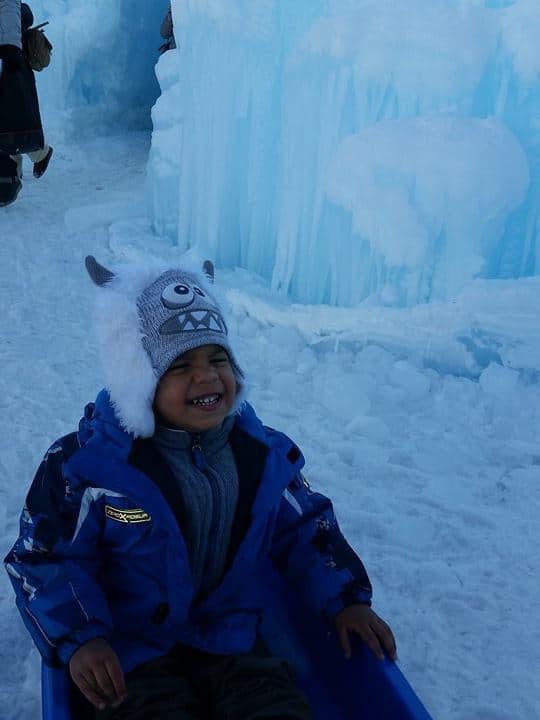 When my husband was off playing with the kids, I would stop in awe and just look around.  What an amazing spectacle!  Truly fascinating.  We went during the day, and I LOVED the way the sun sparkled through the ice. I wish we could have seen the Ice Castle at night too, but I liked it during the day. They have buried hundreds of lights in the ice that sparkle and shimmer at night. In the day, you really get to see the fine details. It's a win-win whatever time you go. If we could have stayed longer, we may have done a later afternoon visit near sunset to see both.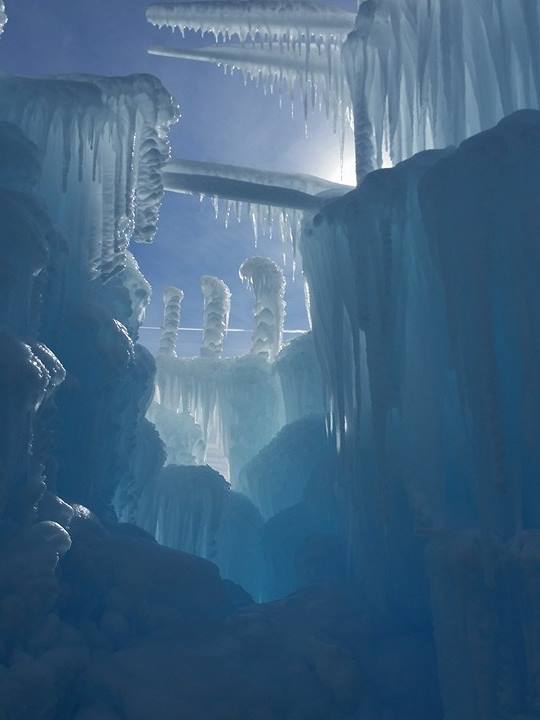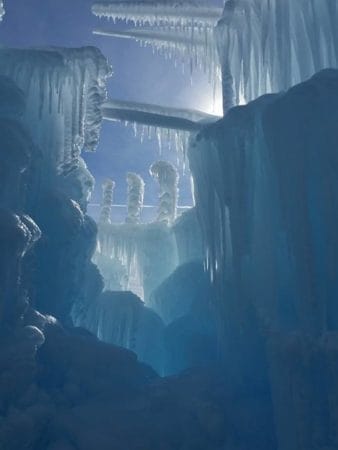 A nice, interactive feature was the ice slide. The line looked a little long, but it was probably only 20 minutes. My older son and I went down the slide, while my husband and 2 year old watched from the bottom. I'm glad we did the slide – it was a blast.  When can you say you've been down a fully enclosed ice slide!?!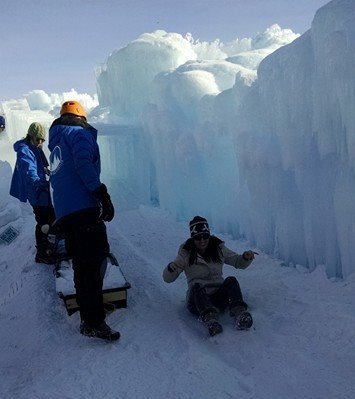 I could have spent 2 hours there, easy.  My husband and kids got antsy after a full hour, but it was mainly because it was nap time and we had an hour and a half drive back ahead of us.
A nice touch was the classical music they had playing in the background. It was sophisticated, and it was really the only type of music appropriate to accompany the grandiose piece of artwork that the Ice Castles were.
One of the things that stood out to me the most was the workers. Specifically, how nice they were and how really passionate they were about the Ice Castles. You could tell the labor of love that went into creating them.  They were so happy to share the experience with others and see the joy on our faces!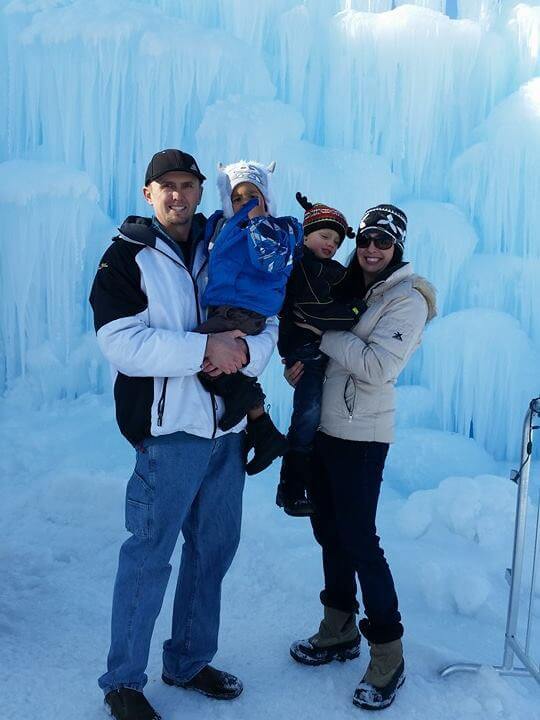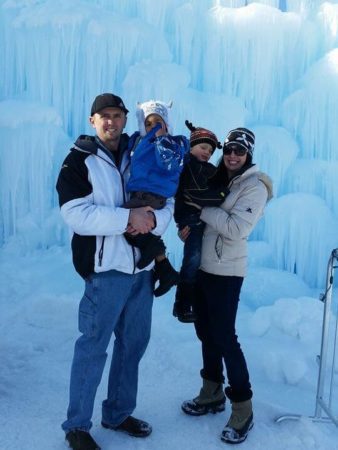 Tips for Your Visit
Bring boots! NO joke! I saw a lady in heels. I almost jokingly asked if she'd worn them as ice picks – ha!  Boots all around. It's cold, icy and wet.
Make a day, night or weekend of it!  Although Lake Country is only an hour and a half from the Ice Castles, it still makes for a three hour drive round-trip, so if you can, stay for a long day or night or weekend!  There is a lot to do in the Dells (indoor waterparks, hotels, shops, restaurants), but I don't have to tell you that.
Don't bring a stroller, instead opt for a sled.
Bring your camera. These make for some great photo ops. Post your photos to #icecastles (but leave your tripods at home).
Buy tickets online to save money and then have them sent right to your phone so you don't have to remember or waste paper.
Check their Facebook page before going.  With some upper 40's coming in the next week, they told me they may possibly need to shut down due to slush, but will be up and running when the temperature goes back down. Therefore, they suggest checking their Facebook page for updates related to weather.
For more Information about the Event at the Dells
Go to their website.
Check them out on Facebook.
Buy tickets online.  Note: You specify an ARRIVAL window.
Hours
Mondays, Wednesdays & Thursdays from 3-9pm
Saturdays – Noon to 10pm
Sundays – Noon to 8pm
Note: Closed on Tuesdays.
Admission
Online $12.95 / Kids 4-11 are $8.95 / Kids 3 and under are free
At the Door $18 / Kids 4-11 are $12 / Kids 3 and under are free
Giveaway Time: Win a family 5 pass!!
One lucky Lake Country Family Fun reader will each receive a 5-pack pass to the Ice Castles – Wisconsin Dells! The winner will be announced on Saturday, January 21st. There are only FIVE locations this year to view these amazing ice castles! How cool that they are in our home-state and less than two hours away.
To Enter:
Simply enter your name and valid email address in the form below. *We will contact the winner via the email submitted.
Only one entry per person. Duplicate entries will be deleted. Giveaway ends January 20, 2017 at 11:59 pm (CST)
This Giveaway is now closed.
Congratulations to our winner:  Nicole K.!! 🙂
Other: Entrants must be 18 years or older at the time of entering the giveaway. Entrants must be located in the U.S. The winner will be selected at random and notified via the email that was submitted. Winner must respond within 48 hours to claim their prize, or another winner will be chosen. Only one entry person. Duplicates will be deleted.
Disclosure: Many thanks to the Ice Castles Team for partnering with Lake Country Family Fun to provide passes to our Lake Country Family Fun readers. See disclosure and privacy policy here.  The winner may be congratulated on Facebook (with the official prize notification going through email). For giveaways that are announced or promoted on Facebook, please note that these promotions are in no way sponsored, endorsed or administered by, or associated with, Facebook.
Enjoy the Ice Castles!