Lake Country Family Fun lodged at and reviewed two Lake Geneva hotels in winter of 2019!  If you are looking for a place to stay to make a "stay-cation", we'd highly recommend these hotels. 
ABOUT:
Recently redesigned with a sleek midcentury-modern interior, the TripAdvisor-lauded Ridge Hotel features the sumptuous Crafted Americana restaurant, tech-savvy lobby with coffee and wine bar, backyard veranda with sports bar and fire feature, indoor and outdoor pools, a fitness center, outdoor ice rink, marina, live weekend entertainment, and in-season access to Geneva National's legendary golf. Visit their WEBSITE. 
"As we pulled in we were greeted by the gorgeous white holiday twinkle lights that line the exterior roof line and wrapped the tree trunks along the front of the property....Our family thoroughly enjoyed our stay at THE Ridge Hotel and we can't wait to visit again!"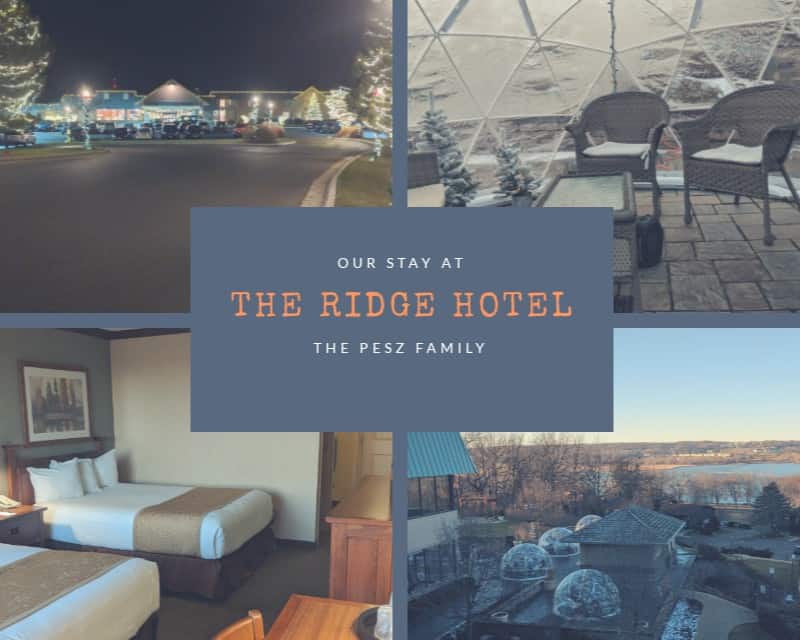 REVIEW: 
Paloma Resort Properties owns and manages two Lake Geneva properties:  Geneva National Resort & Club and THE Ridge Hotel.  In exchange for an honest business review, Paloma Resorts provided Lake Country Family Fun a complimentary stay at THE Ridge Hotel at THE Ridge.  Megan Pesz and her family stayed at THE Ridge in early January and they thoroughly enjoyed their stay – it exceeded their expectations…read on!  
Arrival at the Beautiful Ridge Hotel
We arrived for our stay at the beautiful Ridge Hotel in Lake Geneva around 3 pm.   As we pulled in we were greeted by the gorgeous white holiday twinkle lights that line the exterior roof line and wrapped the tree trunks along the front of the property.  Our family was excited to see what the inside of THE Ridge Hotel had in store for us! We parked our car and left our bags behind!
A Lobby to Impress
As we entered through the front entrance we were impressed by the expansive open hotel lobby.  There are several sitting areas placed throughout the lobby. You are sure to find a spot to fit your needs!  To the right at the far end is a sitting area with two large white L shaped couches. The couches flank two wall mounted TV's.  Here is a great place to catch up on anything from news to sports or your favorite reality show. A conversation area sits behind the couch section near a beautifully modern see through glass fireplace.  I love the fact that within the gas fireplace were what appeared to be pieces of drift wood. It helped add a warm rustic feel the modern clean lines of the lobby. Definitely a great place to pull up a chair and read your favorite book!  
Bean + Vine Coffee and Wine Bar
While you're at it, stop by bean + vine coffee and wine bar located just on the other side of the fireplace.  They are serving up Colectivo Coffee or your favorite Wisconsin Brew! That's right, you heard me! To the right of bean +vine's counter is a large wall refrigerator section.  Here you can find your favorite local Wisconsin wine or beer to purchase by the bottle or a 6 pack of beer. I am a born and raised Wisconsin girl! I absolutely love when establishments feature our home grown Wisconsin goodies!
Check-in and Cool Hotel Perks
We continued our way over to the check in desk.  There we were greeted by the friendly staff. We were efficiently checked in and given directions to our room.  I had a few questions about the ice skating rink THE Ridge has on the property. The rink is located at the front of the property just across the parking lot.   Ice skates are provided complimentary to guests staying at THE Ridge. If you have your own skates you are welcome to bring them along! For those not staying as a guest, you are able to rent skates at the front desk for $7.  If you aren't a guest but have your own skates, THE Ridge welcomes you to skate FREE of charge! Want a special treat while taking a break from ice skating? Enjoy rink side s'mores! You had me at s'mores! Sign me up please!  It hadn't even crossed my mind prior to arriving but due to the warmer temps the rink was closed. I most definitely want to stop back to enjoy the ice rink on our way to the Ice Castles!
Crafted Americana Restaurant
We weren't quite ready to head up to our room yet.  My son announced he was hungry and I couldn't agree more!  Since it was only around 3:30 pm we headed through the lobby to Crafted Americana.   From 2 pm – 4 pm there is a limited bar menu which was just what we were looking for!  The limited menu options featured a burger, sandwiches and a few appetizer selections. While reading the menu aloud, my cheese curd connoisseur son immediately chimed in at the sound of "cheese cu…"  "Yeah, cheese curds!" he said. So cheese curds it was. Let me tell you, they were delicious! These are not your typical breaded curd my friends! Oh no, they are a battered curd. Soft and chewy, the batter just melts in your mouth!  We ordered some drinks as well. He was delighted with his special drink, a Kiddie Cocktail.
Room Details
With full bellies we decided to go check out our room.  We headed up to the third floor to room 1309. We had the most amazing view of Lake Como and the Igloo Experience down below us.  Our son even said, "Mom, you can see the whole city from up here!" Our room had a warm homey feel. The décor was warm earth tones complete with wood accents at the ceiling.  The headboards were a washed looking rustic wood. We had two queen beds and nice sized work desk. There was a 4 cup coffee maker and accessories for us to use during our stay.  In the cabinet below the TV was a mini fridge for any beverages or small items you may like to keep cold. The TV was a flat screen and wall mounted. The rooms have Direct TV and also a Chrome Cast.  For our App happy family the Chrome Cast was a nice added touch. The warm earth tones carried into the bathroom. Like the rest of the establishment our bathroom was exceptionally clean. We were well stocked with towels which is a plus in my book!  The bathroom had a large rustic wood framed mirror above the granite countertop. The earth tone floor tile carried into the tile tub surround. I appreciate the luxurious feel while still having a tub to use for the kiddos.
Exploring the Hotel
While the boys settled in, I went to explore more.  On the lower level there is a spa, fitness center and indoor pool.  The pool is open from 7 am – 11 pm. The pool area is warm and spacious.  There is an attached sunroom with additional lounge chairs. This is a great place to catch some rays on a sunny winter day!  Not only does THE Ridge offer an indoor pool but an outdoor pool as well. Clearly the outdoor pool is closed for the season. I couldn't help but notice the rooms facing the lake on the lower level have their own patios.  What a great set up for a summer get away with the kiddos! You can literally walk out your patio door and down to the pool. How cool is that?!
Next, I headed outside to the back of the property.  There is a lovely patio complete with an expansive raised gas fireplace.  There are plenty of chairs lining the fireplace for all to enjoy. At the adjoining patio is where you can enjoy the Igloo Experience.  There are four Igloos total. Insider tip: The Igloo Experience is going on now through February and booking up fast! Call in advance to book.  The experience packages start at $55. They include a two hour time slot in your personal igloo. Each package includes food and drink. Additional drink services are available.  There is seating for 6 and a coffee table for your food and drinks inside. A personal heater keeps your Igloo toasty warm. If you need some extra warmth, each Igloo is equipped with a complementary blanket to use during your experience.  
Sad to Leave
Before check out the next day, we stopped at bean + vine coffee and wine bar to get our morning dose of caffeine.  I had my favorite, a Dirty Chai Latte. It was exceptional! I only wish I would have purchased a larger size. Our family thoroughly enjoyed our stay at THE Ridge Hotel and we can't wait to visit again!
Make it a Stay-Cation 

If you want to avoid any downtown parking hassles when you visit the Ice Castles, stay at THE Ridge Hotel, which provides a complimentary shuttle to/from the frosty fun! Book the hotel's Ice Castles overnight package (starting at $179 plus tax and resort fee) and also receive complimentary ice skate rentals and s'mores at THE Ridge on-site ice rink (weather permitting).  For details, visit: https://www.ridgelakegeneva.com/ice-castles-pkg/
If you need more space to accommodate your larger group, read Stephanie's review below about the Paloma's villas, The Inns of Geneva National.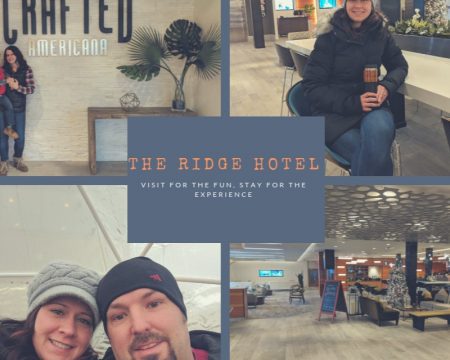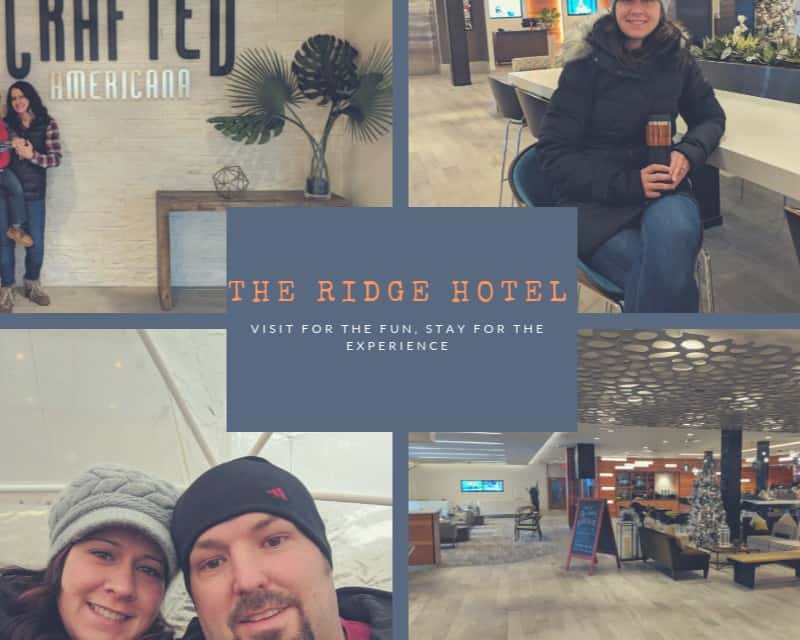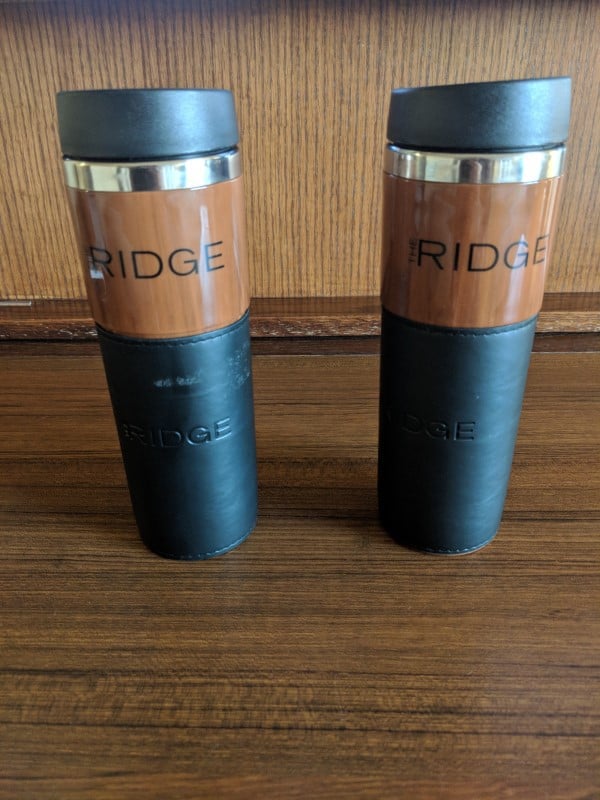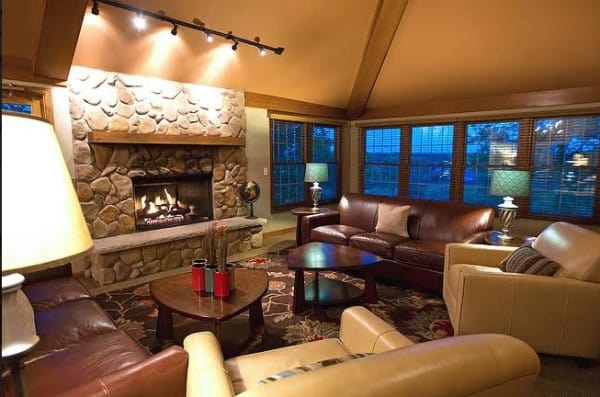 ABOUT:
Designed for the group golf experience but also perfect for wedding parties, corporate retreats and family vacations, the INNS OF GENEVA NATIONAL COMPLEX features six villas, each with six separately keyed deluxe guest rooms (bedroom + full bath) and luxurious common areas — including living, dining and recreation quarters as well as a full kitchen. Sliding doors open to an exclusive putting green and private outdoor patios overlooking the 18th fairway of Geneva National Golf Club's signature Gary Player course. Rent one Inn or rent all six for a total of 36 guest rooms.

"The Inns of Lake Geneva were perfect for our large group. We had the best times together in the amazingly beautiful common spaces, and we enjoyed our separate quarters which were fully equipped luxurious hotel rooms."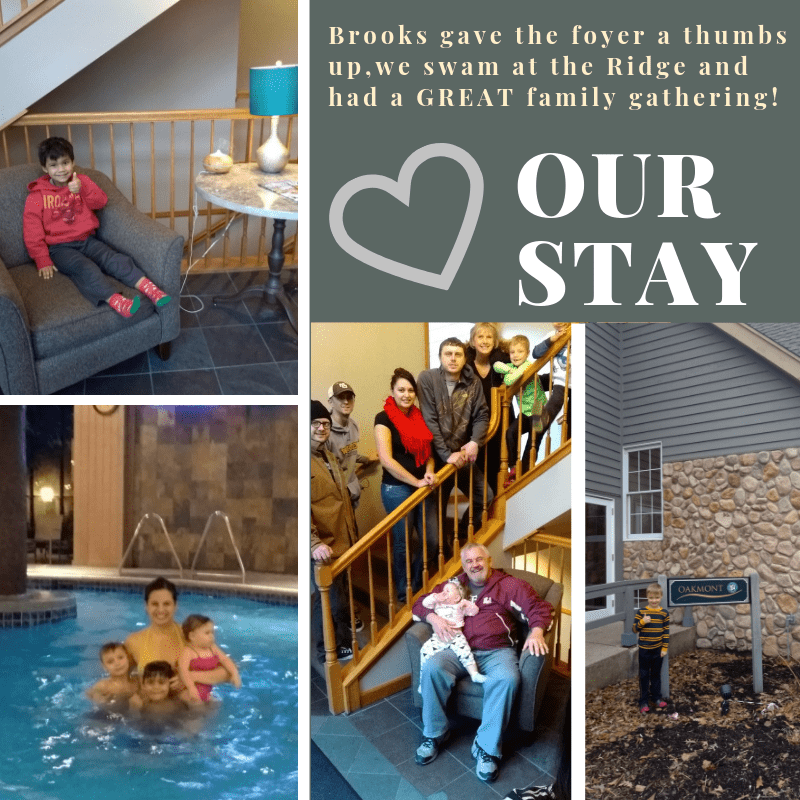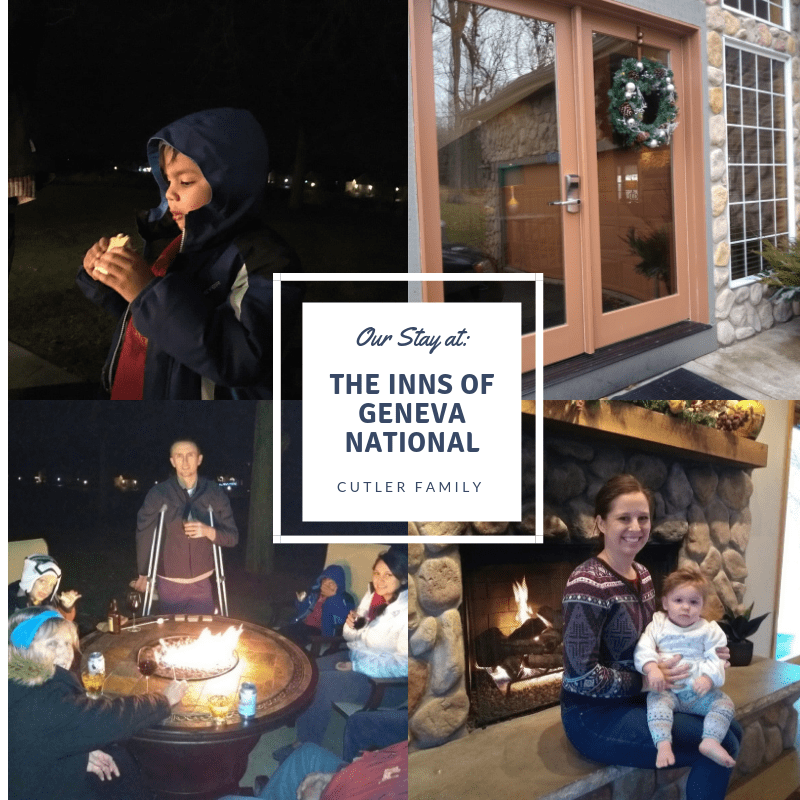 REVIEW: 
Paloma Resort Properties owns and manages two Lake Geneva properties:  Geneva National Resort & Club and THE Ridge Hotel.  In exchange for an honest business review, Paloma Resorts provided Lake Country Family Fun a complimentary stay at the Inns.  Stephanie Cutler and her family stayed at the Inns in late December and they thoroughly enjoyed their stay – it exceeded their expectations…read on! 
Preparing for Our Stay
When I found out that the Inns of Geneva National was a unique complex with six rooms per Villa, I got excited that I was going to be able to bring my husband's family along with us to stay during their week visit in Wisconsin (they are from Montana).  The day we stayed just happened to be my in-laws 37th wedding anniversary so it was an extra special treat for them.  So, we packed up and headed to Lake Geneva (under an hour away) to check in to our Villa, the Oakmont. 
Let me back up. A few days before our stay, we kindly received a few emails from the Inns asking about any preferences we had for our stay and we also received a call.  They wanted to ensure that our stay was going to be perfect to meet our needs and I absolutely loved them checking in on us ahead of time.  I was able to request a pack and play and ask a few questions I had.  I called the morning of our stay to see if we could check in early and it happened to work out that we could check in a few hours early.  Coming with on our adventure was myself, my husband, our three children (6,4,1) and my husband's parents, his two brothers and one of his brother's girlfriends.  So there were 7 adults and 3 kids.
Checking in / Getting Settled
Upon checked, we entered the Geneva National property via a red/white gate with a security guard. He let us through and we drove about a mile into the property to the Inns of Geneva National (on the right, right before the clubhouse).  There was a sign for which building was registration in and it was very easy to find.  As a side note, the property is also home to the Geneva National Golf Club which features 54 holes of Legendary Golf designed by the masters, Arnold Palmer, Gary Player and Lee Trevino. 
The staff was very nice and helpful. Like I mentioned, there are six, 6-bedroom villas.  The one we lodged at was "The Oakmont". They are all the same in their floor plans and amenities.  When we drove up to the Oakmont all of us were in shock at how big the Villa was.  It had a garage and beautiful entry way door.  We used our room key and entered the foyer and were taken aback by the beauty of the foyer, the staircase and the fireplace that was pre-lit for us when we arrived.  There was even a diffuser in the foyer with the most beautiful aroma of essentials oils to greet us! We didn't even know how to start exploring our Villa.  The kids ran one way and the adults the other and we started touring.

The Villa Layout
There are 3 floors in each Villa.  Each floor has 2 guest rooms.  Each of the 6 guest rooms are separately keyed (so we got six sets of key cards). The older kids and grandparents stayed in the upper floor where each room up there had two queens, a beautiful bathroom and ALL the amenities of your own hotel room.  The boys each got their OWN queen bed and they were ecstatic (and very well behaved)!  My husband and I took one of the bedrooms on the main floor (which had a King bed) and the baby was in our room with the pack and play.  The other 3 took over the bottom floor which had 2 rooms with 2 queen beds each.  We had one bedroom we didn't even use the place was so big!  The main floor had the kitchen and a living space with TV, fireplace and balcony.  The lower level had a huge dining/game table, a fireplace, tv and patio. 
The Villas are unique in that you can rent out a single room in one Villa, an entire 6-bedroom Villa or up to all 6 Villas (totaling 36 rooms). If you rent out a single room in one Villa, you are offered the same amount of privacy and amenities as a normal hotel room, but you also get the common areas shared (kitchen, living room, rec room) like a modern twist on the Bed & Breakfast. I liked the fact that our family had the entire Villa and were offered privacy from each other as needed. Check out more details and photos of the Inns layout here (https://www.genevanationalresort.com/inns-layouts).
What we Did
After settling in and enjoying the fireplace and some college bowl games on TV, we decided to swim.  The Inns have an on-property pool and tennis facility features an outdoor zero-depth family-friendly design as well as an adult-only lap pool available only from Memorial Day to Labor Day. However, the Inns' sister hotel, THE Ridge, has a pool and hot tub and guests at the Inns are able to use ALL of the amenities of THE Ridge while staying at the Inns, which is awesome and they are only 3 miles (or a couple minutes) apart.  You can read more about Megan's review of THE Ridge (above) to learn about the amenities offered there! One thing I will note is that if your group outing at the Inns needs a complimentary shuttle service to downtown, this is available via THE Ridge with advanced notice – how awesome! Swimming was a blast and it made us hungry! There was a large locker room to get ready over at THE Ridge.
We decided to eat at one of my husband's favorite restaurants in Lake Geneva – the Sprecher Brewery, attached to Geneva National's other owned hotel, The Cove.  The drive into town was quick and easy to navigate – less than 7 miles away.  It was very busy, but the restaurant was super nice and let us eat in bar area, which worked perfect.  After dinner, we drove back to the Inns and the baby fell asleep. So we put her down in our master room and headed to the rec area in the lower level.  One "experience package"" we set up ahead of time (for $70) was a firepit on our patio with chairs and a s'more kit!  It was a great treat to come home to!  
Everyone enjoyed the campfire and s'mores and it was great to get outside since winter can keep you cooped up indoors.  In the warmer months, there is even more to do at the Inns including golf, the putting green, and more!  THE Ridge also offers seasonal activities – read more in Megan's review (above).
We slept like Kings and Queens in our super soft and comfortable Kings and Queens Seriously, the bed was hands-down the BEST hotel bed I have ever slept in.  We all enjoyed having our own bathrooms and showers and the bathrooms were pure luxury from the glass door shower with tile and luxury toiletries.  It was super nice!  The kids loved the raindrop faucet for the showers and I loved that the sinks were in a separate room, so I could get ready! There were coffee makers in everyone's rooms and flat screen TVs.  The floor to ceiling windows in the rooms were impressive and the views were so scenic. The views included the golf course, the woods and Lake Como.  Very serene and peaceful.
For breakfast, we had brought eggs, bacon, hash browns and juice.  If we had been staying more than one night, we would have brought more food in and saved money by not eating out.  My husband made a delicious breakfast. I should mention the kitchen is stocked with "plates, bowls and silverware for 16" as well as limited pots and pans.  You can call the Inns for an exact inventory while planning your trip (which I recommend) so that you are all set in the kitchen.  After breakfast we cleaned up, played some games and packed up. We were truly sad to go as the time went to fast and I could see myself spending a week here!
Check out was easy and again the staff was very friendly and the manager asked if we had any troubles and if we enjoyed the firepit and s'mores (which we did!).  Since it was raining, we didn't get to explore Lake Geneva liked we'd hoped, but we will be going back for  the Ice Castles very soon!
Helpful Hints for a Stay at the Inns of Geneva National
All of us that stayed at the Inns highly recommend the Inns for your group stay in Lake Geneva – we have no complaints! The entire Inn rental would be great for a family reunion, a bachelor/bachelorette party, a friend get-together (with or without kids), a corporate retreat and SO much more!  For a longer visit (we only had one night) I would recommend bringing board games, additional kitchen supplies, and for those with kid's baby gates and baby monitors.  I also recommend trying out the Hunt Club Steakhouse which we saw but didn't have a chance to visit. It is located right as you enter the Geneva National property through the gates. Another thing I didn't get a chance to try was the Geneva National Wellness Center which we had access to. There were workout classes and a full range of state-of-the-art Life Fitness cardio and strength equipment just walking distance from the Villas!
The goal of the Inns is to "make guests wish they could stay with us for just a few more days" and they certainly met that goal with our family!
Make it a Stay-Cation 
As you plan your trip to the Ice Castles right on the shores of Lake Geneva, consider staying at the Inns of Lake Geneva.  For details and to book your Inn, call 262.245.4000 or visit  www.genevanationalresort.com/inns.  Prices and availability for both the Ice Castles and the Inns are better mid-week, so consider booking a long weekend or weekday getaway!