The New Year's Eve Guide is sponsored by the Ingleside Hotel. 
Family Friendly New Year's Eve Celebrations
Do you have New Year's Eve family traditions? Do you stay in for celebrations? Or are you looking to get out of the house, party down and ring in 2021?  As with many traditions this year, we've had to adapt and change to fit the current circumstances.  Since we have had our children, we have spent every New Year's Eve with them. (Finding a babysitter on New Year's Eve can be a tad difficult in "normal" years.) And this year, it only makes sense to ring in the new year, the same way we've spent most of the 2020 year – with our family. If you are looking for some ideas to make the new year fun within reason, check out our 2020 Family Friendly New Year's Eve Celebrations Guide to plan your end of the year fun and welcome in a greatly anticipated new year!
Plus, we have some fun for your New Year's Day as well!
---
Please thank our New Year's Eve Guide sponsor:
The Ingleside Hotel
Spend New Year's Eve with a stay at The Ingleside Hotel and enjoy a special New Year's Eve Party with evening a fun filled activities!
*New Year's Eve Party for Hotel Guests Only Includes:
DJ in the Water Park from 6pm – 11pm (Note: Day passes for the waterpark end at 6pm on 12/31/20.)
Arts & Crafts in the water park upper party room at 6:30pm – 9:30pm
Duck Races in the water park at 7:00pm and 9pm
Cardboard/ Paper Boat Regatta – 8PM
Beach Ball Drop (multiple locations in the park) and Squirt Gun Fight at 10pm
All You Can Eat Buffet from 6-9pm
New Year's Eve Package Includes:
Overnight accommodations in a Guest Room or Suite
4 water park passes
One carload admission to Country Christmas
40 credits for the Geyser Games Arcade
4 breakfast buffet vouchers (Gratuity and your choice of coffee, milk or juice included)
All of the items in the New Year's Eve Party listed above*
10 Family Friendly NYE Festivities and Fun Ideas
Ring in the New Year with your family at the Ingleside Hotel and Springs Water Park. See above for all the fun details!
Create or learn a new skill to remember the night and year. Then take that new skill into the new year! The Betty Brinn Children's Museum through their partnership with Glomado, offers virtual workshops in a variety of creative outlets. Browse their catalog here to prepare for you New Year's fun.
Spend the end of the year with your favorite pet friends at HAWS' FREE Try-It Camp New Year's Celebration for Kids
Pick up a benefit board to make celebrating at home fun and special, while also supporting  Juvenile Diabetes Research & The Fanconi Anemia Fund. You can purchase your board/charcuterie platter today, and pick up either December 30 0r 31. Details with all the yummy goodness found here. Use Code 15OFF to save $15 off your order – offer ends 12/29!
See holiday lights. You can pop in the car and drive through a light display, like Country Christmas or Winter Wonders. Both will be lit up for New Year's Eve! Put your jammies on, bring some hot chocolate and yummy snacks, make a countdown as your car approaches the entrance. So many ways to make seeing holiday lights especially special for the holiday.
Jump over to SkyZone Milwaukee (Waukesha) for a New Year's Eve countdown at noon. This is my favorite, because little ones cannot tell time, and then they can still go to bed at their normal bed time. Countdown to the Noon Year!
Spend the day outside walking around the Milwaukee County Zoo. Bonus, it's FROSTY FREE WEEK! *Note that you will have to purchase a time slot in advance, so look now, before they book up! You'll remember spending the last day of the year outside with your favorite animals.
Watch a new to you family movie at home or a classic favorite or have a movie-watching marathon. Then knock it out of the park with fun food, decorations, a countdown, and hot chocolate bombs of course!
Treat your family to a yummy dinner at home. The Delafield Brewhaus is offering Prime Rib dinners to go! Better to get your order in now before they run out.
Go ice skating!  Your family can Skate at Red Arrow Park's Slice of Ice – you just need to reserve a time slot ahead of time. The rink will be open to the public until 12:30 am on January 1, 2021.
Bonus New Year's Eve Options: 
See a magic show – either in person or virtually with the Sharon B. Wilson Center for the Arts. (And this performance is technically on December 30, but it made the list because anything goes while we are still in 2020 🤪)
Join in as two-time recipient of the World Deaf Magician Award Matthew "Magic" Morgan and Liliana combine magic, miming, comedy, and the universal language of fun!
Filled with eye-popping illusions, dazzling balloon sculptures, and more, families will experience a mystifying and inspirational journey as Matthew and Liliana use American Sign Language to perform their award-winning show filled with laughter and amazement!
Join Kid Boogie Down for a Noon Year's Eve Virtual Party on Twitch!
FREE to watch and fun for everyone! Get the Kid Boogie Down experience by watching DJ lukewarm spin top hits/fan favorites to fun music videos. Get INTERACTIVE and request songs & shout outs!
How to do it:
* Click link to: twitch.tv/kidboogiedown to view in a browser
OR
* (GET INTERACTIVE) Log in to the Twitch app/ Create an account to join the chat to make comments/song requests!
Snag a Grab and Go New Year's Eve Kit from the Brookfield Public Library while supplies last!
The library will be open from 9:00 am to 5:00 pm.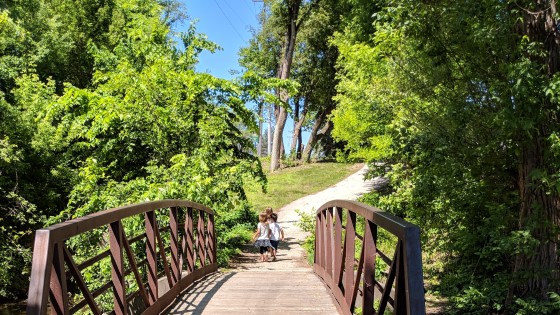 Sponsored by 3 realtor offices that are deeply rooted in Lake Country and Waukesha County: Team Trimble, Bark River Realty, and Dave Geszvian with Keller Williams.
New Year's Day Festivities
All the fun doesn't have to end when the ball(oons) drops – check out these fun events on New Years Day!
We hope you enjoyed our New Years Family Fun Guide!

How will you be spending your time time as the 2020 New Year rings?