The New Year's Eve Guide is sponsored by the Ingleside Hotel. 
Family Friendly New Year's Eve Celebrations
Do you have New Year's Eve family traditions? Do you stay in for celebrations? Or are you looking to get out of the house, party down and ring in 2022?  As with many traditions this year, we've had to adapt and change to fit the current circumstances.  Since we have had our children, we have spent every New Year's Eve with them. (Finding a babysitter on New Year's Eve can be a tad difficult in "normal" years.) And this year, it only makes sense to ring in the new year, the same way we've spent most of the 2021 year – with our family. If you are looking for some ideas to make the new year fun within reason, check out our 2021 Family Friendly New Year's Eve Celebrations Guide to plan your end of the year fun and welcome in a greatly anticipated new year!
Plus, we have some fun for your New Year's Day as well!
---
Please thank our New Year's Eve Guide sponsor:
The Ingleside Hotel
Drop into 2022 at The Ingleside Hotel and enjoy a special NYE Party at Springs Water Park!
The Party includes a DJ playing music in the Water Park, Beach Ball Drop, Family-Friendly Activities available throughout the evening & more!
*New Year's Eve Party for Hotel Guests Only Includes:
6:00pm – 11:00pm: DJ in the Water Park

6:00pm: Ducky Races (Sign up in towel desk, down the yellow slide in waterworks)

7:00pm: Minute to win it games (Upper Party Room, Shake your tail feathers, Oreo race, up up and away with ballon, M&M game, cups and ballons, Cup stack Relay, Egg spoon relay, M&M separation)

8:00pm: Hungry Hippos (Upper Party Room)

9:00pm: Squirt Gun Fight

10:00pm: Glow in the Dark Beach Ball Drop

* Day Passes on December 31st are good until 9am – 6pm. New Year's Eve Party from 6pm – 11pm is for overnight guests only. 
The New Year's Eve All You Can Eat Buffet:
On December 31st, there will be an all you can eat buffet from 6:00pm – 9:00pm in the water park. Buffet will include all you can eat pizza, mac & cheese, chicken tenders & garlic bread. The New Year's Eve Buffet can be purchased at the front desk or inside the snack bar.
$12.00 for adults & children 13+
$10.00 for children 2 – 12
Free for children under 2
10 Family Friendly NYE Festivities and Fun Ideas
Ring in the New Year with your family at the Ingleside Hotel and Springs Water Park. See above for all the fun details!
Register for Noon Year's Eve with the City of Oconomowoc and Silver Circle Sports Events.  The event is free, but kids must register if they are participating in the run.

A goody bag to load up with free take and make kits. Get crafty at home later!
Races for ages 1 and up! Let's shuffle in the snow. Racers will get a race bib, finish photos will be posted! Races start at 10:45 a.m. and keep rolling. ! You must sign up.
Cocoa and cookies for sale from St. Paul's Church. Sugar and warm drinks, yes please!
Rocking music to jam out to while you're enjoying the festivities.
Selfie station. We've got props. Just smile and have fun for a photo to remember the fun!
Make sure you're ready at noon for the official ball drop. We have a very different drop this year in store with help from our local firefighters!
At 12 p.m. we will do a countdown and Noon-Year's Ball Drop for Western Lakes ladder truck.  Event is 10:30 a.m. to 12:30 p.m. at Village Green Park.

Spend the end of the year with your favorite pet friends at

HAWS for their Kids N Critters Camp. There's a one day camp on December 31. 


For kids age 7-14 years old
For details and registration, log on HERE.

See holiday lights. You can pop in the car and drive through a light display, like Country Christmas or Winter Wonders. Both will be lit up for New Year's Eve! Put your jammies on, bring some hot chocolate and yummy snacks, make a countdown as your car approaches the entrance. So many ways to make seeing holiday lights especially special for the holiday.
Jump over to SkyZone Milwaukee (Waukesha) for a New Year's Eve countdown at noon. This is my favorite, because little ones cannot tell time, and then they can still go to bed at their normal bed time. Countdown to the Noon Year!
Spend the day outside walking around the Milwaukee County Zoo. Bonus, it's FROSTY FREE WEEK! That means admission is $0! *Parking fees still apply. 
Watch a new to you family movie at home or a classic favorite or have a movie-watching marathon. Then knock it out of the park with fun food, decorations, a countdown, and hot chocolate bombs of course!
Treat your family to a yummy dinner at home. The Delafield Brewhaus is offering Prime Rib dinners to go! Better to get your order in now before they run out.
Go ice skating!  Your family can Skate at Red Arrow Park's Slice of Ice – (pending weather) The rink will be open to the public until 11:00 pm on December 31, 2021.
Snag a Grab and Go New Year's Eve Kit from the Brookfield Public Library

while supplies last!

The library will be open from 9:00 am to 4:00 pm.
Bonus New Year's Eve Idea:
There are no upcoming events.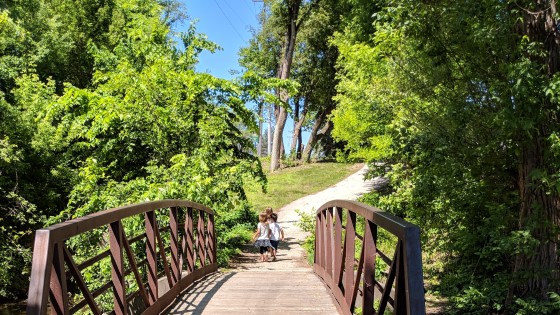 Sponsored by 3 realtor offices that are deeply rooted in Lake Country and Waukesha County: Team Trimble, Bark River Realty, and Dave Geszvian with Keller Williams.
New Year's Day Festivities
All the fun doesn't have to end when the ball(oons) drops – check out these fun events on New Years Day!
We hope you enjoyed our New Years Family Fun Guide!

How will you be spending your time time as the 2022 New Year rings?