In 2017, my family explored all of the Waukesha County Parks. We were grateful that the Waukesha County parks once again sponsored free admission, over Thanksgiving weekend 2020. We scoped out the list of parks online to refresh our memory of all our choices and saw Ryan Park.
Ryan Park? That park wasn't on the list in 2017, because it would have definitely been on our list. After a bit of research, we found out that this is an Undeveloped Regional Park.
Ryan Park
This undeveloped 204-acre parcel in Pewaukee is just northeast of Highway 16 and the Ryan Road exit. By undeveloped, you will not find any playgrounds, bathroom facilities (not even a porta-potty – at least in November), or picnic tables here. At the two parking areas, we found along Ryan Road, we did not see any brown and white signage that we're used to seeing announcing a Waukesha County Park. Normally, we like to look at a map when hiking, but we could only find a map of the general park area here.

In fact, we actually passed the parking lot and had to circle back. If you're going north on Ryan Road, when you see the entrance on the left to Christian Education Leadership Academy (CELA), start slowing down and look to the right for a turnout on the right. At this entrance, you'll recognize the familiar fee collection boxes.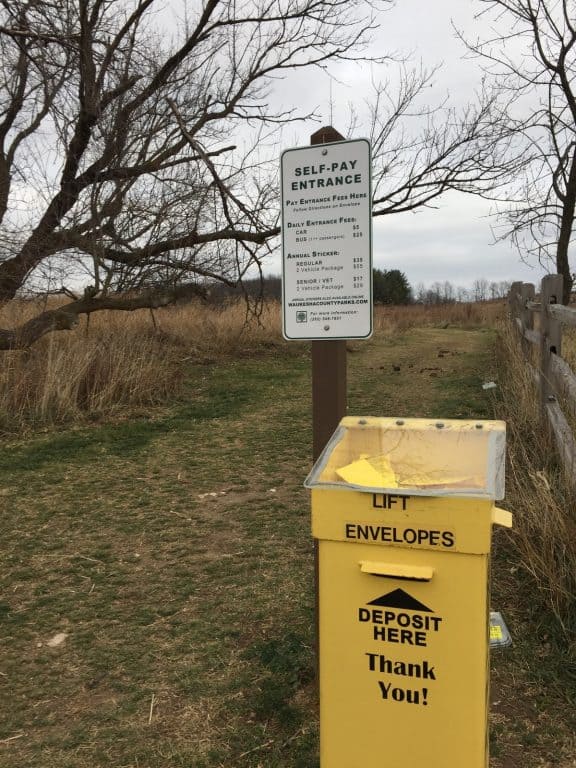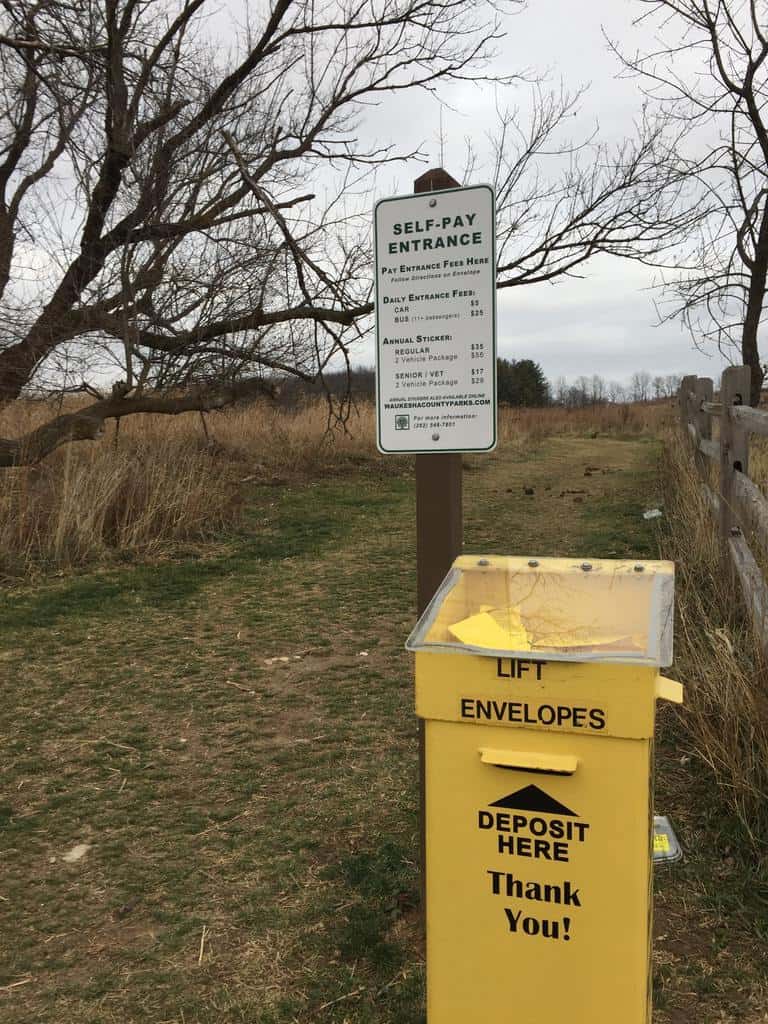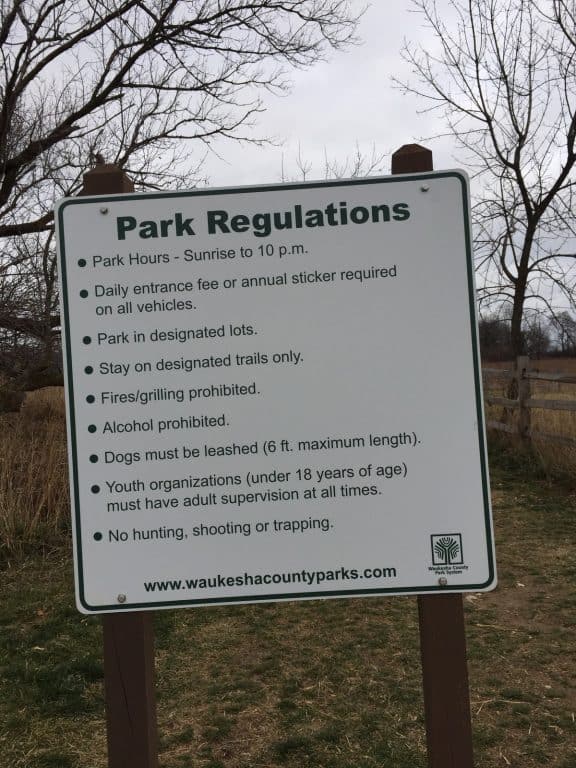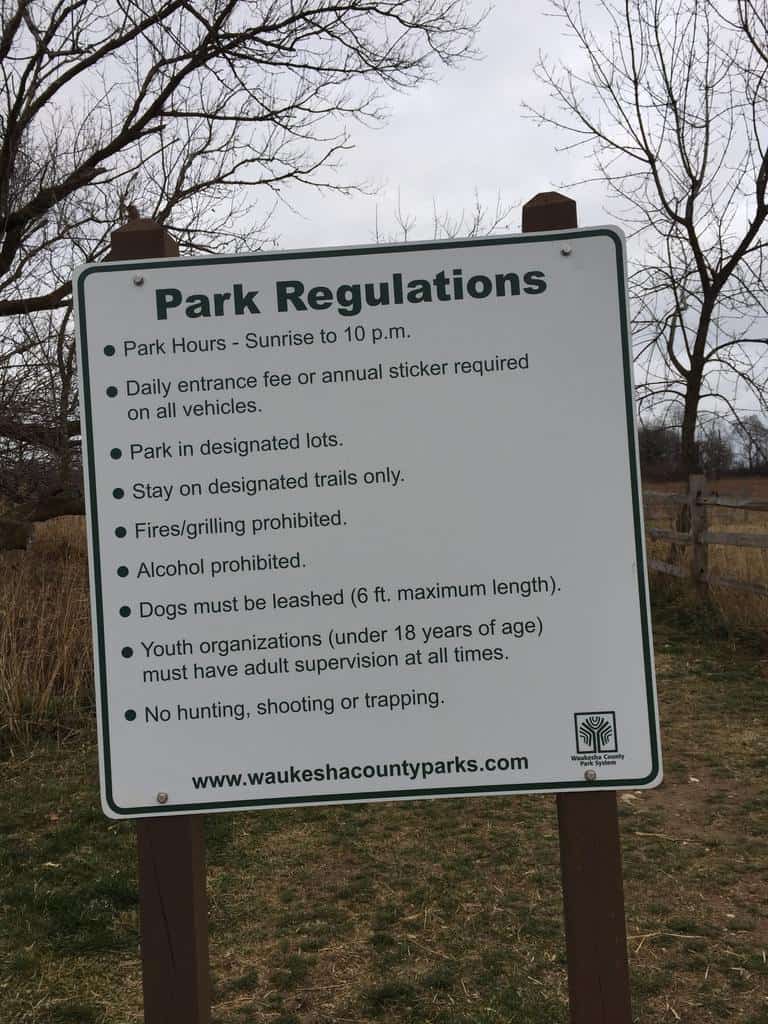 If you miss it, then you can keep going to a second parking lot at the southeast corner of Ryan Road and JK. (That parking lot was closed when we visited in November 2020.)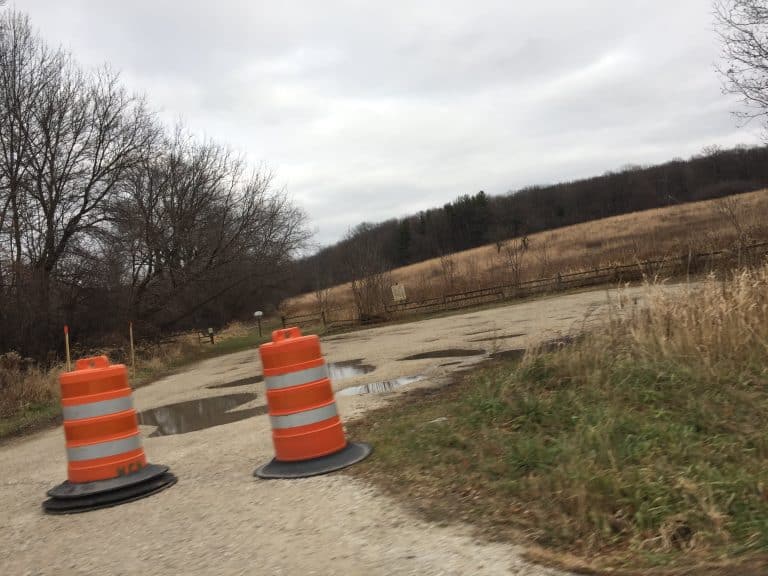 What We Packed on our Visit to Ryan Park:
Family
Water
Orange hats (it was hunting season)
Snacks
Giddyup
One of the first things we noticed as we were walking in the park were the horse trail signs. Both Minooka Park and Menominee Park have horse trails, but we didn't go on them, because, well, we didn't have horses. At Ryan Park, the most obvious trail from the parking lot we were at, seemed to only be a horse trail so off we went. It dawned on us that the signs for the horse trails were about 6′ high because you're off the ground when sitting upon a horse.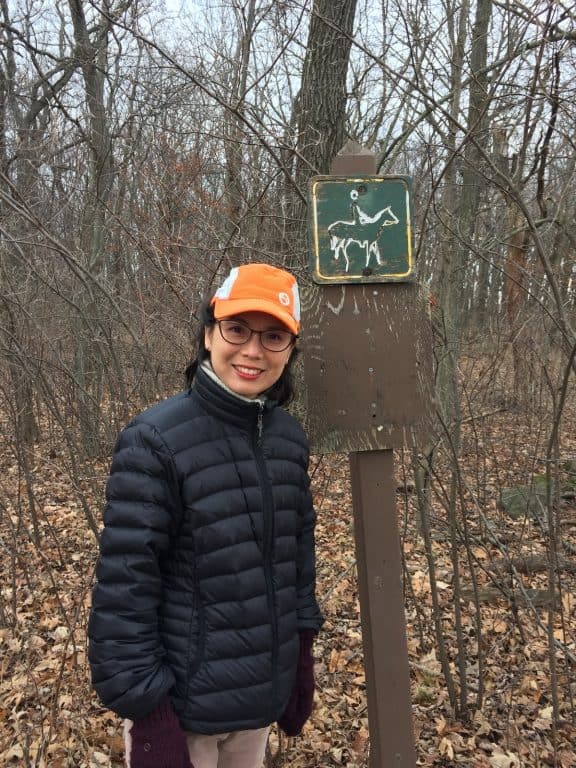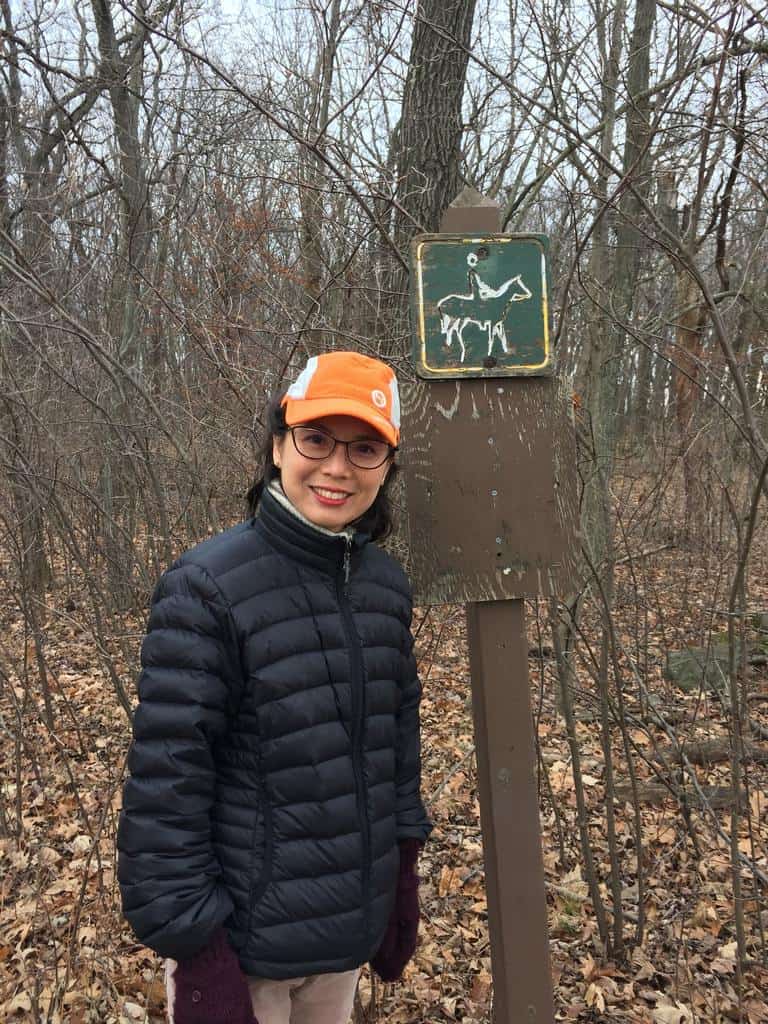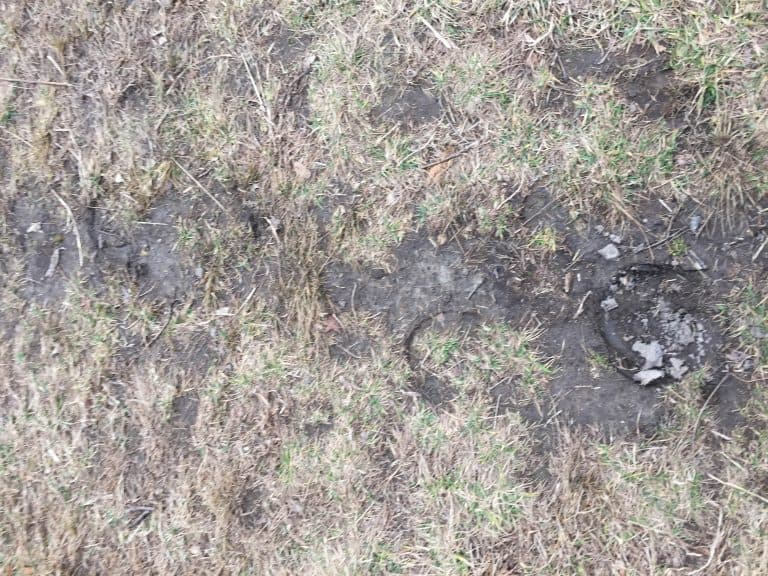 We saw horseshoe prints in the ground and other evidence that horses had been through the trails recently (watch your step) as we hiked through the park. We didn't see any horses on our park visit, but were also mindful of ground nests, because we had seen a sign in the parking lot.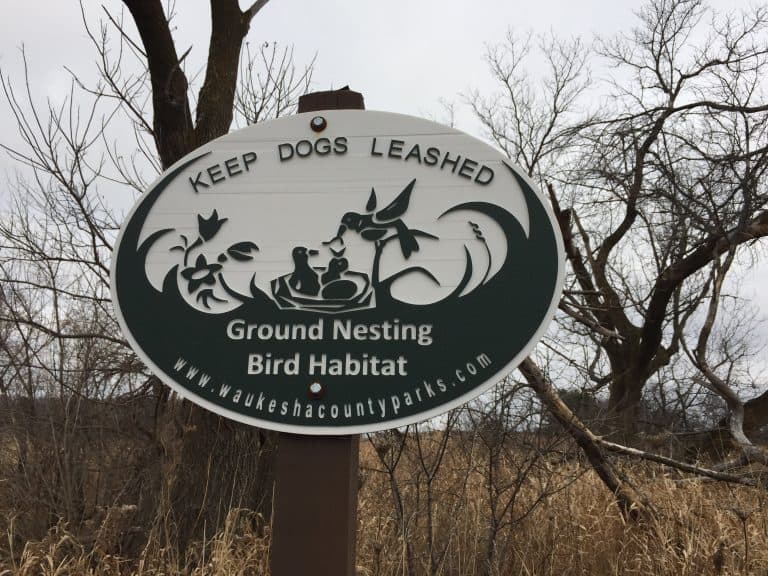 Snowmobiling appears to be an option here as well. We didn't see any signage while we were there, but saw it listed an amenity in the Waukesha County Park and Open Space Plan. If you're a snowmobiler, you may want to scope out this park before the snow flies.
Treasure Hunting
Our family has gone geocaching off and on over the years. Often when we go to new places, we look to see if any are available. Geocaches (sounds like geocash) or "caches" (sounds like cashes) are hidden boxes left for others to discover later. Coordinates can be downloaded to a GPS or onto a smartphone using a free app.
Geocaches can be as large as a cooler or smaller than a medicine bottle. When you find the cache, you sign a little log so be sure to have a pen or pencil with you. Some caches are large enough to hold treasures like pencils, keychains, stickers, etc., which can be fun for the family. It really is like a treasure hunt, and that's what we used to call it to get the kids to go out when they were younger.
We found the cache we were looking for, wrote our names in the log, and continued on our merry way.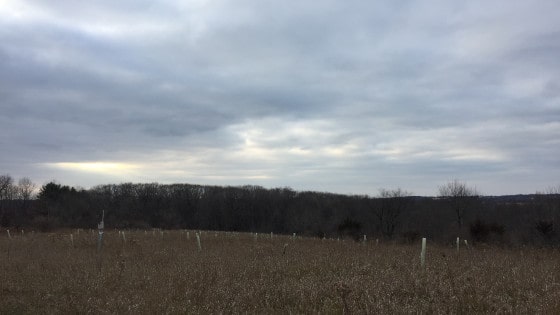 As we looped back to the parking lot, we saw a field filled with young trees. We saw a few bird boxes along the way, so we kept our ears and eyes open.
I spy with my little eye
The most obvious landmark we saw at Ryan Park was a rusty Quonset hut near the parking lot. We didn't explore it because we didn't want to photobomb the different groups taking pictures near it when we arrived and again when we left. But we'll definitely check it out the next time we're at Ryan Park.
This was definitely a fun adventure for us. If you have children who can hike a bit and are looking to explore new places to hike, walk your dog, ride your horse, or take your snowmobile, then definitely head on over to Ryan Park in Pewaukee.

Have you been to Ryan Park? What's your favorite part about it?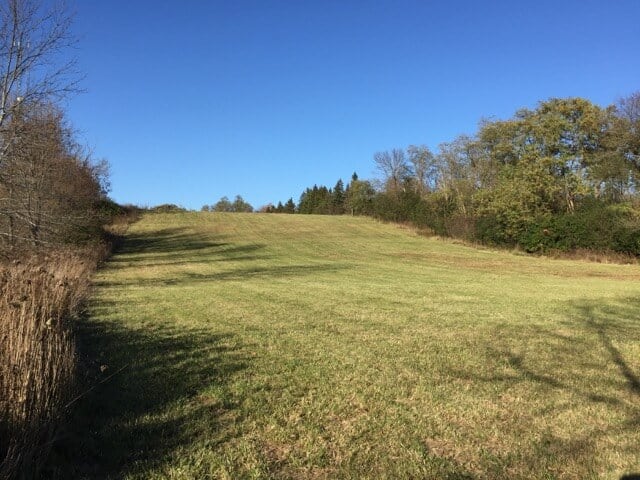 Find information on all the parks within the Waukesha County Park System here.