My name may be Erin, and I may be Irish, but I'm not 100% certain…but that doesn't stop me from celebrating a little bit every March 🙂  No matter your name or cultural heritage, check out these fun activities to do at home while you are practicing your social distancing. At this point, not all events have been cancelled, but per the CDC guidelines, it's best for all to stay home away from public gatherings at this time. Never fear though, lots of ways to fill your day with a little luck of the Irish for St. Patrick's Day and make you shout, "Erin go Bragh"! Some are just for fun and some are educational. Find a little bit of everything for everyone. 
PLEASE NOTE THAT SOME EVENTS HAVE BEEN CANCELLED DUE TO CONCERNS OF THE CORONAVIRUS. View more information here.  
Check out this VIRTUAL Celebration!
Please thank our St. Patty's Day & March Guide SPonsor:
Burn Boot Camp Waukesha
Opening soon!
721 Meadowbrook Road
Waukesha, Wisconsin 53188

Burn Boot Camp is a fitness facility that focuses on inspiring and strengthening women 
physically, mentally and emotionally! Burn Boot Camp has helped to transform 
millions of lives all over the world…now it's your turn! 
We are excited to be bringing Burn Boot Camp to Waukesha! 


Sign up for your 30 DAY TRIAL today by visiting
St. Patrick's Day Crafts and Virtual Fun
Calling all the crafty moms and mediocre moms, too! All the moms and crafty dads even. Parents!! Anyone who loves this holiday or loves a reason to celebrate and get their kiddo to smile. This is for you!
Find a round up of fun St. Patrick's Day crafts and virtual fun to do with your kids and family this St. Patrick's Day 2020 during the coronavirus social distancing. You can snag even more ideas in our Lake Country Family Fun Community Facebook Group HERE. 
Make a Leprechaun Trap. 
Watch this dance by the Trinity Irish Dancers and then make your own and share to social media. 
Put green foot prints around your toilet seat. 
Make all their drinks green for the day! We even found dye-free food coloring at PNS and on Amazon. 
Local mom, Angela made "clover snacks" by  putting three pretzels and a pretzel stick in the shape of a clover and melting a Hershey kiss on the top with a green M&M. Bake at 200 degrees for 4 minutes. See the image in our Lake Country Family Fun Community Facebook Group. 
Make Irish Soda Bread muffins for breakfast. Recipe.
Attend a virtual St. Patrick's Day Celebration on Tuesday hosted by Milwaukee Irish Fest and Celtic MKE HERE.
Local mom, Jessica Plemons, has preschool St. Patrick's Day plans and printables.
Local mom, Sarah Vanderkooy of Creative Ramblings has lots of Cricut craft ideas.
Grab extra ideas from the Lake Country Family Fun Pinterest page.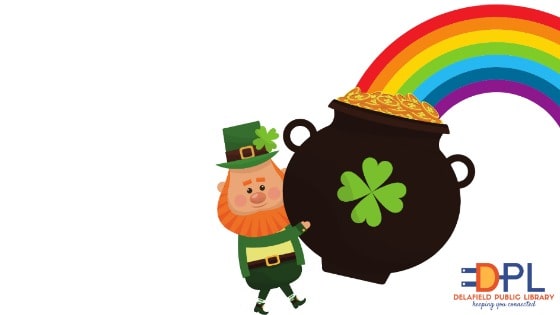 St. Patrick's Themed 5K Run/Walks
Better luck next year on these fun runs!
Local St. Patrick's Day Themed Family Events
There are no upcoming events at this time.
How will you celebrate St. Patrick's Day this year?