Good news, Lake Country Parents, you don't have to travel far to escape perpetual dirty kitchen counters, sticky floors, and kids asking for just one more show. Several of Waukesha County Parks offer campgrounds and there is still availability for 2022!
Connect your kids to nature and watch their imaginations run wild with a weekend camping adventure at Waukesha County's Menomonee Park, between Lannon and Menomonee Falls. The stresses of home will melt away faster than your kids gobble up their first s'more.
Menomonee Park Family Camping
Campsites for up to five people cost only $20 per night in addition to the price of a County Park day/annual pass. Well behaved dogs are welcome. 
Each site has a firepit with a built-in grate handy for skillet cooking over the fire.Several of the sites have small paths leading to the park's trails making hiking convenient with small kids.  These sites are non-electric with one central water spigot by the pit toilets. (Shower's, sinks, and indoor toilets are available in the beach house.)  
In the Family Campground, there are three paved Accessible sites at numbers 13, 18, and 19.
Menomonee Park Group Camping
Does your extended family love to reunite over camp games, stories, and the glow of a fire?  Menomonee Park has seven group sites. The benefit of a group site over booking adjacent family campsites is that there is open field space for friends/cousins to run wild.  You do not, however, get the shade you'll find in the Family Camping area.   The group sites are located closer to the Beach and Playground. (Park Map)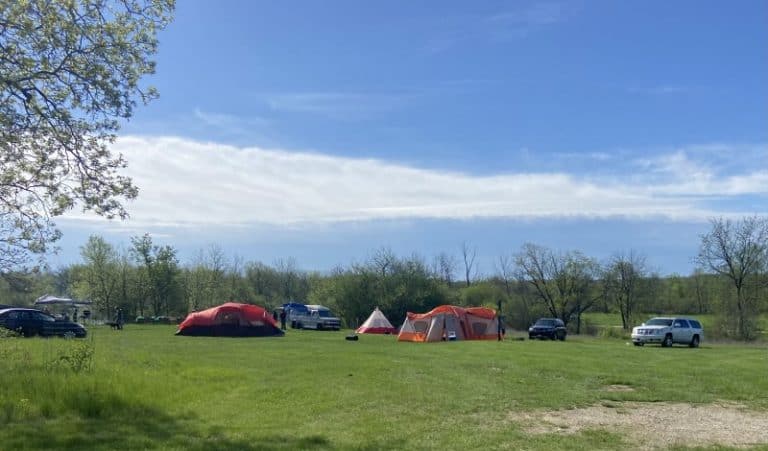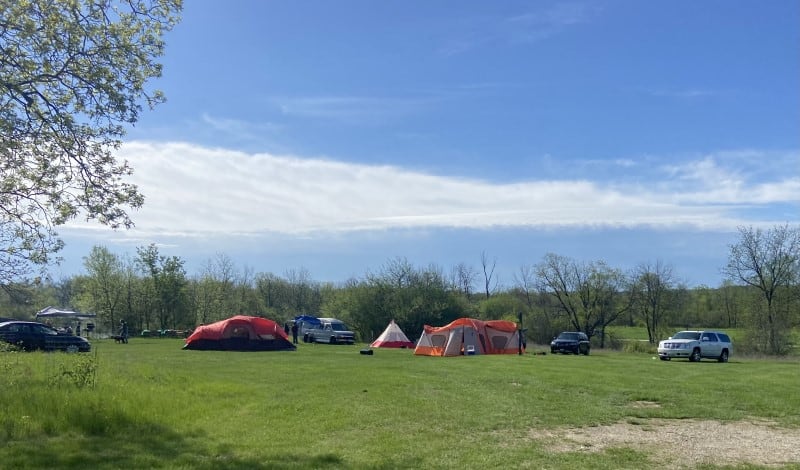 The park offers numerous options to keep the kids active and engaged throughout the weekend.
There is a beautiful sandy beach with shallow water perfect for splashing about. It also has a small playground, better suited for ages 5+ than little ones. 
During the summer, a  watercraft company rents kayaks and pedal boats from the beach area.
A variety of trails wind through wetlands and forest where kids can spot teepees, observe insects, or build a little boat of bark and leaves to send floating down a creek.
In front of the road to the family campsites, there's a large rock pile / makeshift fort for kids to climb and play.
For those bringing dogs, there are multiple new fenced in dog exercise areas and a swim area.
If you venture to the far east side of the park, you'll find an Archery Range.
Bring poles and go fishing from the shore or the fishing dock.  (For our 4 year old, we simply taped a steel nut to the end of his line so he could practice casting into the water.)
Near the reserved picnic area, there's a volleyball court and open field space.
Easily hop onto the Bugline Trail for a bicycle ride. 
Traveling Beer Garden:  If you time your stay right, on June 10-11, 2022 Raised Grain is hosting their pop-up beer garden next to the beach. 
Go on, get out there and savor a fire brewed cup of coffee on a crisp morning while you prepare for a day of the purest family fun there is.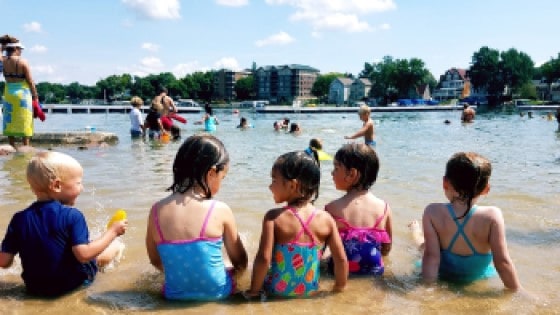 Our Ultimate Summer Bucket List of 77 things to do in and around Lake Country in conjunction with our Free Summer Fun Guide. Sponsored by Positively Pewaukee.