The month of April is a fun month for spring projects to start and it's National Gardening month.  As we look around the house there are all sorts of projects and things we can find to do including spring cleaning and organizing, rearranging, mini-house projects and more.  One of the biggest hobbies families have picked up this year more than ever is GARDENING!  Many families have been sprouting seeds with their kids as an indoor learning activity.  Other families have been starting on yard work early with the warm early April. Others have wanted to be more self sustainable and are planning gardens to grow their own food!  Either way, this shift is great and gardening is awesome, but where do you get started?
Lake Country Family FUn teamed up with our friends at Fleet farm to help local families get into gardening by answering your top gardening questions!

Keep reading to find out how your family can get into gardening this year!
ENTER TO WIN $100 to FLEET FARM!!!!
From now until May 23rd, you can enter to win $100 to Fleet Farm by filling out the form below and commenting on the 8:30PM Facebook post from May 2nd.  Duplicates will be deleted. See other disclosures below.
The Giveaway has ended. Congratulations to Lisa S. of Oconomowoc for winning!
Garden Center Now Open for all your gardening needs!
We asked our friends at Fleet Farm for some tips for gardening this year.  They told us that with the demand for gardening at home has grown this spring! (Get it, gardening has grown?!?!) That is exciting news because gardening, planting, and choosing sustainable options helps preserve our Earth! We are celebrating the 52nd anniversary of Earth Day this year. 
Fleet Farm provided us some great insight to the most frequently asked gardening questions from our followers below.  Thank you Fleet Farm for helping our followers out.   
We want to see your gardening projects this year.
Whether it's sprouting seeds indoors for your child's science class or creating your first square foot garden or planting some vegetables for feeding your family – tag @lakecountryfamilyfun on IG or share with us on Facebook to show us YOUR garden goodies!
7 Frequently Asked Gardening Questions Answered
Answers for these questions were provided from the Fleet Farm Gardening Article Library and used with permission of Fleet Farm. For more great gardening articles, check them out here.
Q1: HOW do I start indoors?
In the article, "Starting Seeds Indoors for Spring", we learn that:
Plastic trays, wooden boxes, or other containers 2 1/2-3 inches deep are ideal for starting your seeds.
Your seedlings should receive 12-16 hours of light daily, plus a period of darkness in between. (A grow light is recommended).
When selecting your vegetable and annual flower seeds, check the packets for the number of days until harvest and make sure those you choose will have enough time to ripen. Note: Plants vary from requiring 3- 15 weeks of indoor grow time.
A good seed-starting mix will contain all the nutrients needed for strong roots.
Plant seeds as specified on packets (generally 2-3 times deeper than the seed's diameter.
After planting, cover the container to prevent the seeds from drying out
After planting, cover the container to prevent the seeds from drying out.
"Harden Your Plants": Two-three weeks before you move them outdoors, move your plants outside for a little bit of time each afternoon.
Q2: WHEN do I start planting outside?
According to Fleet Farm's, "Month by Month Gardening Guide", we learn that:
Gardening timing is best figured out by figuring out your "zone". Wisconsin and Minnesota include ranges from Zone 3 to Zone 5.
Here is a great guide (by type) for when seeds should be started and moved outside OR when seeds can be started directly outside.

February – March: Start seedlings indoors.
April:

Mid-late month, indoor sow seeds such as tomatoes, annual flowers and other vegetables.
Start mowing lawn if it begins actively growing but keep height to around 3 inches.
Add organic matter to flower beds and vegetable garden.

Early May:

Sow grass seed on any bare spots, and if desired, use a crabgrass preventative.
Some vegetables (such as peas, carrots, lettuce and spinach) can be sown directly into the garden early in the month.
Cool season plants include potatoes, salad greens, onions, peas, beets, cauliflower, broccoli, and cabbage. They can go in the ground in Early May.

Late May:

Direct sow seeds for crops such as beans, watermelon, pumpkins and sweet corn.
Plant fruit such as strawberries and raspberries.
After danger of frost, transplant indoor sown plants to the garden.
After danger of frost, you can plant annual flowers in your garden as well as peppers and tomato plants.
Note: "After danger of frost" can be anywhere from April 10 – May 9th for Waukesha County.
Q3: HOW can I involve the kids in gardening?
According to the article, "6 Ways to Get Kids Involved in Gardening" and "Garden for the Kids":
Let them get dirty!

Make it kid-friendly.
Add some magic to your garden.
Incorporate art projects.
Let them pick out the plants and veggies they want to grow.
Plan a dinner with what you grow.
Note: Children are more likely to eat (and enjoy) their vegetables if they have a hand in growing them. Invest in kid-sized tools and garden gloves!
Q4: WHAT'S the easiest way to garden?
Let's be honest. I planted this question because I am NOT a good gardener and want to know what I can do to garden with the least amount of effort, ha! I got some good ideas from the Fleet Farm article, "10 Plants to Grow in Buckets" and "Herb Gardening 101". Here is my plan for this year:
The easiest plant to grow in a container is a tomato plant. I plan on buying a starter tomato plant in a container and a cage it can grow on! For potted plants we need to make sure:

Container has plenty of drainage holes.
Filled with a soil mix formulated for container vegetables.

I will also be buying my herbs as young plants in the garden center which will guarantee an immediate supply of fresh herbs (at least until I kill them).
I will also get my kids involved and have them help me remember to water – they can even help by squirting them with their squirt guns!
Q5: WHAT plants should I grow ?
There is a plant guide here you can reference. The top list can include:
Beans
Beets
Carrots
Peas
Cucumber
Celery
Peppers
Radishes
Squash
Herbs
Annual Flowers for beautification

Here is a good resource from Fleet Farm for what plants do well in close proximity to each other.
Here is a sample square garden from our contributor, Martha: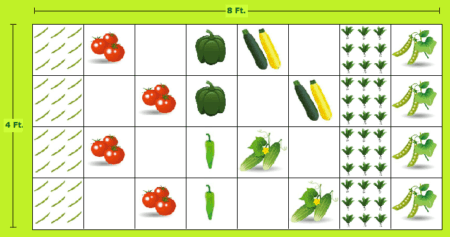 Q6: HOW do I maintain a Garden?
From the article, "Maintaining your Vegetable garden" the steps for maintenance include:
Thinning: After sowing the seeds, sprouts should be thinned so they have room to spread out and grow. Do this soon after they sprout and continue to thin as the plants get larger.
Water Regularly: A single, deep watering is preferred to short, frequent spurts.
Mulch & Weed Control: Applying mulch helps control weeds by blocking light from their seeds. Pull weeds often and early -It is important to keep ahead of them before they become a problem.
Fertilize: Adding a fertilizer specifically for vegetables will guarantee your plants receive the nutrients they require. Organic fertilizers add basic nutrients, increase microorganism activity and are a great option for the environmentally conscious.
Control: Insects & Mammals.
Support: Various plants will benefit from support cages or staking. If you want something to grow vertically, you have to support and help it.
Keep a diary: Keep track and learn for next year.
Q7: HOW OFTEN should I water my garden and plants?
According to the article, "Watering Tips" :
As with the lawn, try to water early in the day, and aim for an inch per week of water.
Rather than spraying plants with a typical hose or watering can, which deliver large amounts of water in a short time, soaker hoses water plants slowly over time.
One of the best ways to minimize your water use is to utilize a rain barrel or other water-catching device.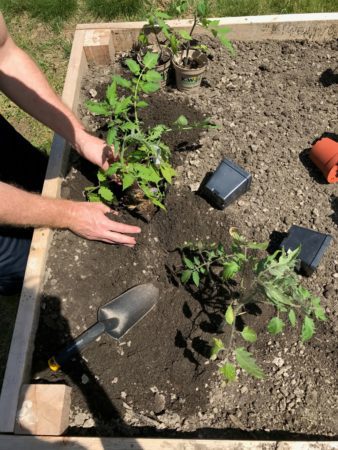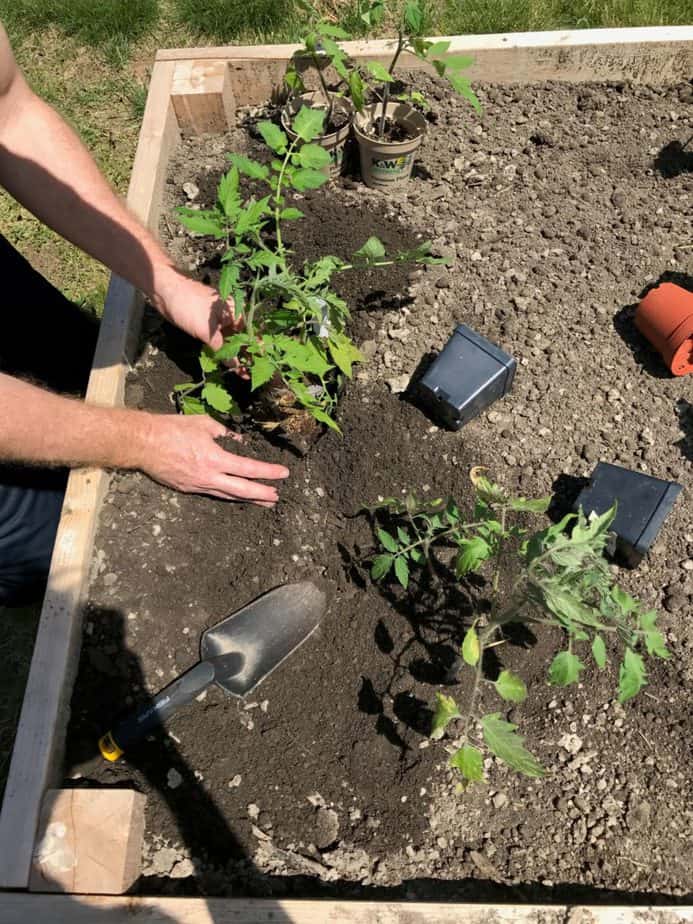 Thank you to Fleet Farm for providing the great information for this article. For more relevant gardening articles, see their article library here.  Happy Gardening!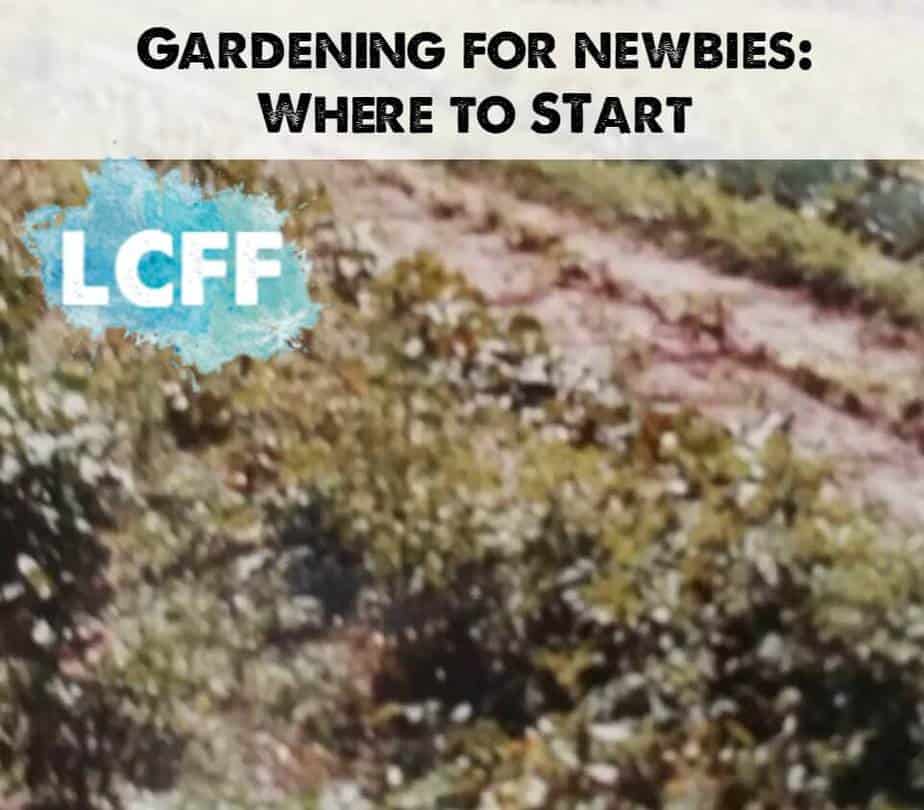 Come along with Martha as she shares her gardening experiences with us. Gardening is a great activity to do with your children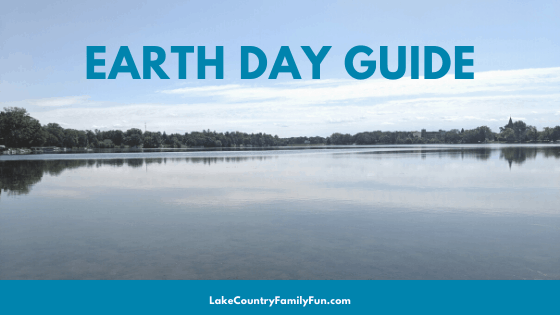 Earth Day is celebrating 51 years in 2021. Learn how you can help celebrate (even from home) and all year long!
Other: Entrants must be 18 years or older at the time of entering the giveaway. Entrants must be located in the U.S. The winner will be selected at random and notified via the email that was submitted. Winner must respond within 48 hours to claim their prize, or another winner will be chosen. Only one entry person. Duplicates will be deleted.
Disclosure: Many thanks to Fleet Farm for providing the giveaway. 
See disclosure and privacy policy here.  The winner may be congratulated on Facebook (with the official prize notification going through email). For giveaways that are announced or promoted on Facebook, please note that these promotions are in no way sponsored, endorsed or administered by, or associated with, Facebook.