Our family's goal is to visit all of the Waukesha County Parks, using this list, in one calendar year.
So far, we've enjoyed the amazing nature play area of Fox Brook Park, checked out the beach at Naga-Waukee Park, played frisbee at Mukwonago Park, and explored the trails of Muskego Park. The weather was looking a bit iffy and we thought about two county ice arenas, but we really wanted to get outside before the rains came.  So we headed to Nashotah Park. As we've gone along, we've used this list: Click here to find a Waukesha County Park.
Nashotah Park is located at W330 N5113 C.T.H. C, Nashotah, WI 53058.  This park offers fishing, hiking, geocaching, cross country skiing, snowshoeing, sledding, volleyball, bicycling, picnicking, and two dog exercise areas.
Nashotah Park admission can be found in the Fees and Admission section of the Waukesha County Parks post here.  If an attendant is available, you will receive your day pass or annual sticker on site. If the entrance booth is unattended, place your cash or check payment in an envelope, drop it in the box, and place the envelope stub on your dashboard as proof of payment.  An annual sticker will be mailed to you.
Hours are sunrise to 10:00 PM year-round.
This 444 acre park is the closest county park to us, and one of the few parks that we have all been to together.
What we packed
We headed out after lunch, but with rain in the forecast, we packed rain gear, just in case.
Water
Snacks
Football
Sunscreen
Rain gear
It's a dog's life
We usually head towards Picnic Area 1 when visiting, so we thought we'd check out Picnic Area 2.  This area is closest to the dog exercise areas, which excited Honey and Husky.
The small dog area was quite a treat for Honey and the other dogs smaller than 20″ at shoulder height.  It featured a huge sloped area to play, as well as a groomed grass loop in a fenced area.  Upon entering the dog area, you'll see a sign with the rules, bags to clean up after your dog and even some toys to play with, in case you forgot to pack some.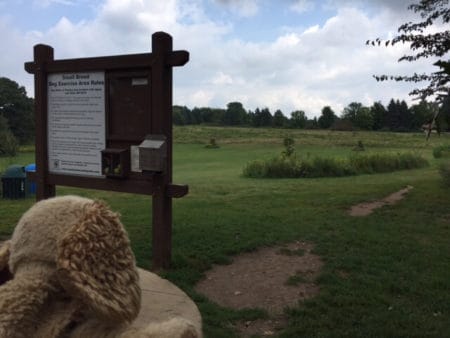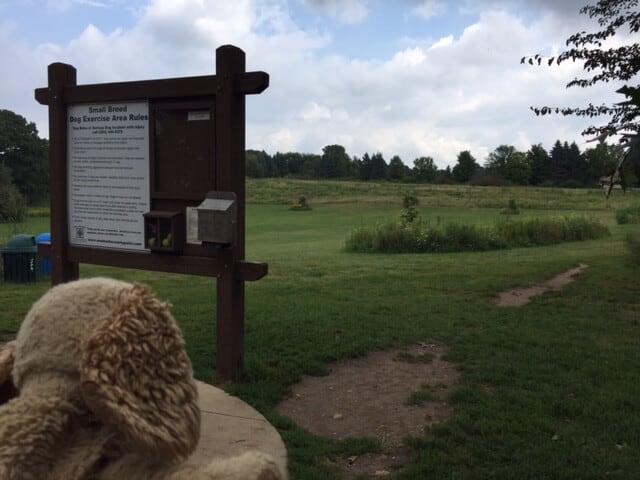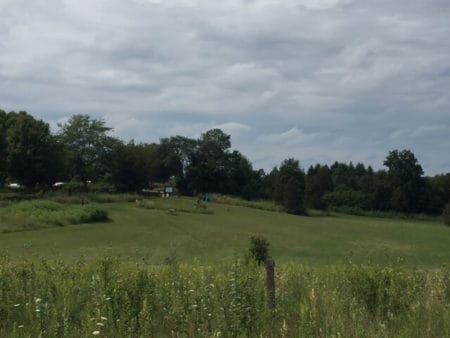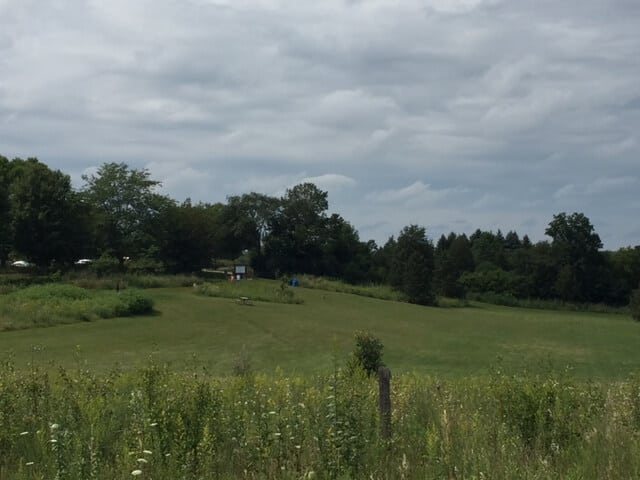 Husky wanted to explore the large breed dog exercise area for dogs who are larger than 20″ at shoulder height.  This area was more of an open field, but also provided benches and picnic benches for people who wanted to rest.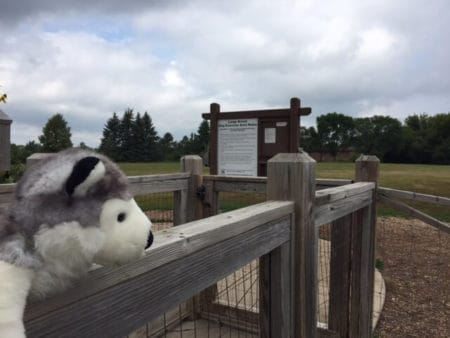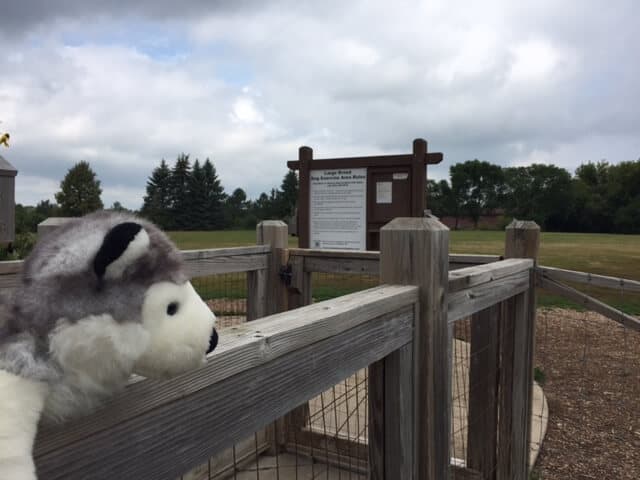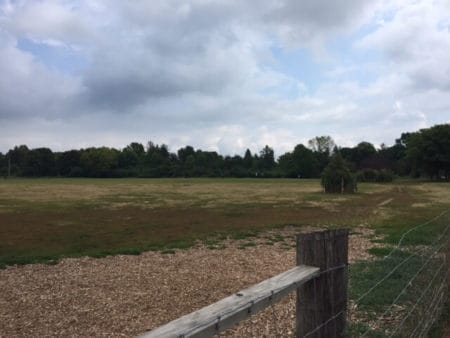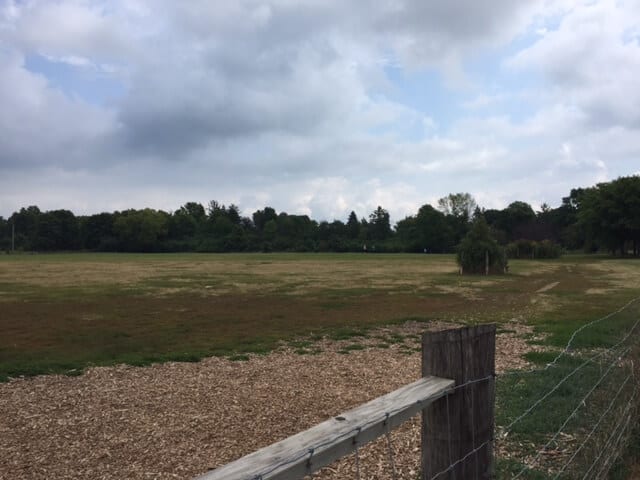 Near the Picnic Area 2, we saw a sign that reminded us of the rules for dogs outside of the dog exercise areas.  Nashotah Park has a number of trails, and we saw more dogs exploring the park trails with their people than any other park we have visited so far.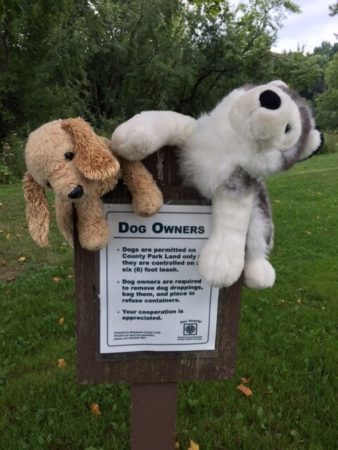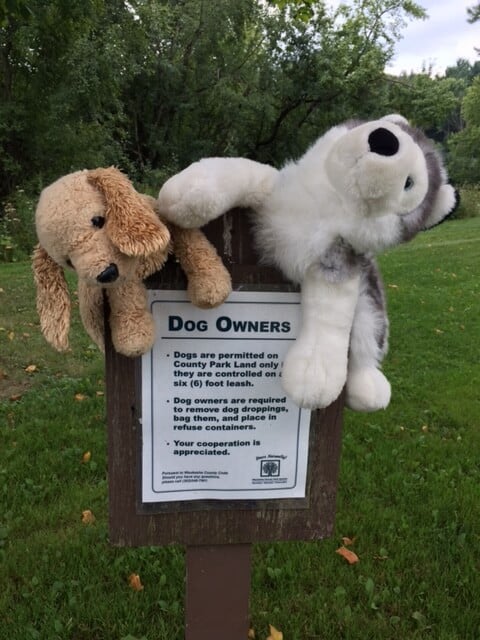 Year Round Fun
Don't forget that the Waukesha County Parks are open all year for adventure and exploration.  We used our best map reading skills to determine the location of Nashotah Park's sledding hill, which doesn't look like a sledding hill during the late summer with the tall grasses and flowers.  Just imagine this hill filled with families coasting down freshly fallen snow.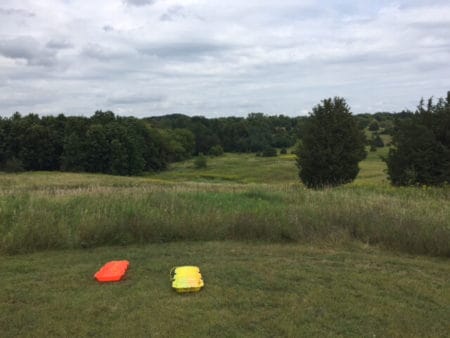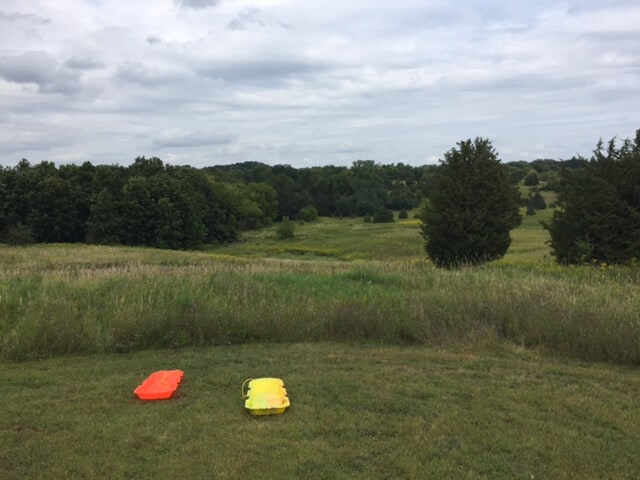 For those with younger children, we thought an area just below Picnic Area 2 would serve well as a smaller sledding hill.  We've never been here during the winter, but we're guessing this would be a popular place to sled too.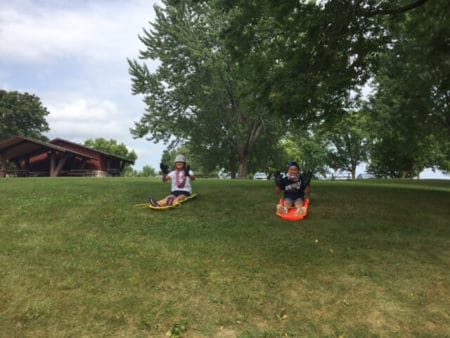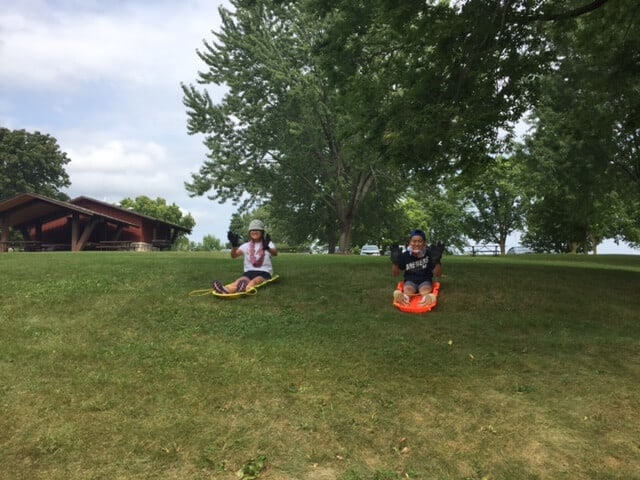 Blaze a Trail
The trails within Nashotah Park offer a variety of choices of distances and terrain.  Personally, I'd recommend using the park provided map on your phone if you're looking to explore the trails.  The map by Picnic Area 2 is oriented with South at top, and it always confuses me.  My son suggested that I just need to do a handstand to read it, but since I can't do a handstand, I stick to the map on my phone that is oriented with North on top.
Some trails have wood chips, others are mowed grass, and some are more like deer trails.  If you have toddlers or little ones ones in strollers, you may want to stick to those with the mowed grass like the Legacy Forest trail for friendlier terrain.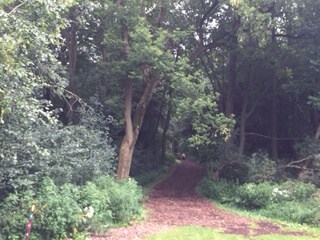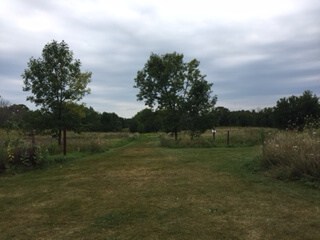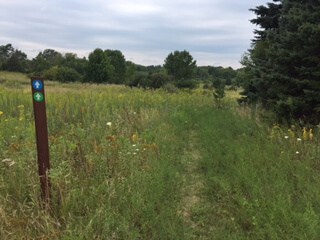 A few trails are actually closed in the summer and meant for winter enjoyment.
Two lakes
We had so much fun playing football, hiking and exploring with Honey & Husky that we didn't even visit the parks two lakes – Grass Lake and Forest Lake.  Forest Lake is the one that can be seen from Highway 16.  These two lakes offer fishing and canoeing.  Those under the age of 15 do not need a fishing license in the state of Wisconsin.  We'll definitely have to explore these two lakes during our next visit.
Five Waukesha County Parks down for 2017, six to go.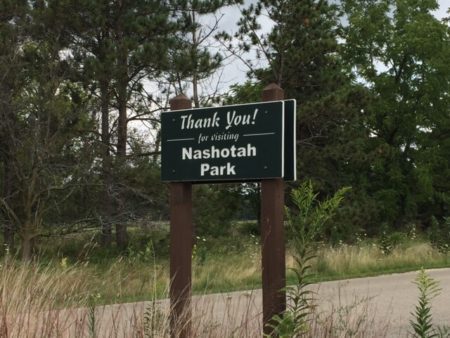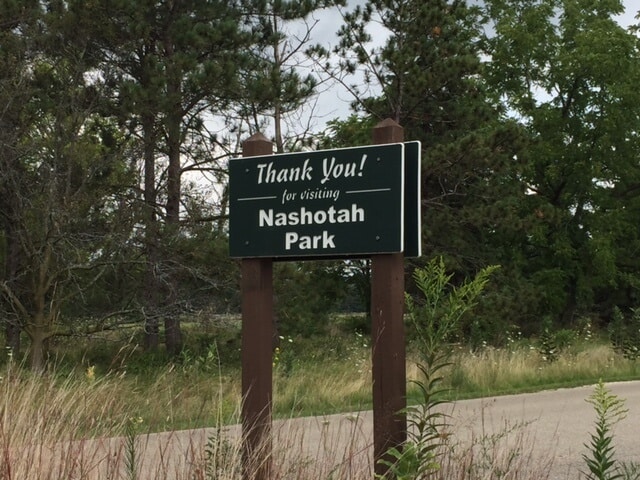 Please read about Jann's other adventures here.
—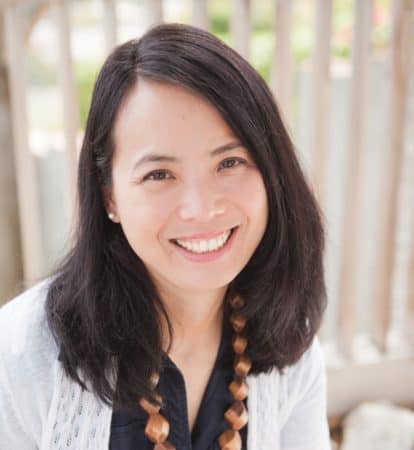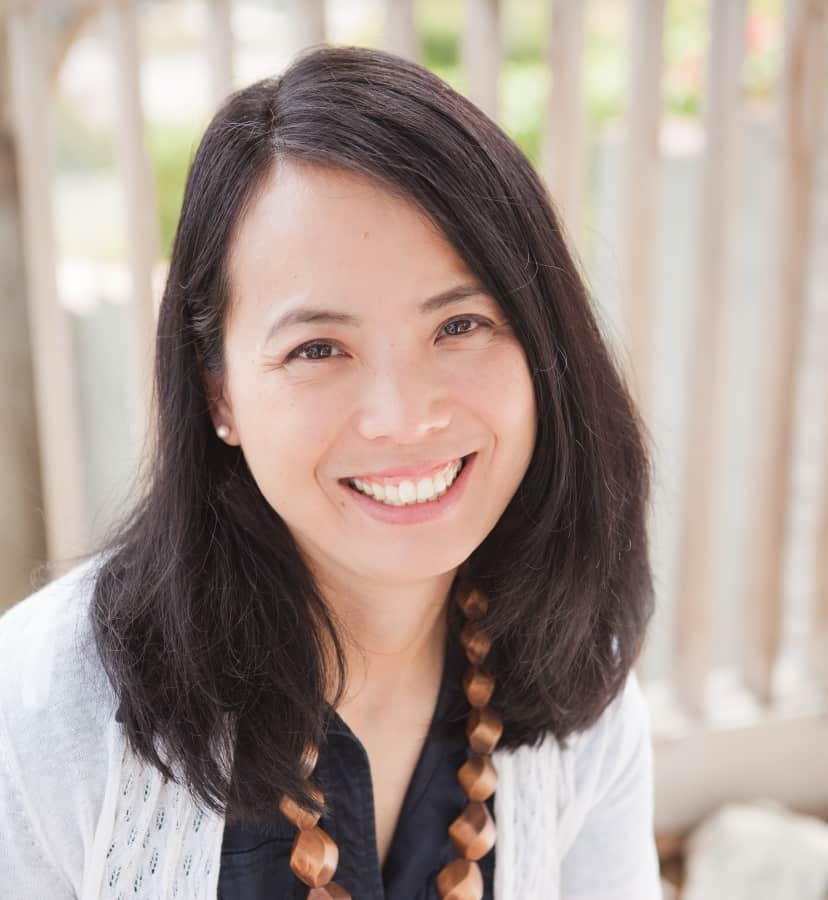 Jann Fujimoto is a wife, mom to two, and speech-language pathologist.  Her family has lived in Lake Country for 10 years, the longest she has ever lived in any one place.  She enjoys traveling, reading, and gardening at the Fuji Farm, which in reality is a couple of raised garden beds in the backyard.